Updates to your Plann Calendar that take 'visual planning' to the next level!

Find a new look + feel, plus powerful new workflow updates now available in your Plann calendar.
Overview of updates

1. New Look Calendar
2. Post Ideas for Every Single Day of the Year
3. More Options for Custom Events
4. Powerful Platform Sorting Options
1. New Look Calendar – Your new bigger, better, highly visual, place to Plann!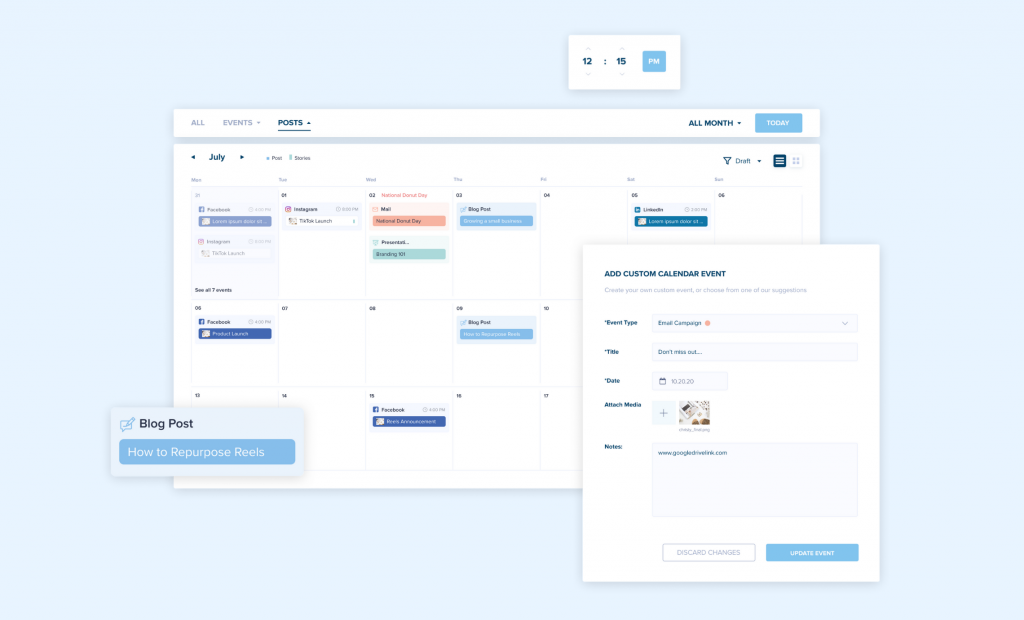 Bigger Space
Find more room with a wider, clearer calendar view that fits comfortably across any sized screen for more control when you're dragging and dropping posts and events.

Image Thumbnails
Instantly see what's due to go out without any extra clicks.

Beyond Social Media
More space and features to organize your entire marketing, editorial or brand calendar, a space that goes beyond just social media.

2. Caption Ideas, images and hashtags for every single day of the year.

Daily Prompts
Every day you'll find a new talking point, a done-for-you caption with matching royalty-free media! That's images and videos we've already found for you to use as they are, or use our editing tools to customize.

Plus, ideas for how you can easily tweak your posts to easily repurpose and re-share across social media platforms to reach more people.

Mix & Match
Take what you need, mix and match caption, image and video prompts and hashtag sets to use however and wherever you need.

Social Media Holidays
Know when the most important social holidays are coming up, complete with captions and trending hashtags we've already sourced for you to use
3. Big Upgrades to Custom Events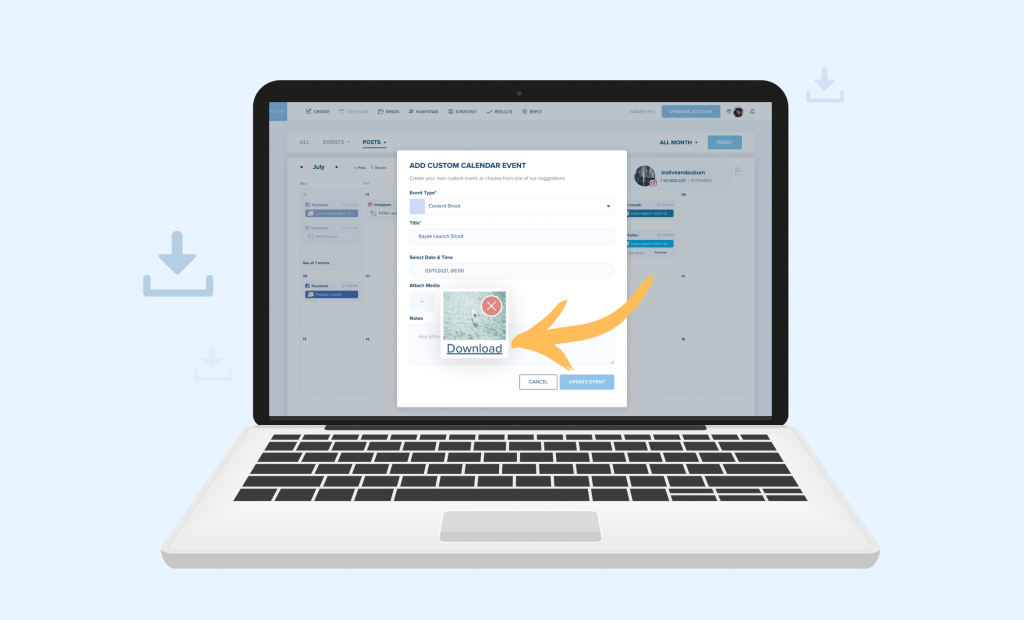 Now Duplicate Your Custom Events
Once you've created any type of custom event (let's pretend for a blog post, Instagram takeover or email newsletter) you can now duplicate the event instead of starting from scratch.

Duplicate your event and simply drag and drop it into position on your upgraded Plann calendar.
From there you can quickly update/edit events you do regularly and go!

Image Previews
If you're adding custom events that require media, you can upload these into your custom event to be able to find them easily (or communicate with your team what is to be used). Once glance at your new Plann calendar and you'll be able to see what's ahead.

Download Media 
Not only can you add media to your custom events, but you can also download it to your desktop. Perfect for when you're sharing with a team and they need access to shared files!
Powerful Changes to Platform, Post and Event Sorting Options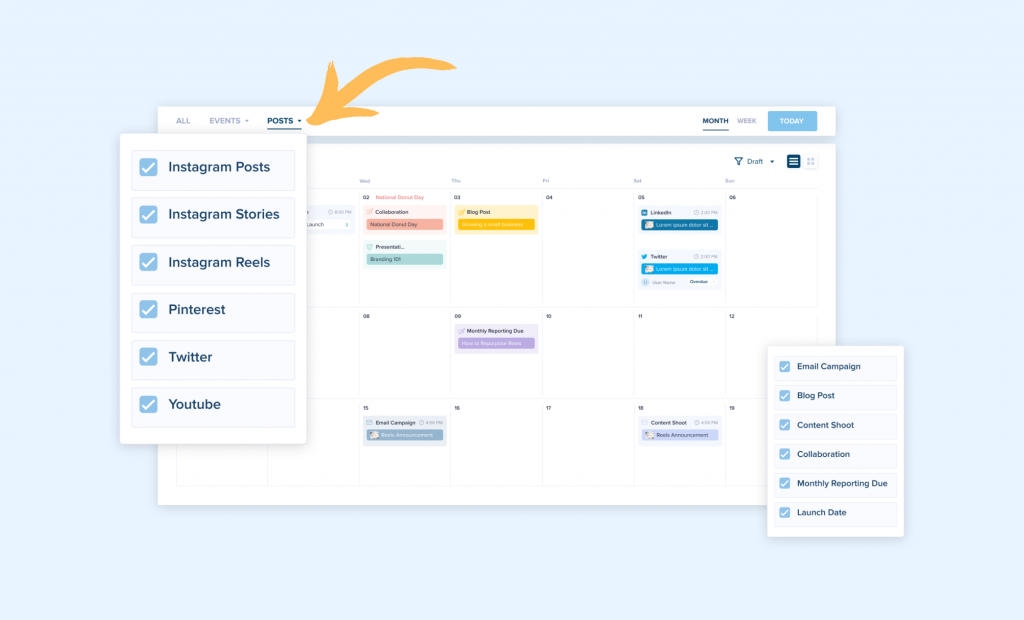 New: Sort by Social Media Posts (Down To Each Platform)
If you want to laser focus on one social media platform at a time during your planning and scheduling process, this is ready for you! Simply find POSTS on your upgraded calendar to sort by all social media platforms managed by Plann, or, just one. Get ready for streamlined thought processes and faster content production!


New: Sort by Custom Events
Plan out and organize EVERYTHING marketing you need on your Plann calendar. Now you'll be able to filter and sort by every type of custom event you'd made (or a few at once) to see how your marketing strategy over the month fits together.


New: Show everything
If you'd like to see your entire brand calendar for the month and view all of your social media posts PLUS custom calendar events in one view for the highest level overview of your strategy – this is now available ready for you inside Plann. Simply highlight all types of posts you have available to see everything all in one go.
You'll easily be able to see when your Instagram Stories need to tease when to sign up to your email list for your next big sale or product launch week!
Watch customer success superstar Ashley walk you through how to do it (quickly!)
Who Are These New Calendar Features Available For?
Plann Plus members have full access to all features immediately, visit the calendar tab inside Plann to try out these new powerful productivity tools!

Free Forever members can access their Plann calendar to view, schedule and create posts for Instagram – and create up to 3 custom events.


Available now with Plann Plus, you'll also get:
– Auto posting (and re-posting) across Instagram, Facebook, TikTok and LinkedIn social media platforms
– Unlimited media uploads and scheduling tools, store everything in one place!
– Social Starters, our done-for-you caption solution so you've always got ideas.
– Create custom events on your calendar to design your own content, editorial or brand schedule
– Unlimited hashtag sets (ready to auto post in first comments)
– Advanced Instagram analytics
– Custom strategy tools to always have a plan with intention
– Comments and mentions management to quickly respond and keep conversations flowing
– Free professional stock photos and videos for when you're short of content
Gift Plann to your friends, family or followers <3
 
Gift your friends, family, or followers $10 off Plann with your unique referral link!
By using your unique link, you'll gift them a month of Plann free, PLUS, you'll get $10 Plann credit just for sharing a favorite tool.
Find your unique link in your Plann settings to gift the sunshine in someone's day
HOW TO FIND YOUR UNIQUE REFERRAL LINK: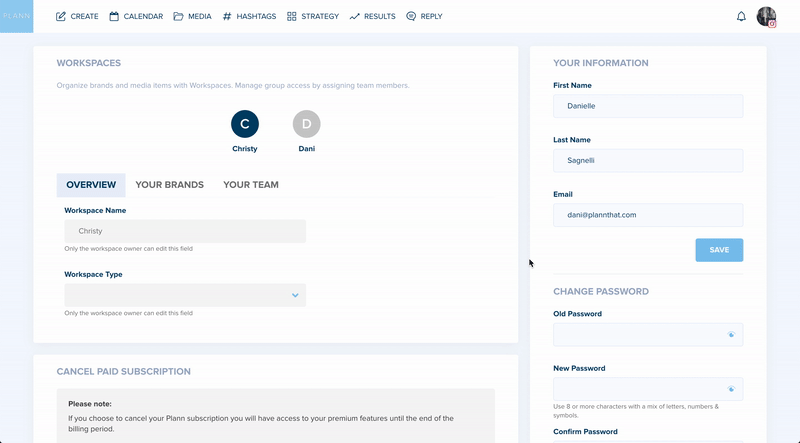 We genuinely love hearing from you and all of your ideas for Plann.
Reach out to the product team directly at feedback@plannthat.com
Christy Laurence
Plann Founder
@plannthat