New! Instantly share your Instagram posts to Facebook!


The pressure of being on, and seen, on social media with brand new content can feel overwhelming – and sometimes it's OK that you don't have content created perfectly for each platform.
We're here to remind you that it's completely OK and we're here to help!

Use Plann to organize, pre-plan and schedule an Instagram post, then leave it to us to automatically cross-post it to your Facebook page, keeping you online across both platforms 24/7.


Brand Awareness and Brand Consistency

Not everyone is in the market for what you're offering at the exact same time.

Someone who follows you might be researching, learning from you, referred by a friend and they're keeping an eye out knowing what you're offering is something they want soon.

Let's make sure that when they are ready to buy, together we've helped them through their decision-making process. You've already been using Plann to create a strategy that builds trust, teaches them and entertains them across platforms, so when they're ready to make a purchase, you'll be the first person they think of.

How does it work?
Simply create a post for Instagram, and Plann will let you know if your post is available for automatic cross scheduling (Facebook have their own rules about what type of media can be posted, known as their API).

When available, you'll be given the option to toggle 'Share Copy to Facebook' – ON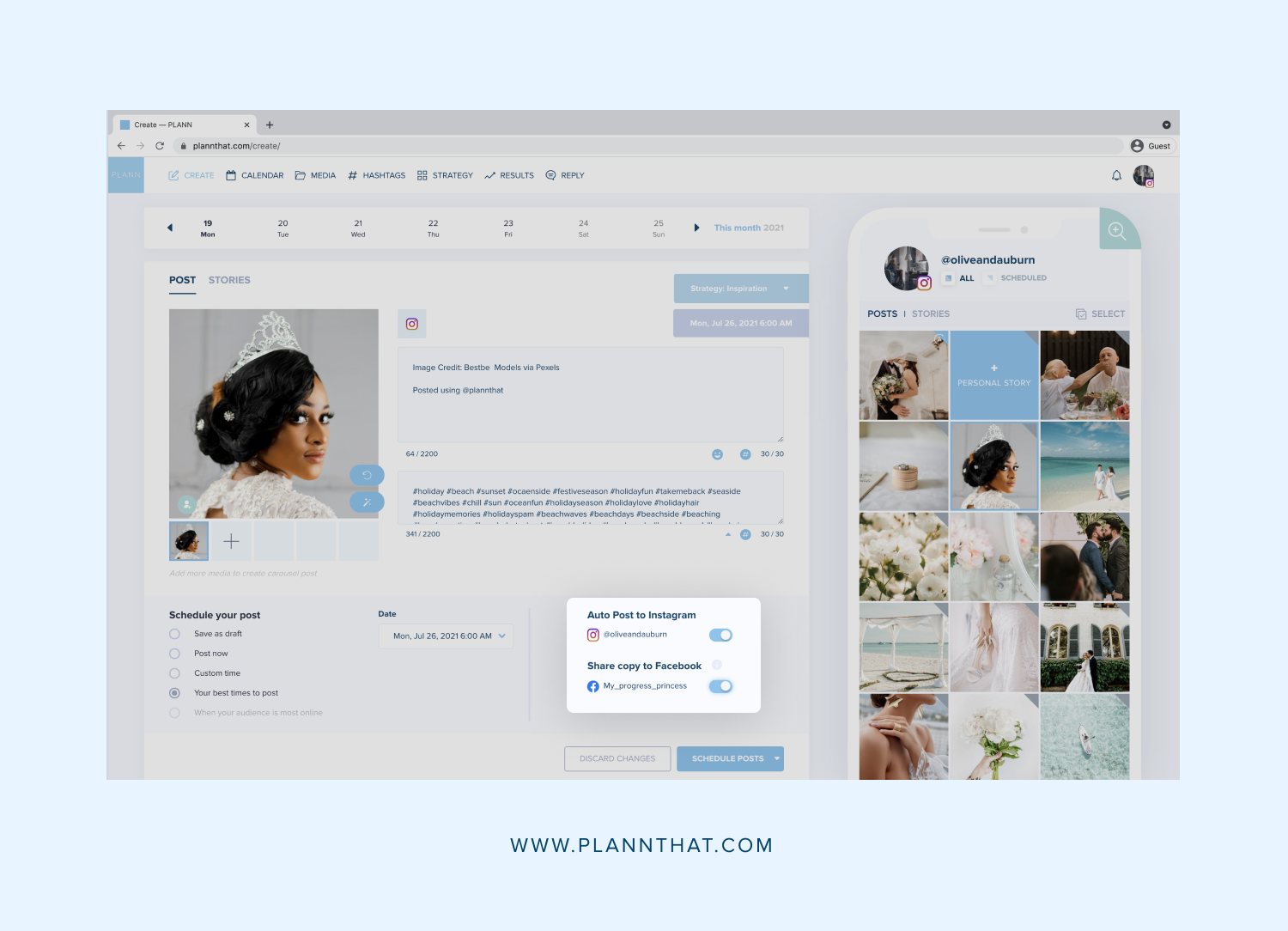 Once selected, Plann will recreate the post for you, adding it straight into your Facebook schedule workflow where you can leave it for us post automatically, or you can come back later to edit, review or cancel it.
The lovely Ashley walks you through how it works here:

What posts are available for automatically sending to Facebook?
Although some posts to Instagram require a push notification from your Plann app and can't be automatically posted (for example, Instagram video and carousel posts due to their restrictions).

Facebook has made those posts available that we're excited to publish for you.
1x Image + caption

1x Video post + caption

1x Carousel of Images + caption (up to 10 image files)
This means that if you've scheduled an image carousel post you'll get a push notification to manually post to Instagram, but we'll be able to handle your Facebook post automatically behind the scenes!


Can I double-check that this post will automatically publish to Facebook?

Absolutely!

We've made sure that if there's an emergency where you need to edit, delay, change or cancel your Facebook post for any reason – without it impacting what's happening on your Instagram feed – that's available to you (and unique to Plann).

Via Facebook Planning Workspace:
Schedule your post for Instagram and toggle the 'Share Copy to Facebook' ON

Visit your Facebook scheduling workspace

Find your post scheduled, with an auto posting icon in the top corner showing it's ready to go.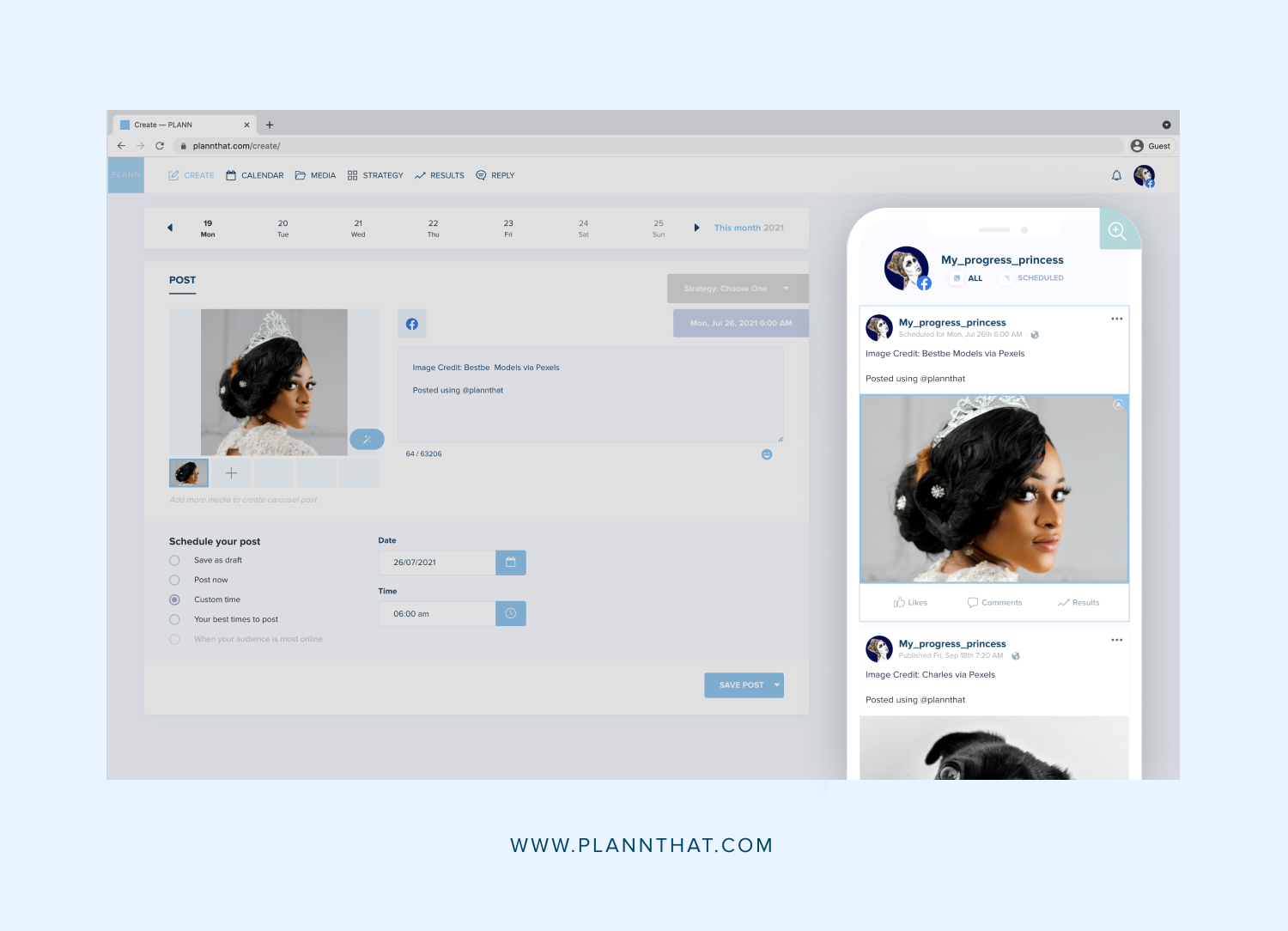 Or, Via Plann Content Calendar:
Schedule your post for Instagram and toggle the 'Share Copy to Facebook' ON

Visit your Plann calendar to find your Instagram and Facebook posts scheduled together.

Simply hover over the posts to edit, reschedule or delete

Who is this available for?
If you're a Plann Plus member, we're delighted to let you know this feature has already been added to your account for you to use and implement straight away!
Automatic publishing to Facebook is available immediately to all Plann Plus members (paid subscribers) on our web platform, for your desktop computer.

Note:
Auto posting to Facebook is only available for Instagram Business Accounts, connected to a Facebook Business page.
Learn how to set your account up as a business account and link it to Plann here.

Plann Plus memberships start from as little as US$7 per month and give you access to every single one of Plann's premium features!


Is it worth upgrading to Plann Plus for?

A resounding yes!
Take your online marketing and social media to the next level with Plann Plus.
Combining ALL of the premium features that Plann Plus offers, we've made sure everything has been designed to ensure your success with social media, no matter how big or small your brand is.

We're here to make sure your social media is manageable, easy, and fun.

In your Plann Plus membership you'll also get:
– Auto posting (and re-posting) across Facebook, LinkedIn and Instagram social platforms
– Unlimited hashtag sets (to auto post in first comments)
– Advanced Instagram analytics
– Unlimited media uploads and scheduling tools
– Custom strategy tools to plan with intention
– Comments and mentions management to quickly respond and keep conversations flowing
– Free professional stock photos and videos for when you're short of content
– Custom events on your calendar to design your own content, editorial or brand schedule



Thank you <3

Your support, feedback and referrals to friends make our regular updates and new features possible.
As a bootstrapped (non-funded) tech business we rely heavily on the support of our community to design and build new and exciting features to make your social media life faster, easier – and fun again! We've got so many more features and enhancements coming to share with you!

Any thoughts, feature requests, compliments and/or questions?
We genuinely love hearing from you, and your ideas for Plann.
Reach out to the product team directly at feedback@plannthat.com

Christy Laurence
Plann Founder
@plannthat