Ever wondered what separates the people who manage to turn their social media into a lucrative business, and those who barely crack the 100 follower count? For the most part, it all comes down to just one thing: Strategy!
No matter what industry you're in or how many photos you have in your camera roll, there's always a time when you're deep into planning your social media schedule and suddenly draw a blank. That's why Plann has a Strategy feature! This feature gives you the ability to schedule and plan out your Instagram storyboard so you know exactly what you need to post (or story!) next.
If you're a Social Media Manager, this tool is perfect to teach your clients what you'd like them to think about when running their next content shoot, or learning how to tell their story on Instagram.
We've identified the top-performing themes (including a brand new entertainment theme – to give your followers the laugh they deserve) that help spell out a well-rounded story for any brand, taking your audience through all the unique parts of what makes a brand special, which you can add to your own strategy anytime.

Let's help you get started!
1. On the top navigation bar, select the 'STRATEGY' tab
2. Select a pre-defined strategy tile OR create your own by selecting 'edit'
3. Drag and drop your strategy tiles and then select 'ADD ALL TO GRID'
Greta walks you through how to create a strategy!

You'll find 50+ Strategies/Content Prompts in Plann!
To help get you out of any funk wondering what to post, we've added a huge library of content prompts that have been specifically tailored to over 50 different industries.
Our new content prompts have been strategically designed to cover all types of post themes, from behind the scenes, building your community, and asking for the sale.

We've even color coded them against our known top-performing themes so you can see exactly how the strategy was created for you.
We'll help you tell a well-rounded brand story with 9 prompts for each industry (which is enough to make a strong impact on your grid). Once you see them live and in action, the prompts will help you plan out similar content for your future posts.
Where can you find them?

Open the strategy tab on Plann desktop and you'll find our new CONTENT PROMPTS button.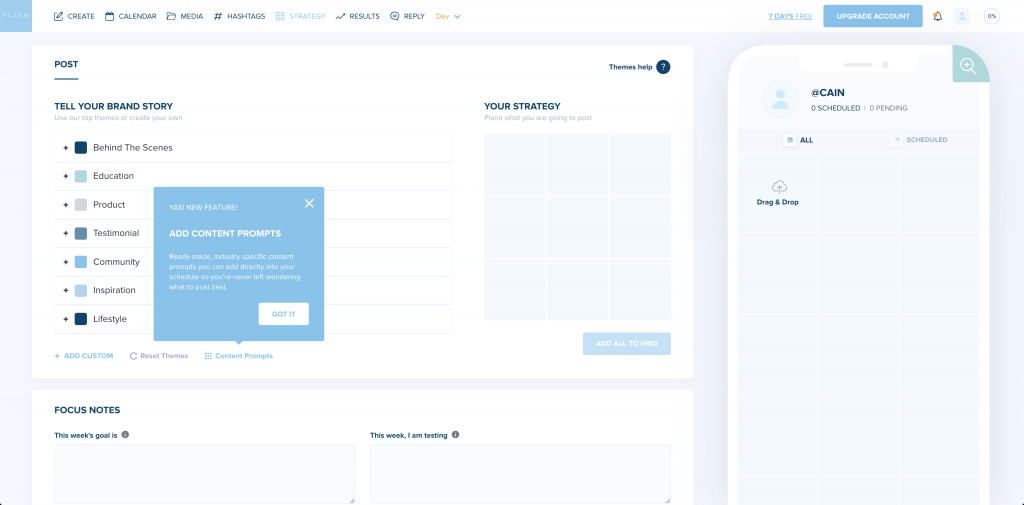 Over 50 industries have been included, from fashion to bricks & mortar, beauty & health and all the way through to if your passion is in the creative arts.

The best part is that you're not limited to one! You can add as many prompts and placeholders into your strategy as you'd like – giving you hundreds of content ideas, so you never run out of ideas to post.
Simply select the templates you'd like to add to your strategy, then add the placeholders directly into your grid.
(*pssst. If you're completely out of visual content right now, don't forget you can use Plann to access a HUGE range of royalty-free stock images and videos from our galleries!)
Who can access these content prompts?
Anyone!
Plann's strategy prompts are completely free, available only on Plann Desktop.

Feeling confident that you've always got something to post is something we're proud to help our community feel supported with. We know how big of a challenge coming up ideas can be.

With these prompts, you'll always be able to keep your brand online.

Do you have any more content prompts?
If you're not already signed up to our marketing emails, we make a grand habit of sending out content calendars for the month ahead. They're a little more one-size-fits-all than these prompts but we're convinced you'll be inspired either way!

You can sign up here to receive the monthly content calendar straight to your inbox.
We can't wait to show you what's next!

Have you got ideas for what you'd like to see next inside the Plann platform?

Email your ideas through to feedback@plannthat.com
Best,
Plann Team x