Introducing your Ultimate Social Media Wingman, an AI Caption Generator! 🌟
"I don't post enough on Social Media because I can't think of any captions!!" – says everyone.
We're THRILLED that we can now help write your social media captions for you!
Today is an exciting day for our team as we unleash the magic of our brand-new AI-powered tool, our built-in Caption Generator (that we know will only get better), to help transform the way you create and schedule your social media posts.
We've been working furiously to deliver a solution that's tailor-made to elevate businesses, brands, entrepreneurs, and influencers – specifically for social media.
Say hello to our cutting-edge, AI-powered social media caption generator! 🤖✨
This incredible new tool has been meticulously crafted to save you time, boost your creativity, and build your engagement. Gone are the days of staring at a blank screen, trying to come up with the perfect caption for your posts. After throwing out just a few thoughts, our genius AI Caption Generator will whip up captivating, attention-grabbing captions across various platforms, including Instagram, Facebook, LinkedIn, TikTok, and Pinterest.
"Our goal at Plann is to help every brand of every size write new, engaging and captivating captions for social media when they can't think of any. It's the single biggest reason someone stops posting consistently, which stops them from being successful. We're here to help everyone build their career or find financial freedom building a business; anything is possible online with social media if you stick at it."
– Christy Laurence, Plann Founder
!! Updated !!
Our AI Caption Generator is already one of Plann's most loved features, we're thrilled you're finding it so dang useful. Based on your feedback – we've added new ways that you can adjust the caption made for you if it's not quite right, here's what's possible: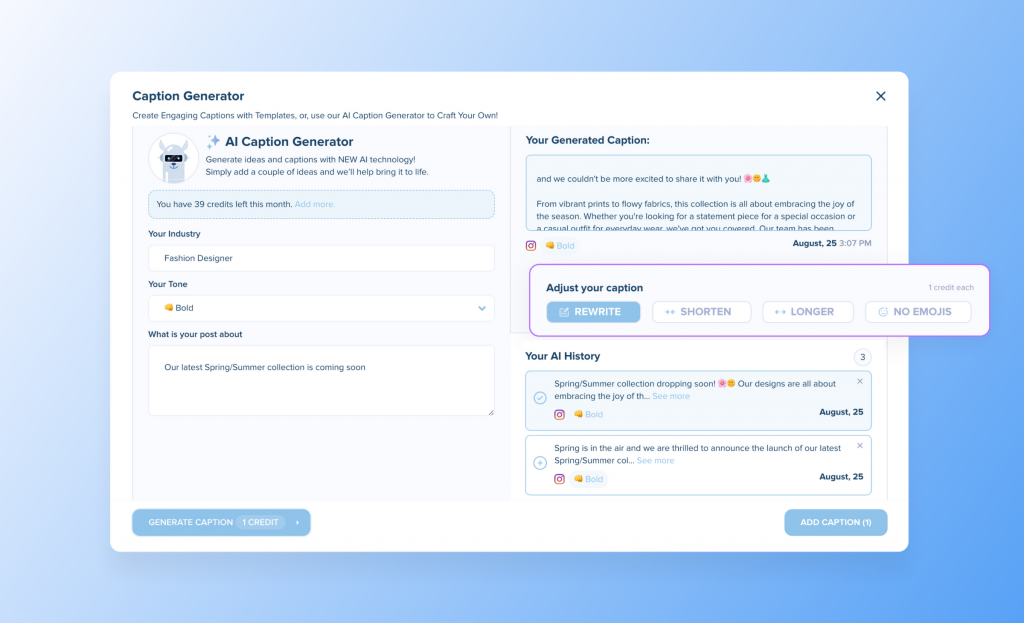 RE-WRITE
Wasn't quite what you were looking for, but close? Let us take the prompt you gave us and start over with a new caption.
SHORTEN
Want something quick'n snappier? We'll reduce the amount of words in the caption to give you something shorter.
LONGER
Does your audience engage better with longer-form content? We've got you. We'll expand the caption to suit what you need.
NO EMOJIS
Don't like emojis in a post? Easy, let us remove them for you.
** Each adjustment is worth 1 credit. Each plan comes with credits you can use each month at no extra charge, based on your plan size.
If you need more caption credits, we've made it easy and affordable to add 100 more caption credits for just $1!!
Why It's a Game-Changer for Small Businesses and Online Brands
We know the hustle is real for small businesses and brands; it's a challenge to be constantly coming up with compelling captions to post online, taking away valuable moments you could spend growing your business, and getting frustrated that it's all too difficult and just giving up.
Our AI tool is here to be your reliable wingman, providing you with engaging, on-brand captions that resonate with your audience, all in a heartbeat! 🌈✨

🤖 How It Works:
Using our AI Caption Generator has been designed to be as easy and comforting as slipping into your fluffiest pair of slippers!
To open the Caption Generator, you can either
– Press Spacebar while an empty caption input box is highlighted, OR,
– Press on the updated Light Bulb icon in your taskbar to open the new modal.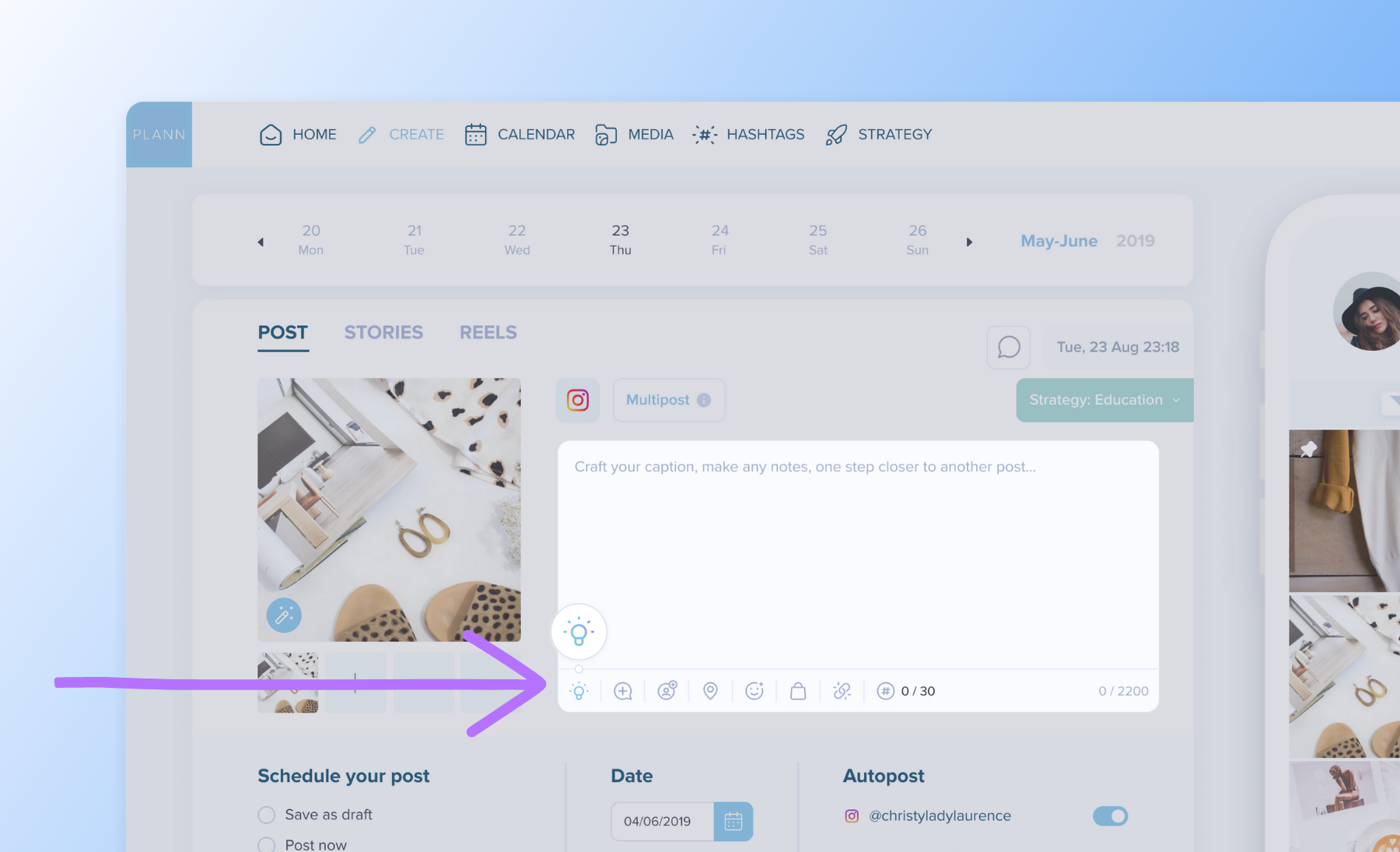 Simply enter a few key details about a slither of an idea you'd had for a post or a few bullet points about a product you're selling, and we'll take care of the rest!
Our advanced AI algorithms will instantly process the information, ensuring the perfect caption length, any relevant hashtags, and even add a compelling call-to-action (CTA) to encourage audience interaction if needed.
You can either use the generated caption as-is or customize it to your heart's content – it's entirely up to you!

🤖What About The Different Platforms?
We've built our caption generator to make sure it's tailored to EACH of the social media platforms and developed by social media experts.
If you generate a caption for Instagram and use the same prompts while you're drafting a LinkedIn post, you'll get a completely different caption.
🎯 Tips for Adding Caption Prompts:
Our AI is brilliant, but it thrives on your unique touch!
While it can do wonders on its own, a sprinkle of your creativity can take your captions to a whole new level. Feel free to add fun prompts, like a particular theme or even a catchy headline.
Our AI will use these prompts as inspiration, delivering captions that are not only relevant but also wonderfully personalized for your brand.
💰 How Much Does it Cost?
The great news is that you automatically have credits attached to your Plann every month to generate your own AI captions! Each calendar month these will reset so we'd love you to use them!
Generating each new caption with our AI Generator runs on a credit system:
1 Generated Caption = 1 Credit Each
✅ Can I Get More Credits, Which Means More Generated Captions?
If you want more help or want more choices when it comes to creating with our caption generator, we're excited that you have the option to add 100 more credits every month for just $1.
Each month you'll have an additional 100 credits added to your plan for $1!
*Note, all credits reset each month. This will be on your invoice as an additional subscription for $1.
👥 Who Is It Available For? (TL;DL: Everyone!)
Great news! Our AI Caption Generator is available for everyone – with credits available by default each month no matter what plan you're on:
Free Forever: 5 credits p/month
Power User: 20 credits p/month
Build: 40 credits p/month
Grow: 100 credits p/month
Whether you're an aspiring content creator or an established brand, our new tool will make your social media journey a breeze. We believe everyone deserves access to the best tools to shine on social media, and we're thrilled to be there to help.
Watch a walk-through on how to use the AI Caption Generator here ↓
Gift Plann to your friends, family or followers!
Gift your friends, family, or followers $10 off Plann with your unique referral link!
By using your unique link, you'll gift them a month of Plann free, PLUS, you'll get $10 Plann credit just for sharing a favorite tool.
Find your unique link in your Plann settings to gift the sunshine in someone's day