New! Introducing Instagram Location Tagging with Plann
Now tag your geographic location while creating and scheduling your next post to Instagram!
Plann will automatically publish your work and automatically tag your location on your behalf.
Should I use Location Tagging for my Brand?
Increase your discoverability and reach more people with one tiny action – simply add a location tag to your Instagram posts.

As social media users continue to utilize Instagram as a search engine to find brands to support, with organic reach seeing a natural decline, adding location tagging to your brand's Instagram posts will increase the chances that your brand is seen by more of your target audience.

Maybe you own a coffee shop, run an art studio, are selling a product, or know an event is happening in another city that you want to try and get in front of… location tagging can help to increase the reach of your content!

Where can I find new Instagram location tagging?
Location tagging is available for
Plann Desktop:

You'll find NEW location tagging when you create your next Instagram post, easily accessible right from your draft page.
You'll spot a new location icon where you can search and add any location of your choice while you're right in your planning flow.

Combined with Plann's tagging of usernames (where you can automatically tag friends, venues, collabs or suppliers!), this addition is perfect combination to extend your reach with little effort.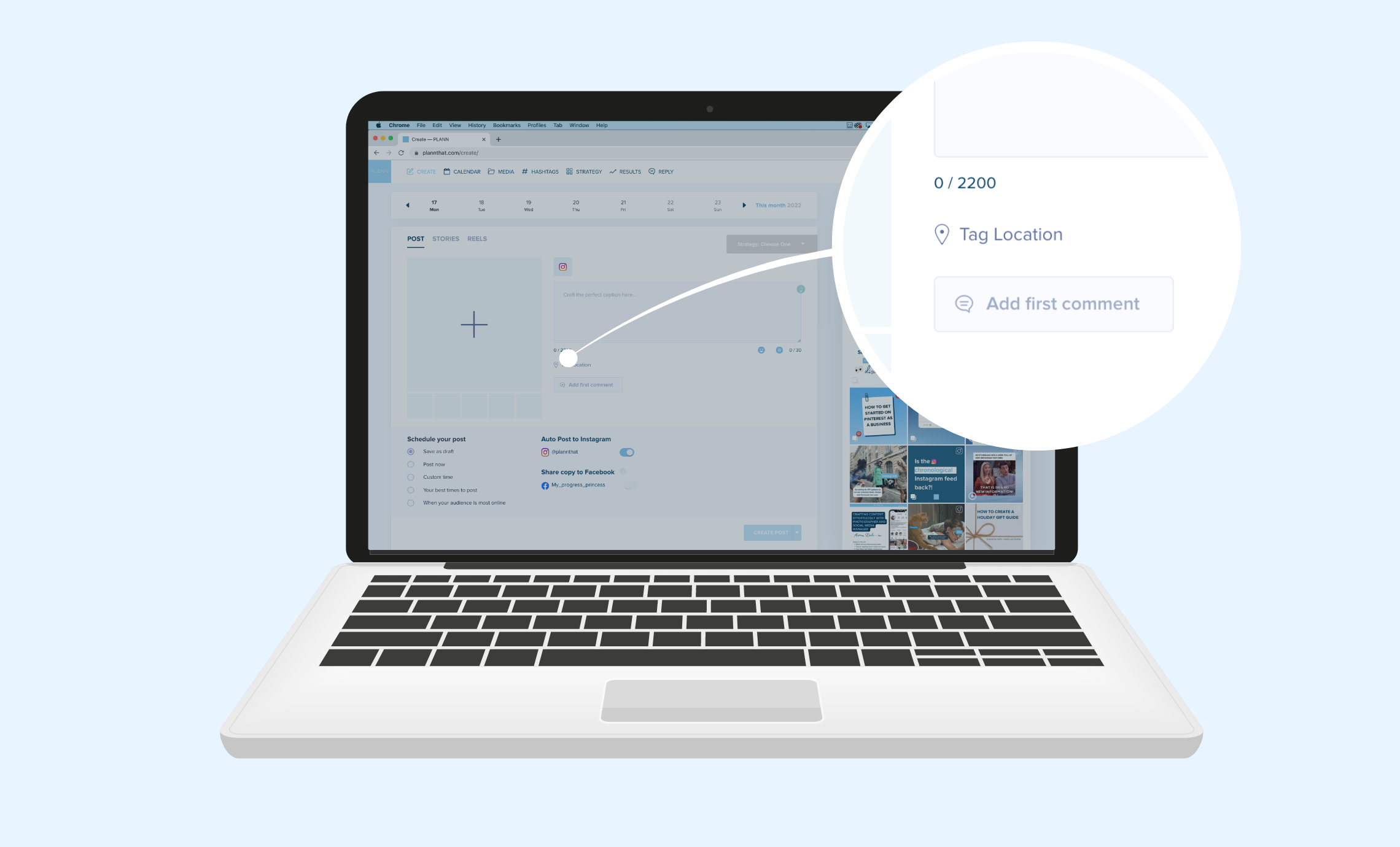 ** note: depending on your screen size, you may see this icon appear in a slightly different location than what is displayed here.

Location Tagging on Plann App

Creating a new post in the Plann app?
Find the NEW "Tag Location" button located right below your caption.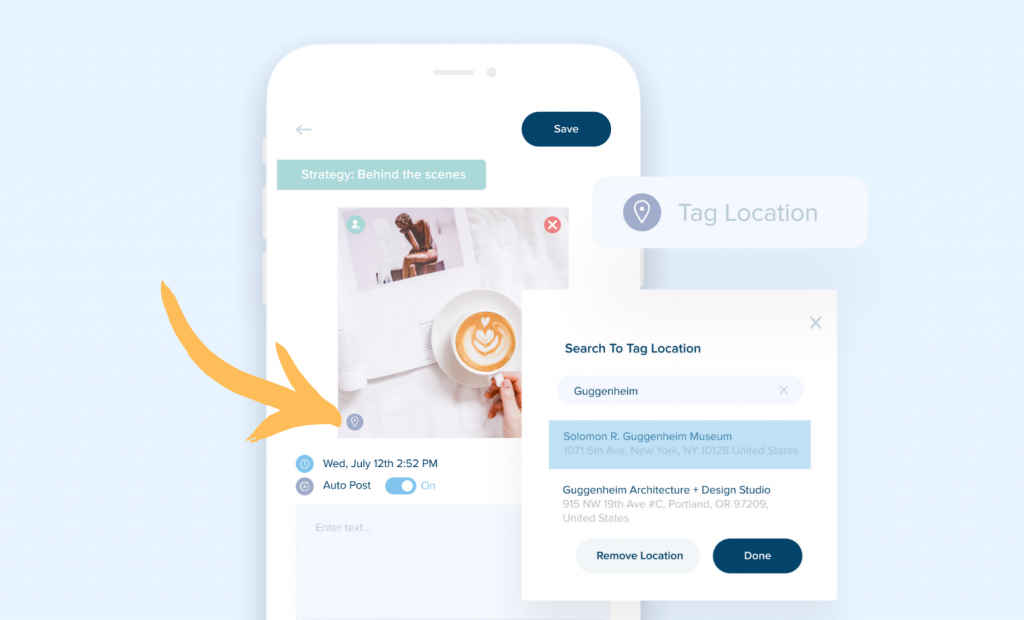 Watch our Customer Education Manager, Ashley, walk through where to find location tagging, and how to make it work for you.
What type of Instagram posts support Location Tagging?

Automatic location tagging at Plann is available for all posts that qualify for Instagram auto posting, and those who have an upgraded Plann Plus membership.

This is means you already have an Instagram Business account connected to Plann, and you're scheduling the following posts within the API:

– Single Image Posts
– Single Video Posts
These are the current posts supported by the Facebook Graph API (which is what all 3rd party developers use to publish posts on your behalf).
Read More: How to Set Up an Instagram Business Account + Access Auto Posting

Available now with Plann Plus, you'll also get:
– Pre-tag usernames, suppliers and business besties in posts for when they're published live to Instagram.
– Auto post your first comment at the same time as your Instagram post to help include hashtags, instantly.
– Unlimited amounts of hashtag sets (to auto post into your first comment!)
– Auto posting (and re-posting) across TikTok, Instagram, Facebook and LinkedIn social media platforms
– Unlimited media uploads and scheduling tools
– Social Starters, our done-for-you caption solutions where you'll find hundreds of pre-written caption ideas
– Custom events on your calendar to design your own content, editorial or brand schedule
– Advanced Instagram analytics
Gift Plann to your friends, family or followers <3

Gift your friends, family, or followers $10 off Plann with your unique referral link!
By using your unique link, you'll gift them a month of Plann free, PLUS, you'll get $10 Plann credit just for sharing a favorite tool.
HOW TO FIND YOUR UNIQUE REFERRAL LINK:

Here's how to find your unique link to gift $10 credit in your Plann settings, we'd love you to share sunshine into someone's day: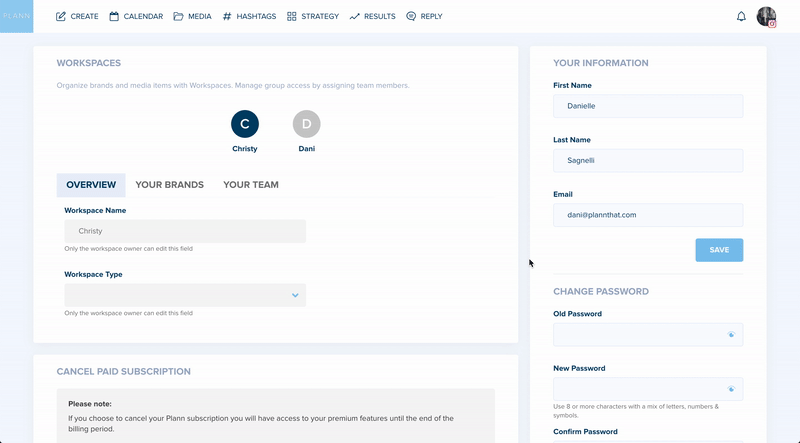 We genuinely love hearing from you and all of your ideas for Plann, it's how we continue to build a world-class product.
To share any of your ideas, thoughts, or suggestions, please reach out to the product team directly at feedback@plannthat.com!
Christy Laurence
Plann Founder