Connect your Facebook Business Page and you'll be able to manage your Instagram, TikTok and now Facebook presence on-the-go using your free Plann companion app!
Already have Facebook connected on your Plann Desktop account?
Run Plann's latest update and you'll find your Facebook scheduled pre-loaded and sync'd with your desktop workspace.


Auto-share From Instagram Straight to Your Facebook Business Page

Too busy to organize Instagram AND Facebook?

If you're ready to start halving the time it takes to launch your brand across two platforms, you can now choose to schedule your post (or video!) across to Facebook at the same time. You'll see this option in the moment of scheduling your next post.

Available for:
– Single video posts
– Single image posts
– Carousels of one type of medium (all photos, or all videos) not available for mixed media.

You'll get a push notification once we've successfully published your posts too, so you know everything has gone out without a hitch!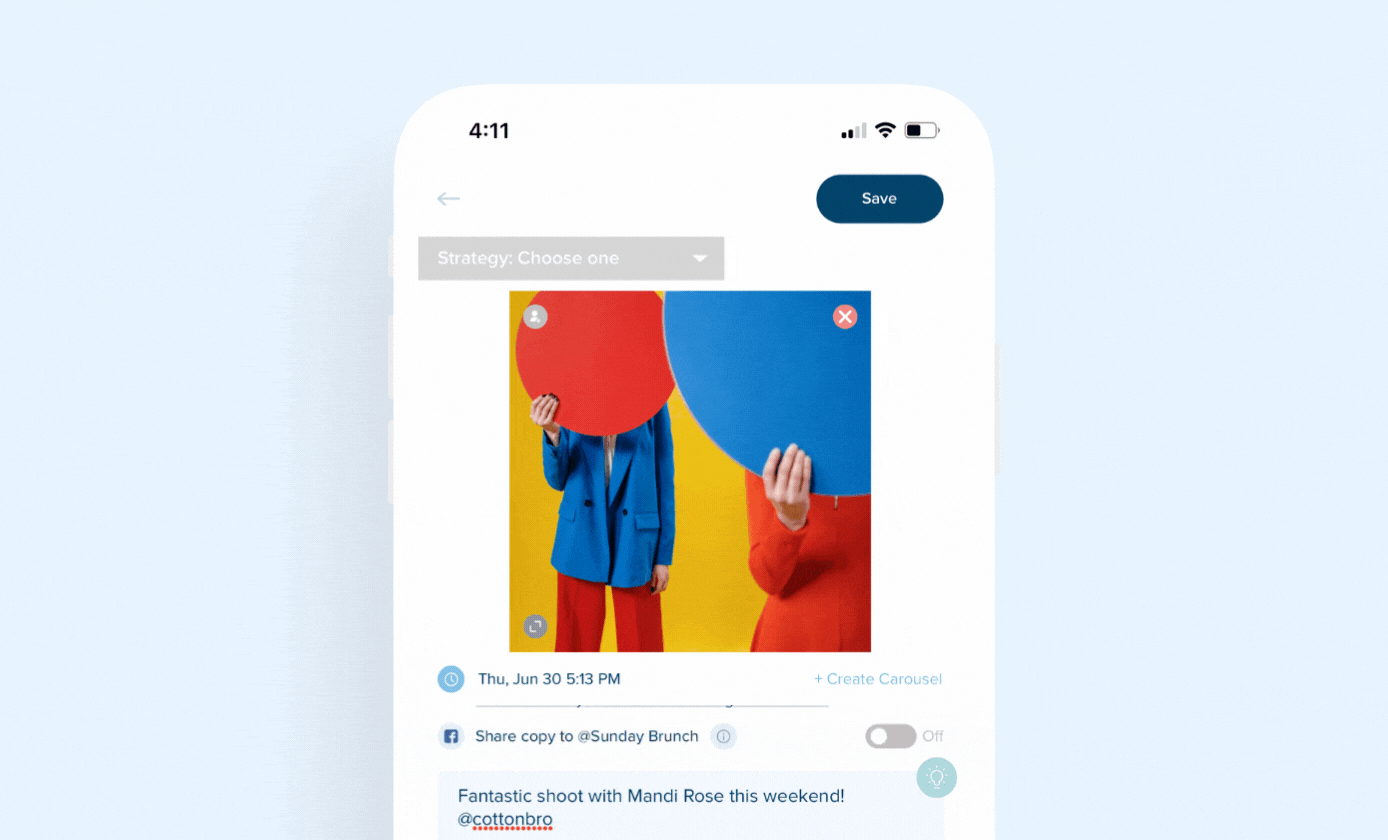 Auto Posting to Facebook from Plann App
Want a different posting schedule, or posting strategy than what you're posting to your Instagram feed? You can manage this with your Plann App too!

Simply open your Plann app and find Facebook (now listed in the social platforms that you can manage!), where you'll be able to create, craft, edit, filter and publish your own unique Facebook schedule.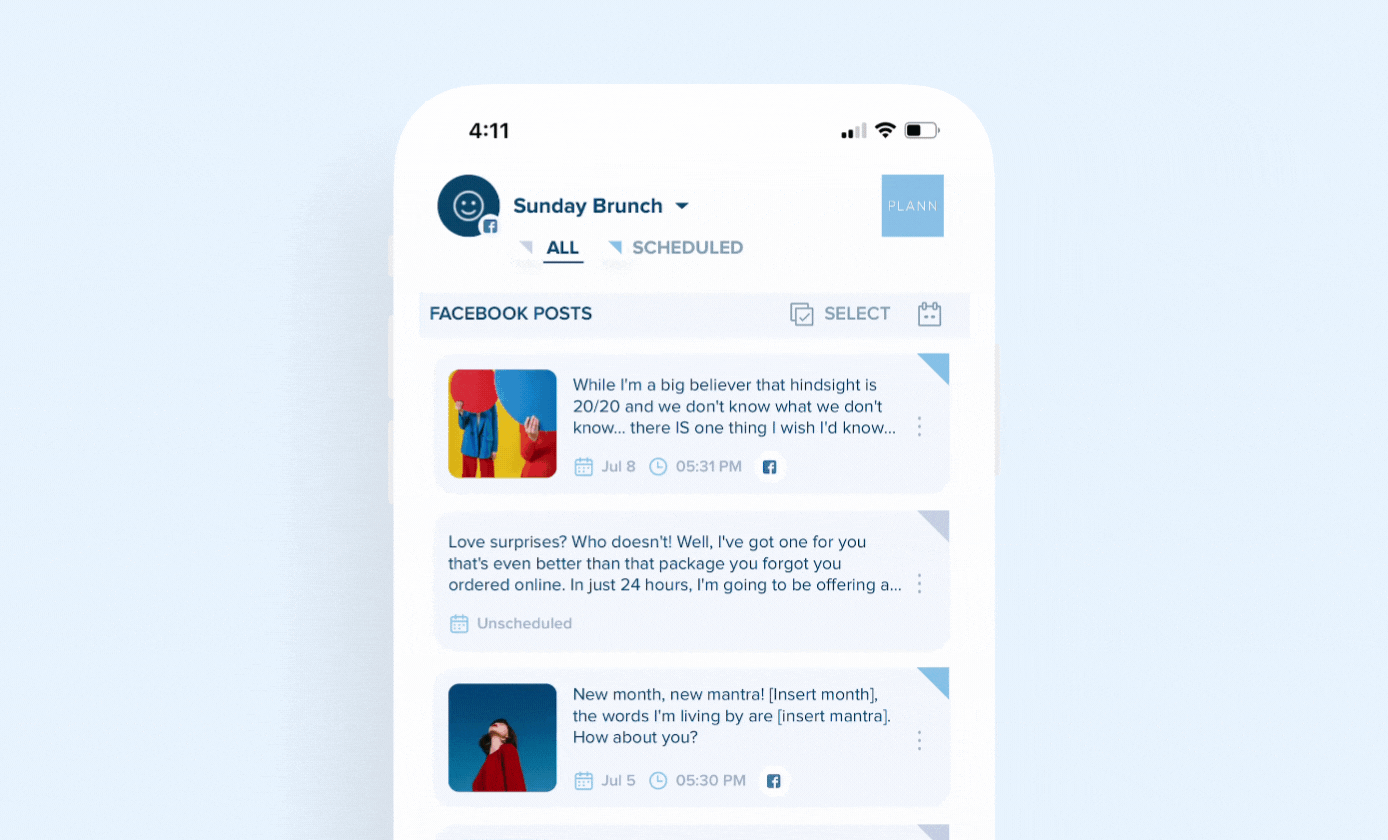 Building a Unique Facebook Strategy
Visit your new Facebook workspace in your Plann App and you can create a unique strategy just for your Facebook page too, whether your posting frequently, or the topics you talk about are different, you can customize everything to suit how you like to work.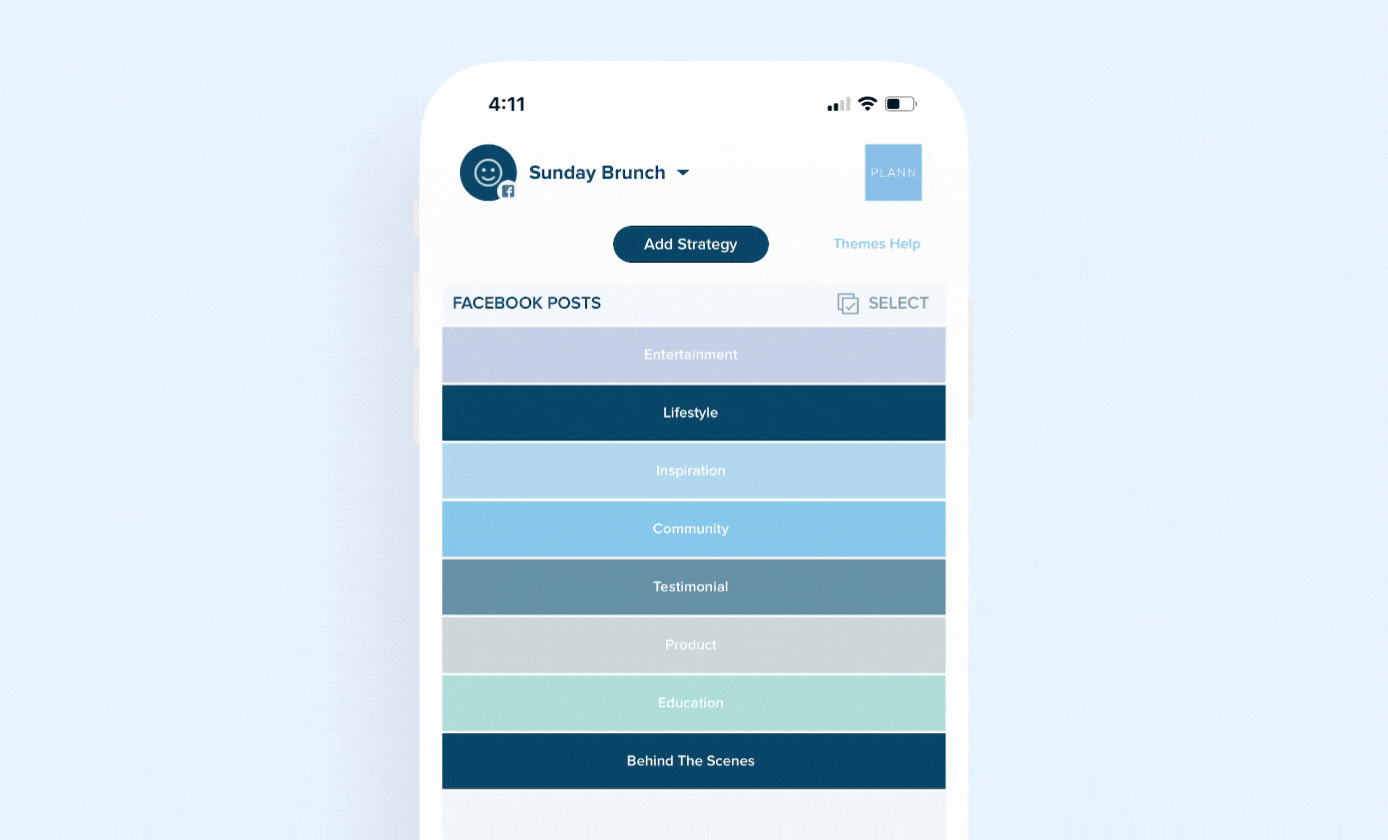 Respond To Facebook Comments and Mentions
Find Facebook distracting to log into during your day yet know you need to respond to your latest comments from your audience?

We've made sure you can keep your engagement and response rates high, with Plann you can now use both the Plann App and Plann Desktop products to respond to any comments left on your posts.

You'll now find a Facebook 'Reply' tab in the newest Facebook Plann App update so you can stay focused, see what hasn't been responded to, and then keep moving about your day. Easy!
What Else Will You Find?
Here you'll find all the great features Plann is famous for, including:
– A seamless drag and drop 'feed' view so you can see exactly what your Facebook presence will look like online.

– Facebook Analytics to easily learn what's working (so you can do more of it!).

– A calendar view of each platform so you can quickly identify any content gaps.

– A video trimmer to shorten any clip that's a little too long.

– Facebook specific 'Social Starters', a library of pre-written captions that you can use and customize, no one will know you didn't write them yourself!

– Tools to edit, crop and filter your posts, you can even add your own logo overlay.

– Repurpose your Facebook content across your other social channels to expand the lifetime of all your hard work!
Plann has over 50 tools and features working hard for your success that we can't wait for you to try for yourself.
Gift Plann to your Friends, Family or Followers <3
You lovely human you!

Gift your friends, family, or followers $10 off Plann with your unique referral link!
By using your unique link, you'll gift them a month of Plann free, PLUS, you'll get $10 Plann credit just for sharing a favorite tool.
Find your unique link in your Plann settings to gift the sunshine in someone's day.
HOW TO FIND YOUR UNIQUE REFERRAL LINK: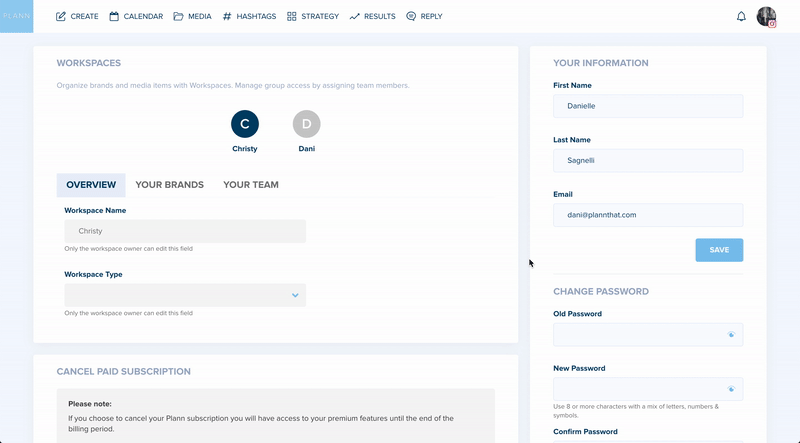 We genuinely love hearing from you and all of your ideas for Plann.
Reach out to the product team directly at feedback@plannthat.com
Christy Laurence
Plann Founder
@plannthat