Auto post Expansion:
New! Tag people in posts before they're published on Instagram
Available for content ready for Instagram auto posting, use Plann to pre-tag people in your posts.

Another great way to streamline processes and cut down on time spent scheduling, leaving you with extra time to engage, create partnerships and grow your brand!
Tag users on Plann Desktop and Plann App (iOS) – Android coming soon!

What type of posts can I tag people in?

Whenever your post is available for auto posting to Instagram, you'll find the option to tag users available inside Plann.
Note: These are single, static posts for your Instagram grid.
How do I tag people in a post?


In true Plann style, we've made this highly visual and incredibly easy to use!
When you're creating your next post, here's all you need to do:

Step one: Hover over and click the icon to tag people.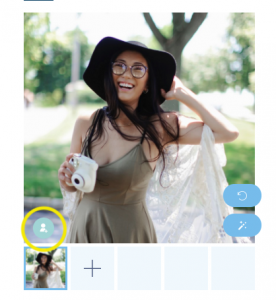 Step two: Click the spot in the image where you'd like to tag someone, OR, type the username in the search bar.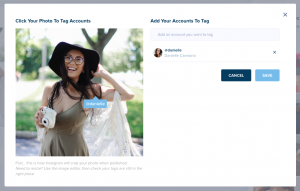 Step three: Wrong position? Want to add more? Add extras, then simply drag and drop them into position.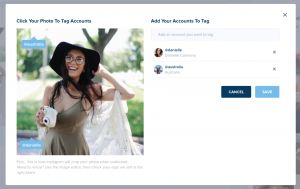 That's it!
*Note: if you crop an image after you've tagged people, you might want to check that the tags are still in the right place 🙂


Who should I tag?


When you tag someone in a post they'll get instant notification!
A great way to nudge them to save, share or engage with your post, all great things for the health of your Instagram account.
You can tag up to 30 accounts per post.

As an idea, here are the types of people to tag you could tag!

Friends
Collaborators
Photographers
Models
Stylists
Suppliers
Florists
Makeup Artists
Event Locations
Feature Accounts
** You can only tag accounts that are public, and you'll need to know their entire name as Instagram's API doesn't support auto suggestions.
Can I use this right now?
Absolutely!
Tagging people in posts is part of the Plann Auto Post Expansion features and available as part of any Plann Plus subscriptions, give it a try!

Plann Plus subscriptions start from as little as US$7 a month, with other helpful auto posting features.
Watch this video tutorial with our superstar Ashley from Plann for a full walkthrough of how it works!

What else is part of the Auto Post Expansion?

Auto posting your first Instagram comment is also included!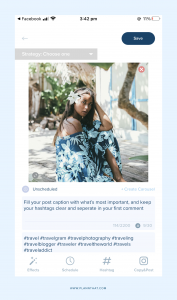 What would I put in my first comment?


Use the saved hashtag sets that you've already made inside Plann, and we'll help you add them into your first comment – keeping your post nice and tidy!

Or, use this extra space to add different hashtags, tag other user accounts (like friends, models, suppliers or photographers), or even start a conversation with someone at the time of posting!

For example, you might be a wedding photographer posting your favorite shot, and tag the makeup artist or wedding planner to thank them for also being such big parts of the day!


Is first comment auto posting available for me?


First comment auto posting for Instagram is available to all of our Plann Plus members (upgraded) right away. If you're a Plann Plus member, we're delighted to let you know this feature has already been added into your account, on us!

Plann Plus memberships start from as little as $7 per month and give you access to every single one of Plann's premium features!

Note: Auto posting first comment is only available for Instagram Business Accounts.
Learn how to set your account up as a business account and link it to Plann!

How do I schedule my first comment?

Plann on Desktop – as you're drafting your next post, you'll notice a new space to expand a second text box. This is where you can add hashtags, tag the usernames of friends or suppliers, or get a conversation with someone off to a start!

To help, we've made sure your hashtag sets can be easily imported to this new space.
Plann App – as you're drafting your next post, you'll also see a new space to populate your first comment to use in the same way as using Plann on desktop.

How many hashtags can I add?

The combined amount of hashtags you can use in total across your post and first caption is 30.

I don't have an Instagram business account, or I have auto posting turned off, can I still prepare my first comment?

Yes! Absolutely!
Without a business account however, Plann is unable to automatically publish the comment for you – this is a feature Instagram only supports business accounts for.

How to set up an Instagram Business Account, and what additional features are supported.

How does that work? How can I manually post my first comment?

We'll give you the planning space to pre-plan and organize your first caption.

At the time you're ready to post, we'll send you the same friendly notification to let you know your post is ready to be published via the Plann App. You'll follow your same steps to copy & post your image to Instagram, paste your caption, and publish manually.

On completion, you can go back into Plann and choose to COPY the contents of your first comment, then flick back into Instagram to publish your first comment.


Is it worth upgrading to Plann Plus for?


Ahem – we might be a little biased, yes, absolutely! Who wouldn't want to streamline their Instagram content strategy by being able to auto post first comments!
When we think of ALL of the premium features that Plann Plus offers (including this new feature already added to all Plann Plus memberships), they've all been designed to ensure your success on Instagram.

This is just one of many that will make sure social media is manageable, easy, and fun.

In your Plann Plus membership, you'll also get:
– Unlimited hashtag sets (to use in first comments!)
– Advanced Instagram analytics
– Auto posting (and re-posting) across Facebook, LinkedIn and Instagram social platforms
– Unlimited media uploads and scheduling tools
– Custom strategy tools to plan with intention
– Comments and mentions management to quickly respond and keep conversations flowing
– Free professional stock photos and videos for when you're short of content
– Custom events on your calendar to design your own content or brand schedule
How you can help Plann bring you more features, faster!
There are two really easy ways that make a huge impact to Plann –
1) Rate the Plann App 5 stars in the app store!
If you love our updates please rate our Plann app with 5 stars.
Quality apps are important to Apple and Google, so your rating lets the app stores know we're good eggs (and they'll support us more).
2) Share Plann with your friends!
Sharing Plann with your communities is the biggest compliment you can give – we'd love to be able to help more people, if only they knew about us!
Don't forget! If you refer a friend to Plann you both get $10 credit, with no limits on the number of people you can refer. Visit your settings page to find your unique referral link!
Thank you for being part of our story too, we cannot thank you enough <3
Christy Laurence
Plann Founder
@plannthat