ADD REELS + MISSING CONTENT PLACEHOLDERS
Available to everyone at Plann, we're excited to enhance our visual planning by helping you add placeholders where content isn't displaying, across both Plann on Desktop and Plann App.
To explain, Instagram's API currently doesn't support showing published Reels, or newly announced posts like 'collabs', for any scheduling support tool just yet.
While we p-a-t-i-e-n-t-l-y wait for what we believe is a pending any-day-now update, we wanted to help faster because we know Reels are becoming an important part of your Instagram workflow.

WHERE SHOULD ANY MISSING CONTENT BE DISPLAYING?

Once you publish content to Instagram, Plann displays your posts in your own unique visual workspace showing a representation of your live Instagram account.
Right now, Reels and Collab posts (and some of the newer posts, or newer types in testing) aren't displaying. This area of Plann is populated by our relationship with Instagram and we continue to strongly request this automatically happens on your behalf.

HOW TO ADD A PLACEHOLDER WHERE MISSING CONTENT SHOULD BE?

Here's how to easily add a placeholder into the location of any missing content for full control of your Instagram visual planning.
Step One: Scroll down to where your published Instagram posts are displayed
Step Two: Spot where content is missing and tap the spot it should be in
Step Three: Choose to "Add Reels Placeholder" from the screen and upload an image into the spot to re-create your final grid!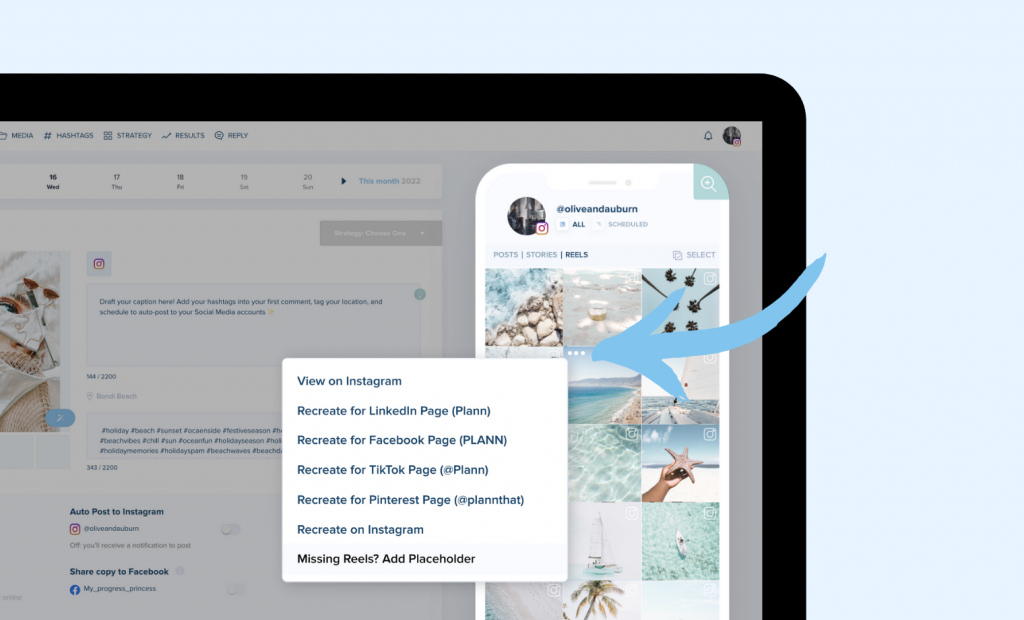 Watch Ashley schedule a Reel with a cover image for control of her grid using Plann, in less than 2 minutes
I CAN'T SEEM TO FIND THIS OPTION ON MY PLANN APP?

You might need to run your latest Apple update to find this latest feature!

WHAT CAN I UPLOAD AS A PLACEHOLDER?

You can upload all of these types of media as a placeholder:

– Any Image
– A Reels cover image if you've made something custom
– A screenshot of your Reel
– The Reel video file itself
If you choose to upload a Reel video, we'll display a still for you as a placeholder.

GREAT NEWS FOR PLANN PLUS MEMBERS!

If you're an upgraded Plann Plus member and you upload a Reels video as a placeholder, you'll also be able to recreate and reshare this video (that we've quietly stored for you) to TikTok too, right from the placeholder!
It becomes the perfect place for you to upload and store video content inside Plann if you've created a video on your phone directly and missed scheduling via Plann.
Simply tap on your placeholder on Plann Desktop or your Plann App and you'll find the option to recreate and add this straight into your TikTok account.
This feature will appear only if a TikTok account is connected to Plann 🙂
LOVE THIS UPDATE AND WANT TO SHARE IT?
GIFT PLANN TO YOUR FRIENDS, FAMILY OR FOLLOWERS <3
Gift your friends, family, or followers $10 off Plann with your unique referral link!
By using your unique link, you'll gift them a month of Plann free, PLUS, you'll get $10 Plann credit just for sharing a favorite tool.
Find your unique link in your Plann settings to gift the sunshine in someone's day
HOW TO FIND YOUR UNIQUE REFERRAL LINK: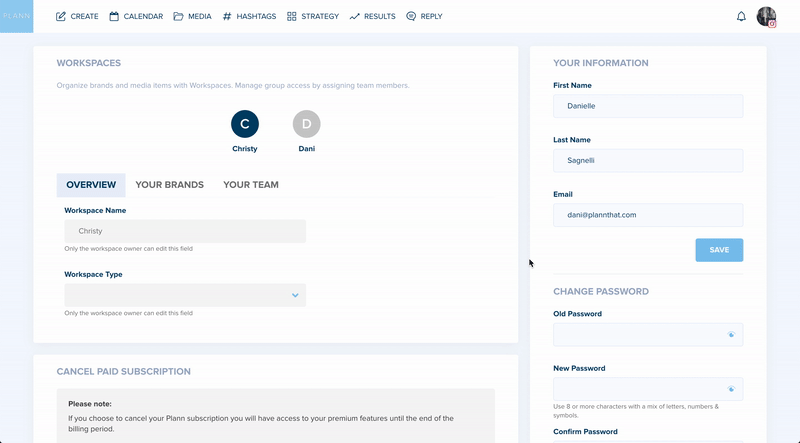 We genuinely love hearing from you and all of your ideas for Plann.
Reach out to the product team directly at feedback@plannthat.com
Christy Laurence
Plann Founder
@plannthat