If you're getting a bit bored with Instagram Stories (or running out of ideas!) having a play with Instagram Story stickers is a great way to bring the fun back. There are a bunch of features on Instagram Stories including the emoji slider, poll option, location sticker, daily stickers (that change every single day!) and a tonne of exclusive Instagram stickers to boot!
The Plann team have been experimenting with different Instagram Story design features including story stickers and here are four winning ideas that we've come up with to jazz up your 'gram.
Keen as a bean to get started? Let's jump in!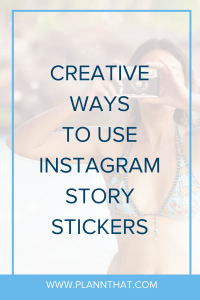 DUPLICATE INSTAGRAM STORY STICKERS
One of our favorite ways to get creative with Instagram story stickers is to duplicate one or two different types of stickers to create a really funky background or just a really cool feature on the image.
(You can also add Instagram story stickers to videos, FYI!) Here are two examples of how you can duplicate stickers for a really funky effect.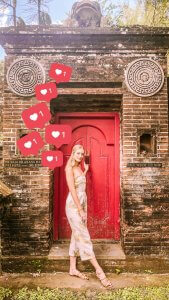 How funky is this? We love how the red of the door and the red of the Instagram story stickers mesh perfectly!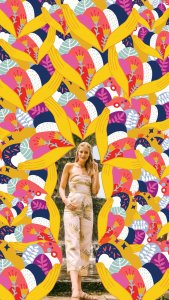 How cool are the colours in these stickers? We just *had* to make a pattern out of them.
PSSST -> Want some Instagram Stories hacks for sneakily increasing your reach? Here ya go!
CREATE NEON INSTAGRAM STORY STICKERS
Ooh, now this is exciting!
If you have ever wanted to add a pop of neon to your Instagram Stories and really make them stand out, this handy-dandy tutorial is going to blow your mind.
Take a peek and give it a try as you watch:
COMBINE INSTAGRAM STORY STICKERS WITH DRAWING TOOLS
If you're feeling super creative one great trick to use with Instagram story stickers is to combine them with drawing tools like the pen and eraser.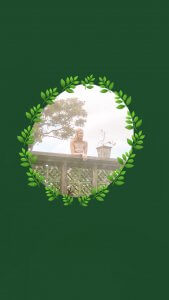 Is this one giving anyone else Rapunzel/Princess Fiona vibes?! Okay… just me then!
For this design, it helps to choose a background colour and emoji that are the same color OR are complementary. Either way, it's going to look really freak'n awesome once you're finished.
PSSST -> If you want to know how to create a transparent overlay using Instagram story drawing tools, here is a quick tutorial!
EXTEND INSTAGRAM STORY STICKERS
Now this one will take a bit of patience (and probably some of that eraser tool!) but it is really cool once it's finished.
First of all, pick out an Instagram Story sticker that could be 'added' to like this one of the hands that can have the arms extended.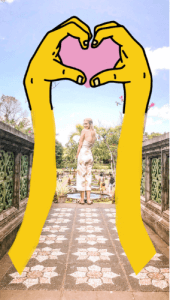 Then, use the color picker tool to choose one of the colors that are in the sticker and start drawing around it to help the sticker blend with the picture and create a whole new design!
SCHEDULE YOUR INSTAGRAM STORIES IN ADVANCE
Once you've decided that you're going to include Instagram Stories as part of your Instagram marketing strategy one of the best things you can do for your audience and for your sanity is to schedule your content in advance.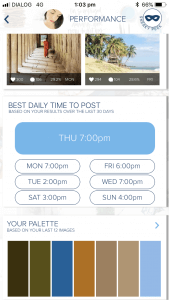 With the Plann app you can upload, edit and schedule your Instagram Stories photos and videos in advance. Heck, you can even write out a caption to copy and paste (if you want to add text to a particular slide upon upload) that will make the whole process smooth and easy.
To find out more about the Plann app and whether it's a good fit for you, take a peek at this page!