Are Instagram Stories dimensions driving you up the proverbial wall?
Do you feel completely baffled by the fact that your post displays differently on an Android or iPhone device.
We've got you covered!
In today's post, we're unpacking all the information you need to create perfect Instagram Stories every single time, best practices to boost your views and how to create a beautifully designed (and correctly sized) Story in seconds!
What Are The Instagram Story Dimensions?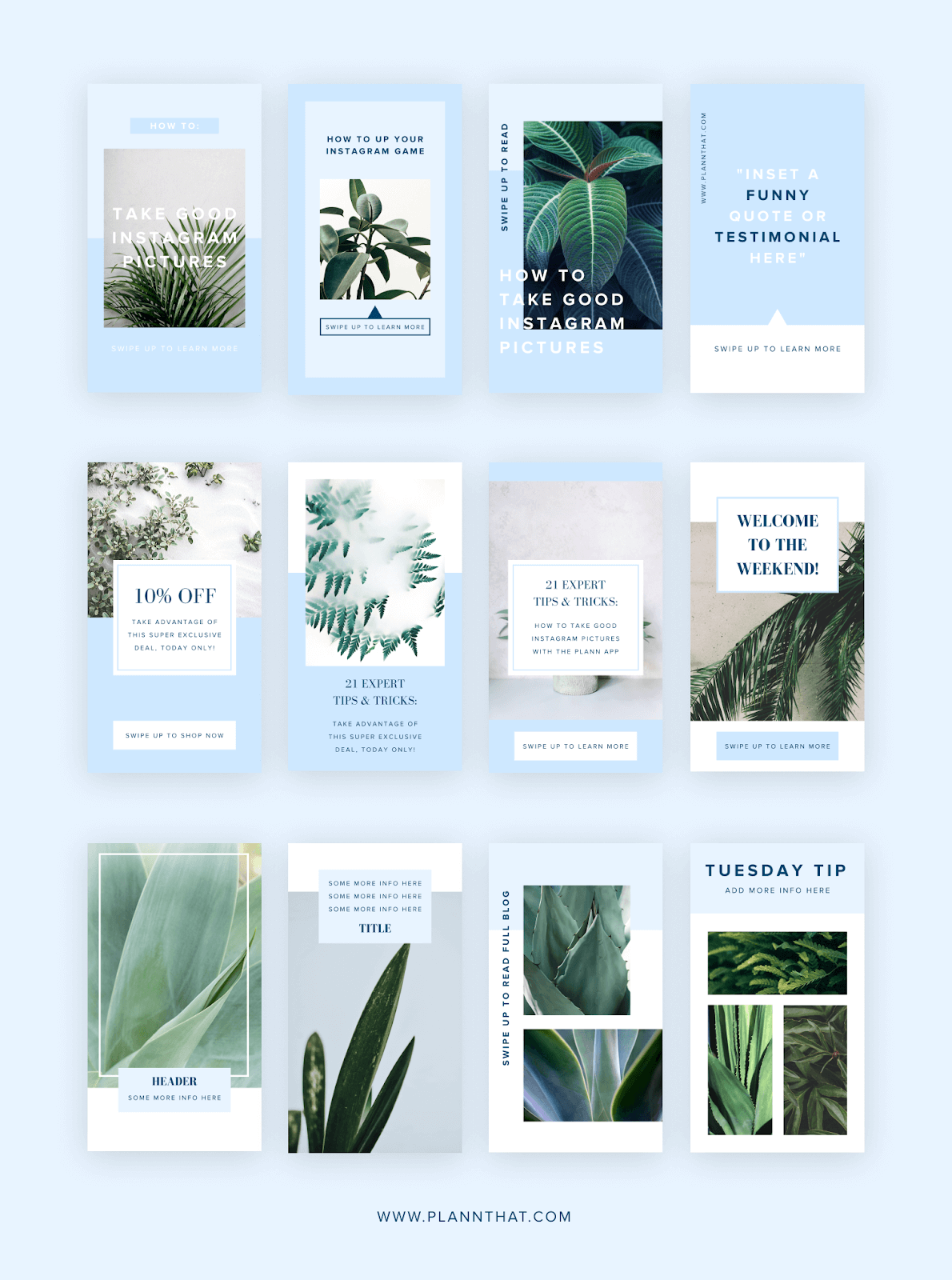 You don't need math wizardry to figure out the perfect Instagram Story size.
Whether you want to post:
– Image
– Video
– Highlight Cover
– Instagram Ad
The dimensions are straightforward and stay the same.
Instagram Stories Size Cheat Sheet
– Dimensions: 1080px by 1920px
– Aspect ratio: 9:16
– Minimum resolution: 600px by 1067px
– Minimum image size: 30 MB
– Max video size: 4 GB
– Video format: MP4 or MOV
Instagram Feed Posts Dimension Cheat Sheet
– Square Photos: 1080px by 1080px
– Portrait Photos: 1080px by 1350px
– Horizontal Photos: 1080px by 607px
– Square Videos: 1080px by 1080px
– Landscape Videos: 1080px by 607px
– Portrait Videos: 1080px by 1350px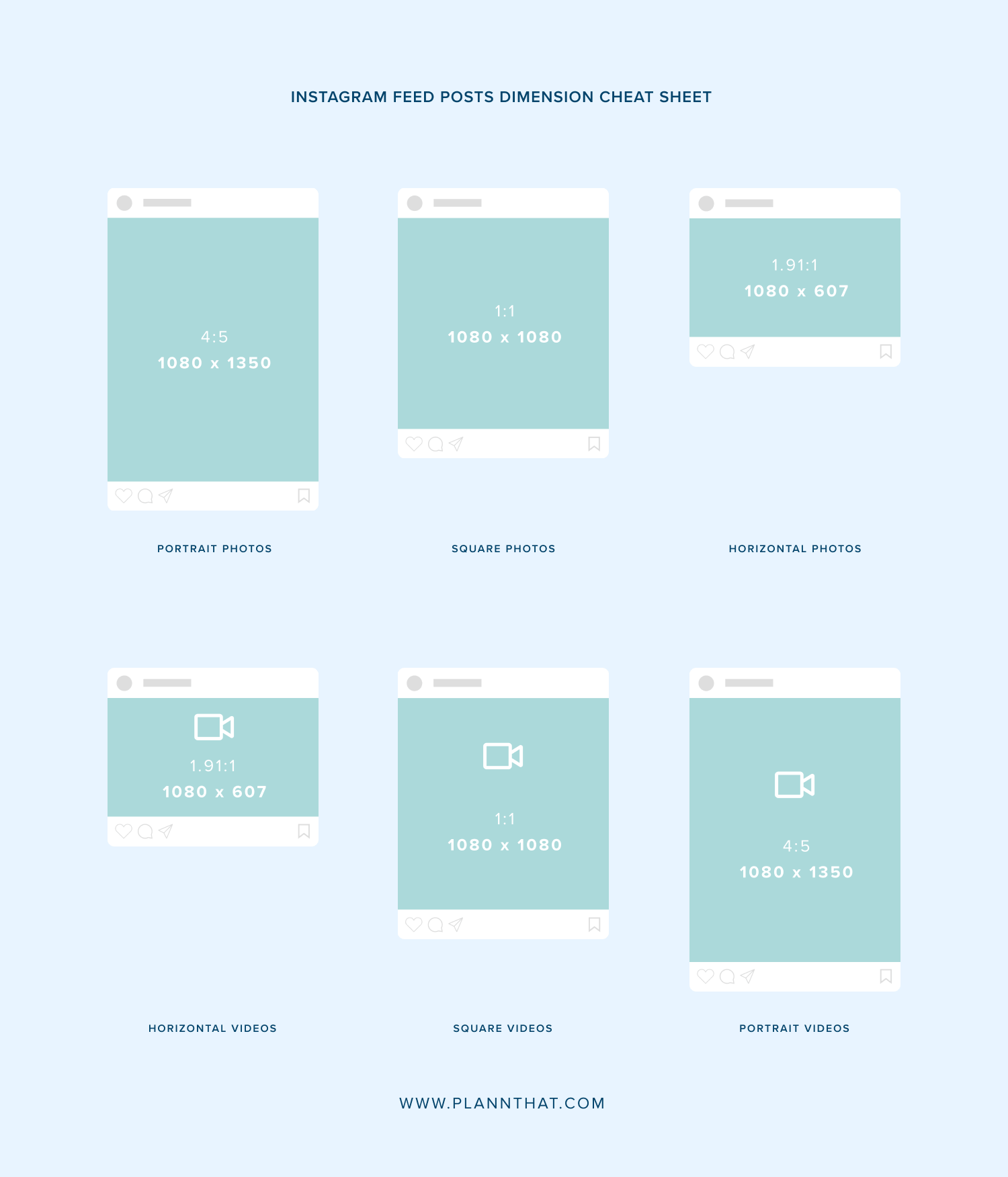 What Happens If Your Instagram Story Image Size is Wrong
So what happens if you *accidentally* upload an Instagram Story and it's the wrong size?
1. Instagram will automatically crop and zoom in on your content (not a cute look)
2. The app will lower the quality (i.e. the hot pixelated mess you want to avoid)
3. The image will not take up all the space on the screen
Tip! You want to make sure that your content is the right size so your design isn't altered or warped in any way.
How to Create Instagram Stories with the Right Dimensions in Seconds
Want to save money and time creating on-brand Instagram Stories? There are free and paid design tools that come with ready-to-go templates.
It will give your brand an effortlessly polished look, and you won't have to spend hours agonizing over the design.
– Canva: It's the perfect option for content creators and online businesses on a budget. Canva comes with free Instagram Stories templates and optional paid elements. Want to know something even better?! With Plann Desktop's new smart Canva integration you don't even have to leave the platform to access all of the images you've designed in Canva – including your stories! Talk about max efficiency!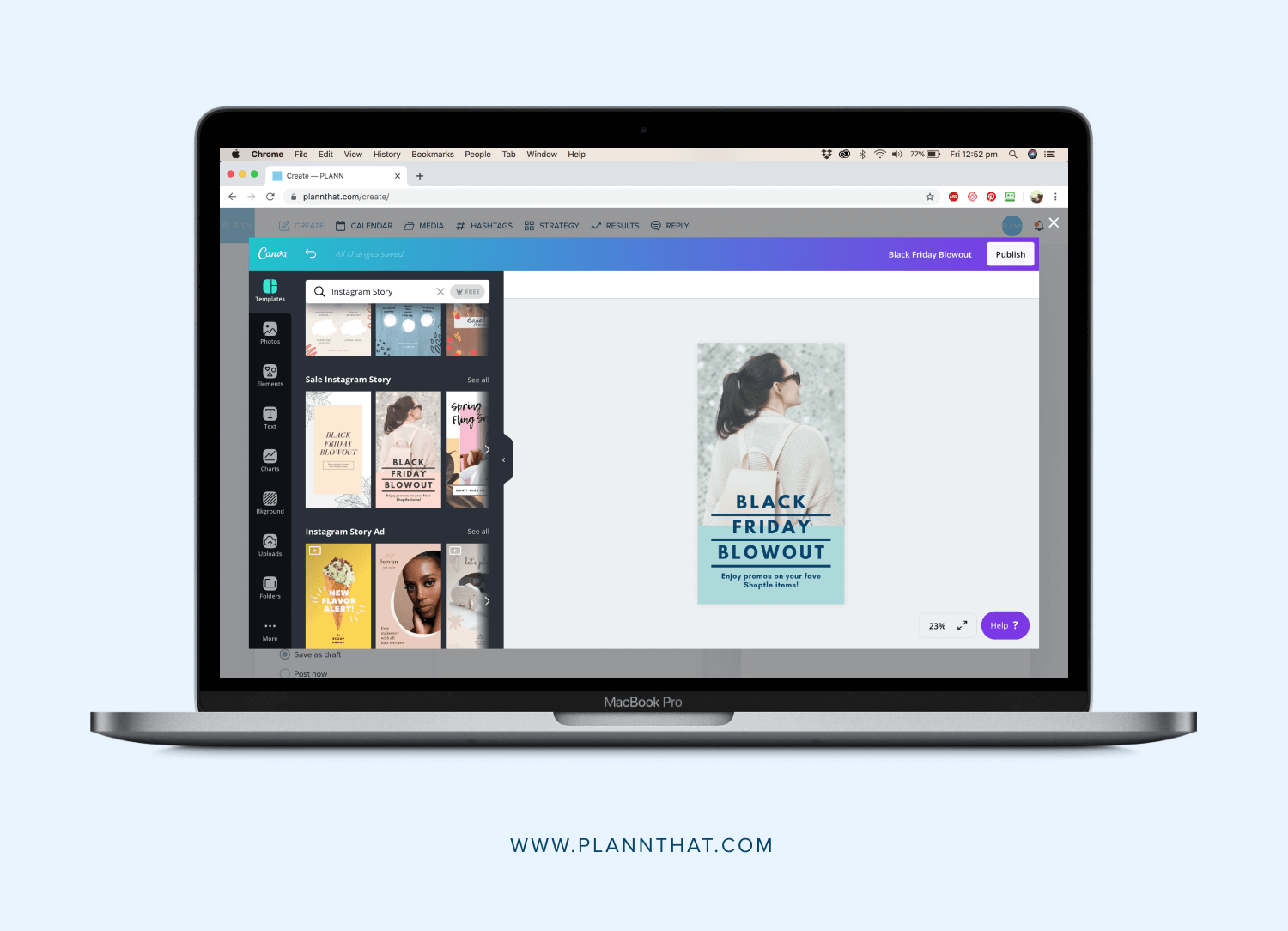 – Lumen5: With plans starting at $19 per month, Lumen5 is a small investment, but worth it if you want to create a lot of video content. Each plan comes with access to the media library, and you can create content with the right dimensions for the platform of your choice.
– Easil: Sign up the free Easil plan, and you'll get access to over 2,500 templates, royalty-free images, and graphic elements.
Things to Keep in Mind When Creating Instagram Stories
Faster Buffer Time: In a world of short attention spans, don't make your followers wait to see your content. You can lower the image resolution without changing the aspect ratio for faster buffering times. But don't go lower than 600px by 1067px, or you'll turn your content into a hot pixelated mess.
250px Margin Rule: You want to make sure your Instagram Stories are optimized for every phone on the market. The easiest way to do this is by using the 250px margin rule. It will make sure that no essential elements get cut off by different phone screen sizes.
Limit Text Overlay for Ads: If you plan on using Instagram Stories for ads, limit your text overlay. Facebook's Ad manager could reject your image, and you'll have to re-design it and re-submit for approval.
Make The First Few Seconds Count: By the second frame of your Instagram Story, you can lose as much as 20% of your audience! It's crucial to make sure your Stories capture and maintain your audience's attention. Your content needs to be visually appealing and engaging by using appealing colors, fonts, and imagery, as well as the quiz, poll, and question elements.
Schedule Your Instagram Stories with Plann
Want to plan out your Instagram Stories meticulously? Sign up for a free Plann account and draft, schedule, and post your Stories right from the comfort of your laptop or phone. You'll see EXACTLY how your story will look before you post.