Instagram Nametag – it's the brand new feature on the block. And we're loving it!
The new Instagram feature has been designed to make it easier for users to promote themselves visually on other social media networks, and to make getting new Instagram followers in a more public setting (like a networking event) quick and simple.
Yay for no more typing in long usernames!
Keep on reading and we'll show you how to set up your very own Instagram Nametag.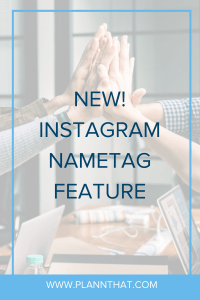 STEP ONE: UPDATE YOUR INSTAGRAM APP
When a new feature has dropped and you don't seem to have it yet, the first step you take should always be to the app store to update your Instagram app manually.
After waiting a little bit, your app will be updated with the latest version and you will have access to the new Instagram Nametag feature.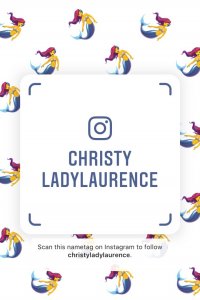 It is really important to keep your Instagram app up-to-date (and any other apps that you use and love, cough cough…) so that they can work at their best without any nasty bugs. Sure isn't fun missing out on new features either!
PSSST -> Want a full-length guide to Instagram Marketing in 2018? We've got you covered!
STEP TWO: GO TO THE TOP OF YOUR INSTAGRAM PROFILE 
To open up the new Instagram Nametag feature you'll need to scroll up your Instagram profile to the top bar where the icons for your archive button, people to follow and options sit.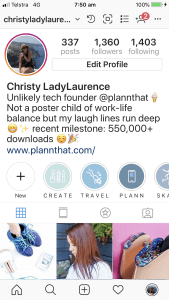 The new Instagram Nametag feature has an icon that kind of looks like a little square with a frame around the outside. Click on the icon to start creating your Instagram Nametag.
Keep in mind that you can change your Instagram Nametag at any time, so don't worry too much about getting it set up perfectly when you first open it up!
STEP THREE: DECIDE ON YOUR INSTAGRAM NAMETAG STYLE
When you open up this new Instagram feature you will notice that you can change the style of your Instagram nametag and customise it for a unique look.
The options that you have to choose from are:
A tiled emoji background (one emoji of your choice)

A selfie (tap on the glasses to get different stickers!)

A coloured background (like in Instagram Stories)
PSST-> Here's a quick video walkthrough to show you how it's done: instagram-nametag-video-guide
For today, I am going with the tiled emoji background of a girl in a red dress. I'm heading to an event where i'll be wearing a long red dress. So this makes the most sense for me.
Your Instagram Nametag style can be changed so don't feel like whatever you choose as your background design needs to stay the same forever!
However, if you do plan on saving your Instagram Nametag as an image and printing it on business cards, posters, flyers or in-store promotional materials it is a good idea to keep your Instagram nametag consistent.
PSSST -> Want to learn the secrets to creating viral Instagram Content? Allow us to spill the beans!
HOW TO GROW YOUR INSTAGRAM FOLLOWERS WITH THE INSTAGRAM NAMETAG FEATURE
The whole idea for Instagram Nametags is to make gaining Instagram Followers a little bit easier than typing in the username of someone you don't know.
This is going to be especially helpful for you who have long or complicated usernames (hello underscores and full stops!).
If you want to grow your Instagram following using the Instagram Nametag feature here are a few suggestions to get you started:
Share your Instagram Nametag:
Image to one of your Pinterest Boards

On LinkedIn

Facebook business profiles

Facebook group and start a thread
Print your Instagram Nametag:
on your business cards

a big poster to have in your store

poster and have it at pop-up events
The opportunities are endless with this new Instagram feature! Work it into your digital and real-life marketing strategies and you are going to grow your Instagram following like crazy.
We can't wait to see what your Instagram Nametag looks like and how you plan on using it to grow your Instagram.
PSSST -> Want to get your hands on Plann's desktop version the second it launches? Find out more about how you can schedule Instagram posts from a desktop here!