We all have *that* friend. You know, the one that shares 10,000 Instagram Stories per day. Or the one who posts photos of their half-eaten cupcake to their Instagram grid (here's why we think wanting to mute Instagram accounts became a thing!)
And you know what? Those friends are ALLOWED to do their thang. It's their 'gram. Post all the half-eaten cupcakes you want, friend!
BUT – and this is a big but – we all know that we would LOVE to be able to turn the 'off' button on their Instagram content so that it isn't always popping up and getting in the way of the stuff we actually want to look at.
You know, without actually unfollowing them on Instagram – that's an awkward conversation waiting to happen!

Instagram to the rescue!
On May 22nd 2018 Instagram answered our prayers and launched a 'mute' button for feed content so that you can actually switch the 'off' button on that friend. Huzzah!
There's actually been a mute button for Instagram Stories content for a while now, but today we think it's prime time to share with you how you can 100% mute the Instagram accounts that bore you to tears.
How to Mute Instagram Accounts That Kind of Bore You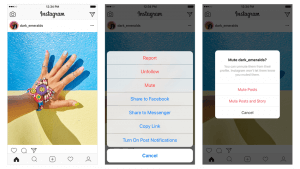 The easiest way to mute content from *that* friend is to go over to their Instagram profile, tap the three little buttons in the top right corner of their latest post, and then tap mute.
As you can see in the photo above, you can mute posts only or you can choose to mute posts and stories. Winning!

If you only want to mute their Instagram Stories, tap and hold their profile picture when an Instagram Story has been posted (there will be a colorful ring around their pic) and you will be given the option to mute their stories.
ISN'T THIS JUST THE BEE'S KNEES?
Now you can 'mute' all the people you want without breaking their hearts by unfollowing.
Want to learn more about creating better content?
How to repost content from public accounts
How to understand your analytics so you grow faster
Instagram grid ideas that will blow your followers' minds.
Eeep, what about someone wanting to mute YOUR Instagram content?
Don't let that happen!
Use Plann to always have thumb stopping content that people will want to revisit again and again.
With over 60 professional filters and custom editing tools, you'll always be on your grid game.
Download Plann now for FREE and join 450,000 Instagrammers around the world growing their Instagram.