Did you know there is a tool that can manage your Facebook and Instagram accounts from one place? Say hello to Creator Studio. Is there anything social media can't do? 
For busy social media managers or business owners, optimal productivity is the key to success. That's what makes an all-in-one desktop publishing tool so valuable! Using Creator Studio, you can share new content and analyze post-performance from one place to level up your social game.  
Wondering how Creator Studio can help you achieve all your social media marketing goals? Here's everything you need to know!
What is Creator Studio?
Once upon a time, Facebook Creator Studio existed only to help avid Facebook users, but times are changing. Today, Creator Studio has expanded its reach to include Instagram too! 
As part of Facebook's business tools, Creator Studio is a free dashboard that allows you to link and manage your Facebook page and Instagram account.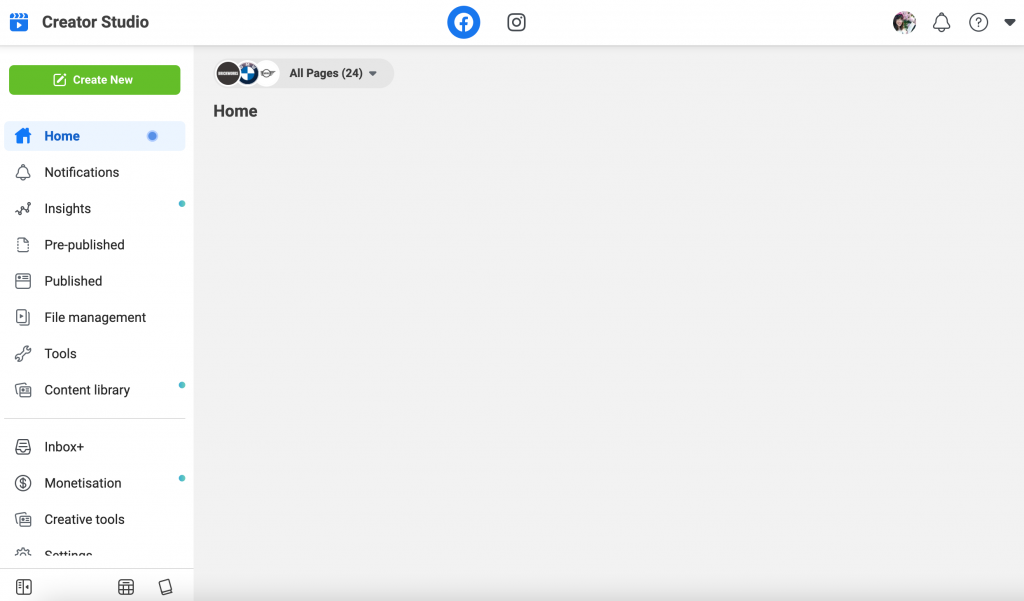 Using Creator Studio, you can schedule and publish posts, keep track of your social media community, and access data and analytics about your content and audience. You can even manage collabs and monetization! 
To access Creator Studio, all you need is a Facebook account and a Facebook page up and running. If you're working on a desktop, head to the Creator Studio Facebook homepage to get started. If you're on your mobile, download the Creator Studio app! 
FB Creator Studio
Facebook Creator Studio has plenty of great features to help you manage your Facebook page. This all-in-one suite allows you to take control of all your favorite Facebook tools.
Sharing posts and videos
With Facebook Creator Studio, it's easy to publish new content! The studio provides tools for posting and scheduling images, videos, and text-only posts.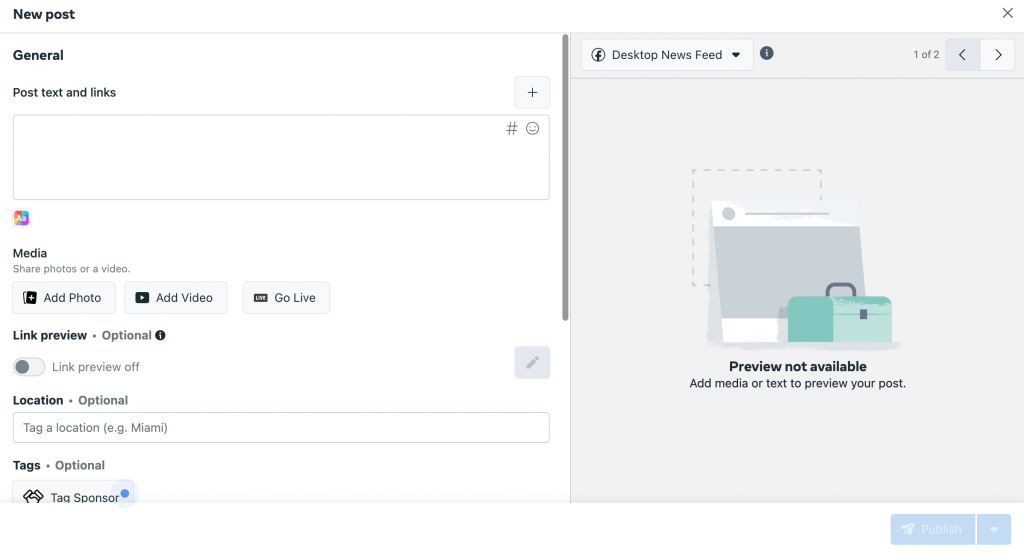 Creator Studio posts are completely customizable with all the Facebook features, like check-ins, product tagging, media upload, and more. 
You can also use Creator Studio to cross-post content across multiple Facebook pages. This helps to save you time if you manage sister-brand Facebook accounts. 
Testing content variations
Another great feature of the FB Creator Studio is its capacity for variation testing! With this tool, you can create up to four variations of an organic video post. 
When you test content variations, Facebook shows different versions of your content to small segments of your audience before your video officially goes live. It then chooses the most successful version to drive the best results for your business!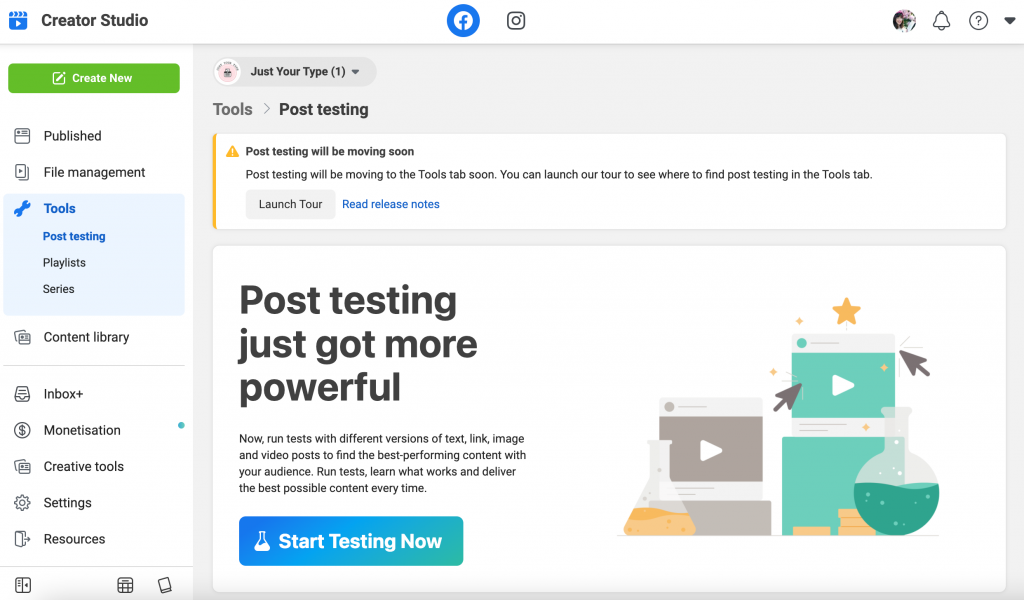 Using the variations testing feature, you can try a range of copy and image variations, which allows you to learn more about what works best for your audience. 
Posting stories and going live
You can also use Facebook Creator Studio to share stories and start live streams! These content formats are great for engagement boosting. 
By simply accessing the Creator Studio story upload feature, you can share image-and-text stories, even adding a call to action button to encourage conversions. 
Meanwhile, you can use the Creator Studio to shortcut your way to the Live Producer tool, reaching your audience in real-time. 
Accessing your inbox
In addition to posting features, FB Creator Studio includes a range of inbox tools, allowing you to see and respond to messages from your followers. 
The Creator Studio integrates messages from FB and connected Instagram accounts. This means you never have to worry about missing communications!
You can also use additional inbox features to create user profiles, add message labels, request customer payments, and assign conversations to specific page managers.
Tracking your stats
Finally, Facebook Creator Studio is designed to make it easy to analyze your performance! You can use the insights tool to keep track of your success.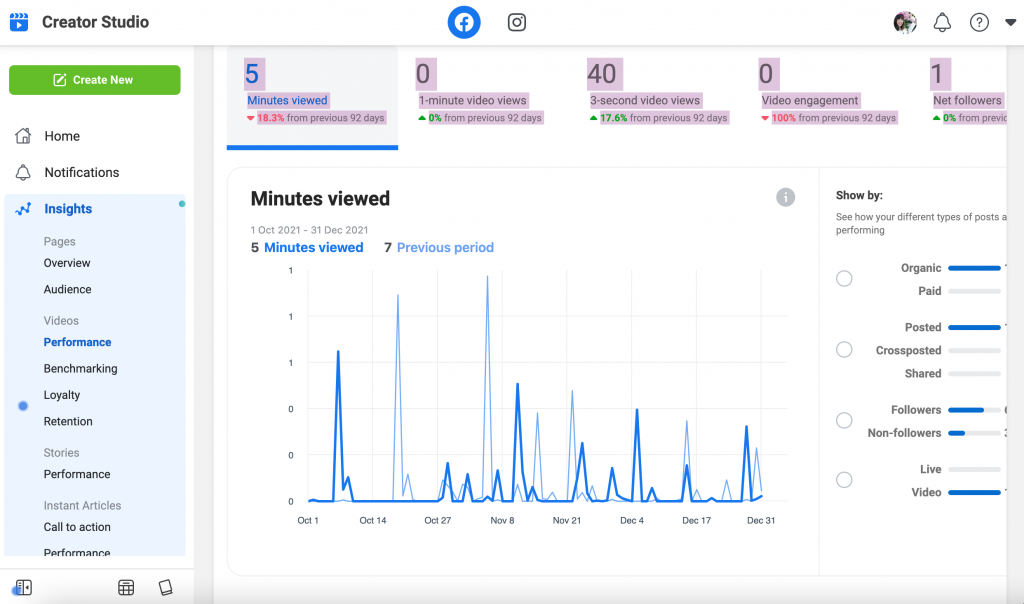 Insights allow you to access data and information about your pages, your content, and your audience. You can view analytics for specific posts to see what's working best. 
Keeping track of stats allows you to plan for great performance in the future. The more you learn, the better you can serve your audience.
More tools
FB Creator Studio has plenty more to offer! Whether you're accessing the content library, managing page roles, or setting up lead generation, Creator Studio does it all.
IG Creator Studio
Using Creator Studio for Instagram is just as great as using it for Facebook! Just connect your Instagram page to your Facebook account, and click on the Instagram icon at the top of your dashboard to start using Instagram-specific tools. 
Publishing new posts
Currently, you can use the Instagram Creator Studio to manage two main post types: feed posts and videos. There's hope that Reels will be added in the future!
Within Creator Studio, you can create posts and all the content you need to publish on Instagram, uploading media and writing engaging captions. 
The Creator Studio also allows you to schedule posts ahead of time, so you know your content will always go live when you want them to.
Searching for content
Another great IG Creator Studio tool is the content library feature! Using this tool, you can review all your past Instagram content, even archived posts.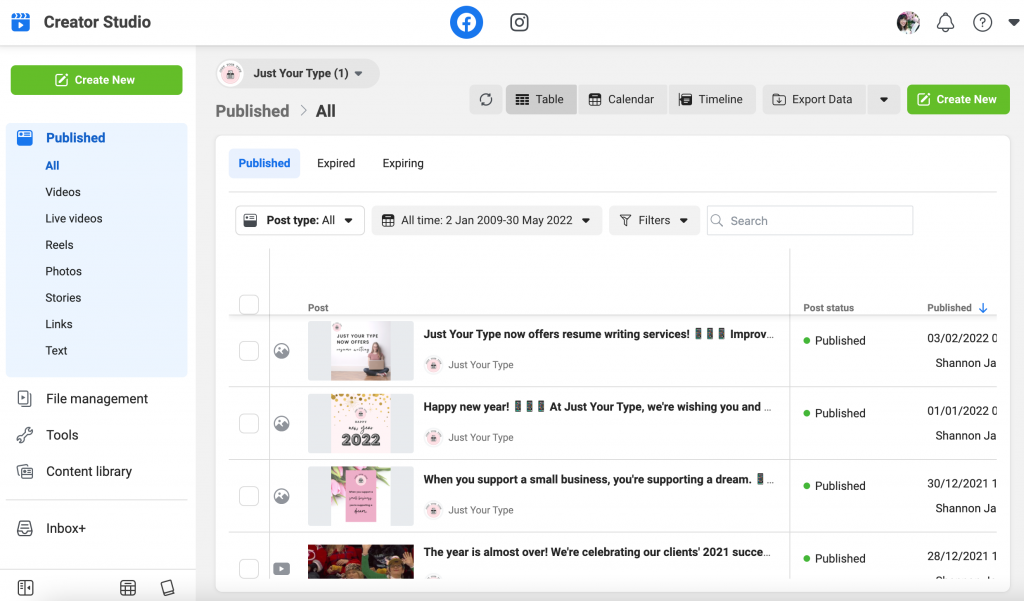 To search your Instagram content library, filter by date or the status of the post you're looking for. You can use the search bar to look up key terms, and you can switch tabs to access a range of content types.
Accessing old Instagram content is a great way to track your brand's development while getting post inspiration from your past self!
Checking the calendar
The Instagram Creator Studio offers a functional calendar view as a unique Instagram feature.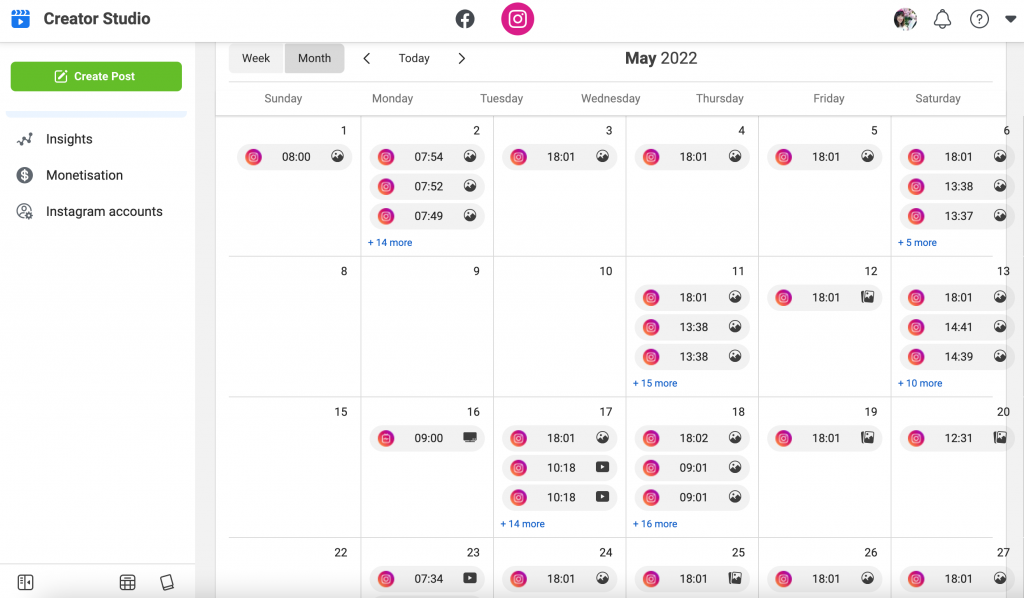 Using the calendar, you can view a week or month in full, seeing what posts are scheduled to go live and which ones have already been published. 
By clicking on a post in the calendar view, you can access performance data. The tool is a quick, easy way to see how your account is performing right now!
Managing conversations
Creator Studio's Facebook-Instagram integrations make it easier than ever to manage conversations with your customers. 
You can use Creator Studio to stay up to date with your messages, never worrying that content will get lost or go unanswered. 
By combining your Facebook and Instagram messages in one convenient location, Creator Studio allows you to use your social media inbox like an email system, always staying up to date.
Knowing your insights
Like FB Creator Studio, the IG studio dashboard provides easy access to insights and analytics, helping you grow your Instagram account.  
With IG Creator Studio, you can access two main insights categories: activity and audience. Activity helps you track interactions and discover data relating to your account. Audience stats can help you better understand follower demographics.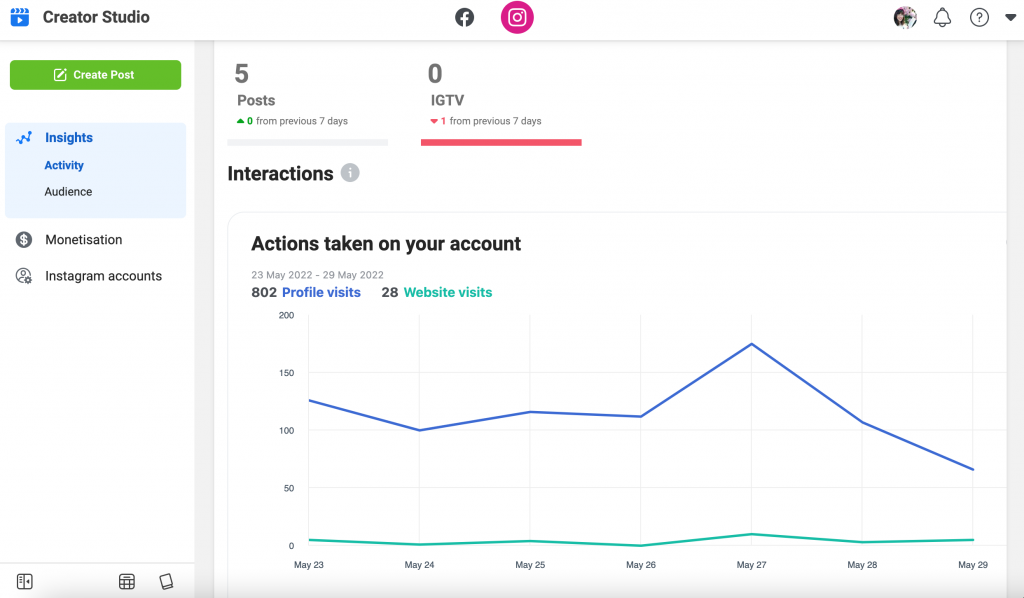 By regularly reviewing your Instagram insights, you can improve your understanding of your account and its performance. This will help you introduce new strategies to grow and improve!
What about Plann?
The easiest way to achieve the best results for your Facebook and Instagram accounts is by using all the best tools you can find to help!
Try combining Creator Studio with the Plann app, where you can access unique scheduling, tracking, posting, sharing, analyzing, and organizing tools. Sign up for a free 7-day trial of Plann, and get started today!