Looking for Instagram content ideas for May? Well then we *may* just be the droids you are looking for…
Too many puns in one sentence? Soz.
May is a month full of surprising days to celebrate including World Turtle Day and Star Wars Day aka "May The Fourth Be With You".
We've put together a spine tinglingly good Instagram content calendar to help spark some inspiration and help you to put together some truly engaging posts.
Scroll on down for the content ideas!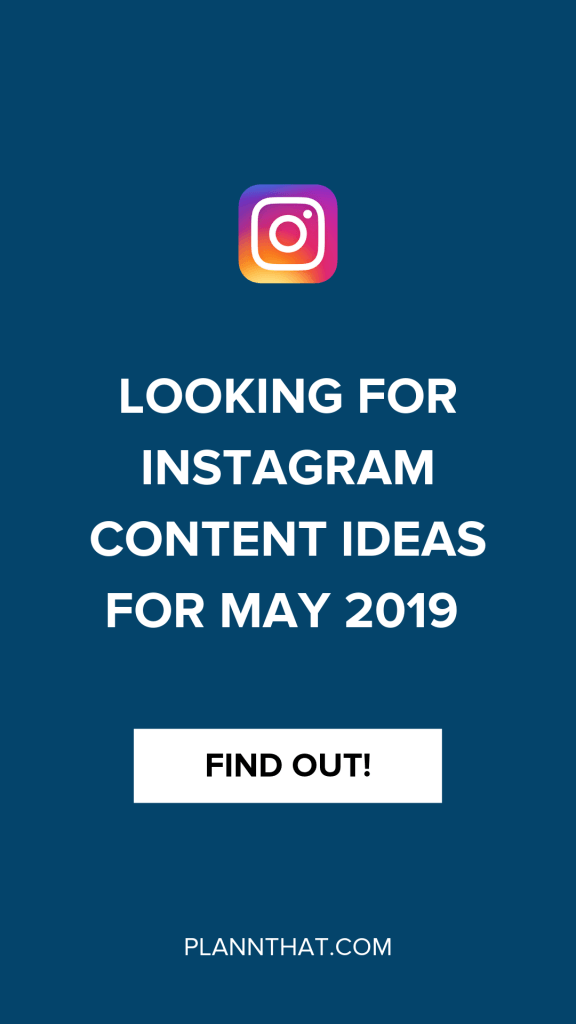 Instagram Content Calendar
Say hello to your shiny new content calendar for the month of May, isn't it pretty?
This month we're continuing on with our little 'action prompts' (dark blue squares) to help you on your Instagram marketing journey.
You can download this calendar as a PDF, save the image below to your laptop or you could even print it out and stick it in your daily paper planner. Woohoo!
3 Tips to Make The Most Out of This Calendar
Decide on an Instagram Experiment to Try:
So, you already know I am a star wars fan (why else would I be so keen on May the Fourth?!?!) but did you know that I am also a massive nerd?
Who would have thunk it.
Anywho, I love getting a bit nerdy with things and it really comes in handy when you're trying to achieve amazing Instagram marketing results.
It helps tremendously to experiment with different approaches to your Instagram posts, hashtags and content styles. You can often stumble upon a strategy that really works for your brand!
Take a peek at the top Instagram marketing experiments that I recommend you give a try – you'll learn a lot, trust me!
Plan Out a Competition for the Month of June:
Instagram competitions can be a fantastic way to increase your following, your email list sign-ups and sales of your products if you play it right.
We recommend taking the time to sit down and really map out your Instagram competition before your start working on that shiny graphic to make sure that it really gives you the ROI (return on investment) that you deserve.
We've got a fantastic guest blog post from a competition expert who has organized large-scale competitions for the likes of Doritos and Woolworths, WOAH!
Start Scheduling Your Content for June:
We're a little bit forward-thinking at Plann so we like to give you a prompt at the end of each month to prepare for the upcoming month (call us #superorganized).
During June (or May if you're feeling it!) we'd love for you to give Plann Desktop a try.
With Plann Desktop you'll be able to create custom media collections, reply to comments, create captions, repost from stock image libraries and then go and check the analytics of your post to then see what works!
It's pretty spiffy if I do say so myself.
BONUS TIP!
Pssst did you know that if you use #planncalendar and #plannthat in your posts on Instagram we might just shout you out on our stories? Super cool.
This is where I leave you, but I hope you have the most ah-mazing month and absolutely level up your Instagram results!