There's a stack to learn when deciding to promote your business on Instagram. Between Reels and responding to your community, it can easily feel like a full-time job (on top of your actual job!).
Luckily, social media marketing consultant and Instagram coach Blanca de la Cruz has launched an online academy dedicated to empowering female entrepreneurs to succeed on Instagram.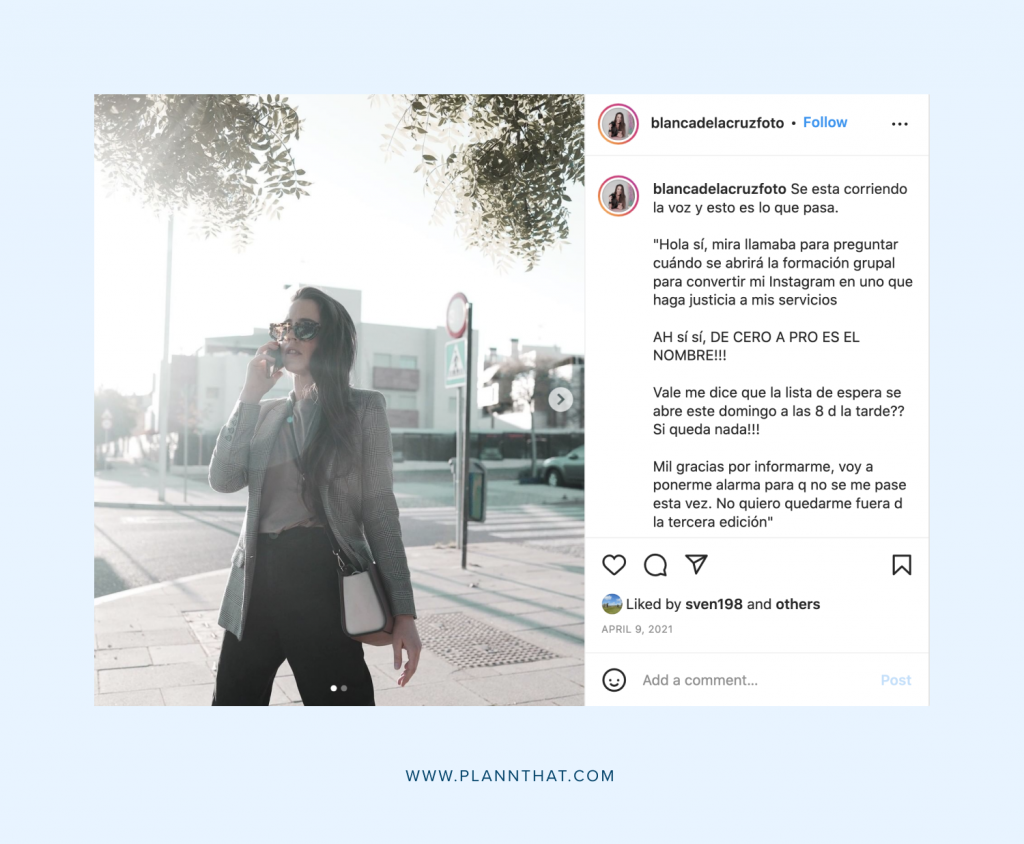 Her signature Bx Academy has already taught over 4,000 students how to get seen and stand out on Instagram. Working with clients across Spanish and English-speaking countries, Blanca uses 1:1 and group coaching sessions to help female entrepreneurs grow their Instagram presence.
Along with building an engaged community of 32.8k followers on Instagram, Blanca is also a TEDx Speaker who spoke openly and honestly about reinventing herself in the face of adversity from a passionate dancer to photographer and coach.
In the interview, Blanca shares how she's used Instagram (and tools like Plann) to build her personal brand and business, her resilience to reinvent herself after a debilitating illness and her top tips for succeeding on Instagram.
Building a business from the ground-up on social media
"Social media played a huge role in building my brand and the Bx Academy since the beginning! I have a personal brand so social is a key element for me. Thanks to social media I grew my community either in an organic way or with paid ads as well as it helps me get clients!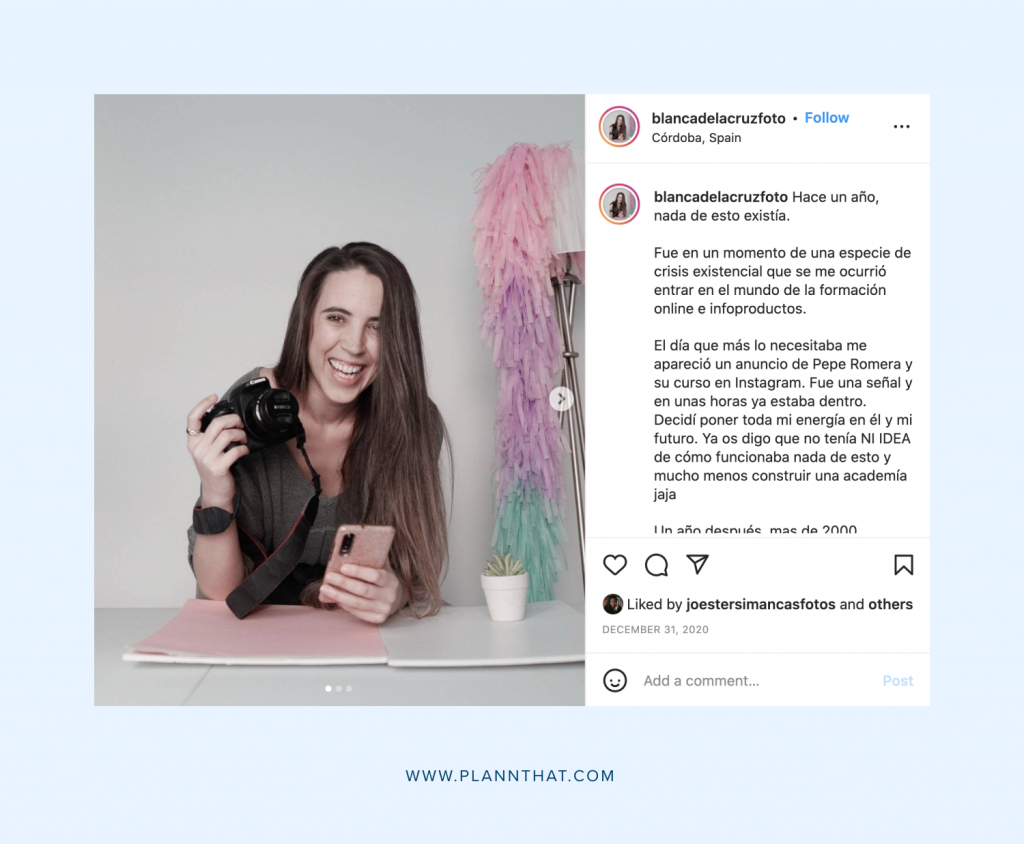 Also it's such a good way to get to know your potential clients, what content they prefer, what problems they face, what is their lifestyle, how they talk… and then you can use all of these to connect to them on a deeper level."
Turning an obstacle into an opportunity
"My favorite thing about social media is the fact that we can connect with our potential clients while lying on the couch!
Social media has helped me so much in building my business since I have a physical condition that forces me to spend a lot of time laying down. I don't have the mobility of a regular person so I use social media not only to get clients but also to connect with like minded people!
Also, thanks to social media I can teach female entrepreneurs all over the world how to take good photos of their products to increase sales, how to use Instagram to build their own brand, sell their services and create community!
I think we have an extremely powerful tool in our hands and not taking advantage of that would be crazy. We are incredibly fortunate to live in an online world full of opportunities."
Life before (and after) Plann
"Omg, it was such a mess before Plann! It was really stressful for me to be honest and I wasted a lot of time. I love productivity so being able to schedule everything made a huge difference and impact in my business.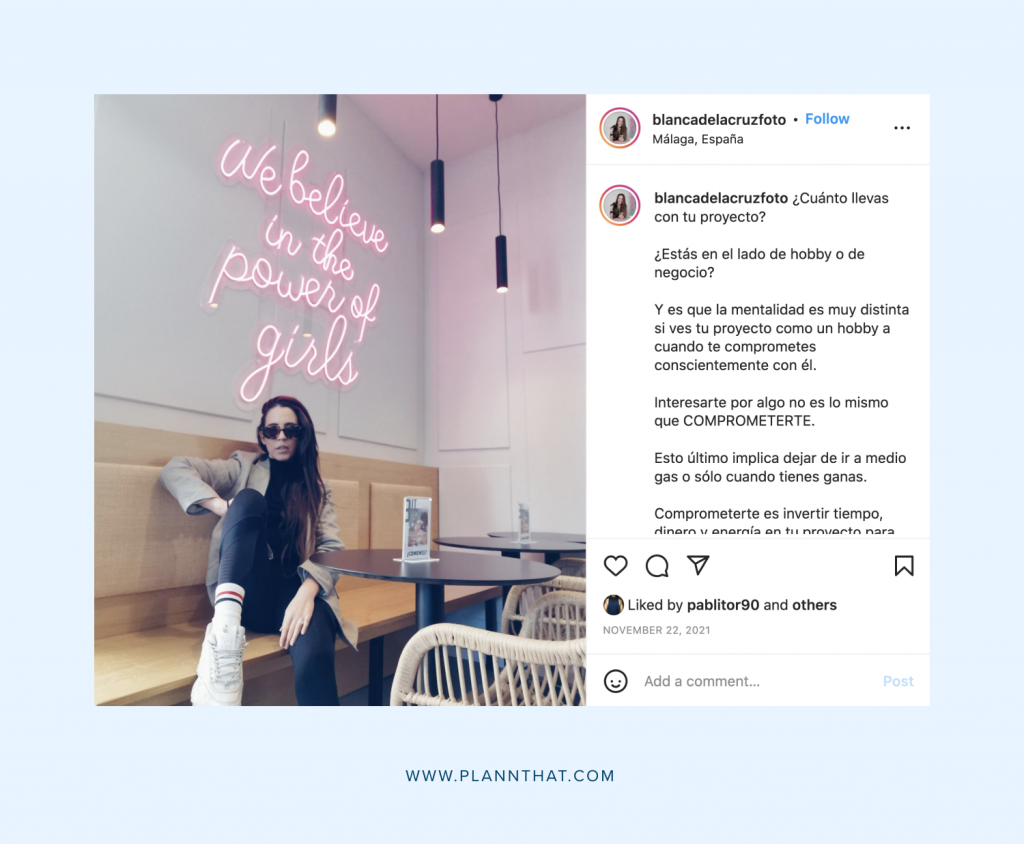 Before Plann, I would post whenever I had time, remembered about it or was in the mood to post. Big mistake!
Having a business is a responsibility so the moment I saw social media as a key part of it, my focus changed. I learned how to plan, create a content strategy, be more organized and be consistent with everything. Now I teach my clients to do the same!"
Blanca's on her favorite Plann features
"When I started using Plann, I became way more organised and productive, especially during course launches where you have to be very strategic and take into consideration lots of different pieces. Not to mention that my feed got nicer! I'm a very visual person so this was a key aspect for me.
I teach my clients how to be more productive and strategic with their content planning using Plann. Plann saves me and my clients SO much time and energy! And when you run a business, time AND energy are such precious elements.
My favourite feature is the strategy tool and being able to respond to comments directly from Plann – there's no need to pull out my phone and log into Instagram directly."
And her top tips for brands wanting to succeed on Instagram?
"When it comes to aesthetics, stick to one long enough so people can remember you! I see so many entrepreneurs who change their aesthetic multiple times within a few months because they think it is not working. The problem is that when you keep changing your aesthetic, it's very hard for people to remember your brand.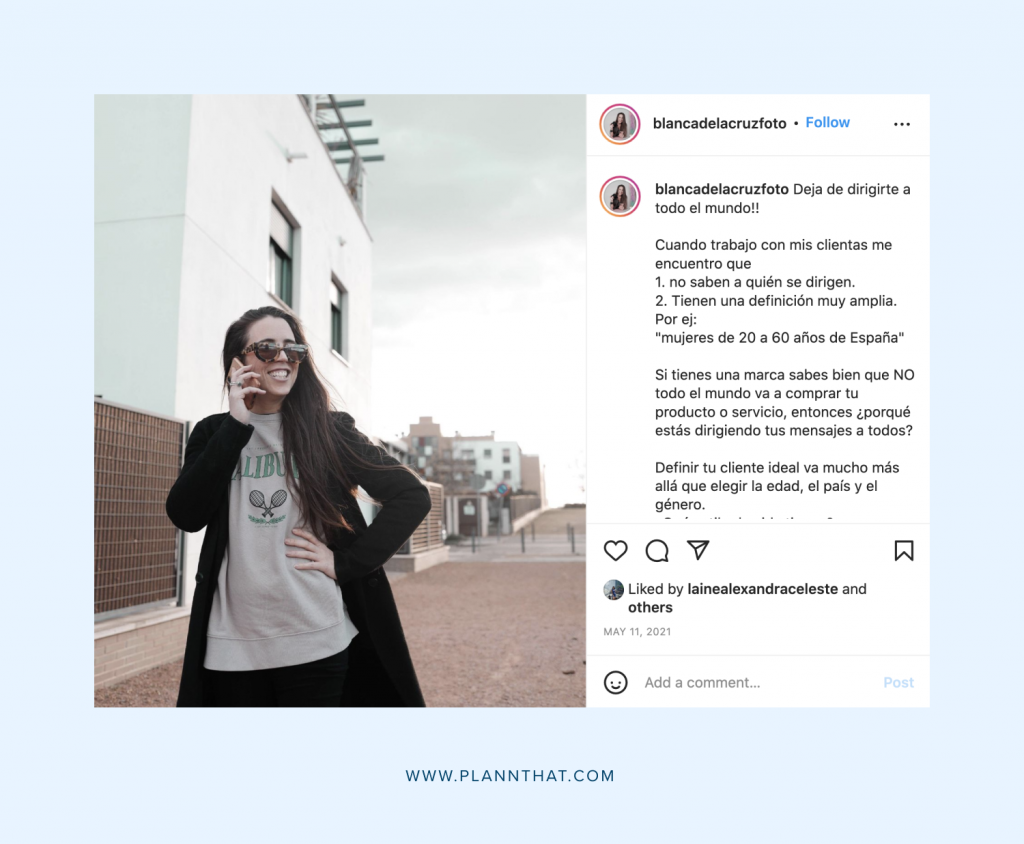 I will also add: don't obsess JUST over aesthetic and pay attention to your content! Having a beautiful feed but poor content and no strategy won't take you too far.
Get to know your target audience well, define the values of your brand, the messages you want to put out into the world, what problems your brand is solving, then build a professional Instagram profile that reflects all of that.
Plus, analyze your insights and use Reels! The potential of Reels for growing your community is mind blowing.It's a fantastic way of putting your content in front of new eyes.
And if you don't know how to use social media for your business, invest in a mentor! It's a great way to speed up everything.
Stay consistent, show up and be patient. Social media is also a mental game!"
What's next for the Bx Academy?
"We are working on a (still top secret) very exciting project that comes out in March and currently preparing the re-opening of our group mentoring program to help entrepreneurs use Instagram as a marketing tool.
We want to keep helping female businesses stand out from the crowd and we're working on new products to enable that."
Ready to supercharge your success on social media?
Looking for an all-in-one content creation suite that allows you to effortlessly manage your social media channels? From mapping out your strategy and designing your graphics to saving plug-and-play hashtag sets, you'll find everything you need inside Plann.
Go on, redeem your 7-day free trial of Plann Plus. If you don't like it, keep using Plann for free!