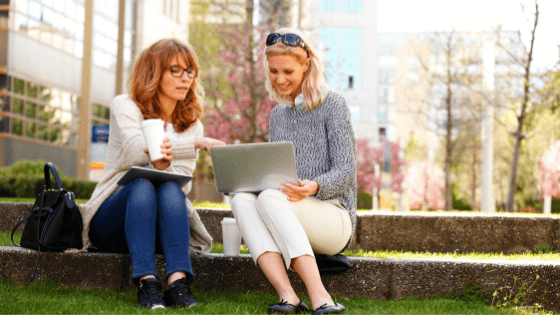 With one billion active accounts per month, it's no wonder that the 'gram is now one of the top channels for marketing your business.
Whether your goal is to sell a product or service, drive traffic to your website, or simply create more awareness, the following Instagram Business features will help you do just that!
Psst: If you haven't already, you can switch from a Personal profile to a Business profile in just a few taps! To learn how to set it up for epic growth, click here (https://www.plannthat.com/how-to-set-up-your-instagram-business-profile-for-growth/).
PROMOTE WITH INSTAGRAM ADS
Newsfeed ads, Stories ads, Carousel ads, oh my!
People use Instagram to be inspired and to discover things that they care about. Keep this in mind when targeting your ads – you want to reach people because of the people, places and things they love, not just because of their age, gender and location.
Be sure to use attention-grabbing images or video and keep the copy short and sweet. Choose your words wisely and craft a clever CTA that they can't refuse!
TAKE IT TO THE NEXT LEVEL WITH INTERACTIVE STORIES ADS
Did you know that ⅓ of the most viewed Stories are from businesses? That's mind-boggling!
The beauty of Stories is that they offer a full-screen, distraction-less canvas. Interactive Stories Ads are a creative way for you to tell a bigger brand story and inspire action.
Adding the Poll, Questions or Quiz stickers can increase the engagement from your audience and make them feel like part of your brand. You'll also get valuable real-time feedback (hello, free market research!).
Chuck in targeted hashtags to draw in people beyond your followers, and you have a winning recipe!
ENGAGE WITH INSTAGRAM DIRECT
DMs might not be high on your priority list, but keeping on top of them is a must. Customers have come to expect swift responses from businesses, so leaving them on 'Seen' is a no-no!
If you get more DMs than you can handle, filtering and flagging messages as they come in will make your life much easier. Using Quick Replies to answer commonly asked questions at the tap of a button will also speed things up!
INSIGHTS + ANALYTICS
While all of these features are super handy, they don't add up to much if you're not keeping a close eye on what's working (and more importantly, what isn't).
While Instagram Insights give you general data on your content's performance, they don't get into the nitty gritty. Luckily, we've got you covered!
Our brand spankin' new Desktop service allows you to see your best performing content of the week, month, 3 months or lifetime (plus much more!). We also break down your audience's demographics, so you can where in the world they are, their age range and gender, and when they're online, so you never miss a beat!
Have your tried Desktop yet? Sign up for a 7-day free trial now and let us know what you think!