Social media marketing can be incredibly overwhelming, especially if you're trying to figure out what channels to focus your time and marketing attention.
If you're posting everywhere there's potential you're going to be spread too thin and not see the results you're aiming for, it's hard to be everything to everyone! If you've got a small or lean team, here's why choosing to focus on Instagram is much better than Twitter.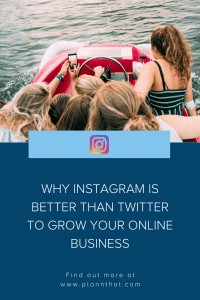 Owned by Facebook, Instagram will get you more:
Instagram's organic reach means your content will be served to more people without having to pay.
There are 3x more people on Instagram than Twitter.
There's more chance of your paid adverts being interacted with.
With an increasing focus on eCommerce, Instagram is more focused on making sales.
Although more users on Instagram, there is more content being pumped through Twitter which means it's harder for you to get cut-through. 
We promise if you stop posting every hour on Twitter and spend more time engaging on Instagram you'll be pleasantly surprised to see an uplift in results. 
Grab some snacks and whip out your favorite Typo notebook – we're about to delve deep into social media analytics.
Conversation Rates: The MOST Important Metric for Business Owners
Hung up on things like follower count, retweets and likes?
Throw those vanity metrics out the window!
When analyzing these two social media heavyweights and deciding where to focus your time, let's look at who is bringing in the most money for businesses which is a great first indicator.
Let's see how the two social platforms compare against each other.
Twitter:
According to the Digital Marketing Institute, 40% of Twitter users purchased a product after seeing it advertised on the platform.
That totals to 132, 000,000 potential buyers.

Instagram
:
Over 1/3 of Instagram users have used the app to purchase a product.

With 1 billion monthly active users, that means 333,333,333 users have swiped up or tapped through to buy a product or service online. (yes, that's 3x as many!)
eCommerce:
10.7% of social referral shares come from Instagram straight to eCommerce sites.

While that's lower than Facebook's 80.4%,it's much higher than Twitter's 0.3%.
Interestingly, during the third quarter of 2019, Twitter was the only social media network to see a decline of 11% in referral traffic.
While Twitter's ad engagement is up by 23%, it doesn't hold a flame to Instagram. 
Here are some jaw-dropping stats:
75% of Instagram users take action after seeing an Instagram Ad

 
Engagement Rates: Do Your Followers Even Care?
Twitter is noisy! If you follow more than 50 people, chances are your timeline is flooded with new tweets every second, we're not sure how anyone is meant to keep up with that! 
Because it's so loud and flooded with content it's no surprise that Twitter users see less engagement than Instagram. We're taking a 2000% difference! 
Instagram has beautiful feeds, less content uploaded (with a stronger focus on quality over quantity) so it's much easier for your audience to keep tabs on what you're posting.
While the average Twitter user only follows FIVE brands, that's not the case for Instagram. 80% of users follow at least one brand, and 70% of users look up brands on Instagram. People want to see what companies are doing or stalk them before parting ways with their money.
Branded posts on Instagram see a 4.3% engagement rate. Whereas on Twitter, an engagement rate of 0.09% is considered high. Ouch.
Brand Awareness: The Best Platform For Getting Eyeballs on Your Content
Twitter can sometimes feel like you're shouting into an empty void.
While six years ago when the platform was still a little new, you stood a good chance of getting some social validation through the app, 2019 is a different story.
Unless your Justin Bieber or Taylor Swift, you're probably struggling to get five retweets from your 2,000 followers, people are paying less attention and smothered with content.
On the flip side, Instagram has created an addictive alternative. 
Whether you're scrolling through your feed or watching IG Stories, you're 100% focused on the content you're consuming.
And it has the numbers to back it up.
One billion people use Instagram every month. With a massive number like that, chances are your ideal customer is taking photos of their avo toast like the rest of us. Twitter lags behind with only 330 million monthly active users.
If you are tweeting once, or even 10 times a day, unless you have a laser-focused Twitter hashtag strategy, your customers just aren't going to see it.
With 500 million tweets sent out everyday, active users spend on average 3.39 minutes on the app. Only 12% of Twitter users check their feed once a day and a mere 5% look at the platform multiple times in 24 hours.
You have hardly any time to make an impression.
On Instagram, 63% of Instagram users log into the app once a day and 42% check their feeds throughout the day and spend at least 27-minutes logged in. While Instagram's new algorithm has made it harder to get seen, the higher interaction means you stand a better chance of reaching your customers.
Oh, and 500 million people use Instagram Stories every day. EVERY. DAMN. DAY! High free marketing, how you doing?
So if you only have time to focus on ONE social media platform in 2020 and you want engagement, it's clear that Instagram is the best bet.
Plann Your Way to a Successful Business
We've known Instagram can be huge for any business, and we're currently trusted by over 1.5M brands to help with Instagram strategy, content creation and scheduling, and we'd love to help you too.