After months of trials and testing, it's official: Instagram is expanding the maximum length of Reels from 60 seconds to 90 seconds.
It's all part of a broader push to get more creators and users harnessing the Reels format. In the same announcement, Adam Mosseri (Head of Instagram) shared a stack of updates including the ability to upload your own audio to Reels and even add interactive stickers to your Reels.
After the skyrocketing success of TikTok, it's clear that Instagram is doing everything it can to keep up with this booming social media platform. The entire Instagram experience is being redesigned to prioritize short-form, vertical video content and Reels are one of the highest performing content formats on the platform today.  
Let's walk you through what this change to Reels means and why you should be using the full 90 seconds Reels length.
90-second Reels have arrived on Instagram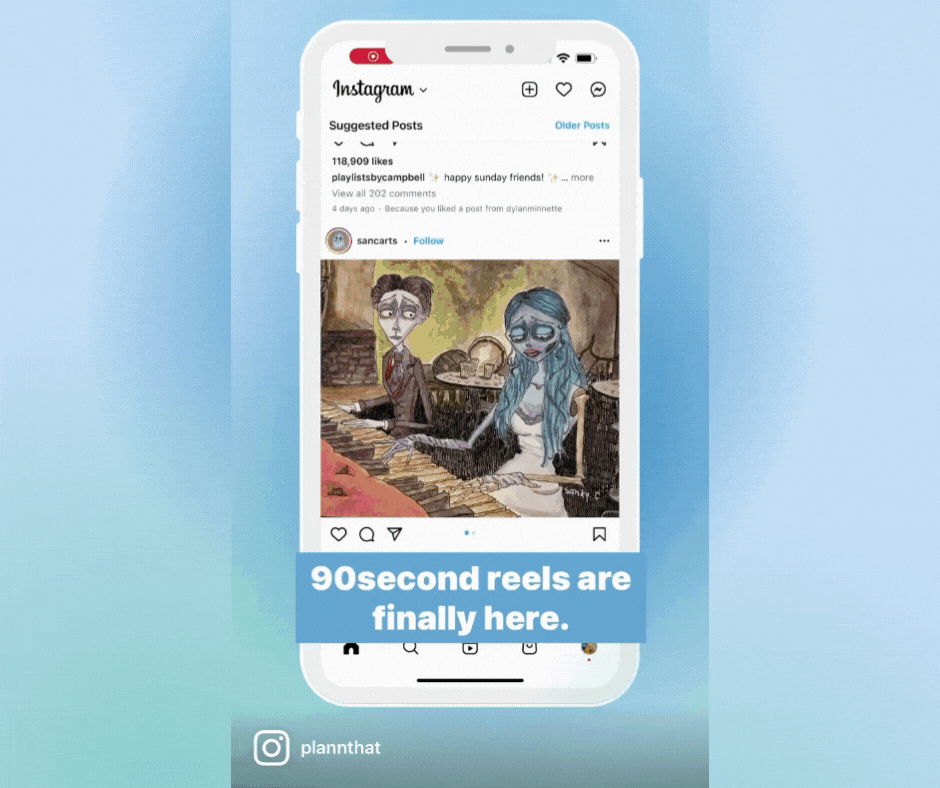 Following a number of successful pilot trials earlier this year, Instagram is now rolling out longer Reels lengths to all creators. But it's not just content creators who will have access to this feature: all Instagram users globally will be able to produce 90-second Reels.
Why? Well, Instagram wants to give users more time to showcase their creativity and share value with their audience. 
With an extra 30 seconds up your sleeve, you can now share even deeper insights with your audience (while still keeping your Reels video content short and snappy). 
We know that Reels now make up more than 20% of the total time people spend on Instagram. Plus, we know Instagram is doubling down on its focus on video content, recently merging all video content into one format (and ditching low-performing formats like IGTV). 
With TikTok continuing to dominate the short-form video game, Instagram is trying its best to rapidly evolve its format and experience to match its main competitor. We expect to see video content and Reels play an even bigger role in social media marketing on Instagram in the months and years ahead. 
As a brand or business, now is the time to get familiar with Reels and start experimenting with this video content format. 
Not sure where to start? Discover how to leverage Instagram Reels Templates and schedule your Reels ahead of time with your favorite social media suite, Plann!
Level up your social media presence in 2022 with Plann 
Now you've heard the latest updates from Instagram HQ, it's time to get the tools in place to supercharge your social media strategy. And what better way to do that than with your ultimate all-in-one social media suite, Plann!
Start planning, scheduling and auto-posting your Instagram Reels with Plann. Go on, redeem your 7-day free trial of Plann Plus. If you don't like it, keep using Plann for free!