PPC. ROI. CPA. There's a whooooole lotta jargon in the marketing industry. And if you've ever been confused about what 'B2B' vs. 'B2C' content marketing means, you're not alone. 
These acronyms simply refer to the type of audience you're trying to attract. For some businesses, marketing directly to consumers is their main goal, while other businesses might be looking to win sales from other businesses. Businesses-to-businesses (B2B) marketing is about just that! 
So, what is B2B content marketing all about? What content strategies should you leverage to stand out from your competition? And what platforms should you be using to deliver the best results for your business? 
Plann'rs, let's dive into 11 brilliant tips to make your B2B content marketing stand out!
What is B2B content marketing? 
As confusing as this term might sound, B2B content marketing is actually pretty simple. In a nutshell, it's about using content (such as blogs, eBooks, social media posts and email newsletters) to market your business to other businesses. The goal of B2B content marketing is to boost the reach of your business, deepen your relationship with other businesses and drive leads and sales.
The biggest difference between B2B and B2C (or business-to-consumer) marketing is the purpose of the content you're sharing. The goal in B2B is to drive return on investment (ROI) and use content as a way to educate, offer value and build trust. In most cases, B2B marketing is focused on long-term solutions and relationships, making content an essential ingredient in developing these ongoing connections. 
Each piece of B2B content you create should be tailored and targeted to your businesses' target market and providing tangible value to them. This will help you build your profile as a trusted leader in your industry. Plus, this gives other businesses a reason to engage with your brand and recommend your content to other like-minded businesses.
In contrast, B2C content marketing is about engaging and entertaining potential customers by harnessing their emotional drivers. As education is less of a priority, B2C content is all about inspiring immediate purchasing decisions by offering deals and discounts to boost sales.
Alright, now we've nailed the basics, let's jump into 11 brilliant B2B content marketing tips you can start actioning today!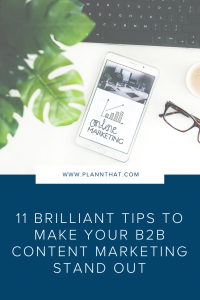 B2B Marketing Tip 1: Produce targeted B2B content for each stage of the funnel 
Not all B2B content should have the same objectives. To make the most of your effort, it's important to sharpen your marketing know-how and understand exactly what type of content you should be sharing with your audience at each point in time. Now, it's time to talk all about the marketing funnel!
Although this concept is typically used for B2C marketing, it's still valuable for B2B content marketing efforts. The marketing funnel maps out all stages of a customer's journey from the time they first encounter your brand to the point at which they make a purchase from you.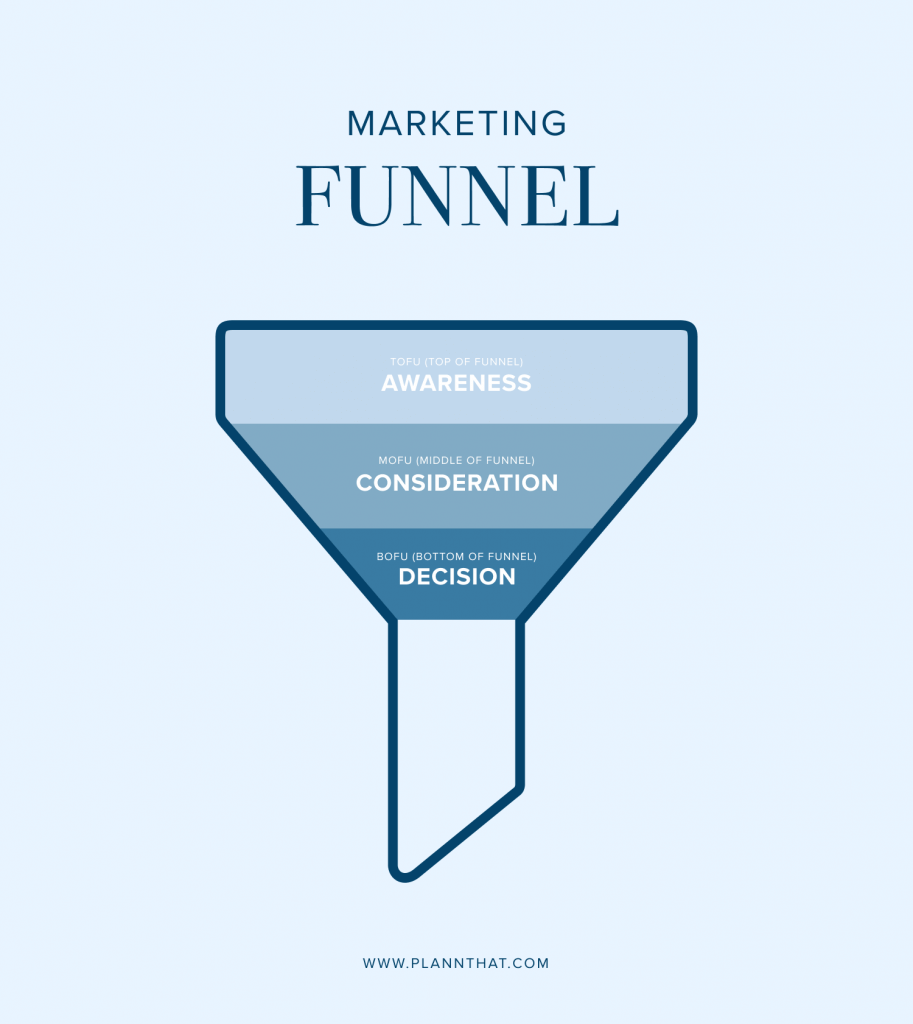 Here's a simple breakdown of the 3 key stages of the marketing funnel:
Top of the funnel:

this is the

awareness

stage and is a time for you to showcase your skills and expertise through value-first blog posts, videos, and social media content that introduces who you are and what you do. 

Middle of the funnel

: this is the

consideration

stage which means you need to convince audiences why you stand out from the competition with case studies, product demos, webinars and even in-depth research reports. 

Bottom of the funnel

: this is the

decision

stage and requires you to share actionable content that offers tangible solutions, such as free trials, discounts and information about booking a consultation.
To keep you ahead of the pack, make sure you're creating a range of B2B content that speaks to each of these stages of the marketing funnel. This means you can accurately target audiences based on their relationship with your brand to help boost your conversion rates. 
B2B Marketing Tip 2: Understand what platforms to leverage for B2B content 
There are countless digital platforms you can choose from when marketing your business. But when it comes to B2B content marketing, understanding where to find your target audience is essential.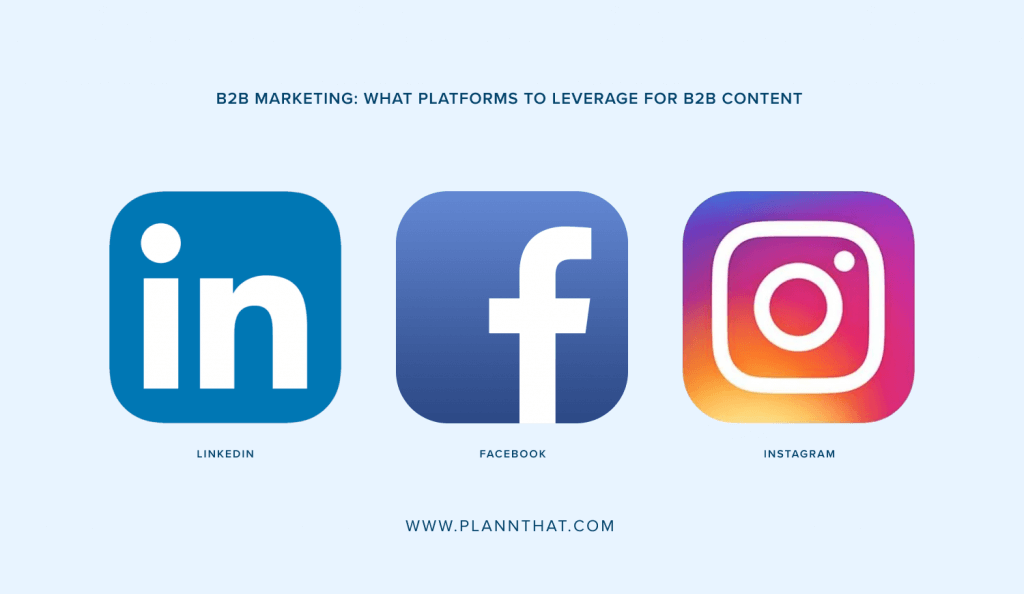 Social media is powerful platform for B2B marketing, with 75% of B2B buyers and 84% C-Suite executives looking to social media content before making a business purchase. But, it's important to understand which social media platforms they are most likely to use and trust when planning your B2B content strategy. 
In most industries, professional networking sites such as LinkedIn are the most effective platform for B2B content marketing. With over 30 million companies using  LinkedIn, this platform is a goldmine for businesses looking to reach other businesses. From sharing in-depth blog articles to posting updates on industry trends, sharing content on LinkedIn is a proven strategy for educating and connecting with likeminded businesses. 
B2B Marketing Tip 3: Showcase the people behind your brand
Audiences love seeing behind-the-scenes on social media, and the same is true for B2B content marketing. Give businesses a reason to trust and connect with your brand by sharing content that showcases the human element of your business. The more relatable you are, the more likely other businesses are to engage and work with you.
Consider ways to take audiences behind-the-scenes, such as sharing 'meet the team' posts and publishing 'day in the life' Instagram Stories featuring you team member. Not only will this give other businesses a better understanding of what you do and the services you offer, but it will also build valuable rapport and trust with potential clients. 
B2B Marketing Tip 4: Focus on education 
Your business is built on products and services that solve problems. When creating B2B content, make sure to have these pain-points and solutions top-of-mind to create content to educate and inform.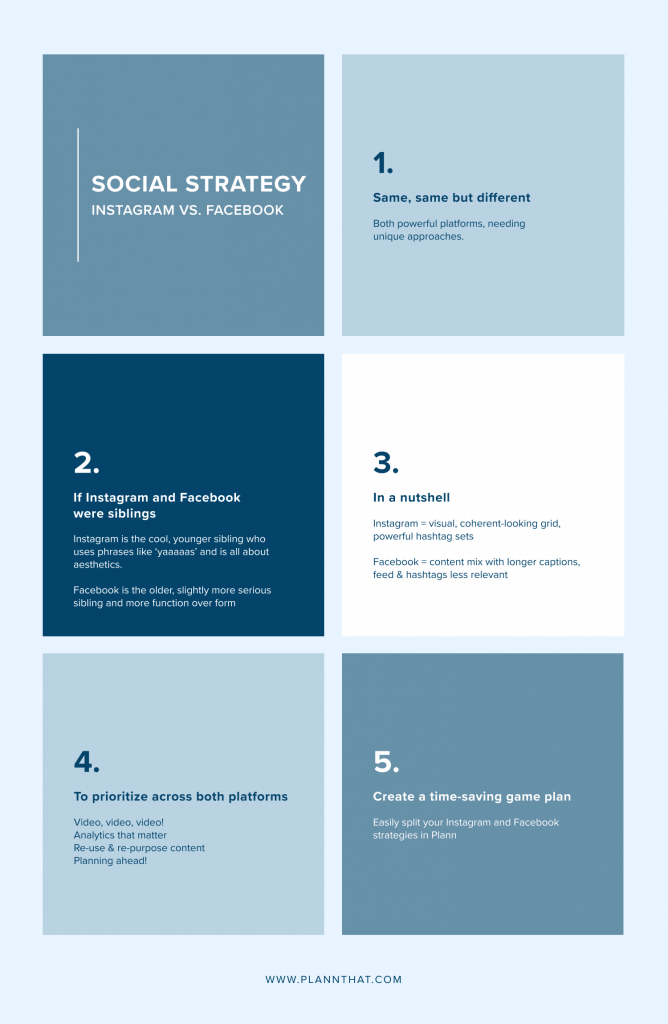 Educational content enables you to showcase your expertise and leverage industry-specific trends as a marketing tool. Think about creative ways you can provide value to others in your sector with content, such as creating trend reports, stat-driven studies or in-depth case studies. This content is not only interesting for other businesses but also reminds them about what you do and your successes as a business. 
Plus, make this content as easy to access as possible. Once you've built an engaged following, you can begin to offer exclusive B2B content (such as bespoke eBooks or downloadable guides) to solidify your relationship with this audience and boost your chances of conversion. 
B2B Marketing Tip 5: Leverage the power of storytelling 
Although B2B content marketing needs to be professional, it doesn't have to be impersonal! In fact, one of the best ways to market to other businesses is to inject your content with personality and add an enticing story that brings your brand to life. 
Consider how your products or services address businesses' common pain-points and use storytelling to describe these benefits in relatable language. For example, if you're an event's company use your content to explain how your services have alleviated stress for clients and enhanced the experience for attendees with engaging visuals and copywriting that's emotive and evocative. 
Rather than simply spelling out your points of difference or key selling points, get creative and use storytelling to engage and captivate audiences. This will help you create a unique tone of voice and personality for your B2B content and will ensure you leave a lasting impression on potential clients. 
B2B Marketing Tip 6: Get visual with branded infographics
Although blogs and written content might seem like the only way to create B2B content, there are plenty of visual opportunities your business can leverage. 
One of the best ways to add value to your audiences on social media is to share branded infographics. In fact, infographics are quickly becoming one of the most used types of content among B2B marketers (used by 65% of B2B marketers). 
Create custom templates using your brand's fonts and colours using graphic design software (such as Canva) and turn meaningful data into bite-sized pieces of social content. Use a combination of text, graphics and stats to bring this information to life in a visually engaging way. The best bit? These punchy pieces of content are perfect for audiences to regram or share with their own network, helping to increase reach and exposure for your business!
B2B Marketing Tip 7: Jump in front of the camera
It's no secret that video content is one of the best ways to boost engagement on social media. In fact, a recent study by HubSpot has revealed 54% of audiences want to see more video content from the businesses they follow. 
When it comes to B2B content marketing, there are endless opportunities with video content. From showcasing your product in action using a video demo to sharing your top tips about an industry pain-point, jumping in front of the camera humanizes your brand and provides value to audiences in a visual and engaging way. 
The best bit? These videos can be repurposed and shared across all your social channels as well as in your EDMs, blog posts, website pages and more. 
B2B Marketing Tip 8: Use Live Video to collaborate with other businesses
Live video is one of the best ways to reach as many eyeballs as possible on social media. But in the case of B2B content marketing, it can be difficult to know what to film content about.
Did you know by the end of 2020, 82% of all internet traffic is set to come from live videos?  With that in mind, live video is a powerful opportunity for you to team up with like-minded brands and businesses to boost the reach and engagement of your content on social media. 
Try joining forces with another business in your industry to host a live Q&A session, webinar or masterclass on an industry-specific trend or topic. This will enable you to showcase your expertise, share knowledge with other businesses and reach a new pool of potential clients – all at the same time!
B2B Marketing Tip 9: Make your B2B content personal

This next tip is all about improving the user experience of the B2B content your business creates. To maximize your results, it's important to tailor your content to the specific needs of your audience groups. Not all potential clients have the same needs, so it's wise to segment your audience to ensure you're delivering personalized B2B content. 
Start by looking at your audience data and figure out the core groups you want to target. This could be based on age, location, job title, industry or even their behavior and the way they interact with your brand. Once you have segmented your audience into defined groups, you'll be able to craft and share personalized content to best suit their needs.
This could mean changing the copywriting of your social posts, sending out targeted email newsletters or sharing different pieces of video content aligned with each group's key motivators and pain-points.
B2B Marketing Tip 10: Track and review your results regularly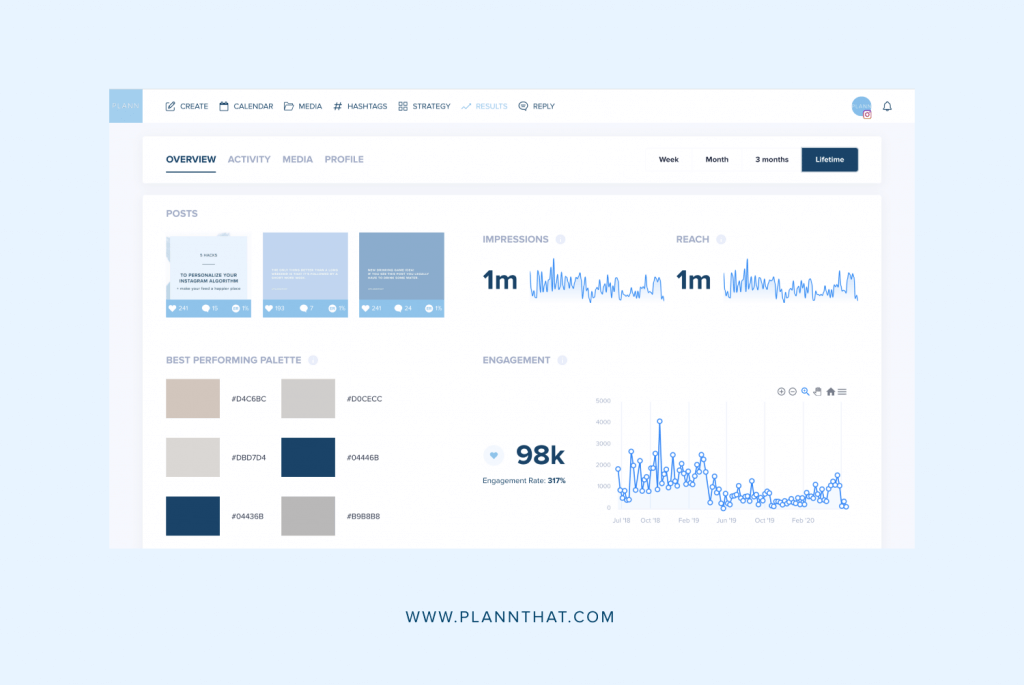 The best way to optimize your B2B content marketing strategy is to regularly review what is and isn't resonating with your audience. By checking the results of your marketing efforts on a weekly and monthly basis, you'll be able to identify which content is performing best and which posts aren't generating results.
Make sure to review your social media and marketing analytics regularly to check key metrics such as reach, engagement, website clicks and impressions. By assessing the success of each post, you'll be able to refine your B2B content strategy to ensure you're making the most of your time and effort. 
B2B Marketing Tip 11: Keep tabs on industry trends 
One of the best ways to stand out from the crowd is to stay on top of key trends in your industry. When crafting B2B content, ensuring your content is timely and relevant is essential. This will show audiences that you're a leader in your industry and ahead of the curve to help build trust with potential clients. 
Make sure to check-in on news sites and publications relevant to your business and to keep up-to-date with updates and developments that might impact businesses similar to yours. 
So, there you have it Plann'rs! When it comes to B2B content marketing ensuring you're sharing value-first content is essential to success. By getting creative and mapping out new ways to engage potential clients with educational content you'll be sure to build trust, boost reach and stand out from your competitors with a powerful B2B content marketing strategy.