Instagram has finally revealed their long-form video content hub, IGTV, and we're pretty surprised that the news hasn't quite managed to break the internet yet. So here at Plann HQ, we had a play around with how to use IGTV – and we think it's a game changer!
If you are interested in how to use IGTV to grow your business or blog, we are here to give you the goods.
IGTV has a lot of benefits for both new and experienced Instagram users. We are just about ready to pee ourselves with excitement with all of the opportunities that IGTV presents.

WHAT IS IGTV?
IGTV is a new video hub for Instagram creators where videos up to 10 minutes in length can be uploaded and shared with a customised thumbnail, title and video description.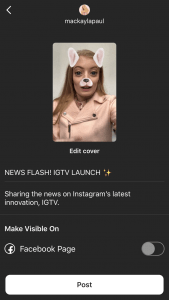 Videos shared on Instagram TV need to be vertical (like Instagram Stories) and can be any type of video. From a painstakingly edited video – all the way to an Instagram Live video that you've saved to your camera roll.
WHAT TYPES OF VIDEOS SHOULD I CREATE FOR IGTV?
Feeling like you're getting your knickers in a twist trying to figure out how to use IGTV? Let us be your guide!
Instagram TV is the perfect place to share long-form video content that is unique, fun, and interesting to your existing Instagram audience.
REMEMBER: Your current Instagram followers will automatically have access to your IGTV videos. (As long as they have downloaded the IGTV app and/or have updated their Instagram app).
As with any new Instagram feature, you need to consider how this can help you to achieve your business or growth goals.
Here are some ideas on how to use IGTV to get you started:
* Tutorials
* Unboxings
* Product Demos
* Team Introductions
* Office Tours
* Educational Videos
* Behind-The-Scenes
* Events/Launch Parties
REMEMBER: Before you can start uploading videos to IGTV, you need to create your own channel. This channel is an extension of your existing Instagram account. When people start to follow it, they will automatically start following your Instagram feed + stories content too.
A great tip that we have to help you create the best possible vertical videos is to #treatyoself to a phone stand or tripod. This will save your sanity when you're trying to get the perfect videos without having your phone shake about, or worse – drop on the floor!
READ MORE ABOUT CREATING KILLER VIDEO CONTENT
THINGS YOU MIGHT WANT TO KNOW ABOUT IGTV:
Something that we first discovered about IGTV that we think is a bit wacky is that only the first two sentences of your Instagram bio description will be shown on your IGTV 'channel'.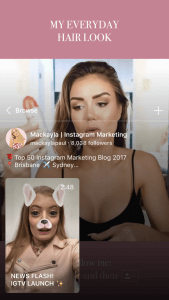 This means that if you want to convince new people to follow you on IGTV (and at the same time, follow you on Instagram) you need to make sure that the first two sentences of your Instagram bio description are as eye-catching as a rainbow-colored unicorn.
Another thing you may want to take a squizz at is your Instagram 'name' – you know, the bolded section of your Instagram bio that sits just underneath your profile picture. Often people repeat their Instagram username in there. BUT with the new Instagram TV app, you can't search for video types like 'Instagram Marketing' or 'Makeup Tutorials'. So, instead, when searching for content creators, you need to find them based on their Instagram username or 'name'.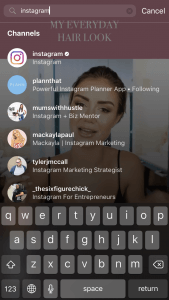 As you can see from the above image, we've searched for 'Instagram' and the accounts that mention 'Instagram' in their name section show up at the top.
If you have a specific type of content that you want to be known for creating, now is that time to update your Instagram 'name'.
WANT TO BE IGTV FRIENDS?
Now it's time to get a wriggle on and download the IGTV app. Don't forget to search for 'plannthat' and start following our channel. We'll be experimenting with our content to see what works best because you know what? It's all about learning and having a good time!
And of course, we'll give you more inspiration for how to use IGTV in our videos too.
Make sure to follow @plannthat on Instagram. Come back to this blog to stay up to date with the latest Instagram news and juicy Instagram marketing tips to help you to get the best results out of your 'gramming.