TikTok is not just a platform for trending dances and lip-syncing videos. In fact, it's one of the fastest growing social media platforms for brands, businesses and content creators.
Over the past couple of years, TikTok has become a powerful tool for brands and small businesses to leverage. It has a growing, engaged audience (made up of over 60% Gen Zer's) and the video format has made it especially easy for eCommerce businesses to promote their products.
In the history of social media startups, none have grown as fast as TikTok. Between January 2018 and July 2020, TikTok's global user base grew from 55 million to 689 million. Now, it has over a billion active users.
Ready to tap into the potential of TikTok as an eCommerce business? Here's everything you need to know about mastering TikTok.
TikTok: a must-try platform for eCommerce brands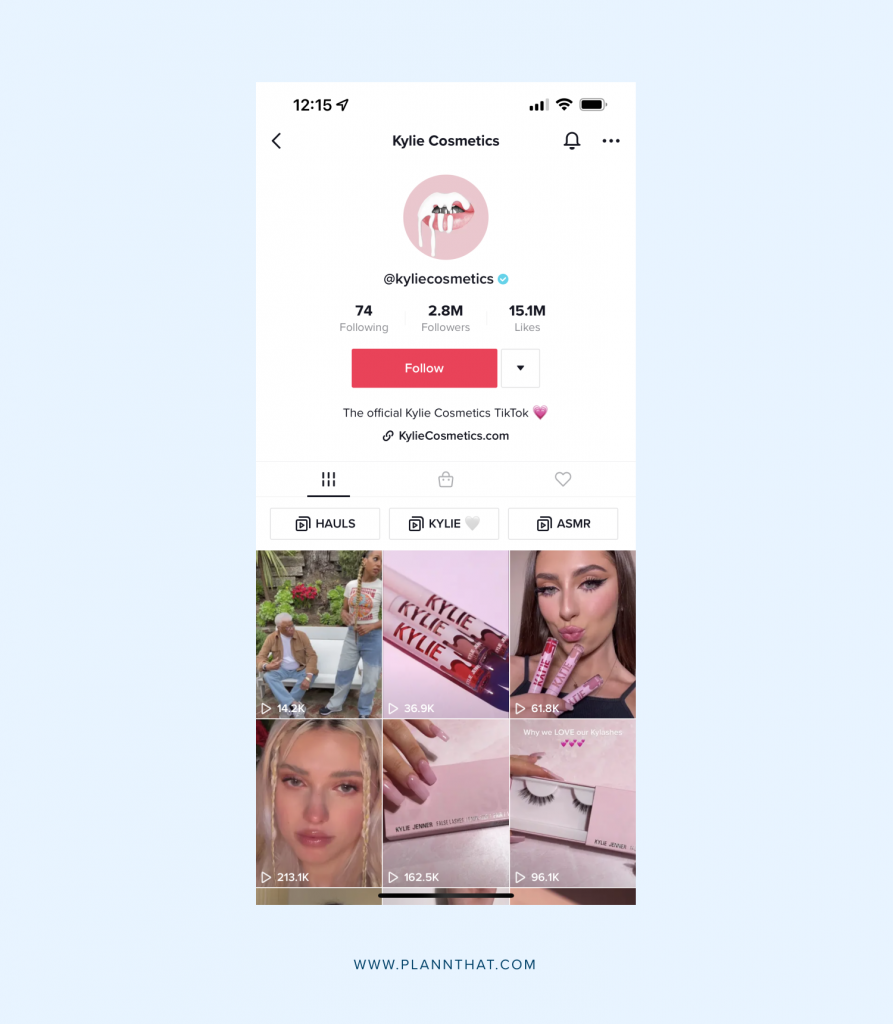 TikTok is a social media platform AND a go-to marketplace for online commerce. The partnership between TikTok and Shopify is part pf this push to provide an in-app shopping experience on TikTok.
TikTok has already topped $2.5 billion in worldwide consumer spending, a feat previously only achieved by the likes of Tinder, Netflix, YouTube and Tencent Video.
A stack of booming eCommerce businesses are already taking advantage of TikTok for business, jumping on the TikTok small business bandwagon. Let's run you through some of our favorite examples.
Lounge Underwear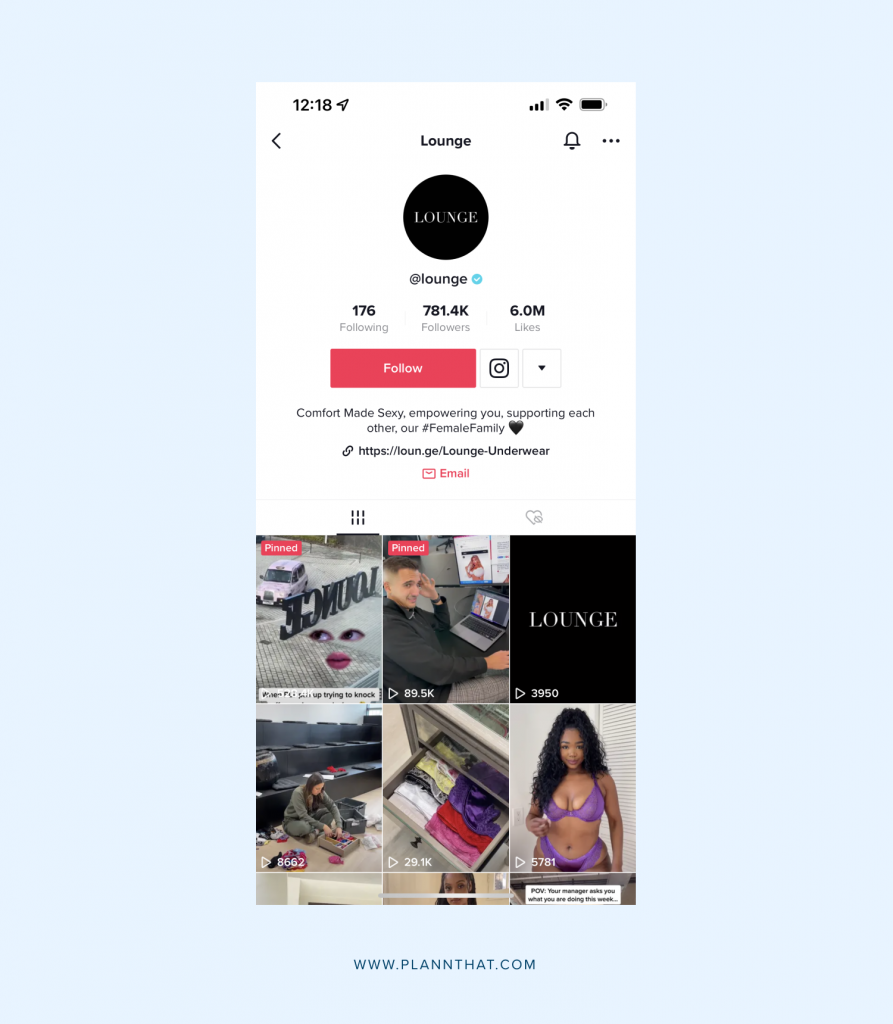 Lounge Underwear is a women's lingerie brand that has gained popularity because of its continuous collaborations with influencers and content creators on social media.
These partnerships ensure that their products receive attention and interaction, essential for converting potential clients into actual customers.
Their TikTok content advertises their products by presenting new releases and collections. They show behind the scenes of the workplace and photoshoots and present humorous content to delight and amuse their audience.
ASOS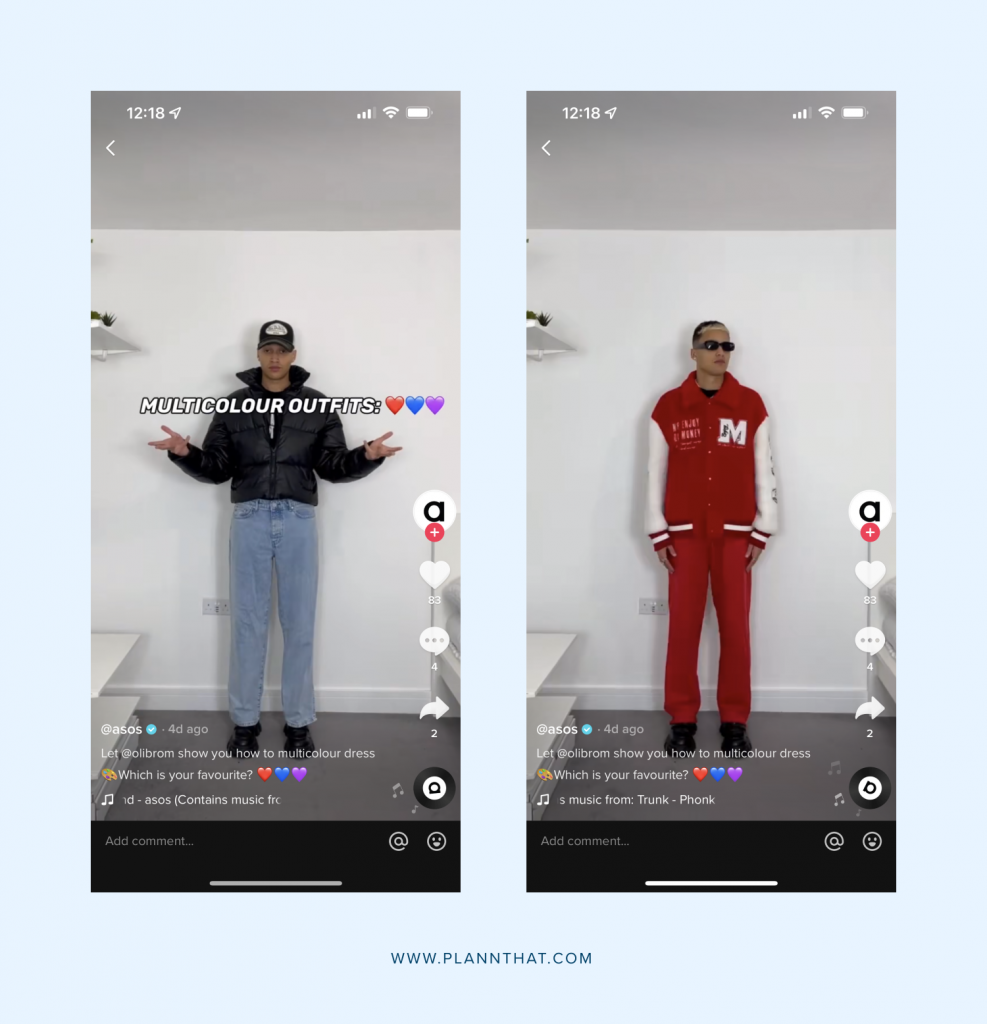 ASOS is an online fashion and cosmetics brand based in the United Kingdom with a strong social media presence.
They understand how to deliver high-quality material to their target audience. They leverage user-generated content (UGC) to engage with followers on social media, share outfit ideas that they can easily replicate, and create content around hot trends to attract a bigger audience.
ASOS also share behind-the-scenes footage from their projects and photoshoots to keep audiences engaged on TikTok.
Doe Lashes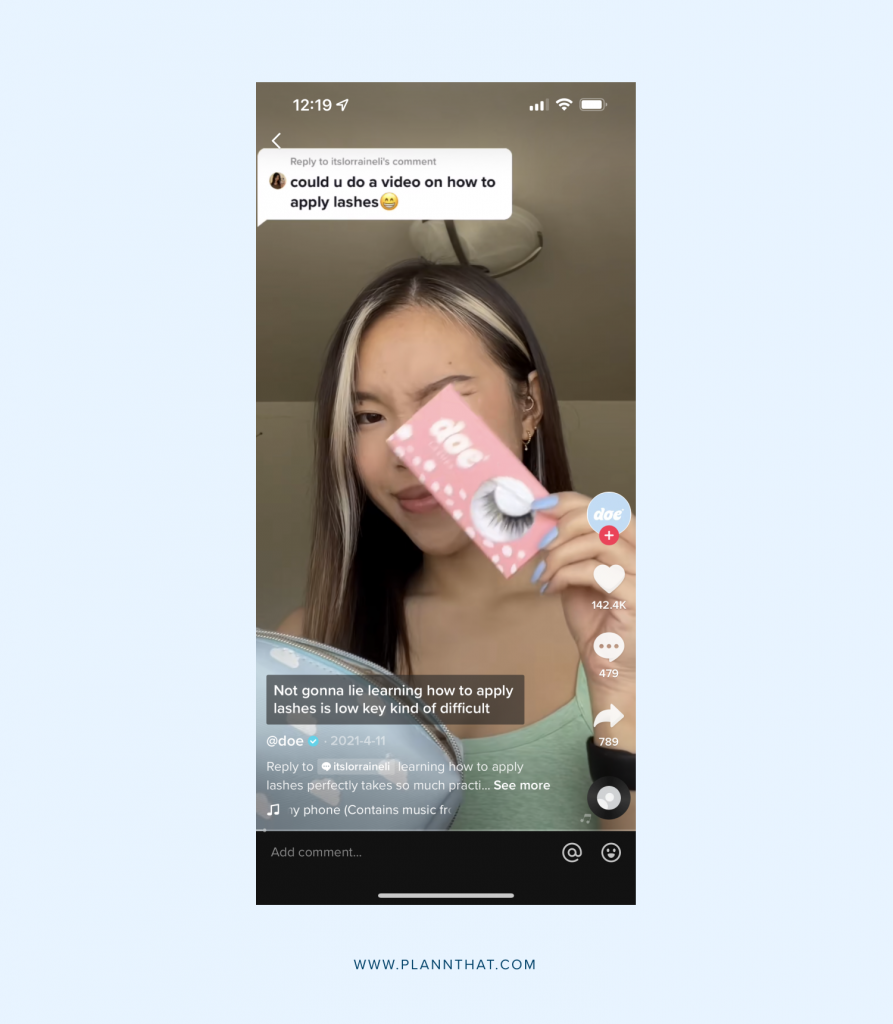 Doe Lashes is well-versed in the art of creating a viral video. They use TikTok to grow and promote product tips and tricks, harness influencers and user-generated content and react to criticisms with video responses. In just a year of joining the platform, they have over 1.8 million likes on TikTok.
Five TikTok content ideas for eCommerce business owners
Though you might be tempted to jump onto a trending dance format, creating great content on TikTok is not all about who has the best rhythm. You need to create content that makes your audience feel like part of your brand along with shareable content that can entertain while informing your audience.
Here are a few ideas to help you do just that.
Give your followers a glimpse into your daily routine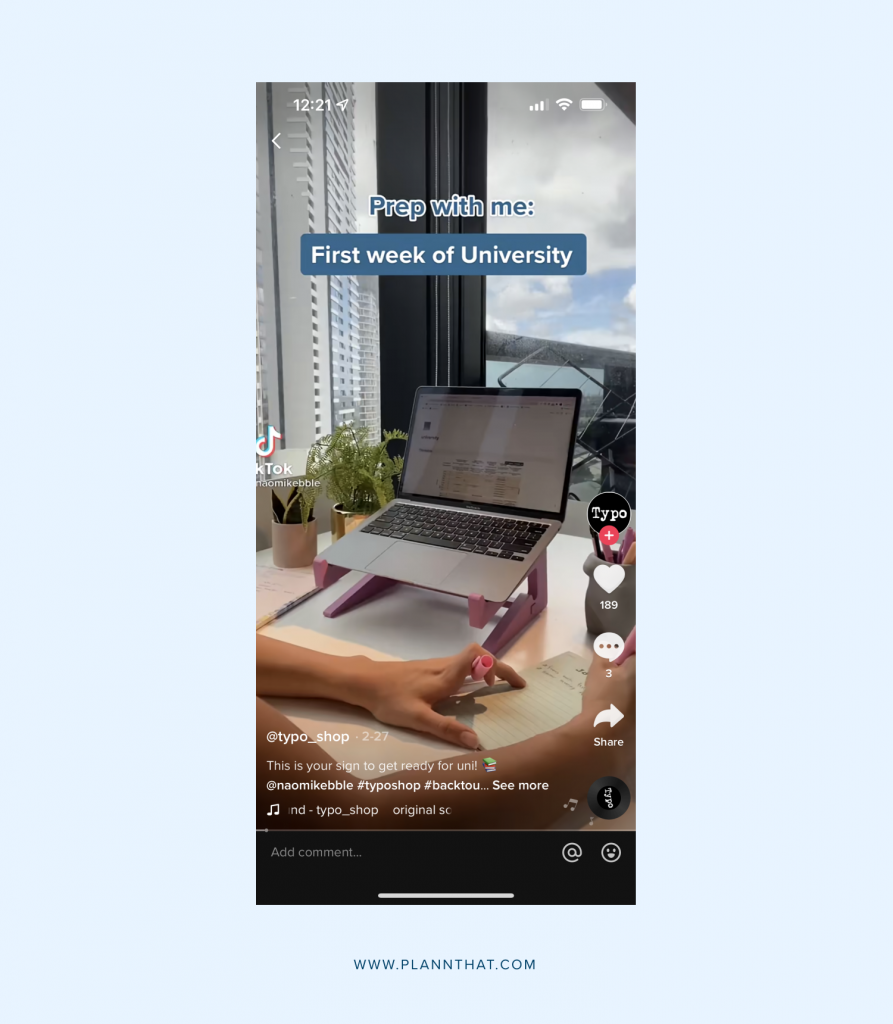 People love brands that they can personally connect with. Giving your followers and potential clients a sneak peek into your daily routine would help them understand the dynamics of your business. Sharing your highs, lows, and challenges brings a more personal feel to your brand.
It could be something as simple as your morning coffee routine or how you manage your to-do list, anything that gives off a "behind-the-scenes" vibe can increase engagement.
Don't be scared to post inspirational content
People love to be inspired. Inspirational content generally allows you to communicate the values that your brand stands for. These ideas may resonate with viewers and turn those who share your ideals into customers.
While inspiring content is typically leveraged by wellness entrepreneurs and content creators, it can also be used by businesses in almost any industry. The key is to come back to your business values, your goal, and what you think your audience will connect with.
Flex your knowledge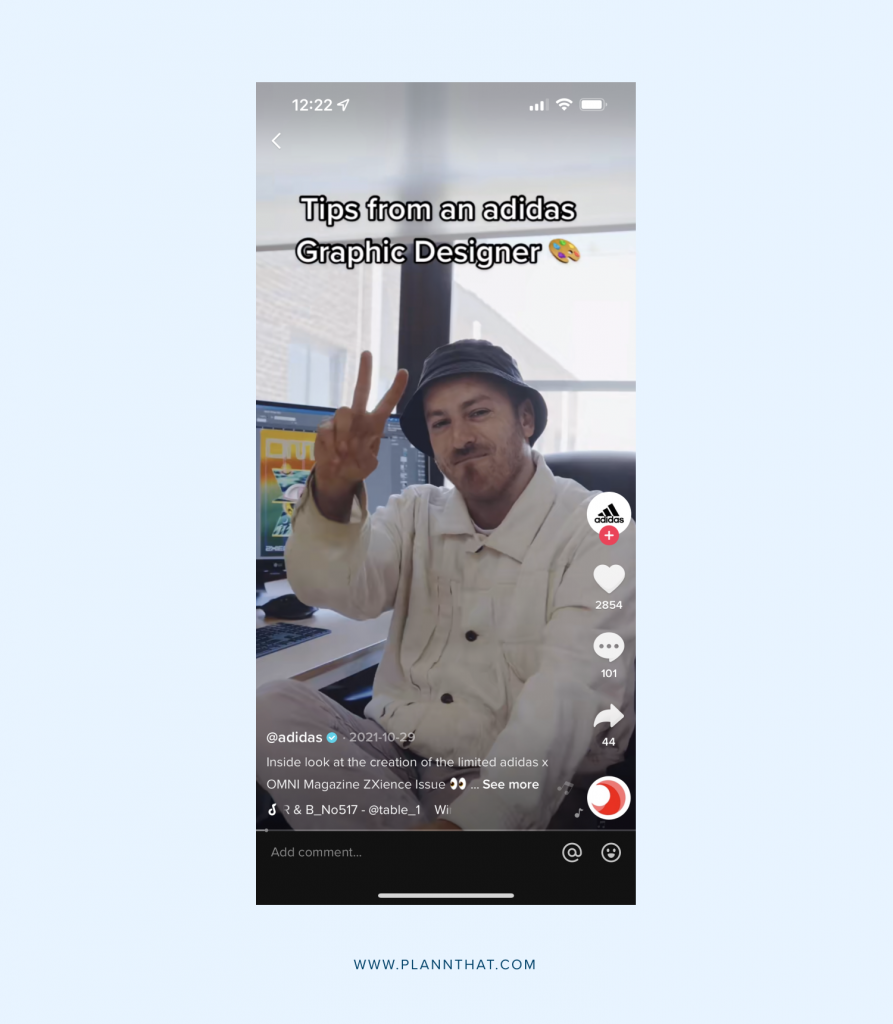 Flexing your industry know-how in your videos can be a lot of fun, and help your eCommerce brand grow, too. Not only does this type of content show your audience that you know what you're doing but also allows you to subtly sell your products in valuable and authentic ways.
Sharing knowledge-rich content educates your audience and provides a low-cost opportunity to provide in-depth information about your products, brand culture, and long-term plan.
This form of content may be used in any niche or sector, and you can even combine it with how-to videos. You can play with different ideas here, such as providing information about your industry, product, or causes you support.
Be authentic and candid
Beyond your brand, your followers want to know the kind of person you are, too.
That means you can share what series you're binge-watching, the newest book you're reading, a concert or vacation you're planning, or a Spotify playlist you just discovered with your colleagues or staff.
This content keeps your page dynamic and diverse. Remember to keep your recommendations brief and friendly and add a call-to-action to your captions to inspire two-way conversations.
Be open to questions and use the Q&A feature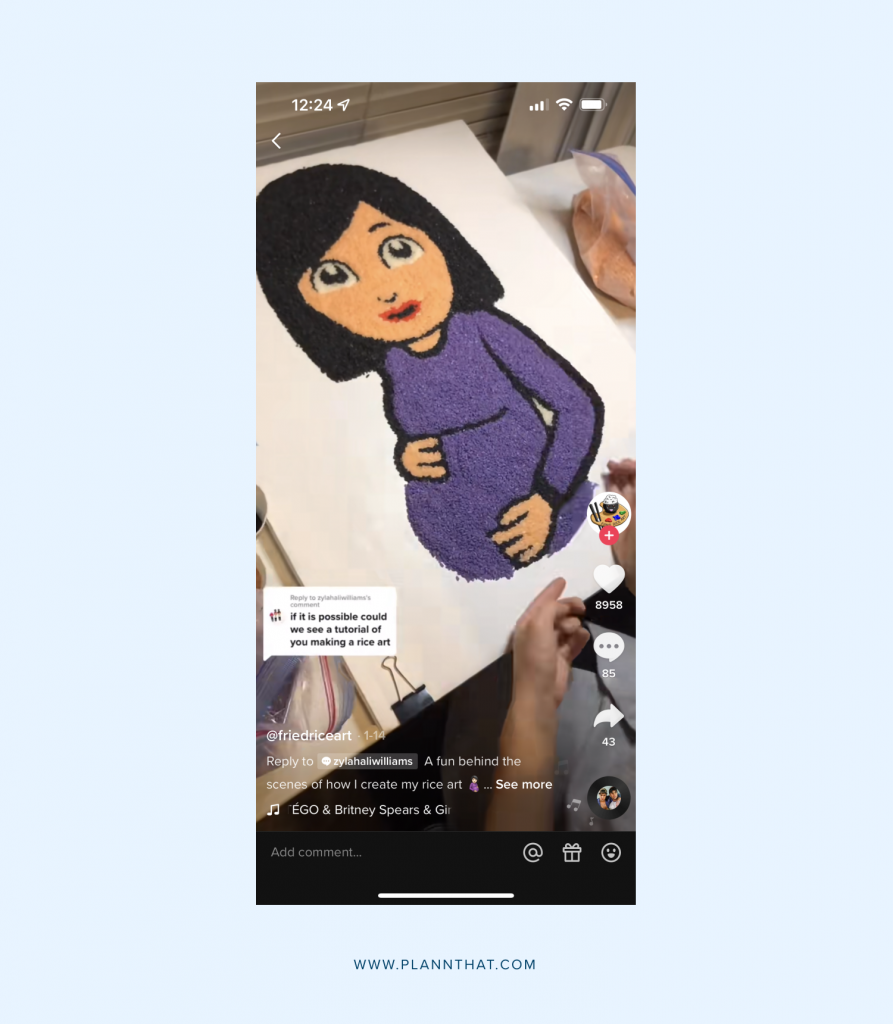 Q&As are a terrific interaction method for your followers and can help you develop new content ideas.
TikTok has made this process easy. Your audience can mark their comments as questions when it's enabled, making it easier for you to respond with a video or text response.
This feature lets your audience know that you're listening, and addressing their questions will make them feel they are part of the brand.
Plann for success with TikTok
The best part about TikTok is that you don't need a big marketing budget or professional video equipment to bring your content to life.
The most popular video content on TikTok is authentic, unpolished, raw, and real.
On TikTok, interesting and engaging content reigns over production value. With so many Gen Zs on the platform, you want to entertain and educate them, while trying to convince them to click the shop now link in your bio.
Did you know your can use Plann to post content consistently on TikTok and discover optimum posting times for maximum engagement. Plann will also help you gain insights into how your content is performing.
Go on, sign up for a free 7-day trial of Plann today and you can start boosting your engagement rate using TikTok.