The Explore Page is the holy grail on Instagram. If the algorithm gods deem your content worthy, your post will land up here, exposing your account to new people and helping you gain followers, reach, and engagement.
And the best part? These aren't random people.
Over the years, Instagram's algorithm has gotten spookily good at predicting what content we want to see.
What does that mean for you?
The users seeing your content on the Explore Page are your ideal followers and will give you that double-tap dopamine rush. The only question is: How do you get onto the Explore Page?
Keep reading to find out what you need to do to get the algorithm's attention and grow your account without an ad spend budget.
What is the Explore page?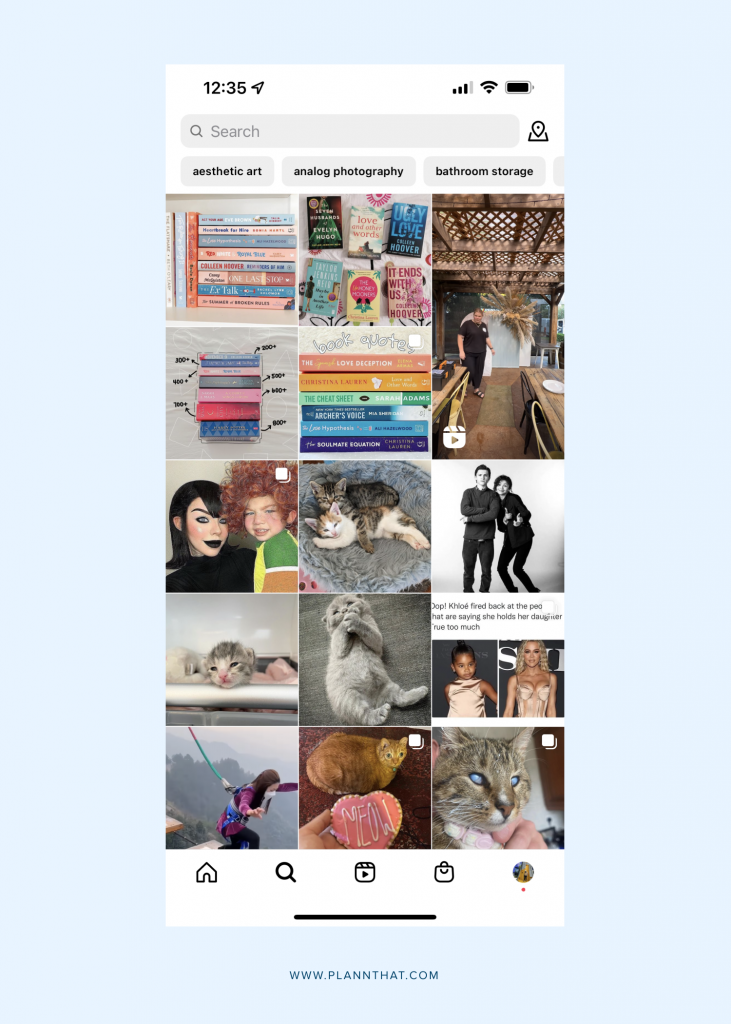 The Instagram Explore Page is a curated collection of photos, Reels, videos, and Stories Instagram thinks you like.
The AI behind the Instagram algorithm uses your behavior on the app to recommend content and improve what you see on the Explore Page.
In short, it's a great way to discover new content outside of your bubble and a gold mine for reaching new audiences as a brand or business.
Why you should care about the Instagram Explore page
Err… so what's the big deal about getting your content on the Explore Page?
It's akin to landing the brand exposure jackpot WITHOUT forking out cash for Instagram ads.
If you end up on the Explore Page, you can expect:
• More followers: With 200 million accounts using the Explore Page every day, your reach will skyrocket. The best part? The algorithm pushes your content out to people who are most likely interested in your account. The result? More high-quality followers who care about your brand.
• More engagement: With more eyeballs on your content, you'll see an influx of likes, comments, shares, and saves. The more people engaging with your post, the more the algorithm will continue to push it out to other accounts.
• More sales: Your Reels and feed posts aren't the only pieces of content that can make it on the Explore Page. Shoppable posts can also show up, giving you a boost in sales.
• More conversions: If your post has a strong call-to-action, you'll see more people converting from the Explore Page, whether it's email sign-ups, ebook downloads, or course enrollments.
How the Instagram Explore Page algorithm works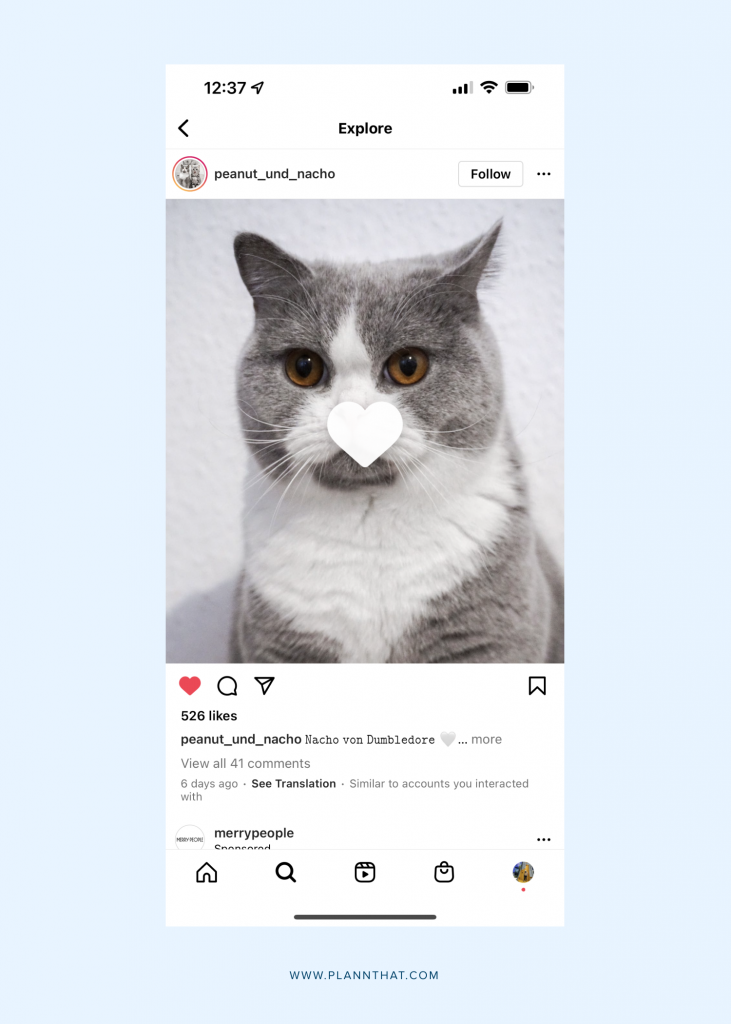 Before you can hack your way onto the Explore Page, you need to understand what makes the Instagram algorithm tick.
Using the Feed Ranking System, the app relies on machine learning to collect ranking signals and personalize your Explore Page feed.
Double-tapped on a kitten appreciation post? You'll see more cat content.
Obsessed with all things Kardashian? Expect Kim, Khloe, and Kourtney to dominate your Instagram Explore feed.
To sum it up, Instagram uses relevance and interactions signals to decide what to show you and bases it on:
• New posts with a ton of engagement.
• Types of content you engage with the most.
• Accounts you are following or similar accounts.
• Posts with high engagement from people you follow.
How to get on the Instagram Explore page
Ready to go viral? Follow these tips to land a spot on the Explore Feed and explode your reach:
1. Create shareable content
A no-brainer, right?
If you want to feed Instagram the right ranking signals, you need to focus on publishing content that drives likes, comments, shares, and saves.
How can you do that? By focusing on providing value to your audience.
You can add value by:
• Educating
• Entertaining
• Solving a problem
If you're a money coach, create content around high-yield savings accounts. It's useful information for your followers, and it's something people will want to refer back to, driving up engagement.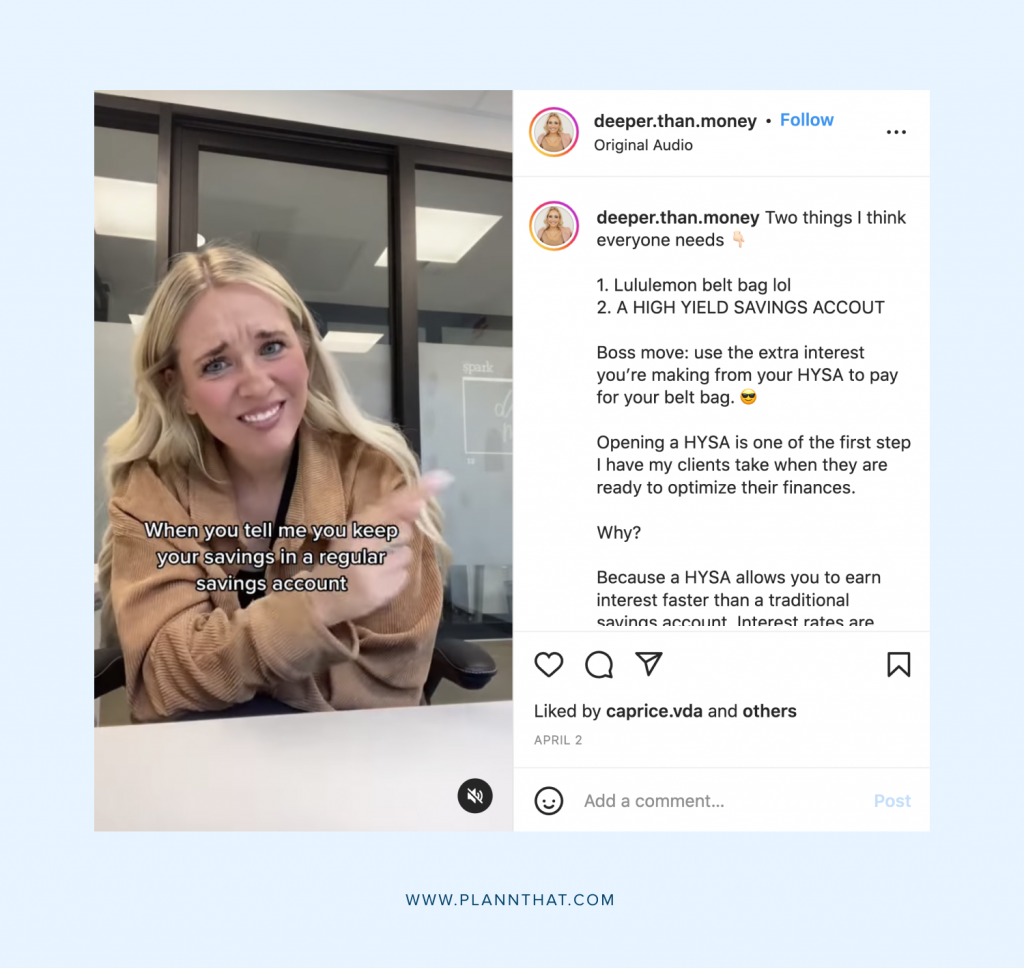 If you're a star sign or horoscope account, creating memes around the different placements is entertaining. Making your audience laugh or relate to your post will increase shares and comments.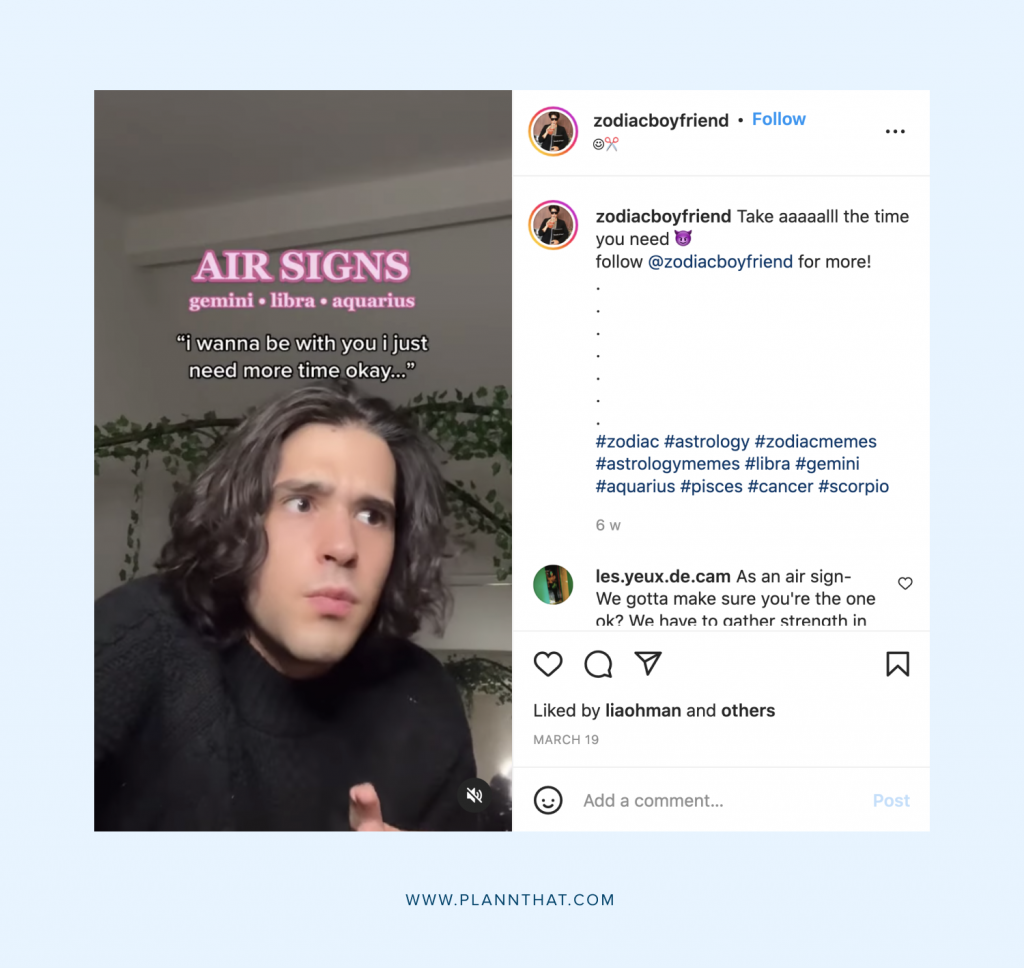 2. Hop onto the Reels bandwagon
It's no secret: Instagram is pushing Reels more than any other type of content on the platform.
If you want to land a spot on the Explore Page, it's time to start creating video content and hop onto the trends. Reels even has its own dedicated tab, and if you go viral there, your chances of ending up on the Explore Page is high.
The good news is that you don't need to dance or lip-sync if it's not your vibe. You're good to go as long as you're creating content that educates, entertains, or solves a problem.
3. Get inspired
The quickest way to figure out how to get onto the Explore Page? Analyze the content already there.
With a few scrolls, you can see:
• What's working for accounts in your industry.
• Current Reel trends gaining traction.
• What content types are popular (how-to videos, transformations, etc.)
Make a note of the common themes you find and brainstorm ideas to incorporate them into your Instagram content strategy.
4. Post at the right time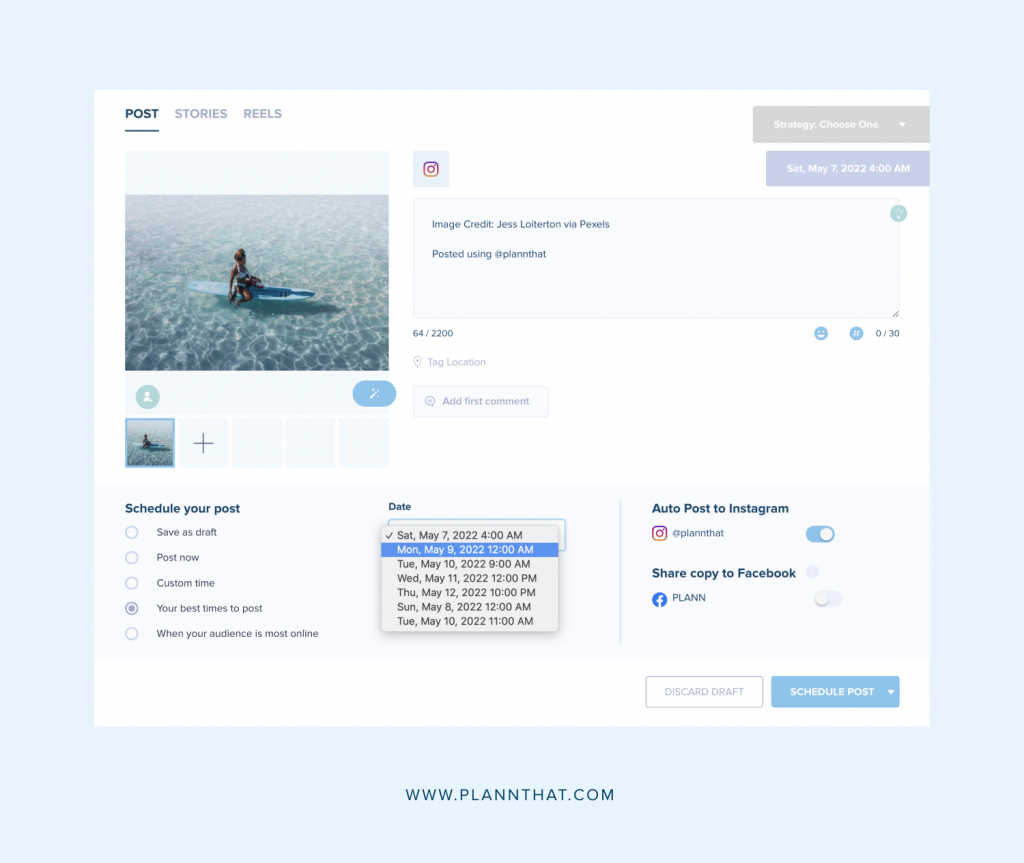 Posting when your followers are online and ready to engage is the key to your Instagram success.
Think about it.
If you post at 3 am, and the majority of your audience is sleeping, no one will like, comment, share, or save your post. With a lack of engagement, Instagram will think your content isn't shareable, and you won't make it on the Explore Page.
But if you post at 7 pm when your audience is online, you instantly increase your chances of getting a bump in engagement and winning the golden Explore Page ticket.
Not sure when is the best time to post on Instagram? Sign up for a free Plann account today, and you can see your best times for maximum engagement at a glance.
5. Take a deep dive into your analytics with an Instagram content audit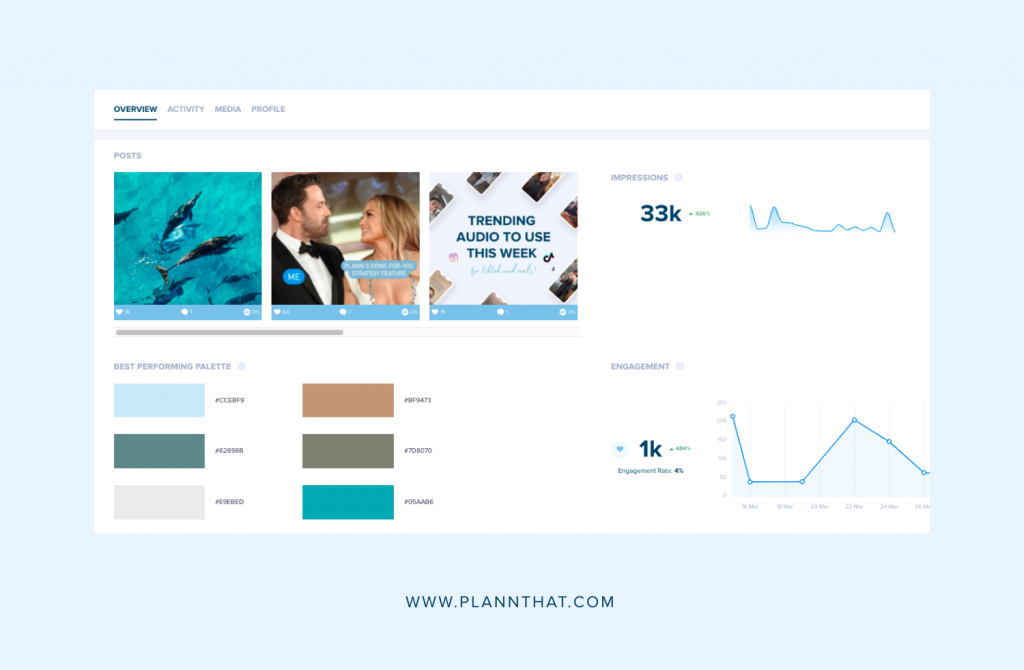 Don't shy away from your results and analytics tab. It's full of valuable (and FREE) data that can help you figure out what's resonating with your audience.
Let's say you want to improve your Reels.
Tab on Insights, navigate to Reels, and change the filters to "Plays" and the time to "Last six months" or "Last three months."
Scroll through the posts and ask yourself:
• Is there a common theme or topic for my top-performing Reels?
• Is there a common theme or topic for my worst performing Reels?
• Did I edit the Reel in a particular way?
• Did I use an enticing hook?
You can repeat this process for "Shares" and "Reel Interactions."
Try to figure out what's causing the reaction from your audience.
If you're a travel blogger, are your Reels about unique things to do at a destination outperforming your other content? Do more of that.
Ditch the comedy skits if that type of content isn't performing. Rinse and repeat your Instagram content audit for your Stories and Feed posts!
Start Plann'ing your Explore Page takeover
Landing a spot on the Explore Page isn't easy, but it's worth the effort if you're up for the challenge. With zero ad spend, you can explode your reach, grow your following, and make some extra sales along the way.
Cha-ching!
Ready to put these tips for getting onto the Explore Page in practice? Sign up for a fully-featured, 7 day trial of Plann Plus today and start Plann'ing, scheduling, and posting your content. If you don't like it, you can keep using Plann for free.