The holiday season is right around the corner, and you know what that means:
• Lazy days at the beach
• Ice cold sauvignon blanc
• Late nights with friends
• Plates and plates of delicious food
The only snag?
You want to stay on top of your consistent posting schedule, but creating content on the go is a drag.
…Or is it?
With the right tips and tools at your fingertips, you create better content faster — no matter where you are this holiday season.
Tips for Creating Great Content – Fast
Use Caption Starters
There's nothing worse than going blank on a caption when you're in a crunch for time.
Sometimes it feels like the creativity drains from your brain when you need it the most, and all you can think of is "live, love, laugh".
If this sounds familiar, prepared to have your mind blown by our new caption starters. Choose from 100s of made-for-you relevant, engaging, purpose-led captions.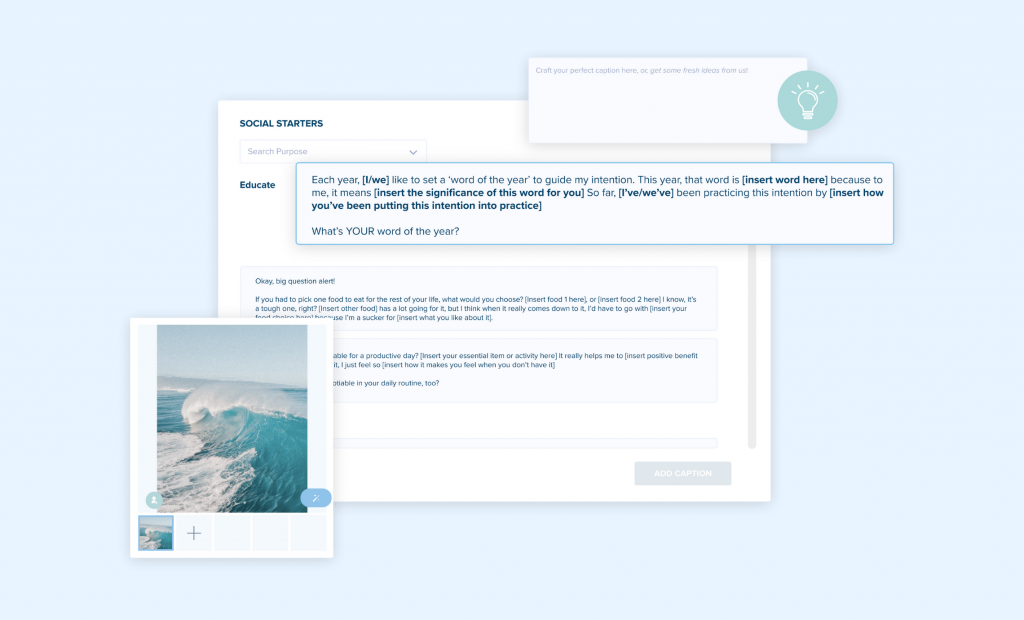 Yep, that's right — you no longer have to write your own captions from scratch. All you need to do is select your post's purpose (there are nine different options), and fill in the blanks.
With these caption starters in your back pocket, you can create content on the fly when inspiration strikes, save time and get back to enjoying your mojito on the beach.
Create Copy-Paste Hashtag Sets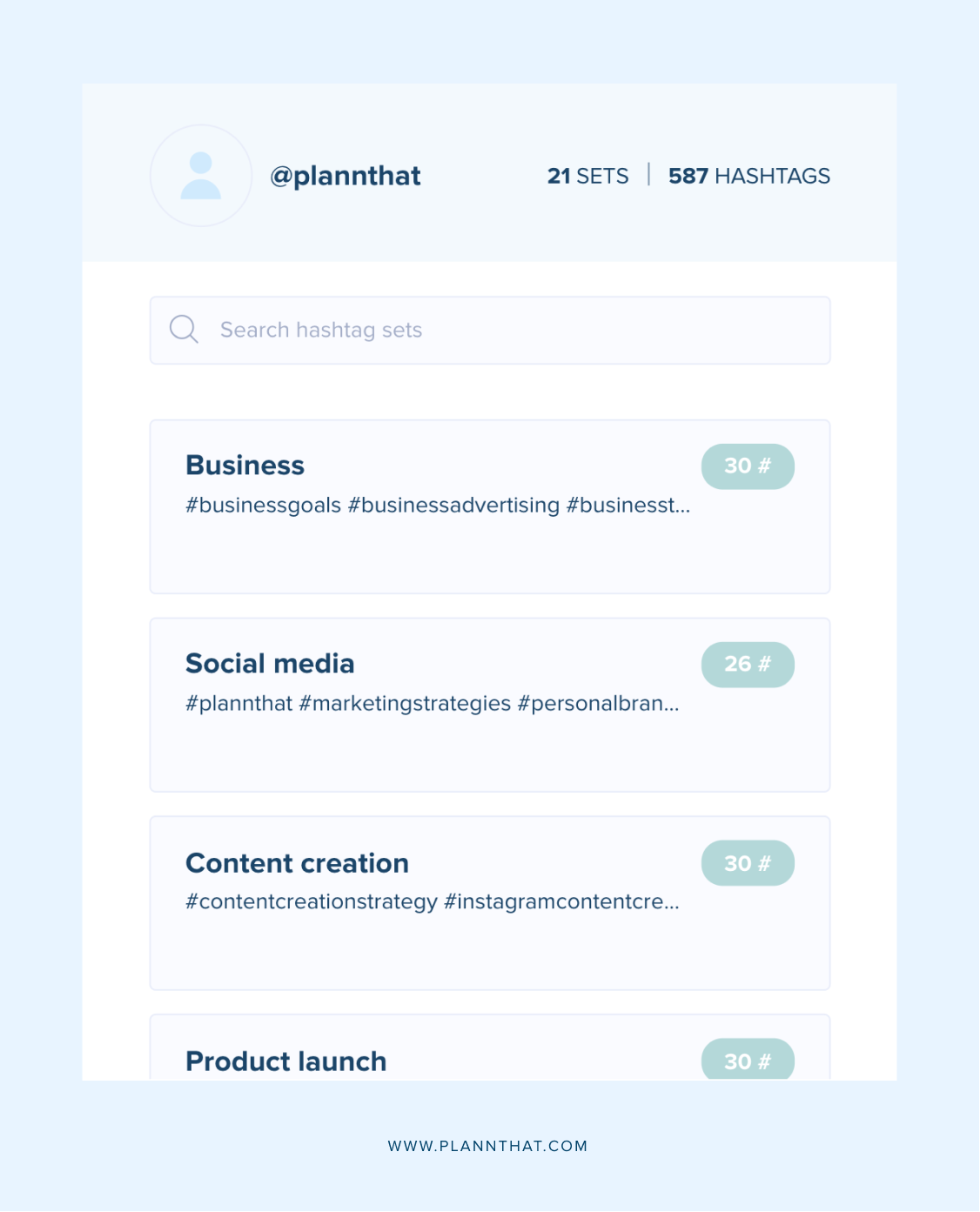 There's an art to choosing the best hashtags for your Instagram posts.
You want something popular but not too popular (to avoid your post getting buried in seconds).
You need something relevant to attract the right type of people to your page.
There's only one catch.
It's hard to remember and keep track of the hundreds of hashtag options out there.
…That is until now.
With Plann's hashtag sets, you can group your best-performing hashtags according to their topic. When it's time to post, select the set (or sets) that suit your post, copy, and paste.
For example, if you're a travel blogger, you could create hashtag sets for:
• solo travel
• female travel
• destination-specific
• activity (hiking, diving, etc.)
Organizing your hashtags with sets reduces decision fatigue and saves you time trying to find the best options on your notes app.
Take Advantage of Canva
Psst…did you know Plann fully integrates with Canva?
This means you can create your social media graphics, write your caption, and schedule the post without ever leaving Plann.
This feature streamlines your content production and keeps you from hopping from one app to the next, exporting and importing multiple files.
So how does the Canva integration work?
1. Open the Plann app on your deskop
2. Click on Create Post + button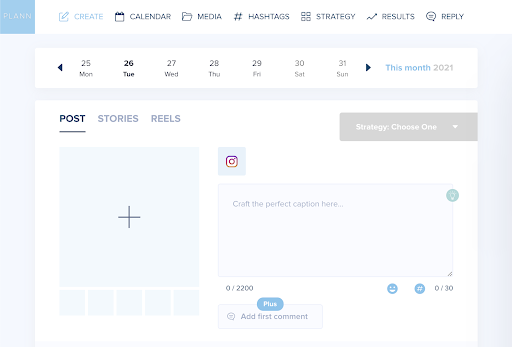 3. Select Canva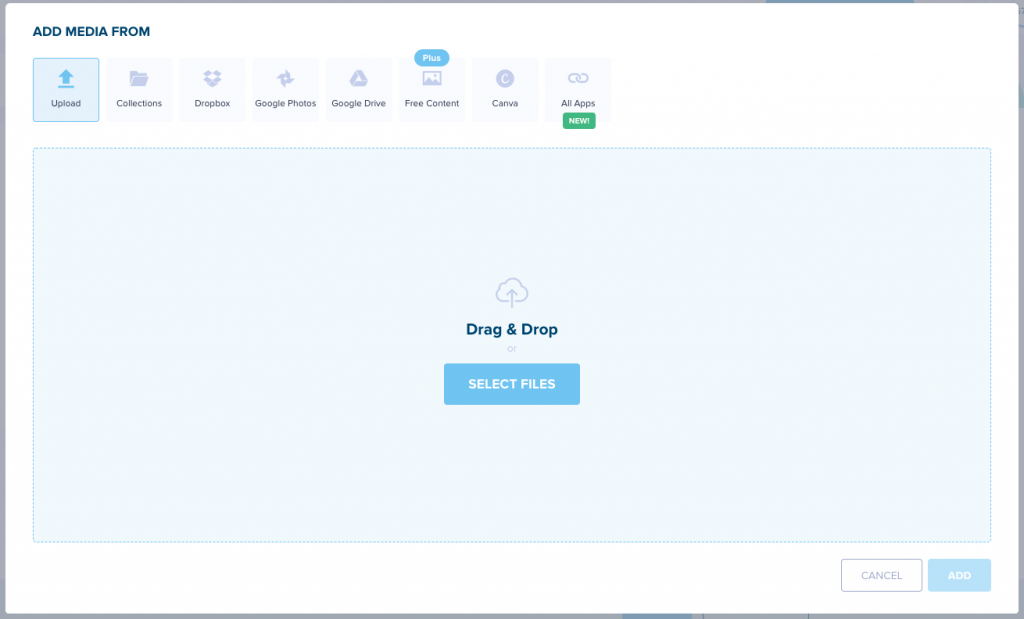 4. Create your infographics, Reel covers, quote posts Stories or any other content you need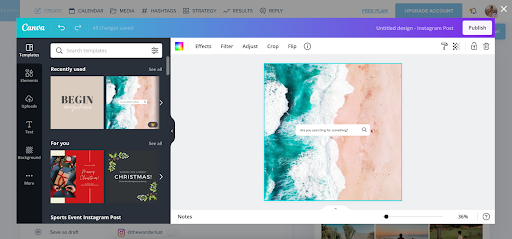 5. When you're done, tap on Publish, and Plann will automatically add it to your grid.
6. Write your caption, add your hashtag sets, and schedule your post.
Here's the full rundown on how Canva works with Plann.
Create On-Brand Stories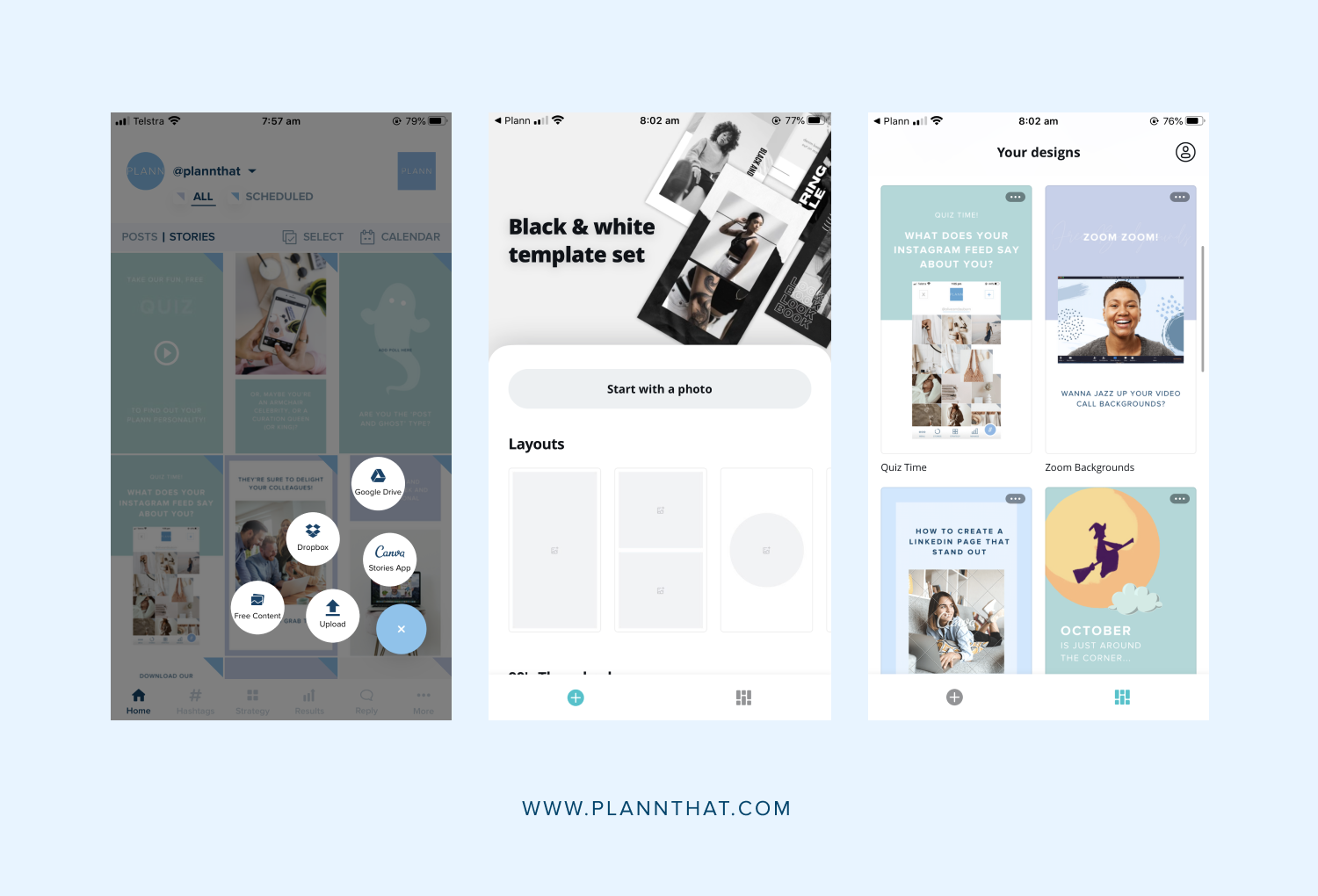 Don't like the stock-standard fonts on Instagram?
Want your Stories to have a more bespoke feel?
Use the Canva mobile app integration to create on-brand Stories in minutes, and share your masterpiece with the world.
With hundreds of beautiful templates for Instagram Stories, you'll have everything you need to step up your Stories game – without needing to have an eye for graphic design.
Tip: Find a template you like, add your brand colours, fonts, and photos, and save the design as your Stories template. Next time you need to create one, you don't need to scroll through all the templates. This makes it super easy to create a post when you're short on time.
Access Royalty-Free Images on the Go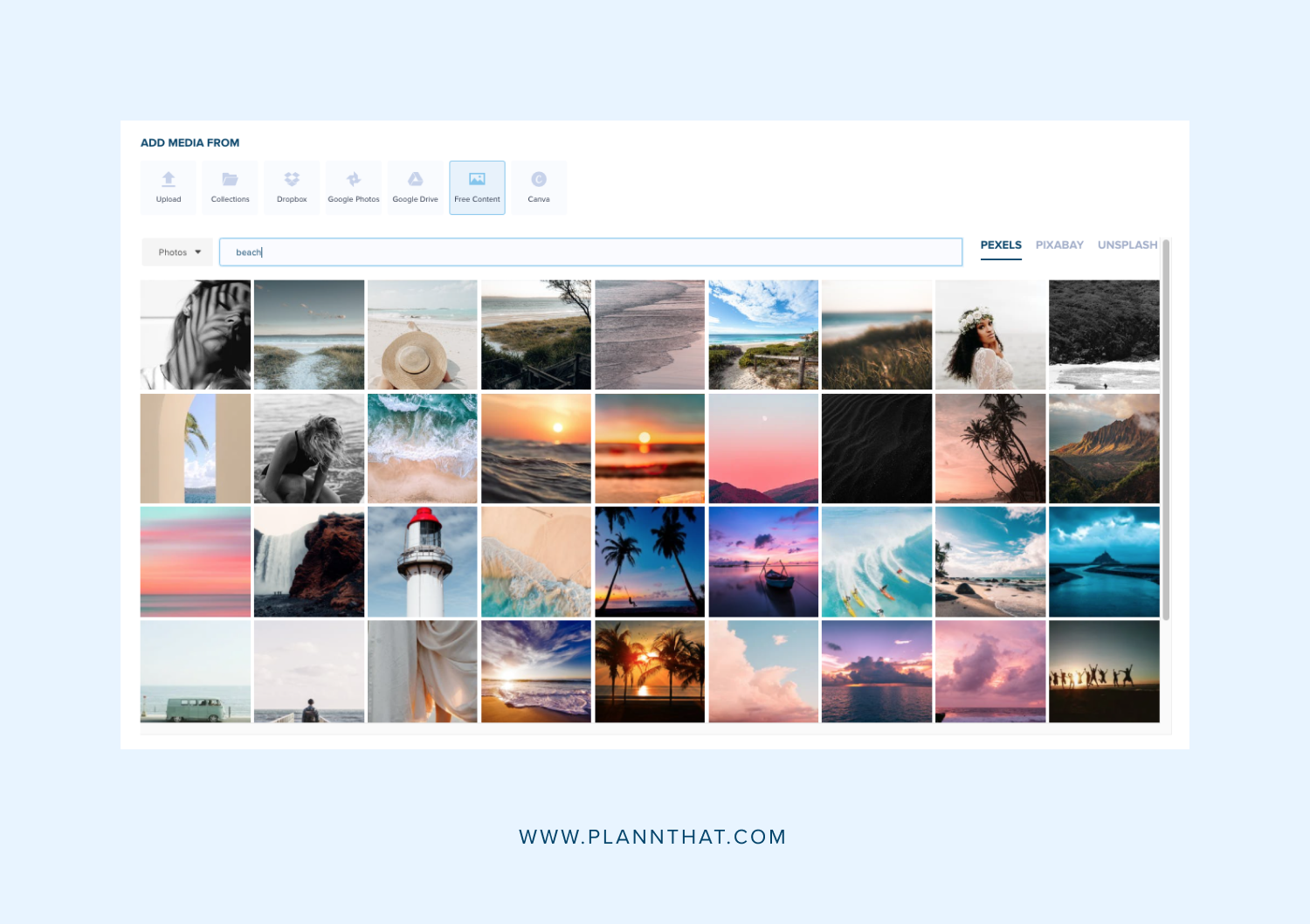 One of the biggest time suckers for content creation is sourcing images.
Whether it's having to create photos from scratch or scrolling through stock sites trying to find 'the one.'
Who has time for that when you're on vacation and want to throw together a post quickly?
Not us. That's why we created our royalty-free image feature.
You can access media from three of the world's largest royalty-free stock image sites Pexels, Unsplash, and Pixabay.
Millions of photos are at your fingertips in seconds — without leaving the Plann mobile app. That means you can get back to your Mojitos or movie marathon, faster.
Share Directly to Plann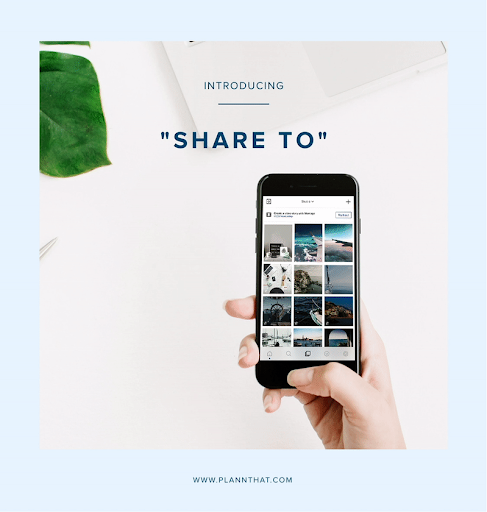 Plann is all about removing unnecessary blocks in your content creation process.
It's why we play nice with other apps and let you share your creations directly to your Plann grid.
Let's say you're editing up a storm in Lightroom for your next carousel post. In the past, you would need to export each photo individually to your camera roll, open the Plann app, and then add the photos to a new post.
With the 'share to' feature, you can skip the export to your gallery. Now you can upload your creations from Lightroom, Photoshop, Illustrator, VSCO, Unfold and even FaceTune directly to Plann.
Use Media Collections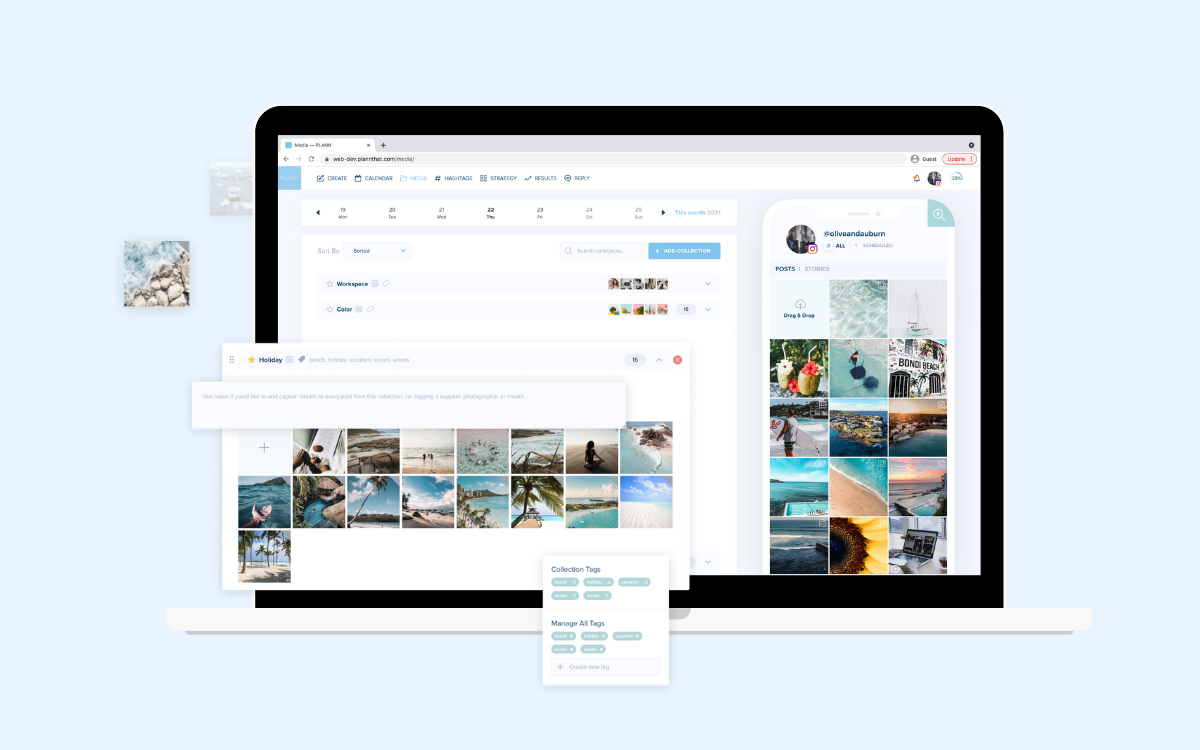 Just like hashtag sets can shave off minutes (and even hours) from your content planning process, media collections can do the same.
Raise your hand if you have a hard drive (or hard drive) of edited photos you forgot to share?
With Plann's media collections, you can upload your photo dumps and sort them into groups. Then, when it's time to start batch creating your posts, all your unused images are ready to go.
Say goodbye to trolling through your hard drive and scrolling your feed, trying to decipher what you have and have not posted.
But wait! That's not all you can do with your media collections.
Plann lets you tag your collections by content themes, color themes, dates, social media platforms, and star your favourite pics for easy access later. You can even add notes like photo location, contributors, and product info.
Get Even More Organized With Plann's Auto Posting Feature
While it's great to be able to quickly create content on the go, shave even more time off your process with our auto posting feature for Instagram, Facebook and LinkedIn.
Set the date and time you want your post to go out, and you don't have to worry about missing the push notification. Plann will auto-post to Instagram, and your content schedule will stay on track without you needing to micromanage it.
And that's exactly what you need on your vacation.
Sign up for a Plann account today and start streamlining your content marketing strategy with our free social media scheduling app.