Struggling to come up with engaging social media posts? We've been there too, and we've got the perfect solution: content pillars.
These broad content topics are your secret weapon to stay organized, maintain posting consistency, and deliver top-notch content that your audience will adore.
Content pillars can even help you say goodbye to posting without a purpose and say hello to a streamlined, thriving social media presence.
We've pulled together a comprehensive guide to everything you need to know about how to create powerful content pillars that drive business growth and seamlessly integrate them into your content strategy.
What are content pillars?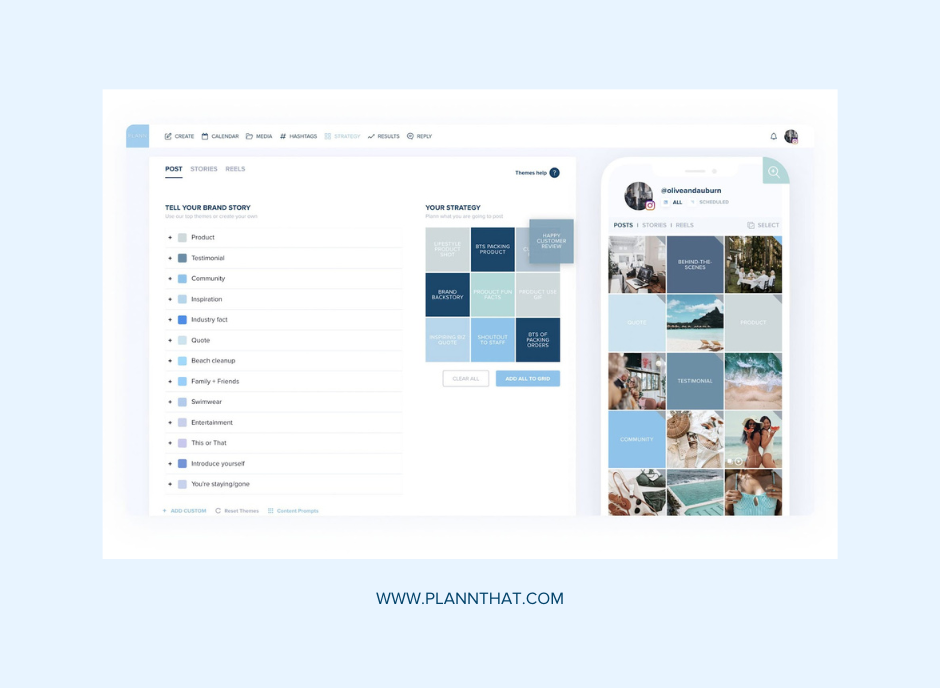 Content pillars are your secret weapon to a successful social media strategy. They serve as the foundation for your brand's unique social presence, giving you a clear set of topics you'll continue to post about time and time again.
Batching your content into themes ensures you're always posting about topics that relate to your niche and will attract your ideal audience.
Think of your content pillars as the beating heart of your social media strategy: aligning your social media presence with your brand's purpose, values, goals and tone of voice.
But that's not all! Content pillars also make your life easier. They allow you to plan ahead, creating amazing posts that seamlessly fit within your brand guidelines and maintain a cohesive feed. No more scrambling with last-minute ideas and ending up with a messy-looking feed.
How to define your brand's content pillars
With clear and well-defined content pillars, you'll have a roadmap for creating consistent and impactful social media content. Say goodbye to uncertainty and hello to a cohesive and compelling brand presence.
And the best bit? Identifying and defining them isn't as complicated as it might seem. The best place to start is by creating a document that takes a deep dive into each content pillar.
Let's have a look at some of the key things to consider when creating your content pillars.
1. Consider your business goals
By considering your business goals and tailoring your content pillars accordingly, you create a strategic framework that ensures your social media content is helping you achieve tangible results.
For example, if you want to increase sales, focus on a content pillar that showcases your products or services and demonstrates how they solve your audience's problems. This targeted approach ensures that your content is directly aligned with driving conversions and generating revenue.
Content pillars also provide a framework for you or your content creation team, guiding them in producing relevant and impactful content.
By considering your business goals when defining your content pillars, you empower your team to create content that aligns with your strategic objectives and resonates with your target audience.
2. Look at your audience's needs and pain points
To create compelling content that resonates with your audience, it's crucial to understand their needs and pain points.
You can make sure your content is resonating with your audience through social listening to gain real-time insights and feedback on how your audience is responding to your social media presence.
With this information, you'll be able to develop content pillars that address their specific concerns and provide valuable solutions.
Not sure where to start? You can find out more about your audience's needs and pain points by:
• Conducting surveys and polls on Instagram Stories.
• Monitoring your community's comments and messages across platforms.
• Conducting customer interviews and asking for feedback.
Remember, the relationship between you and your audience should be reciprocal. It's not just about creating content you find interesting; it's about actively listening to your audience and crafting content that they will find valuable and engaging.
3. Review your analytics to see what resonates
Conducting a social media audit allows you to spot trends and understand your followers' content preferences.
Start by identifying high-performing posts and diving into their captions, visuals, and hashtags. Are there any common themes between your top performing pieces of content?
Make sure you're regularly assessing your own channels. This helps you identify content that resonates with your audience and content that falls short. Use this information to refine your content pillars and eliminate any types of content that consistently underperform.
Not sure how to determine what works and what doesn't? Plann's Analytics tool helps you deep dive into your analytics with their at-a-glance performance metrics.
By leveraging your analytics and conducting periodic content audits, you can continuously adapt your content pillars to align with your audience's interests and optimize your social media strategy.
4. Align with your brand's purpose on social media
Your brand's purpose represents the underlying mission, values, and identity that guide every decision you make as an organization.
Each pillar should help to convey your brand's unique personality, values, and positioning. This way your approach to marketing will stay consistent across all platforms.
When aligning with your brand's purpose, take into account your tone of voice, visual aesthetics, and overall brand messaging. Ensure that your content pillars uphold the consistency and cohesiveness of your brand's identity across all social media channels.
With 86% of consumers saying they have unfollowed a brand because their content felt inauthentic, making sure that you consistently align with your purpose has never been more important.
Need an extra helping hand? Plann's Strategic Planning tools allow you to develop brand building blocks, store your media files in strategic themes, and even lets you create batch hashtag sets, so your content always shows up in the right place.
How to incorporate content pillars into your social media strategy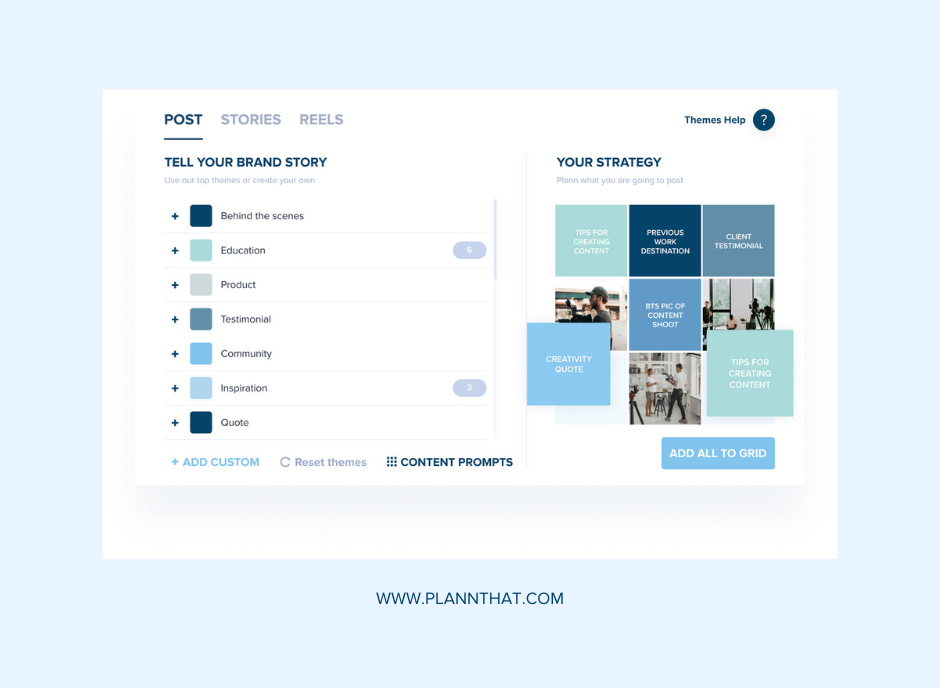 Planning ahead is what will give your brand the best chance of success online. Here are some practical tips to help you make the most of your content pillars:
• Plan your content calendar in advance: Take the time to map out your content calendar in advance, ideally a few weeks or a month ahead, and make sure you have strong and consistent branding throughout the post. Remember, last-minute content creation can lead to mistakes, missed opportunities and inconsistency.
• Highlight important dates: Identify upcoming holidays, product launches, or other significant events related to your brand. Prioritize these dates in your content calendar to create supporting content and promotions around them.
• Incorporate macro and micro-content: Include both macro-content (long-form blog posts, videos, podcasts) and micro-content (shorter, quicker posts) in your content pillars. Aim to post one piece of macro-content per week and supplement it with daily micro-content.
By utilizing Plann's Visual Planner tool you can visualize and organize your content pillars within your content strategy, ensuring a cohesive and effective approach to social media marketing.
Ready to take your social media strategy to the next level?
With Plann's all-in-one solution, you can simplify your content creation process and elevate your brand's online presence. Define and organize your content pillars, plan your posts in advance, and effortlessly manage your social media channels with Plann.
Go on, and redeem your 7-day free trial of Plann Plus. If you don't like it, keep using Plann for free!