What's the best type of content you can make right now? You know, a format that's going to get you that sweet, sweet engagement?
Video.
Here's why:
• Over 8 BILLION videos are watched on Facebook every day.
• GIFs are shared 2x more than pictures.
• 78% of people watch online videos every week, and 55% view online videos every day.
• Users view more than 1 billion hours of video each day on YouTube.
• Viewers retain 95% of a message when they watch it in a video, compared to 10% when reading it in text.
• 72% of customers would rather learn about a product or service by way of video.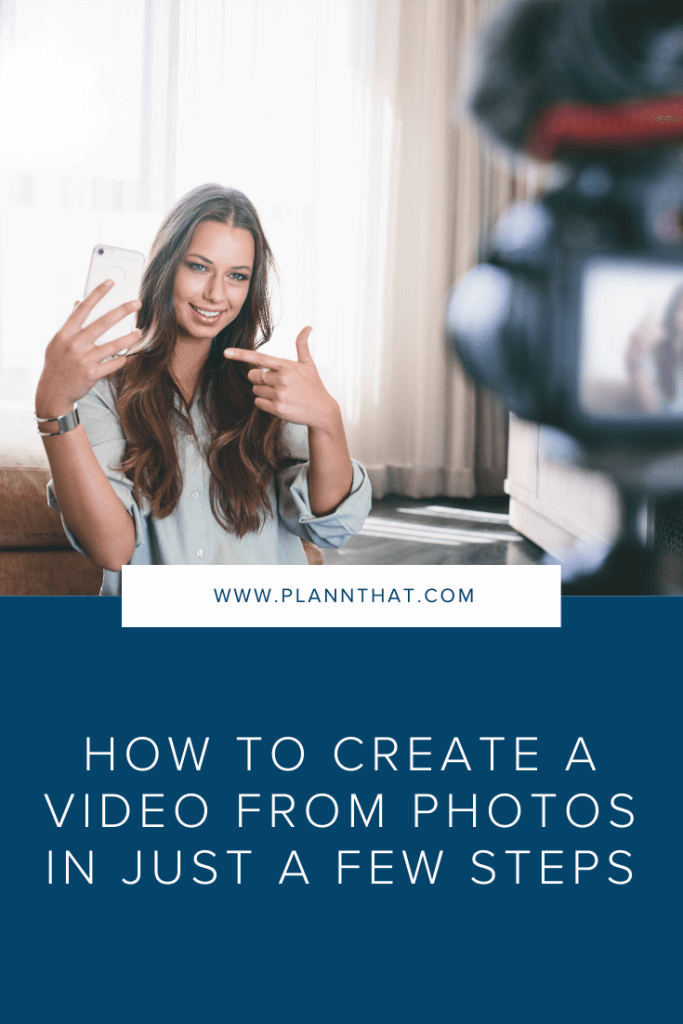 With statistics like these, it's clear that there is no better time to get a piece of the action.
In today's post, you're going to learn how you turn your images into engaging videos in a couple of seconds!
Let's dive in.
How to Create a Video from Photos in Just a Few Steps

Video App 1: Canva
Want to step up your Instagram Stories game? Use the Animate feature in Canva! It's the latest feature that lets you animate your graphics with one click.
You can use it with any of Canva's template types and export your creation in either GIF or movie format. Instead of a boring graphic, turn it into a video and promote:
• Your latest blog post or YouTube video.
• A sale on your products or announce new items in your store.
• An Instagram or Facebook Live.
• A free or paid webinar for your services.
• Or you can use the Animate feature to share a quote, create a Facebook video cover or social media video ads.
If you're using the free version of Canva, there are six animations you can choose from:
• Block
• Fade
• Pan
• Rise
• Tumble
• Simple
But if you upgrade your account, you'll have access to five more:
• Stomp
• Baseline
• Pop
• Neon
• Scrapbook
Cost: Free + paid options
Bonus: You can use Canva from right within Plann — no need to even leave the app!
Read More: Introducing Plann + Canva: a match made in social heaven
Video App 2: Filmora9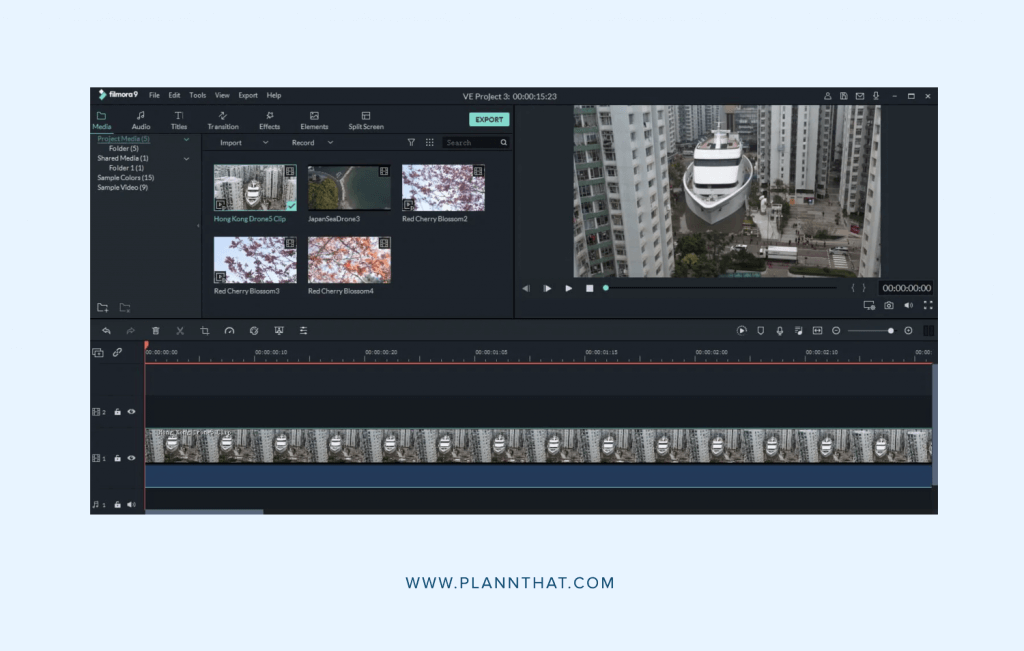 Searching for a bit more customization? Filmora9 is one of the best apps on the market to turn your photos into a video.
The app comes with:
• Built-in royalty-free audio effects.
• Video filters, effects and elements.
• 150+ video transitions.
PLUS, it's ridiculously easy to use!
Here's what you need to do:
Step 1: Import your media files
Step 2: Craft your story and add motion and transitions to your images.
Step 3: Add a title or text to your images (a super important step to engage people who want to watch videos without sound).
Step 4: Add your music. With over 50+ royalty-free music tracks, you're bound to find something that pairs perfectly with your video.
Step 5: Export your video and share it on your social media channels!
Cost: Free with paid options // Available on iOS and Windows
Solution App 3: Animoto
Animoto is a free photo video maker. In a couple of minutes, you can turn your bland pictures into stunning slideshows with music.
Don't want to waste time agonizing over design details? Animoto has slideshow video templates that are easy to use and quick to learn.
Here's how it works:
Step 1: Add your photos to a storyboard template and drag and drop your pictures in the order you want for your video.
Step 2: Personalize your slideshow with fonts, music, colours and more! It's easy to keep your brand or personal style consistent.
Step 3: Once you're done adding the final touches to your video, export it and share on social media.
Need some inspiration for how you can use slideshows in your business? We've got you covered:
• Promote new products: Launched a new range of services or an incredible online course? Show off your work to potential clients!
• Create how-to tutorials: If you sell products that require a step-by-step guide, create a visual one in minutes. Or show your followers how to re-create your signature smokey eye look.
• Address frequently asked questions: Anticipate the objections and needs of your audience by creating a visual FAQ video.
Cost: Free
Video App 4: Biteable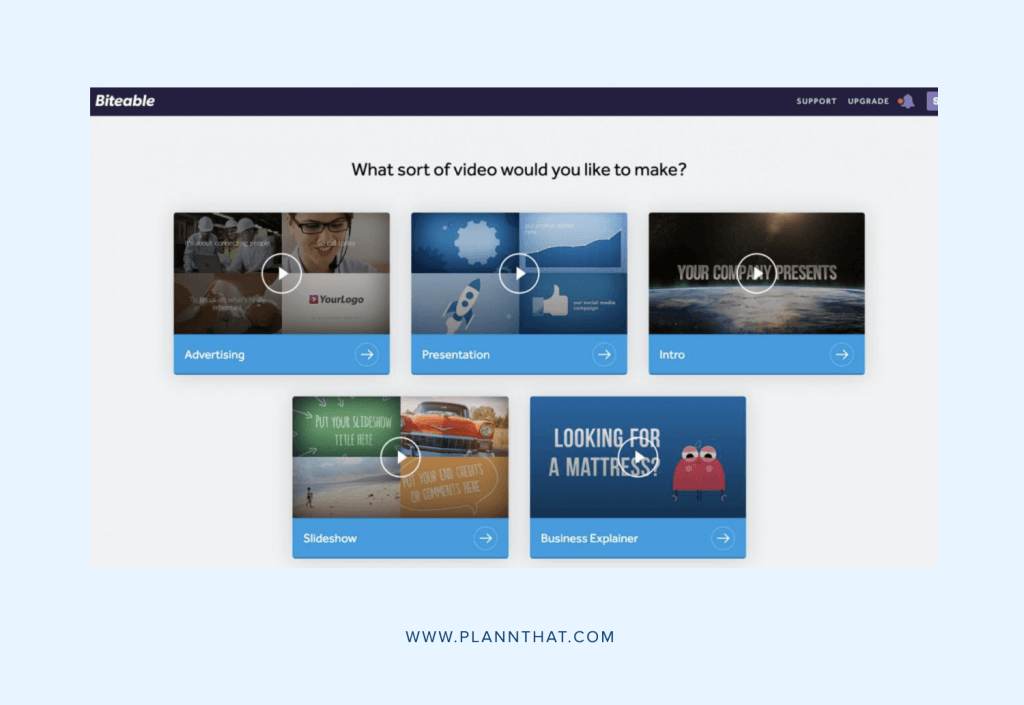 Biteable is an app that helps you create videos from your pictures in just a few steps.
With more than 800,000 real-life stock footage clips and dozens of animations, you'll never run out of ways to create engaging videos for your social media profiles.
Biteable has beautiful templates to help you create your video in a flash and format them in a way that will boost engagement and make you some sales.
Lastly, you can give all your creations a professional touch by adding your logo and brand colours.
Cost: Free with paid options starting from $19 p/m
Video App 5: Movavi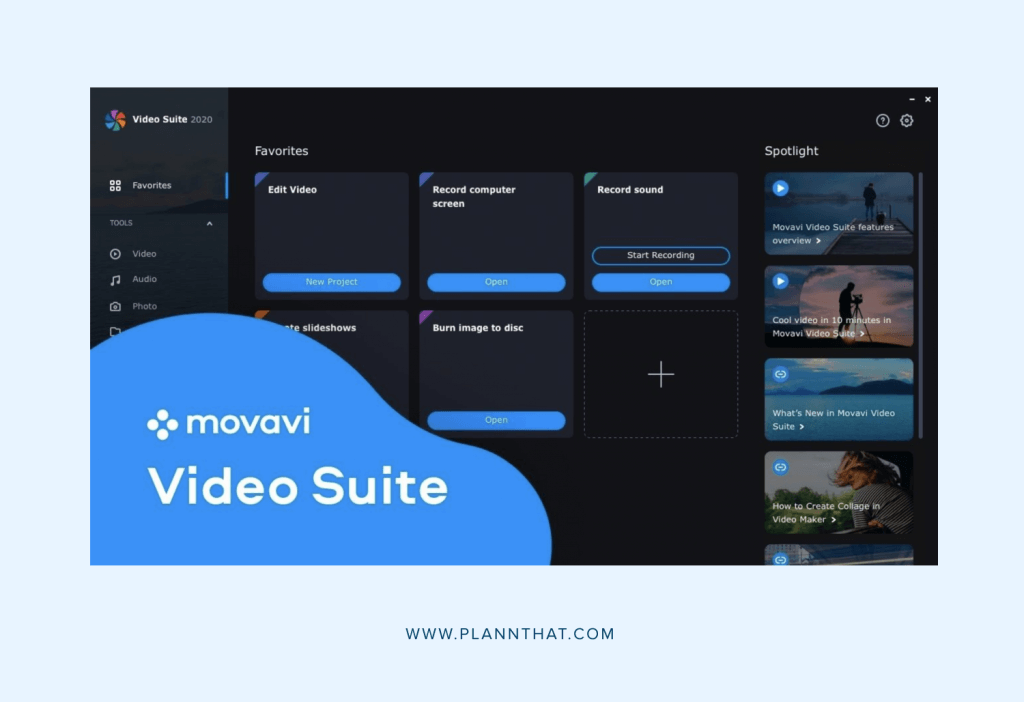 Movavi is a free video editor for Mac and Windows users. It's the perfect choice if you prefer working from your desktop and want to upload your creation straight from your computer to your Instagram feed schedule in Plann.
Once you've downloaded Movavi, you'll gain access to the "picture video maker" tool.
To create your slideshow, click the "add media files" button and import all your images. From there, you can rearrange them in the order you want to appear in your video.
Before you export your creation, don't forget to add filters and jazz up your video with royalty-free music and subtitles. Movavi also has dozens of animated transitions for you to use and you can set the duration for each effect.
When you're happy with your video, click on the export button and choose if you want to save the file to your desktop or send it to your mobile device. You can also seamlessly upload your video directly to Youtube or Google Drive.
Cost: Free with paid options
Start Creating a Video from Photos in Minutes
Woo-hoo! You now officially know five easy ways to turn your images into engaging videos!
But before you jump in and start making your creations, keep these tips in mind:
• Use text that is easy to read.
• Create your videos with the correct dimensions for each platform.
• Use high-quality images (a pixelated mess is a big no-no).
• Add a call to action (what do you want people to do at the end? Comment, share, buy? Let them know!)
Which one of these image to video creation tools are you itching to try out first? Leave us a comment to let us know!