There are millions of businesses on LinkedIn (30 million in fact!).
As the largest professional networking site, LinkedIn gives brands the power to connect with other businesses, share their expertise and even recruit new candidates.
There's a lot that LinkedIn can offer to brands, but the secret is to leverage the platform's features in the most effective way possible. That is where a LinkedIn Business page comes in. This dedicated platform gives brands golden real estate to share their skills, showcase their success, and drive tangible results for their business.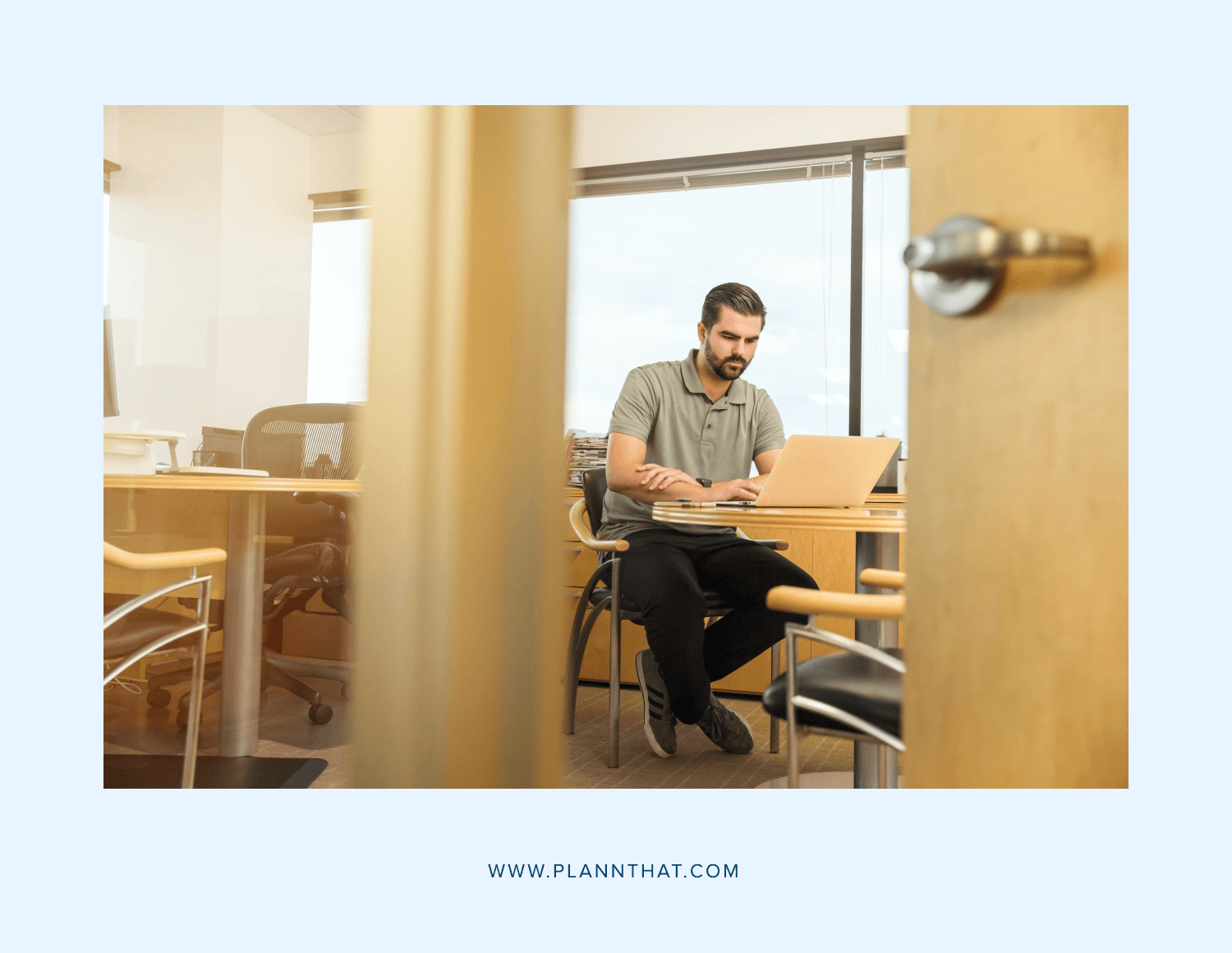 Not sure where to start? You've come to the first place, Plann'rs. In this article, you'll discover what is a LinkedIn Business page, how to create one for your brand plus 8 expert tips and tricks to optimize your results. Ready to get started? 
What is a LinkedIn Business Page? 
Let's start with the basics: what's the difference between a LinkedIn personal profile and a LinkedIn Business page?
If you're familiar with using Facebook for business, you can probably guess what we're about to say! 
A LinkedIn personal profile is designed for individuals to showcase their skills, experience and education with their professional network. For those that own or run a business, they can create a dedicated LinkedIn Business page to showcase their businesses' products and services and even share job opportunities. 
There's a bunch of reasons why businesses should create a LinkedIn Business page, including:
• Creating a platform to share your products and services with a professional audience 
• Post your latest job openings and scout out high-quality candidates to scale your team 
• Showcase your thought leadership and industry expertise by sharing blogs, articles and educational content 
• Boost your search engine ranking (both on LinkedIn and across the web)
• Reach your target market and connect with high-value brands and businesses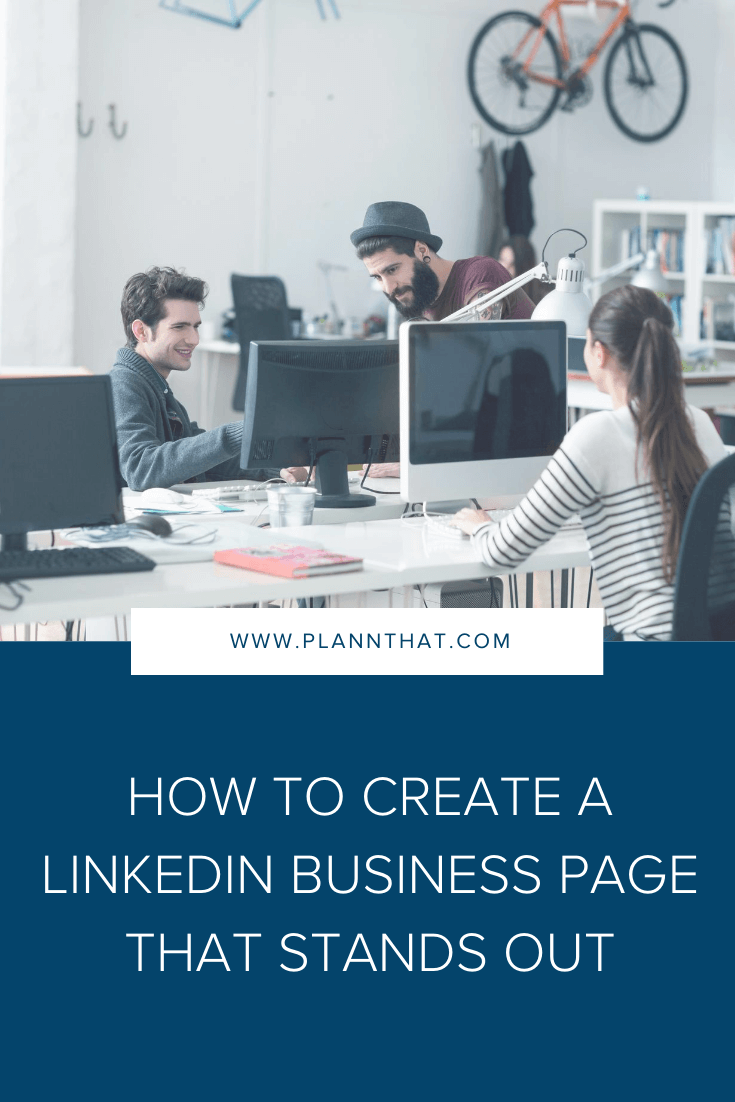 How to create a LinkedIn Business page
Ready to create a LinkedIn Business page for your brand? Follow this step-by-step guide to get your page up and running in just a few minutes:
• Step 1: On LinkedIn, click the "Work" icon on the top right corner of the homepage 
• Step 2: Select the option "Create a company page. 
• Step 3: Select the page option that best reflects the size of your business, with "Small business" or "Medium to large business"
• Step 4: Fill out your Page Identity details as well as your Company or Institution details and your Profile details
• Step 5: Once you're happy with these details, click "Create page". Congratulations, you've created a LinkedIn Business page!
But wait, that's not where the work ends! Once you've taken the time to set up your LinkedIn Business page, it's time to turn your attention to optimizing your information and content to maximize your results. But don't worry, we're here to help you streamline this process. Discover how to optimize your LinkedIn Business page to stand out from your competitors with these expert tips below!
LinkedIn Business Page Tip 1: Tell the story of your brand in your "About" section 
Okay, so you've filled out all your basic business information on your LinkedIn Business Page. You've uploaded your logo, listed your business name and even added your businesses' location. Now what?
To really make the most of your LinkedIn Business page, it's important to articulate the story of your brand by completing your page's About section.  This is golden real estate on LinkedIn and is your chance to describe what makes your brand stand out in 2,000 words or less.
To maximize the value of this your About page, be sure to lead with your brand's elevator pitch: how would you describe what you do in 1 sentence? Make sure to use the rest of the copy to explain your key points of difference, core services and products and leverage as many relevant keywords as possible. 
While you're at it, make sure the rest of your About section is completed, including your website URL, industry, company size, company type, phone number founding date and add in up to 20 keywords that highlight your businesses' specialties. 
IMAGE: Take this example from music streaming platform Spotify who have used their LinkedIn Business page's About section to tell the story and history of their business.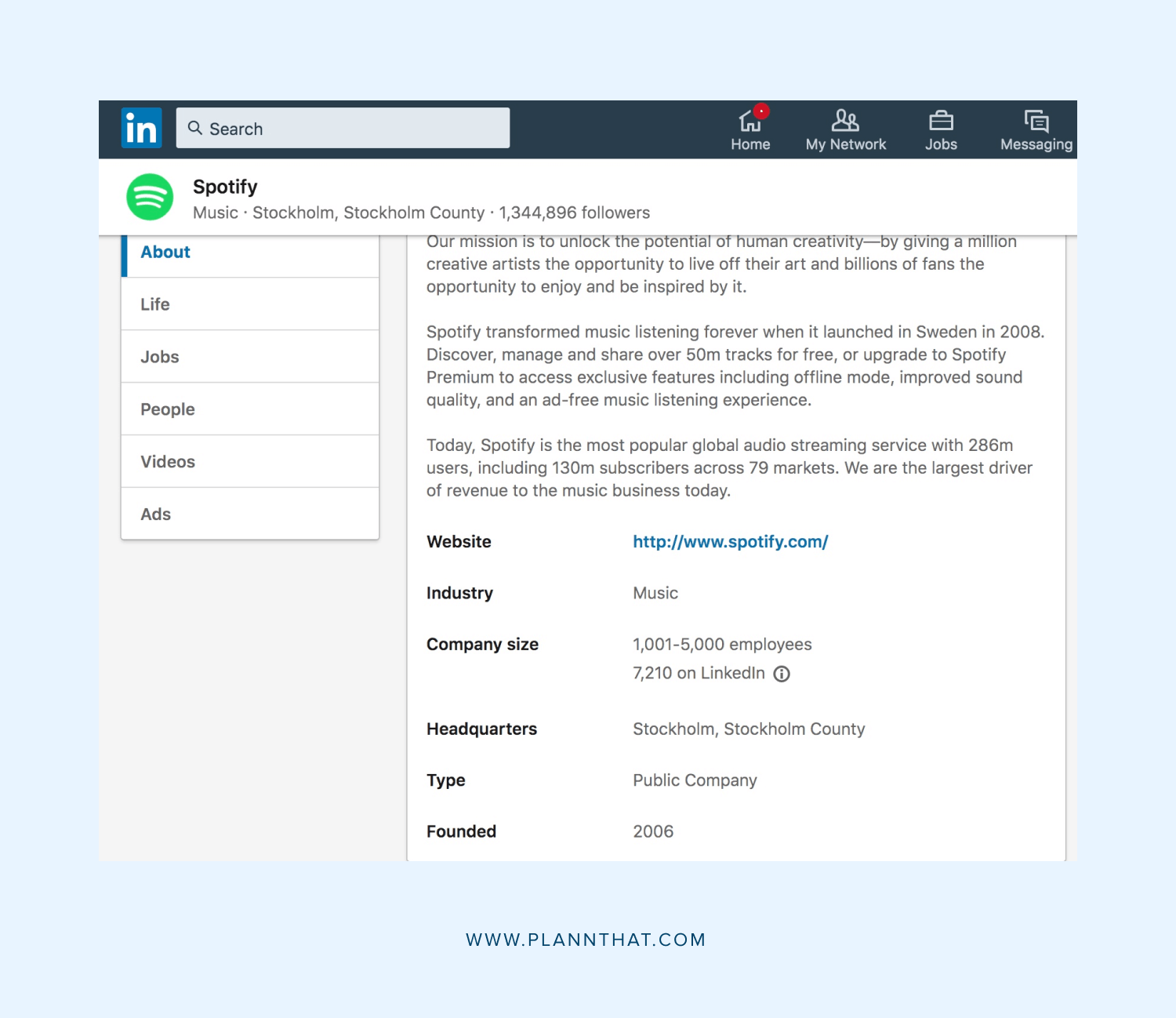 LinkedIn Business Page Tip 2: Upload a branded cover image
Want to make a great first impression with users that discover your LinkedIn Business page? Make sure to create a branded cover image to sit at the top of your page! While this tip might sound simple, little details like this can have a huge impact on how others perceive your brand. 
To optimize your LinkedIn Business pages' cover image, be sure to resize your image to the dimensions 1536 x 769 pixels. Try using a high-resolution professional image of your office, team or products and add your brand colors, fonts and logo to add a personalized touch to the image. 
This step is all about setting a lasting first impression and using professional imagery to showcase your business in a polished and professional light. 
IMAGE: A great example of a branded cover image in action is from skincare brand Aesop, who have created a simple yet professional cover image to brand their LinkedIn Business page.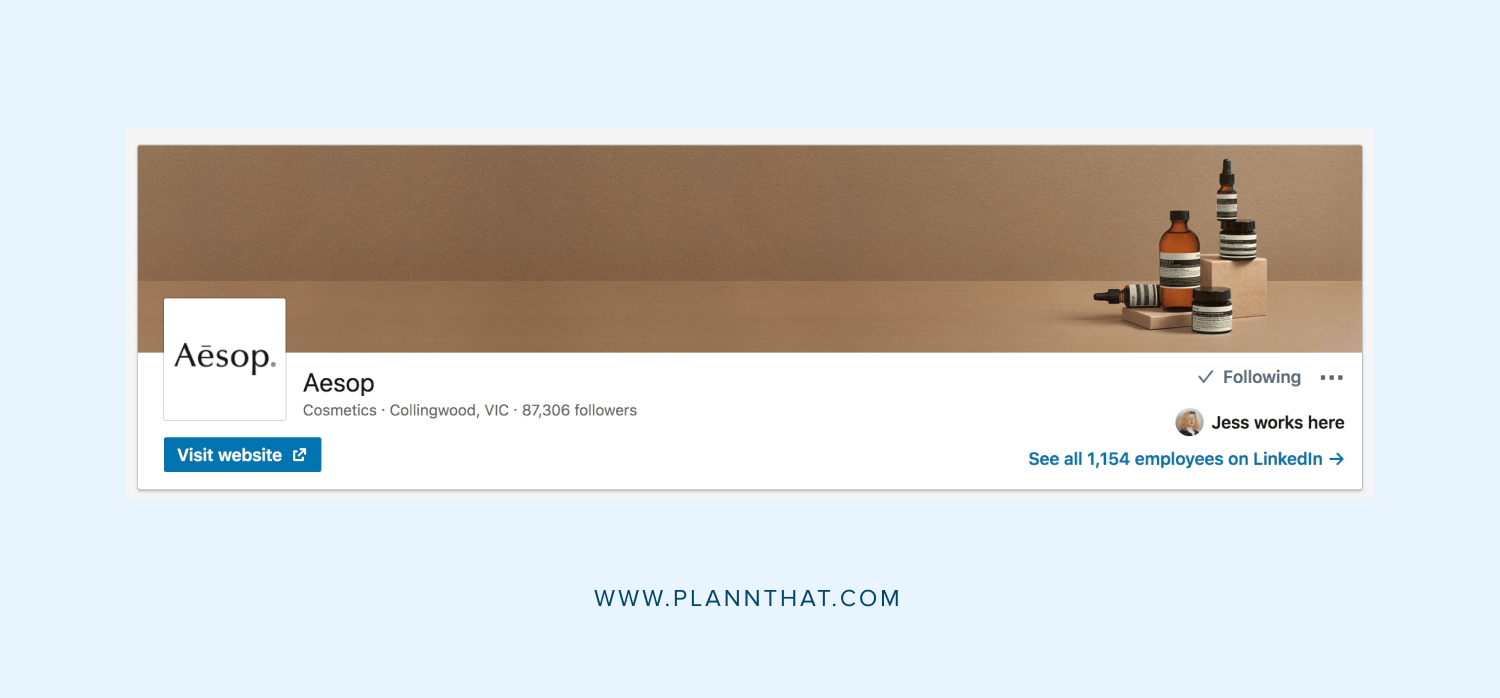 LinkedIn Business Page Tip 3: Engage your team to showcase your people 
One of the best ways to build your organic reach on LinkedIn is to leverage your existing connections. And when you're launching a LinkedIn Business page for your brand, this means sharing this page with your colleagues and team members!
Encourage each of your team members to follow your newly launched LinkedIn Business page and make sure they've updated their experience to show they are a current employee at your business. This will help to show the skills and experience of your team and create a digital list of your organization's people.
When other users discover your page, read your content or consider applying for a role you're advertising, they will immediately get a clear snapshot of the size of your brand by clicking the 'People' tab on your LinkedIn Business page. 
Connecting with your team members helps to show others where your team is based, where they studied and other useful information. Not only does this build trust with users on LinkedIn but also increases the chances of your team publishing content about your businesses on LinkedIn too!
IMAGE: With thousands of employees across the globe, Airbnb has connected with its team on LinkedIn to create an impressive staff list that showcases the breadth of their talent.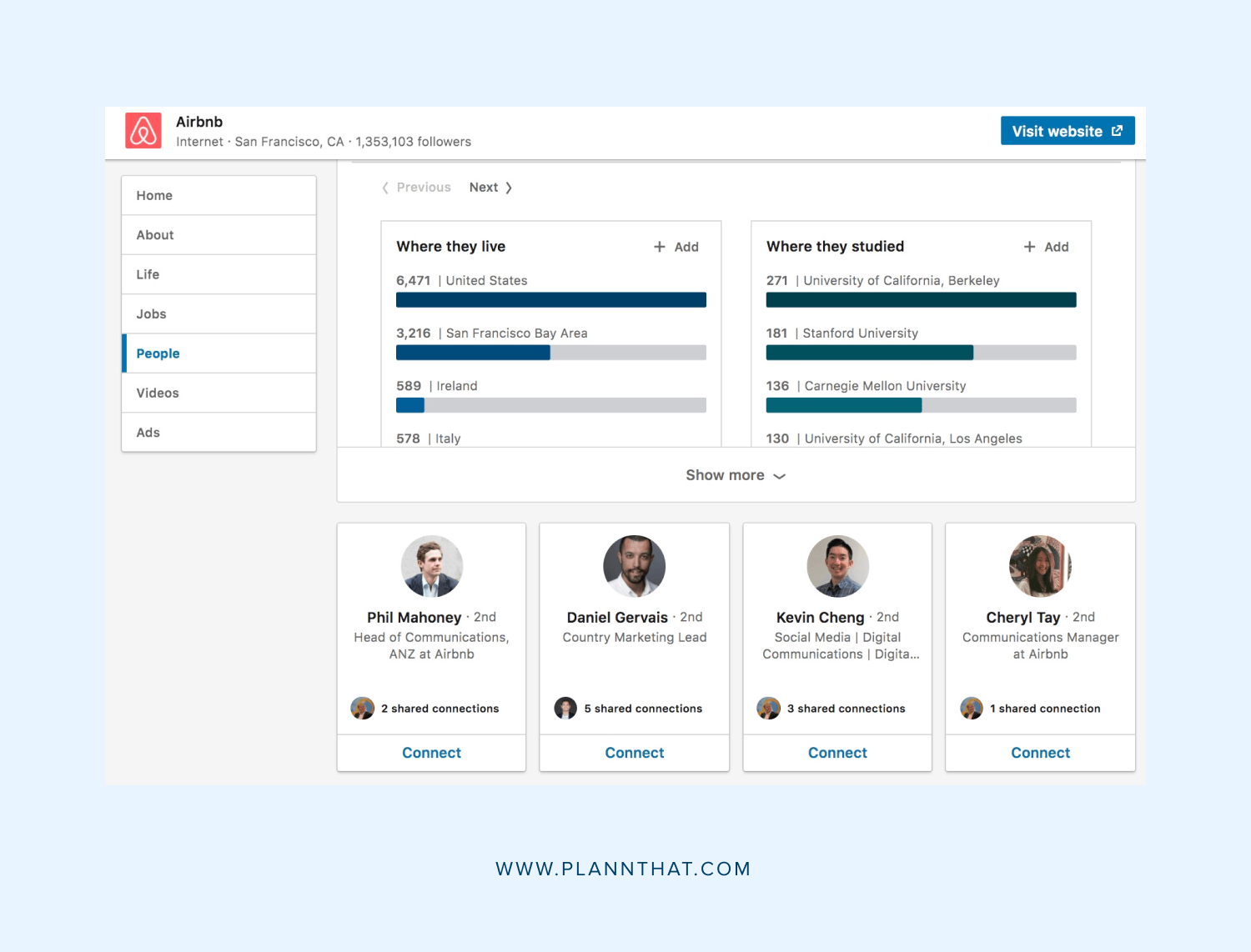 LinkedIn Business Page Tip 4: Share regular and relevant content with your followers
Once you've optimized your LinkedIn Business page, it's time to think about how you'll continue adding value to the Feeds of your followers. That's where your LinkedIn content strategy comes in!
As with any social media platform, having a clear plan for the type of content you'll be sharing with your audience is crucial to ensure success on the platform. The key difference with LinkedIn is to consider your audience: who are you trying to attract on LinkedIn? 
If your goal is to build thought leadership, consider writing regular LinkedIn articles reporting on new industry trends and updates. However, if your goal is to increase traffic to your website, sharing blog posts and links to your latest products or services will be a more effective strategy.
Regardless of your objective, sharing relevant content consistently is the key to driving the best results. Set up a content calendar that maps out every post you'll be sharing or the week, fortnight or month ahead to keep yourself accountable and on track to post regularly to your LinkedIn Business page.
Need help being more consistent with your LinkedIn posts?
New! Use Plann to design a posting strategy, create graphics, and auto-schedule straight to LinkedIn!

Schedule your first LinkedIn post with Plann now! →


LinkedIn Business Page Tip 5: Showcase your company culture 
This tip is all about building your businesses' brand on LinkedIn. Ask yourself this: what are the perks of working at your businesses? Do you offer great flexibility and leave schemes? Are you regularly sending team members to professional development and training courses? What about team building activities such as lunches, fitness classes and off-site days? 
The key is to uncover what makes your businesses' culture unique and find ways to share this on your LinkedIn Business page. That could be capturing candid behind-the-scenes imagery at your next team building day or creating a series of quick videos that showcase what your team loves most about their role. 
By giving your followers an honest and authentic glimpse into your business you're more likely to build trust with your LinkedIn network. Plus when it comes to attracting new recruits, this content will give potential candidates a reason to prefer your business over others. Talk about a win-win!
IMAGE: Ever wanted to see what it's like at Paramount Pictures? This fantastic piece of LinkedIn video content explains just that!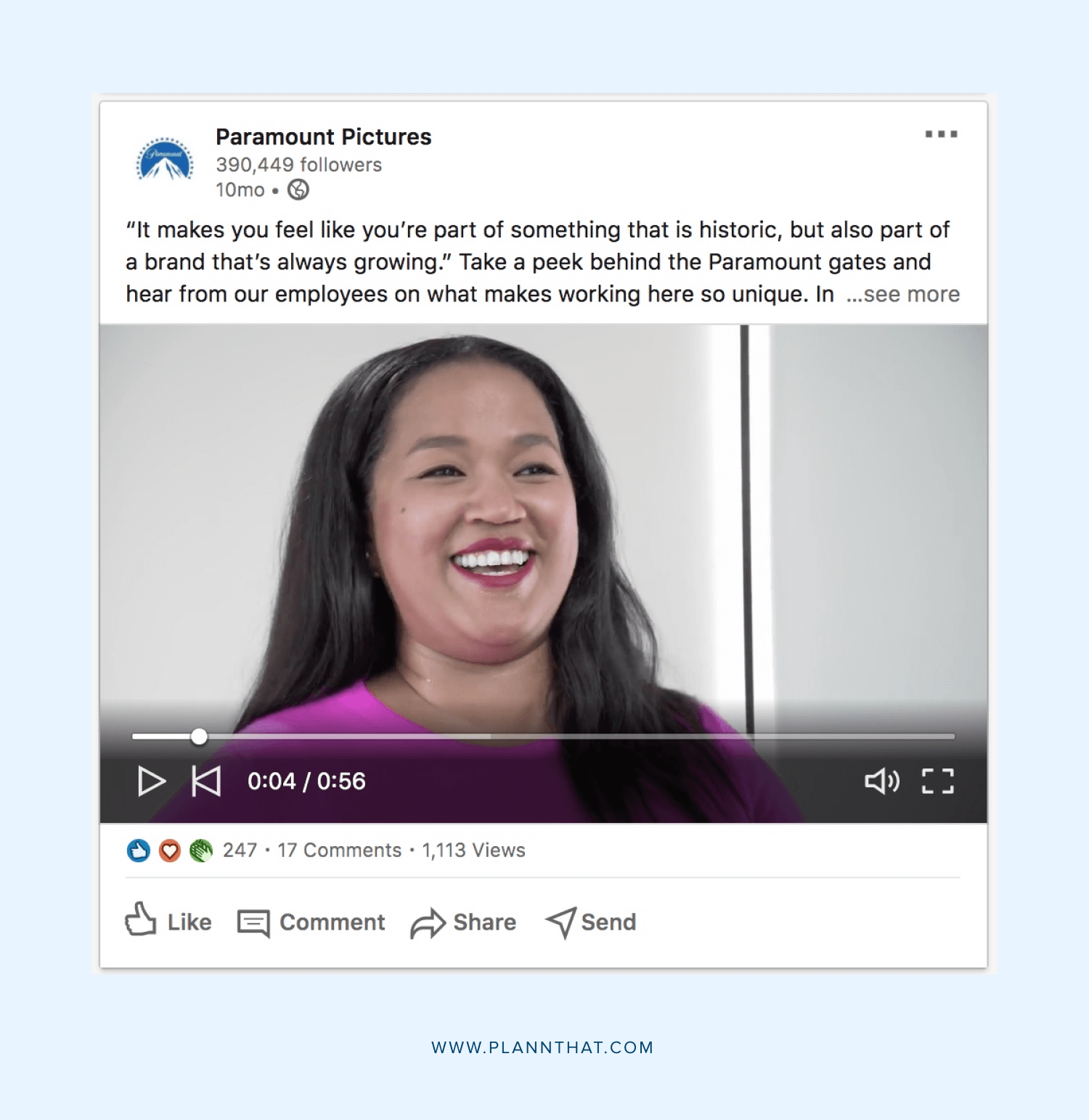 LinkedIn Business Page Tip 6: Promote your press coverage & accolades 
So, your business has scored a mention in a news story or reputable publication. You've shared the screenshot around to your team's Slack channel and heck even emailed a copy to your mom. But, what about sharing this press coverage with your most valuable audience? This is the next golden content opportunity to take your LinkedIn Business Page to the next level.
Sharing press coverage, media mentions and even showcasing any awards or accolades your business receives is key to building your businesses' profile on LinkedIn. Why? Because each of these stories and certificates act as social proof that help to verify your businesses' leadership, skills and expertise. 
So next time you receive a copy of a magazine you're featured in, make sure to take a quick snap and share it to your LinkedIn Business page to make the most of this coverage!
LinkedIn Business Page Tip 7: Monitor hashtags to join trending conversations
Spoiler alert: hashtags aren't just for Instagram! In fact, LinkedIn regularly uses hashtags to categorize and collate topics of conversation. You might have noticed your LinkedIn connections adding strategic hashtags to their latest posts, and here's why you should too. 
No matter what industry you're in, LinkedIn has a range of tailored hashtags to suit your niche. Spend some time browsing the hashtags feature on LinkedIn to find and follow any relevant threads related to what you do. 
Next time you see a topic trending in these hashtags that you have skills or experience in, make sure to craft a post from your LinkedIn Business page and use this trending hashtag in the caption. Who knows, your post might even go viral on the platform!
IMAGE: Consider finding and following a range of hashtags related to your business on LinkedIn and adding these to the captions of your posts.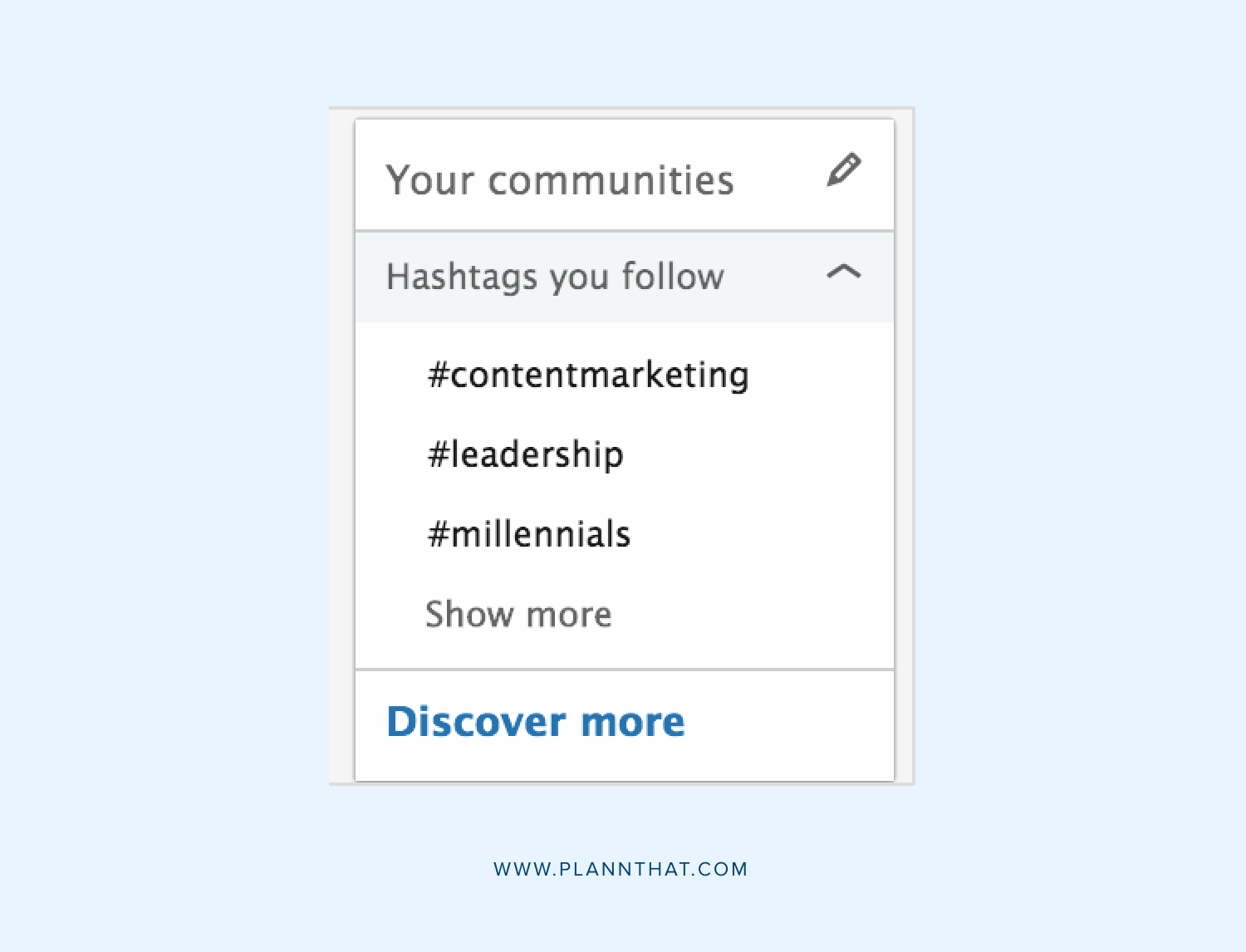 LinkedIn Business Page Tip 8: Share your latest job openings on LinkedIn Jobs
Let's face it, hiring can be one of the toughest parts of being in business. From writing job descriptions to interviewing candidates and training new recruits, the process can have huge costs attached (both in your time and your businesses' money!) So, why not leverage your LinkedIn Business page to help you nail the hiring process?
In fact, LinkedIn is one of the best sources of quality hires with employees hired through the site shown to be 40% less likely to leave the company within the first 6 months. 
To post a job on LinkedIn, you'll need to have a LinkedIn Business page set up first. Once you've shared your job listing on the platform, your role will be displayed on your LinkedIn Business page's 'Job' tab, enabling you to showcase all the roles you're currently recruiting for in one place. With an optimized page ready to go, you'll be in the best position to impress potential candidates and attract high-quality applicants too!
When it comes to creating a LinkedIn Business page that stands out, it's all in the details. By taking the time to optimize all the information and details you share on your page, your brand will stand out and make an impact on potential clients, customers and recruits. Plus, make sure to consider the content you're sharing to the platform to ensure you're getting the best value out of your LinkedIn Business page. 
Need to revamp your LinkedIn strategy while you're at it?
New! Use Plann to design a posting strategy, create graphics, and auto-schedule straight to LinkedIn!
Schedule your first LinkedIn post with Plann now! →