Is your Instagram business profile only attracting crickets?
Do you have impressions coming through but no follows?
Then, there's a good chance your Instagram account needs a makeover.
With only 7 seconds to make a lasting impression, your page must communicate your businesses' purpose, mission and the value you'll add to followers. Fast.
Especially when you consider that's the amount of time it takes the average user to start determining traits like trustworthiness.
But what can you do to make a better first impression and capitalize on your online presence?
Follow these do's and don'ts to stop lurkers in their tracks, grab the attention of your ideal follower, and convert your audience into sales.
The Dos for Creating the Perfect Instagram Profile for Your Business
Do Pick a Username That is Easy to Remember
When choosing a username for your Instagram business profile, keep it short, simple, and memorable.
Think of it this way.
Which of these two handles is the easiest to look up and remember?
1. @veganfodz4unewyorkkkk
2. @vegantreatsNYC
The first one doesn't quite roll off the tongue and has complicated spelling and number combinations.
Whereas the latter is unique, specific, and straightforward.
Plus, if a person types it into Instagram, there's a small chance that ten other Instagram accounts with a similar username will pop up, eliminating any brand confusion.
Tips for Choosing The Perfect Instagram Username for Your Business Account
1. Keep it as close to your business name as possible.
2. Use variation words like "the", "visit", or "shop", or add punctuation to break up words if your brand name is taken.
3. Avoid long words and complicated combinations of punctuation, letters, and numbers.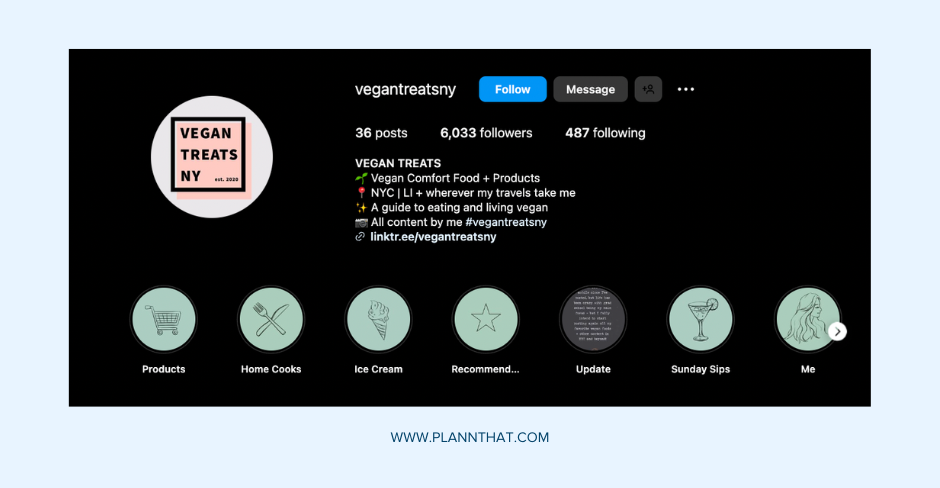 Do Use Eye-Catching Instagram Profile Pictures
Your Instagram profile picture is crucial to your brand identity and online presence. It's one of the first impressions you'll make, and like your username, it needs to grab attention.
Why? It generates brand recall and brand awareness for your Instagram account, two important ingredients when it comes to creating a successful online business.
Tips for Making Your Profile Picture Pop In The Instagram Feed
1. Use a clear square photo of you facing the camera and crop it from the "shoulders up."
2. Make sure you're using high-quality photos (clean your iPhone camera lens!).
3. Use a clear background to create contrast (it makes a huge difference on small screens).
4. Use on-brand colours for your Instagram profile pic to create consistency.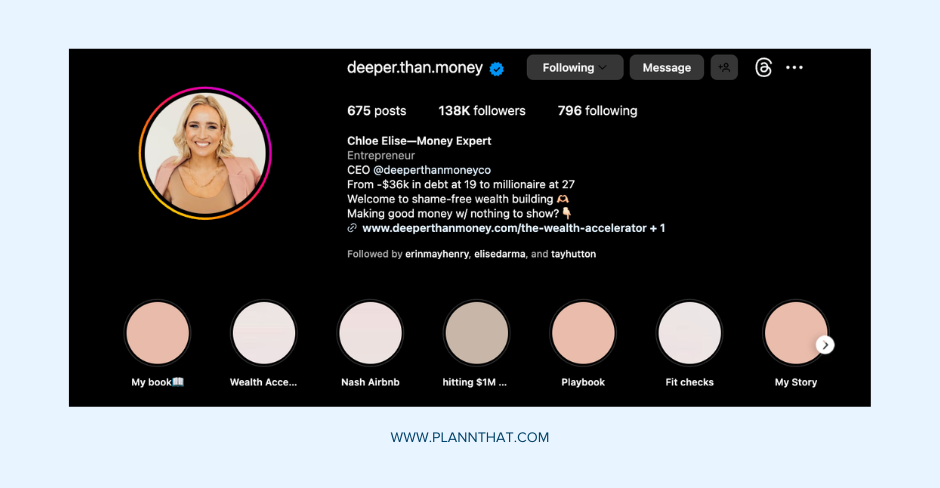 Do Write a Compelling Instagram Bio
Think of your Instagram bio as your elevator pitch on social media.
You have seconds to tell lurking potential followers who you are and why they should follow you.
It's a lot of pressure, especially when you only have 150 characters to communicate your value.
Want a hack for writing an Instagram bio that sells?
…And no, the answer is not "ask ChatGpt."
Here are the only three things you need to include:
• Line 1: Who you help and why
• Line 2: Your industry expertise, results or links to your accounts
• Line 3: A call-to-action
• Line 4: Link to a resource
In practice, your bio would look like this:
• Personal branding coach for millennials
• Forbes 30 Under 30
• Free Become an Influential Entrepreneur Workshop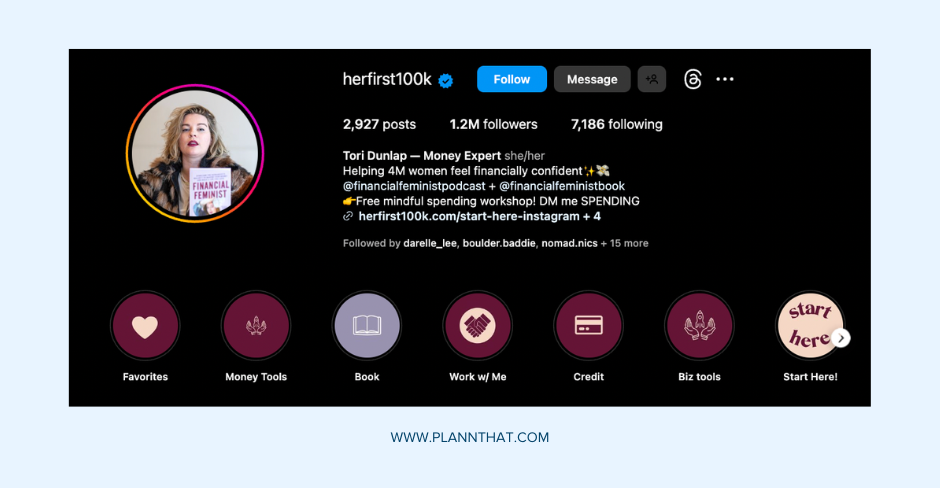 The Don'ts for Creating an Instagram Business Profile
Don't Make Your Profile Name The Same as Your Username
Why not? Because it's valuable searchable real estate.
Instead of repeating your username or business name, use a relevant keyword your target audience is already searching for.
Let's look at an example.
You're running a boutique travel company in South Africa. What's the number one keyword for your Instagram account?
Your Instagram profile name could include a keyword like "South Africa travel".
Why does it work?
• It's specific to your audience.
• It's relevant to your niche.
• It speaks to the purpose of your account.
By approaching it from this angle, you're ensuring you're creating an easily searchable business on Instagram.
And remember, you only have 30 characters, so make sure each one counts!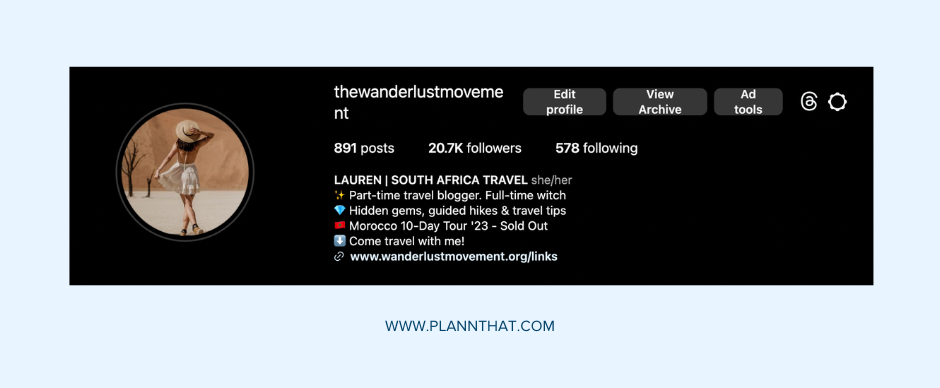 Don't Use Your Logo as Your Instagram Profile Picture
Okay, this is slightly controversial, but hear us out.
Sometimes, using your company logo for your Instagram profile picture makes sense.
But if you're a service provider or a coach, a logo can make your account feel too impersonal.
Remember, your face and personality are part of what you're selling.
And if you want people to trust you, you need to create brand (face) recognition because people do business with people. Why not use a photo posted already to your page that audiences can resonate and relate to?
But what happens if your face is not your brand?
Then, use your logo, but make sure it's legible when displayed as an Instagram profile picture and use contrasting colours to help it stand out on the Instagram Stories feed.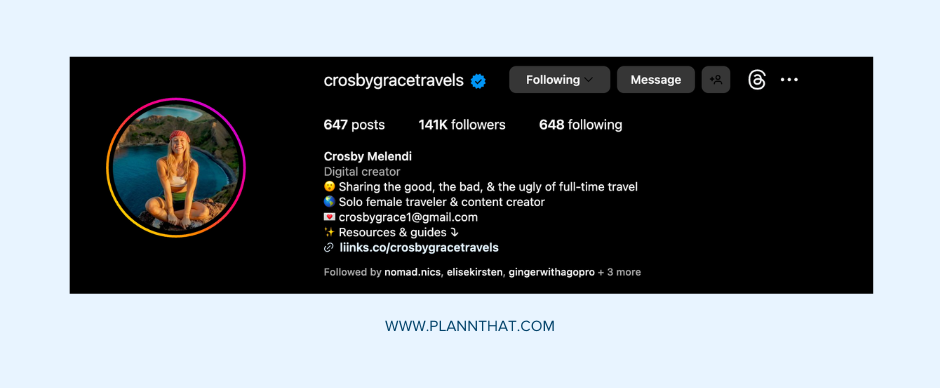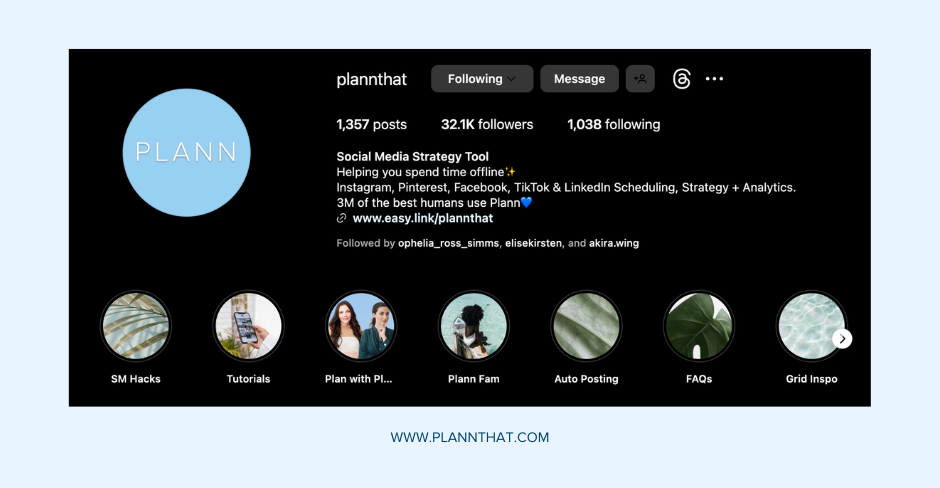 Don't Sleep on Your Link in Bio
One of the biggest Instagram profile mistakes is not using the link in your bio to its full potential.
Are you linking to your homepage, your blog, or a random page with no rhyme or reason?
Then, it's time for a link makeover.
Why?
The ultimate goal of your Instagram page is to get followers into your sales funnel. That usually means driving new followers from your profile to your website.
However, there's a catch.
Instagram users aren't going to click on your link unless you give them a reason.
That's why your link needs to match the call-to-action in your bio.
For example, add the link to your bio if you have a masterclass you're promoting. You're directing traffic to the exact page that'll convert your Instagram followers into leads.
That's hella more valuable than redirecting to your homepage and hoping everyone figures it out.
…But what if you have multiple links you want to promote?
Then, build a social media links landing page (we recommend EasyLink) and use a more general call-to-action to entice people to click.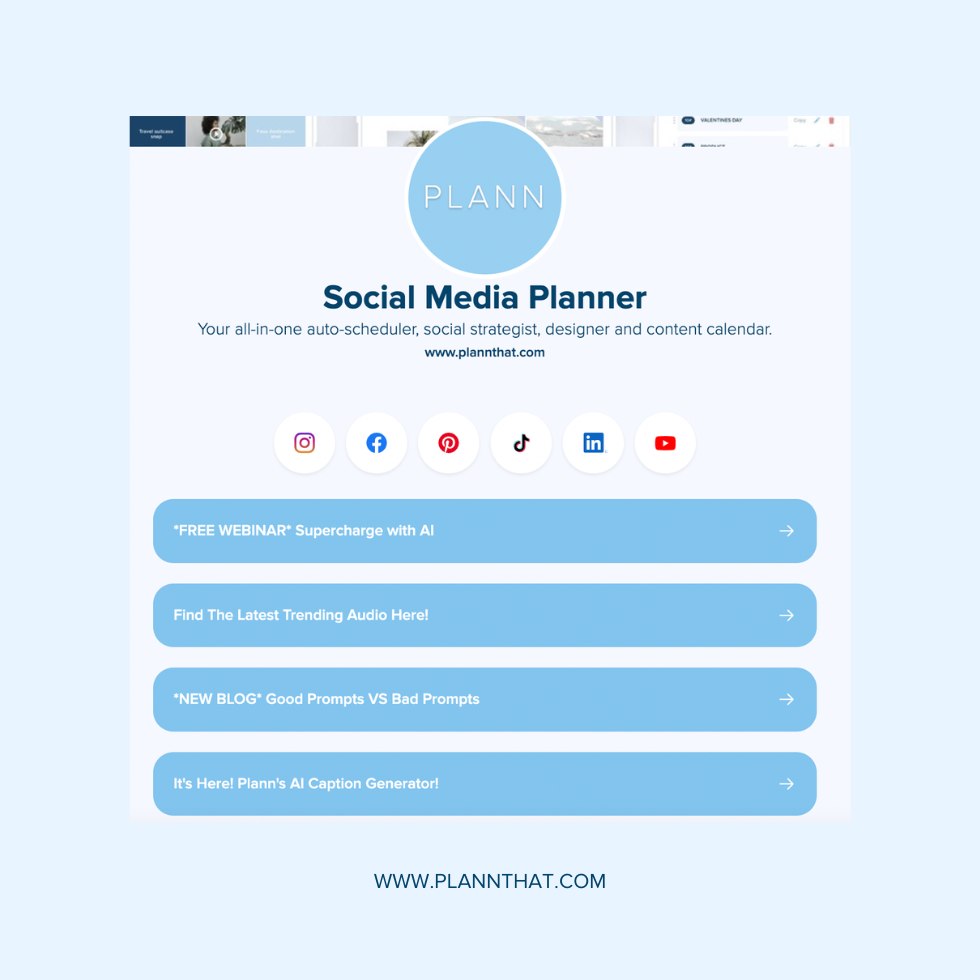 Grow Your Business with Plann
The perfect Instagram profile makeover? Check.
Next on your agenda? Sign up for a free 7-day trial of Plann Plus and make posting consistently a breeze with our all-in-one social media management suite.
You'll get access to an Instagram content calendar full of Instagram post ideas, prompts, hashtags, and an AI caption writer tool – your ultimate wingman.
Schedule your Instagram posts to publish automatically at the best time for maximum engagement and grow your online business on autopilot.