I'd never been part of a product team before. In fact, before joining Plann I was quite happy in my little marketing comfort zone where everything was data analysis, content creation and craft beer on Fridays.
But Plann's not big on comfort zones, and so it was that our Founder, Christy and Chief Operating Officer Tim snuck up behind me one sunny Tuesday morning and asked for a chat.
'What do you know about Product?' Tim asked.
'I know what a product is.'
'Very good' said Christy. 'And do you like a completely unstructured workday that comes with a perception of project management underpinned by pure chaos?'
'That doesn't sound…'
I can't remember the rest of the conversation, but it somehow led to me working in Product. All joking aside, it's insanely exciting. Plann has almost a million downloads and is creating a desktop application that is unlike anything else on the market. A very tightknit community of Plann'rs are pumped and the team is pumped. It's like an ad for Reebok pumps up in here.
But building a new product is never straightforward. Here are a few things I – as a product noob – have learned.

Good Products are Easy. Great Products are Crazy Hard
The Plann desktop app has been 'ready' for a while.
The functionality is fine, and it does all the things it's supposed to.
But we're not building something that works, our goal is to create something that –
✔ Looks amazing
✔ Improves Plann'rs Instagram experience
✔ Is an extension of the mobile application (or the other way around)
For example, rather than just uploading videos, we want Plann'rs to be able to upload a video and then we'll splice it into 15″ clips so that they can split their content over the course of a day. You know, if that's something they're into.
The thing is, thanks to servers on the other side of the world and the issues/advantages of having a team that is unafraid to express their opinions and the ongoing changes and improvements that come from that…it's not a straight line from idea to implementation.
So, every day we're testing, changing, having 'robust conversations' and agreeing to deadlines. Speaking of change –

Change Has a Massive Impact
Product development is like having a blanket spread on the ground and whenever you move one bit of the blanket the rest of it moves. Also, you can't ever see the whole blanket at once and there are people in the team who specialise in certain parts of the blanket.
Whenever we change one thing – which has been agreed to be a worthwhile and necessary improvement – there's a good chance that something else will be impacted. Whenever we roll out an improvement, the system needs to be tested from scratch.
Every part of it.
Again and again and again.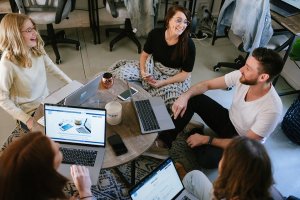 Developers are a Unique Breed
As a Marketer, I'm used to oversimplification by non-experts.
'I don't like how this reads. Can you…change it a bit? You know what I mean?'
'Nope. Nobody knows what you mean.'
The same is true of developers. Those who have taken the time to learn a programming language inevitably have to deal with non-technical team members (like me) asking stupid questions like this –
'Will this be an easy task?'
'How long will it take?'
'Can you just…(insert complicated requirement)'
A good example of this is the fact that the app doesn't just post images and videos, lets you see when your audience is most online, when your previous best times to post have been, what split your audience is (male and female), and what country AND city you're most popular in. Lucky devs – an easy task 🙄 .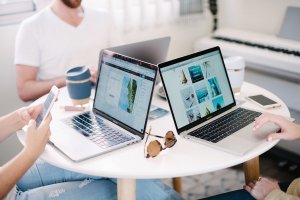 Luckily, we've got really patient and talented developers who are on the same page as the rest of us; creating something that is –
✔ Visually appealing
✔ Gives a great Instagram experience
✔ Is an extension of the mobile application (or the other way around)
But, it makes me wish I'd taken my own coding career beyond building a 'hello world' page, giving myself a high five and skipping out the door.
If It's Your Baby, It's Never 'Just a Product'
Plann was created by Christy because she's passionate about Instagram, design and user experience.

It was a product she wanted for herself, not a way to make money. While other companies prioritize journeys to purchase and upselling opportunities, Plann (or, more specifically, Christy) is focused on user experience and design – because she was the original user.
Developing a (great) product is a challenging, rewarding, painful and amazing journey. But the end result will be worth it.
Want to get your hands on the desktop version of Plann so that you can post on Instagram from a desktop? Click here to get on the waitlist.