Video is the king of content on Facebook. It averages 8 billion views every single day and has a 135% greater organic reach than photos.
If you're struggling with the algorithm, video is the easiest way to get around Facebook's pay-to-play model.
"But I don't know how to use Adobe Premiere and creating videos takes up way too much of my time!", you say.
*Facebook Slideshow enters chat*
If you want to carve out a piece of the video pie for your brand, keep reading.
In today's post, we break down exactly how Slideshows can benefit your business and how to use Facebook's Slideshow maker.
How to make a Facebook slideshow (with music and all!)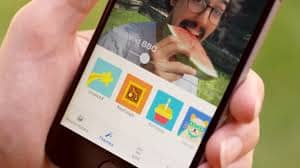 1. Instructional Videos and Product Demos
Want to teach your audience something valuable? Or do you have followers hitting up your DMs with questions about how to use your product? Create a Facebook Slideshow and educate your audience in a fun, engaging way.
You can use slideshows to:
Demonstrate how to do hashtag research on Instagram

Remove photobombers from your photos with Photoshop

Cook by delicious chocolate chip cookies (step-by-step)
Let your imagination run wild!
2. Tell a Story
Take your audience on a visual adventure.
Use your ten slides to craft:
An uplifting and motivating story 

A recap of a notable news story 

Or a way to educate your audience (e.g. how to use less plastic)
3. Create a Collection
With 2020 well underway, year-end re-caps are coming to an Instagram feed near you.
Use the Slideshow feature to create a collection and show off your top moments of the year for your brand.
4. Tease a New Product
Want your audience to shiver with antici…pation for your new product?
Facebook Slideshow allows you to give your followers a sneak-peak.
You can tease:
Behind the scenes photoshoots

Production process

Detail shots of the product
Step 1: Go to Your Facebook Page
Creating a Facebook Slideshow is SUPER easy. 
You don't need to worry about calling the IT guy in a panic or punching your computer screen.
Simply log in to Facebook on your desktop (you can't create slideshows on the app) and head straight to your FB page.
Go to the status update section, click on the "Photo/Video" button and select "Create a Slideshow".
What did I tell you? As easy as pie.
Step 2: Choose Your Video Settings
After selecting the "Create a Slideshow" button, a new settings tab will appear.
Here, you can make decisions about the technical elements of your video.
Don't worry too much about perfecting these settings in the beginning. You can always change them before hitting publish on your slideshow.
Here's what each of the settings mean:
Aspect Ratio:

The size of your video. You can choose from Square (1:1), Rectangle (16:9), and Vertical (2:3).

Image Duration:

The number of seconds each image in your slideshow will stay on the screen.

Transition:

Add a fading to your effect to your images or choose to have no transition.
Step 3: Add Music to Your Facebook slideshow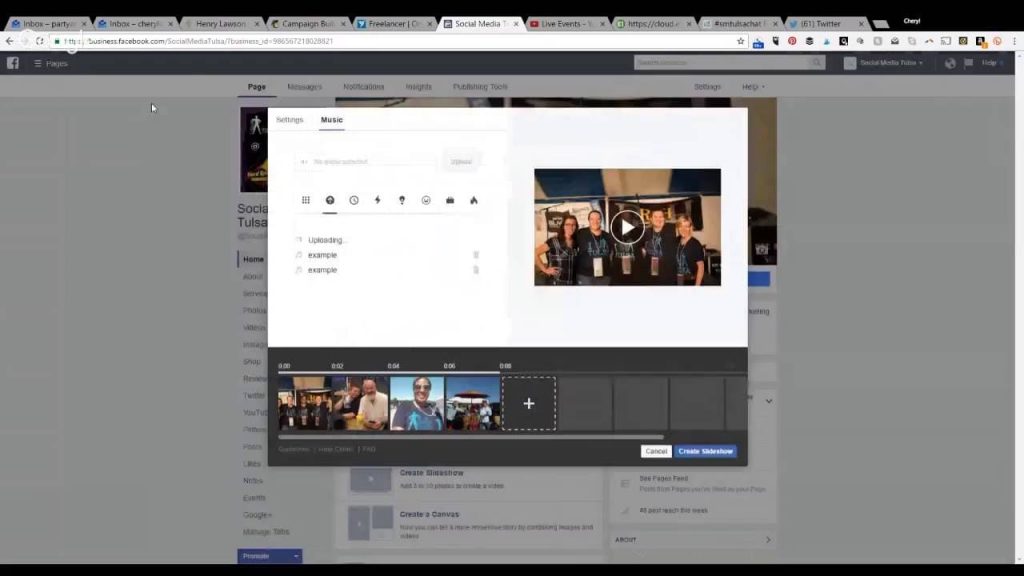 In the same Settings window, there is a second tab called Music.
It's the best and worst part of creating a slideshow.
You can instantly add a vibe to your content and make sure it grabs peoples attention.
The downside?
All the cool music is copyrighted.
Curse you, Universal!
Luckily, Facebook gives you the option to choose from a selection of royalty-free music (or you can upload your own).
All of the songs are split up into different categories to help you find the best option for your video:
Energetic

Inspirational

Fun

Trustworthy

Modern
It isn't Beyonce's "Single Ladies", but there are more than enough options to find the right mood for your video.
Step 4: Upload Your Images
Now it's time for the fun part – adding your images!
To create a slideshow on Facebook, you need a minimum of three images and a maximum of ten.
Click on the "Add Photos" button and select images from:
Your desktop

Your timeline 

Take a photo with your webcam
IMPORTANT: Upload the photos in the order you want them to appear on the slideshow. Facebook does not give you the option to rearrange the order of your selection.
Step 5: Preview Your Facebook Slideshow
Now that you've uploaded your images, you can fine-tune your Facebook Slideshow.
Click on the play button to preview your video.
Not happy with the music? Or feel like your image duration is off? Now's the time to adjust your settings.
Remember, you can't edit your slideshow after publishing it. Spend as much time as you need to perfect it.
Step 6: Publish Your Slideshow
Once you're confident with all your creative choices, click on the "Create Slideshow" button.
A new screen will load, and you'll be prompted to fill in a title and description for your video.
Don't slack off here. 
Use your wordsmith skills to craft compelling copy which will entice people to tap that play button.
When you're done, hit "Publish" and your first Facebook Slideshow is live!
Woo-hoo!
Want to use your video on Instagram or your website?
Click on the three dots at the top of the post. You'll see a drop-down menu appear with the options to download the slideshow or embed it.