Have you run out of things to post on Facebook? Look no further! Grab a cup of hot cocoa and tuck in with your favorite snuggy, we have 33 Facebook post ideas for your brand delivered straight to you.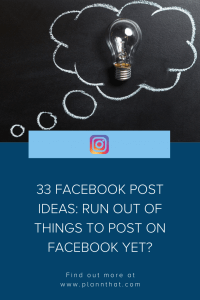 1. Tell Your Wild Story 
Is there a great story about how your brand came to life? Re-live it!
Remind your audience they're talking to a brand where a real person came up with an idea, hustled to make it happen and the reason why the business exists today.
2. Talk About Trending Ideas
Is there a trending thought circling your industry?
Talk about it from your perspective and how it affects your audience and your brand.
If you're not sure what's trending, try checking twitter streams, thought leaders in your industry or news streams and become part of the conversations. 
3. Be Authentic and Vulnerable
You may have woken up late and rolled out of bed, skipped your coffee to discover you've walked into your morning meeting with your shirt on backwards.
I'm so glad my followers can't see this!
Well, guess what! By sharing those real-life behind the scenes moments, you'll find people connect with you and you'll help them feel less alone in the world. Not only are you running an incredible business, you're also human! Being authentic with your community helps it grow even stronger. 
4. Ask a Question
Cultivate community by asking a question your people can respond to. Whether you want to know how they resonate with a trending thought or want to know what they think of a new product, ask away!
Those who already love your brand would love the chance to give their thoughts and opinions to help co-create a product with you – a great way to find pre-launch customers.

5. Promote A Deal
Those moments you're scrolling through your newsfeed and see a deal that leaves your thumb stopped in its tracks! That could be you.
Become the creator over the consumer, promote deal on Facebook to open the door for new people to join your crew too. 
6. Share a How-To
Is there an expert tip your followers could benefit from? Share a how-to post or video that gives a secret insight for them to walk forward confidently!
The best part about sharing your knowledge is that whenever someone is in the window of purchasing what you're selling, they'll forever remember what you taught them and come back.
7. Post Your Brand Mission
The world of Facebook can feel loud and overwhelming with choices, with many trying to make sustainable, eco-friendly, or decisions based on their life values.
Does your company have value or mission that you stand for?
Share it on your facebook wall and see how others in the world connect with your brand mission.

8. Inspire With A Quote
You're only as inspired as the last inspirational quote you posted!
Whether it's inspiration from a famous person in history (or herstory), or something a coworker said to you when you were having a bad day, share what inspires you.
Funny, serious, relatable or inspiring – create quotes in your brand graphics and post.
9. Short Video Clip About Your Brand
When it comes to content, video is king! With the trend of showing your real self, it's easy to hit the record button while still sipping your morning coffee. People want to be invited into your world, and a short video is a great way to sit with your community for a moment. 
10. Give A Taste Of Your Blog
Give a taste of your blog by sharing a blurb from your best performing, or most recent post!
People are on Facebook for a reason to see if you can provide value without taking them off the page. You can repurpose blog content across multiple platforms (including Instagram and Linkedin) to save yourself from continuously having to come up with something new!

11. Share Quotes From Brands You Love
Got a soul sister brand or partnership you love? Spotted a new product that will change the life of your audience? Share their content to inspire, expand, and cultivate a community of like-minded people. (*and then reach out to the brand you shared and see if there's an opportunity for partnerships!)
12. Give An Expert Tip
People are always looking for fun facts that make them look smart! Is there a fun fact or tidbit you've come across that you could share that they could, ahem, steal?
Make your people the hero and they'll be back for more.
13. Reveal What Drives Your Brand Forward
You started your brand with a purpose, but what drives it forward now? Reveal what got you to stop hitting snooze again (but no judgment if you still do), to show up for work and deliver positive results every day. 
14. Share Industry Events or Achievements
Is there an industry event coming up, or perhaps a major achievement in your future?
Brag away! Your community would love to hear that they're supporting a brand that is doing great work, invite them into the victories for your brand, and your industry so they know they're dealing with the #1.
15. Entice Action
Is there a cause you stand for? Something in your industry that's not how it should be? Or an initiative started by someone else in the community you'd like to really get behind?
Call upon your own community to stand together and rise up for a cause.
16. Day-In-The-Life
Invite people to join you for the day, either have someone film you during different parts of the day or just film yourself! Show the different parts of your working day, the view from your desk, what you're working on, any new product launches, the things you hate and the things you love!

17. Be A Mythbuster
That's right, suit up and get ready to join the Mythbusters! There are always myths and rumors in any industry. While there may not be ghosts to find (or are there?), there are truths your community may be curious about. Share your thoughts on a myth with your Facebook followers.

18. Start A Challenge
So many people love to participate in a challenge (especially if there is a chance to win something!).
It's a great chance to connect with like-minded people and find people who love the same things as you do. (No one supports you like your best friends on Instagram!)
Start a challenge that your community can participate in! Either listing a weekly challenge or a full month challenge, see how creative your people can be!
If you're looking for examples, one of our favorites is the #inktober challenge where there's a prompt every day to the black pen sketch community (like "freeze") and everyone comes up with something different!

19. Share Your Start-Up Story
Maybe you were sitting at lunch with a friend and ideas just came pouring out over napkins, and now here your brand is expanding and growing every day. Invite people into your start-up story and connect your success with how it all began. 
20. Create a list
There are special occasions peppered throughout the year, it is a great way to cycle creative content that people can continually interact with, (and even re-purpose each year!)
For example, every day for a week leading up to Christmas or Halloween you could share your top '10 Christmas trees', or '10 Christmas table decorations you can create at home.' Inject your brand into a few of the examples to show how your brand takes part in the season.
21. Start A Poll
Start a poll and ask your audience what content they love getting from you! You might be surprised to learn that your how-to's are popular but they forget to comment and thank you, or that they when you share what business tools you use day-to-day. Start a poll and ask! 
22. Seasonal Post
Seasonal posts are a way to connect with the here and now. From pumpkin spice chai in Fall to the coziness of Winter, share a seasonal insight or idea with your followers on Facebook. 
23. Highlight A Team Member
Highlight a team member (or your whole team!) that has gone above and beyond for a customer or is making a big difference in your team. Share with your audience what they care about, what their hobbies are and the type of work they do that makes the difference. 
24. Share A Customer's Success Story
Have you seen one of your customers have massive success? Whether it's a product launch, a new podcast or a sellout speaking tour, get behind them and show the world how proud you are of the people in your community.
25. This or That
Create a graphic where people have to screenshot and circle their preferences, a this or that!
For example, coffee or tea? Popular on Instagram right now, take the idea to Facebook! 
26. Send Them On A Scavenger Hunt
Give a clue and description of a product on your website and send your followers on the hunt to find what it is, the right answers go in the draw to win a prize. A cute idea to help boost customer engagement while they get lost exploring products on your website.
27. Fill In The Blank
Write a phrase you want people to fill in the blank for!
Everyone's minds work differently, which makes it a unique way for your community to share their thoughts that your brand may have a solution to. 
For example, 
"I want my dream  _____ to happen, but I can't because of _____"
Their answers guide solutions in how your brand can respond.
28. Caption This 
Pick a funny photo and ask people to caption it with a phrase! Another fun way to get people interacting and engaging with your brand Facebook page.
29. Predictive textJoke
Something a bit fun and unique! Come up with a phase with missing words that your audience can take part in with their phones predictive text.
For example: "I'm a Barbie Girl, in a Barbie ___________"
Ask your audience to type the phrase on their phone and see what word automatically gets populated here!

30. Gratitude
Create a post that thanks people for helping support your business and what difference they've made. 
31. Highlight A Work in Progress
Something you're halfway through and not sure how it will be received?
Cutting a new pattern of a new outfit, halfway through a painting, or about to start editing a bunch of images for an upcoming calendar? Share your work in progress as a sneek peek at what's happening soon! 
32. Share Breakthroughs In Your Industry
Be proud of what your industry has accomplished by sharing a breakthrough!
Highlight how this affects your brand and what it might look like in the future. 
33. Repost 
When all else fails, repost a favorite in your repertoire. Content can be continually recycled in different ways across every platform you interact with. You don't have to reinvent the wheel when you can just roll one down the road.
Save this article for the next time you sit down to create your next social media posts.
Although we've suggested they're great for Facebook, they're also great to repurpose across all of your social media channels.
Love to do it all at once? Absolutely!
To save having to post on the fly, you can use Plann, our all-in-one social media content creation, strategy and scheduling suite so you never run out of things to post!