Is your Christmas wish list so long it could give Veruca Salt's a run for its money? Have enough 'want to buy' products in your Instagram saved folder that you could practically start your own boutique? Wish you could support ALL the local businesses, but your bank account says 'no?'
Why not use that inspiration to create your own Christmas gift guide this year! Not only are they loads of fun to make (window shopping, anyone!) but they're an excellent brand-building tool, too. If you're a blogger or influencer, they're an amazing way to drive traffic to your site (because, who doesn't need gift ideas?) AND maybe even earn some income through affiliate links or sponsored inclusions.
And, if you're a business? Gift guides are amazing for building connections with other local businesses and provide your audience with helpful recommendations. Plus, they're a great form of content marketing (ie. indirect product promotion), because you can include your OWN blogs alongside the others you have mentioned. This can sit on your blog long after Christmas, building up SEO juice until next Christmas, where people will search for gift guides and find your website. Talk about playing the long game!
Ready to channel your inner Santa Claus? Check out top our tips for creating a holiday gift guide your audience will love.
Pick your theme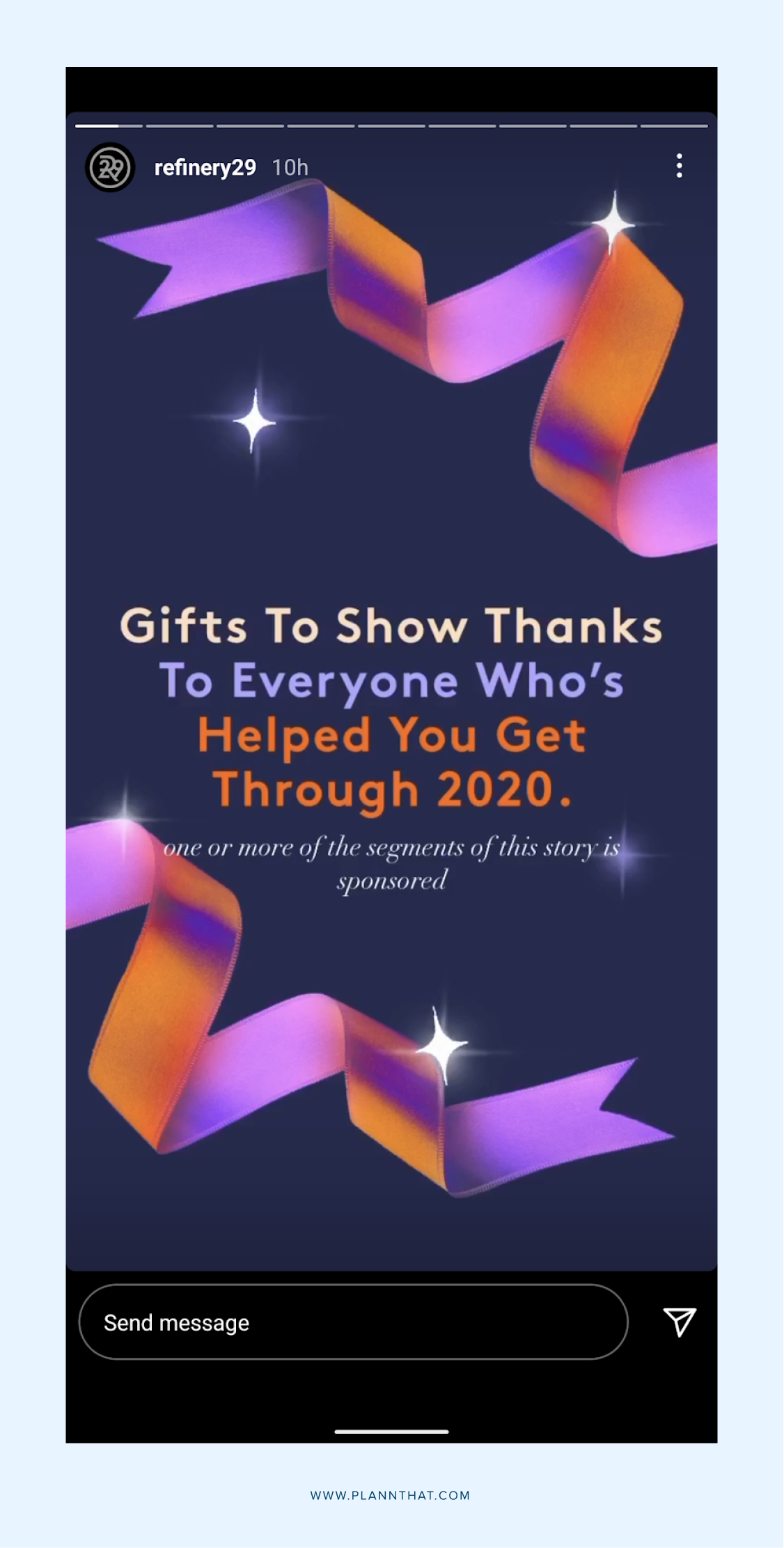 Via Refinery29
Just like any piece of content, the best gift guides solve a particular problem for a particular audience. So, rather than just creating a general gift guide covering all types of products, consider getting a little more targeted with it! So, for example,  if you're a company that makes products for moms, you could create a gift guide geared at the partners or friends of busy moms.
You can also do sub-themes within your guides! For example, you could do a gift guide on 'what to buy every type of friend in your life' and break your recommendations down into 'the tech-savvy friend who always fixes your laptop,' 'the friend who already has everything,' 'the friend who loves to cook' and so forth. This allows you to provide recommendations for a broader group of people, while still being targeted!
Call out and curate

Now, here's the fun part. It's time to go (virtual) window shopping! You'll need to compile all the products you're going to include in your guide and gather all the necessary information. If you already have a mental log (or, have been bookmarking all year) of all the products you're going to include, great! But otherwise, you may find you need to fill in some gaps in your guide.
One great place to gather products for your guide is to do a call-out to your network. Why not pop up an Instagram story with the question sticker, asking your audience to recommend some of their fave products within that category? If you have some biz owners in your network, they may even put their hands up to be included — which is a great opportunity to share the love and build connections!
Facebook groups are another great resource for compiling gift groups. Whether it's niche communities (such as parents groups or industry-specific) or business groups, these are an absolute goldmine for compiling recommendations. Don't forget to ask for all the necessary information you'll want to share with your audience, including products specs, prices, and where they can purchase it from (including links)
Other great sources for gift guide research are websites like Finder and Buzzfeed who often do roundups, and Instagram's new 'shopping' widget (more on that later!)
Pick your platform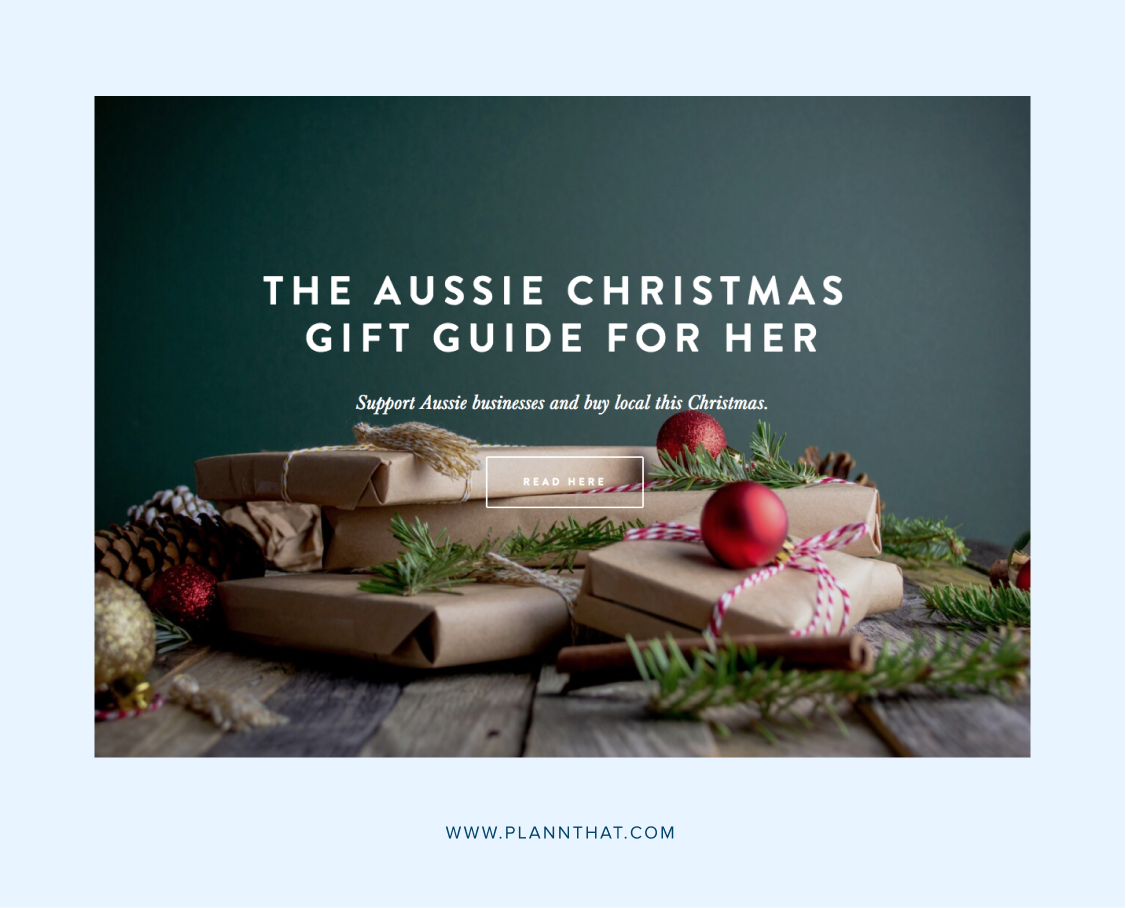 Via livewithelle.com
Okay, so now you have the theme for your gift guide and deets for all the goodies you want to include. It's time to put it all together! There are a few different places you can host your gift guide. The first is just a good old fashioned blog post — with sub-headings, text descriptions and photos. This is a great option as it's easy to share everywhere. 
You could also create a Reels or TikTok video where you stitch together photos and do a voiceover talking through your top picks! Or, you could create a list-format style gift guide in an installment of your email newsletter and send it out to your mailing list. 
But, if you're after something a bit more evergreen (aka. can sit on your profile forever) these are our top picks:
How to create a gift guide using Plann's text editor tool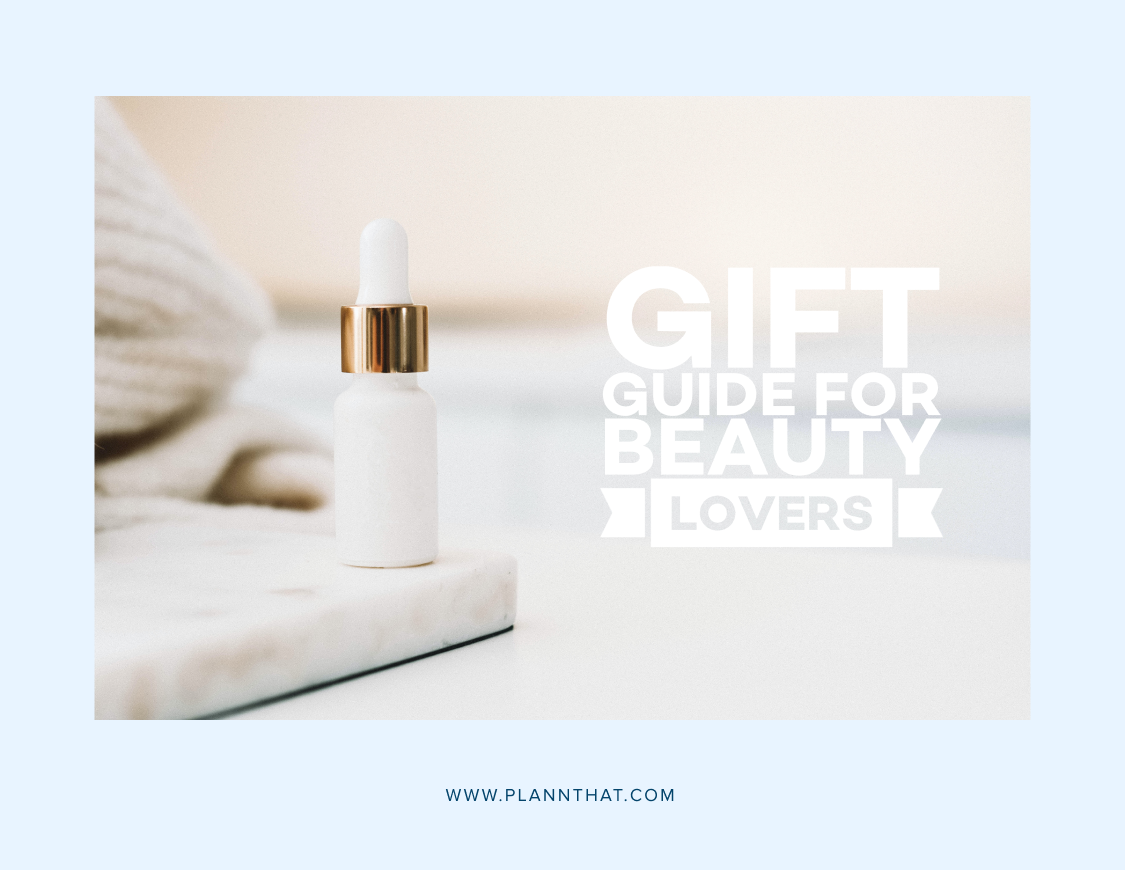 One of the simplest yet most effective ways to put together an Instagram gift guide is to overlay text on images. And, we've got just the thing to help you do just that! Our new text editor tool in Plann allows you to layer beautiful, professionally-designed text over images with the click of a button.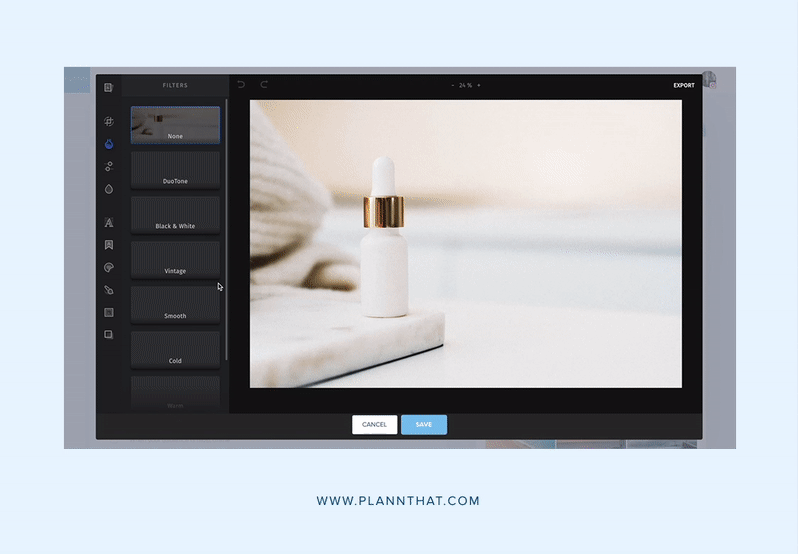 To use it, upload an image of each item in your guide to Plann as a multi-image post. Then, for each frame in your post, choose your font style and font color and overlay the name of the product, and who it's for. For example 'For the beauty lover: The Mermade Hair Waver.' 
Rinse and repeat this for every item in your gift guide! Don't forget to also create a title slide introducing the theme of your gift guide. Add more info about each of the items to your caption, schedule it to your Instagram, and voila, you've got yourself a beautiful, carousel-style gift guide.
Take Plann's text editor tool for a spin here, or log into your Plann account.
How to put together a gift guide using Instagram guides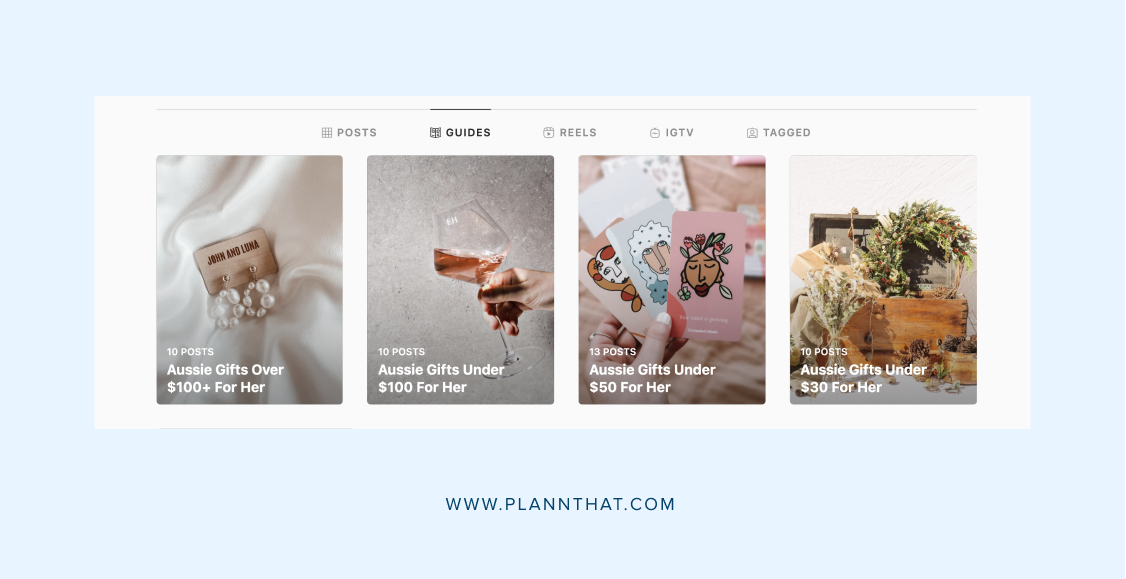 Via @livewithelle
ICYMI, Instagram recently expanded their 'guides' feature (originally exclusive to wellness influencers), and we rejoiced! These are such a great way to curate information in an interactive way. They also specifically have a 'product' guide, which is perfect for gift guides!
Here's how it works
1. Click the 'plus' button on your Instagram profile, and select guides
2. Choose 'products' as your guide type
3. Browse the catalogs of businesses you already follow, or search for other ones
4. Pick the product and photo you like from their catalogs. This will automatically pull through all the relevant information like prices
5. Add a description about what makes your product so awesome
6. Once you're doing adding all your picks, give your guide a name describing the purpose of your gift guide
7. Add an eye-catching cover image, and you're ready to share!
You can make as many of these as you like (perhaps gift guides for different themes!) and they will sit in the 'guides' section on your profile. You can also share it in your stories, or with your followers via DMs.
How to create a gift guide using Canva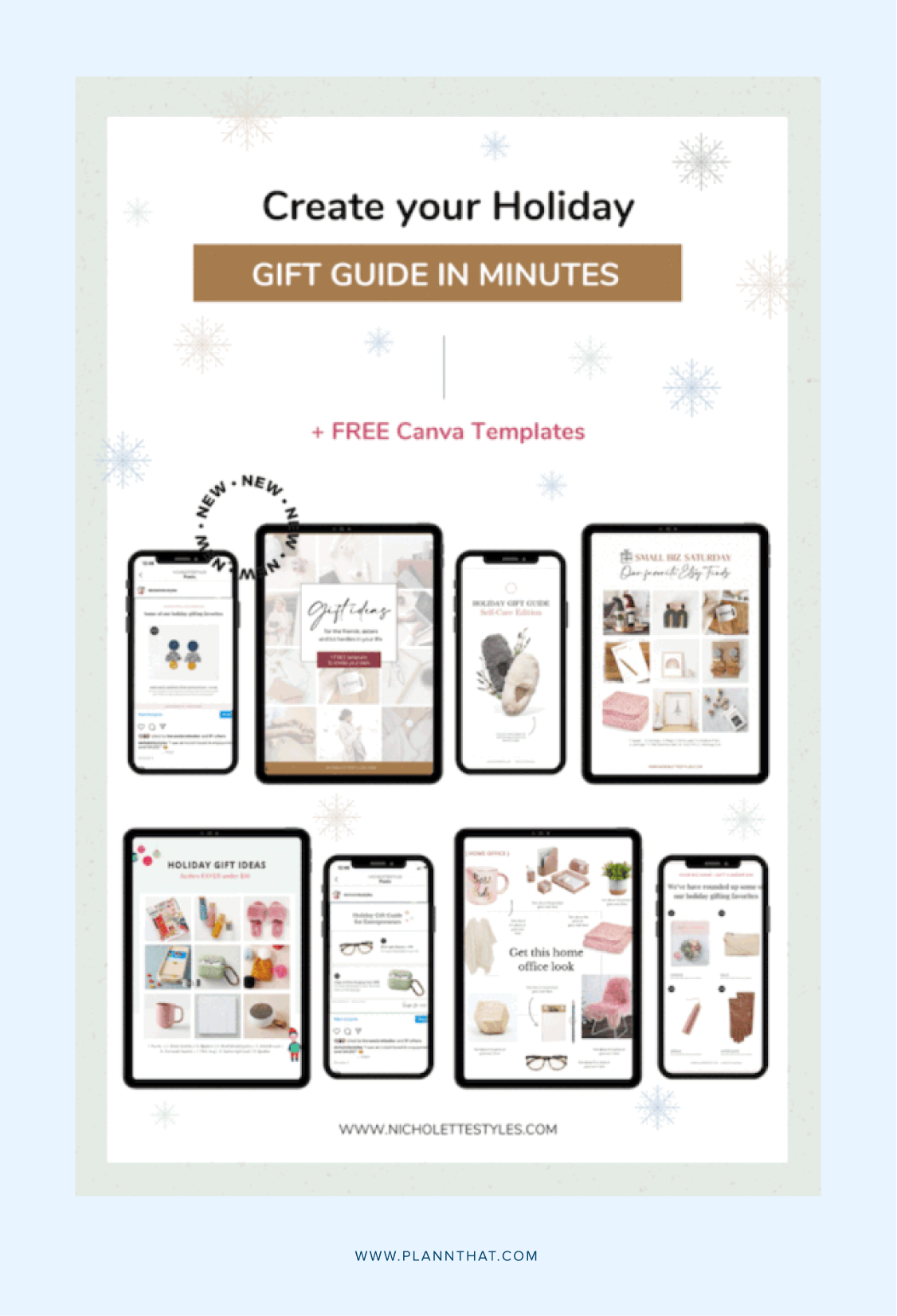 Canva's design tools are also perfect for making beautiful gift guides. They have thousands of professionally-designed templates for you to choose from — and the best part is, you don't even have to use the Plann app to create them. There's a couple of different formats you can use to bring your gift guide to life in Canva.
One of these are multi-post stories. These feature a series of different frames your audience can flick through — so you could include a separate image of all your different recommendations. 
You can make these in Canva and add them straight to your social media schedule by selecting 'create', then Canva. This will reveal Canva's editing menu, where you can select templates then type in 'carousels'. These will pull up their carousel-style posts, which you can customize, then add to your Plann stories queue to schedule!
Another great format for holiday gift guides you can create in Plann are PDF ebooks. The best template to select for this in Canva is 'blog graphics,' which you can duplicate in order to add as many pages as you like.
How to make your gift guide a win-win
Once you've created your awesome gift guide, it's time to shout about it from the rooftops! You can promote it anywhere your ideal audience hangs out online — whether it's on Pinterest (gift guide content performs extremely well here!), in your Facebook group, to your mailing list or even just share it directly with people you think might find it useful!
Now, of course, one of the reasons you're creating a gift guide is out of the goodness of your heart — to share the love and help others. However, there's no reason you can't make it a win-win! One great way to do this is to contact all the businesses in your gift guide, and request that they share it with their audience. Not only will they likely be stoked, but it'll skyrocket the reach of your gift guide and therefore, your brand. 
To further increase the reach of your gift guide, you can also turn it into a Facebook ad, as Moment has below.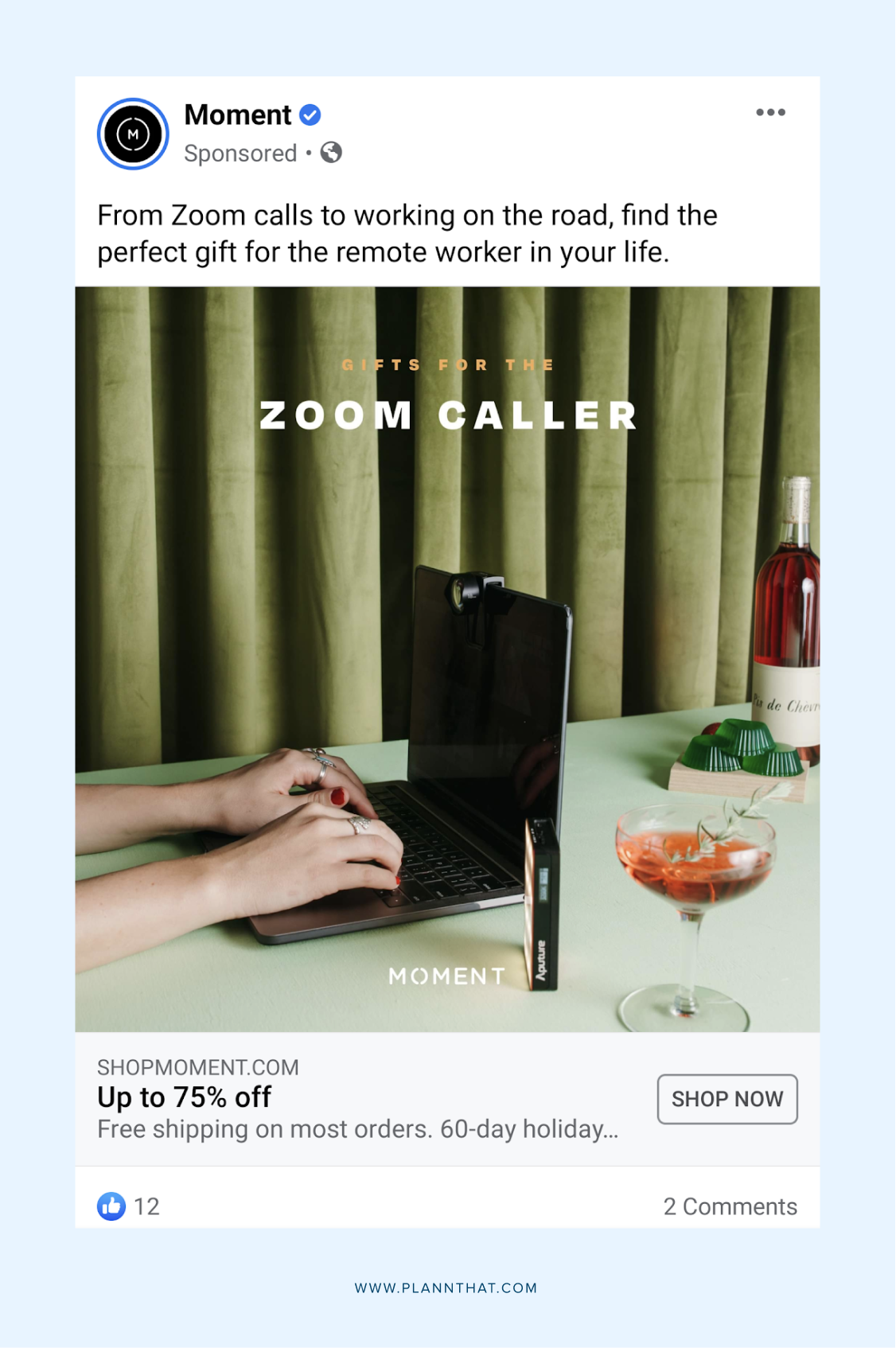 Via @moment
Another great way you can make your gift guide a win-win is by including affiliate codes in them. This is a unique tracking code that stores cookies on the user's browser. If they purchase off the link you have sent them within a certain period, it will be traced back to your link and you'll receive a small commission. Cool, right? When you're compiling your gift guide, it can be worth asking some of the businesses you're including whether they have an affiliate program. That way, you'll get a little kickback if anyone buys off your recommendation! If you're a blogger or influencer, you could also look at joining affiliate programs like Amazon Affiliate, AWIN, Rakuten, or RewardStyle, which host links for many different companies or products.
You can also make your gift guide work smarter not harder is by setting it up as an email opt-in on your website. You could do this by creating it as a PDF and creating a form on your website (or in your social media bio) where if they put in their email address, your email marketing program will automatically send it to them. It's a great way to build your mailing list all year round, but especially in the lead-up to the holidays. 
At the end of the day, the best gift of all is giving back and putting a smile on someone's face this holidays — which your amazing gift guide will definitely do!  And, if you happen to build your brand and network in the process? Well hey, that's just a bonus, right?