Ahh, Valentine's Day….Just like cupid with his arrow, it has a habit of sneaking up on us. Now, how you feel about its imminent arrival probably depends on what your life looks like at the moment. Perhaps you're loved up and looking forward to a romantic day, or you've got a self-care session planned with your closest friends, or maybe you just couldn't care less about Valentine's Day.
No matter what boat you're in, there's no doubt that Valentine's Day is a goldmine for social media content opportunities. Whether it's giving your followers an inside glimpse into your relationship, sharing the small business love, holding a Valentine's giveaway, or celebrating the single life, there are so many great ways to connect with your audience. 
But, what do you post on your social media on Valentine's Day, without feeling cringey, cheesy or 'cry me a river?' Whether you're loved up or in a long-term relationship with your business, we've got you covered with these 6 cringe-proof content ideas for Valentine's Day. 
Valentine's Day Content Idea #1: Reminisce about the day you met
If you want to show your partner a little love but don't want to be too mushy, one great strategy is to recount the day you met them or your first date. After all, everyone loves a 'meetcute' story! Perhaps you have a funny story about going on a blind date that didn't work out, but they were the bartender at that bar. Or, maybe you met them at work and actually thought they were super annoying before you got to know them!
Whatever your situation, try to bring the story to life with as much detail as possible (keeping it PG, of course!) Maybe you can still recall that feeling of butterflies in your stomach on your way to meet them, or still remember exactly what they were wearing, or what song was playing when you shared your first kiss.
This content idea works even better if you have an image (if not from the actual date, then from the early days of your relationship) that you can use to help illustrate it!
Create content directly from design giants Canva and import straight to your social workflow, without leaving Plann.
Valentine's Day Content Idea #2: Tell your parents' love story
Don't feel like you have a Rom-com worthy meeting story, or just aren't really comfortable sharing that with your followers? No problem! You can shift the focus while also embracing the romantic vibes by sharing the story behind another formative relationship in your life. For example, your parents or grandparents. After all, without them, there would be no you!
People adore an old-school love story, so why not take your followers back to a time when dates weren't as easily available to order on Tinder as a takeout meal? Bonus points if you can score some cute vintage photos to go with it, and some quotes from your parents or grandparents themselves.
You could also piggyback off the TikTok trend of showing off your parents by creating a short video from old photos!
Valentine's Day Content Idea #3: Share the small business love
You don't have to keep the love within your relationship this Valentine's Day! Why not spread the love around by shouting out some businesses you're a fan of?
Maybe there's a local business that does delicious vegan chocolate or beautiful bouquets of flowers. Or perhaps you had an excellent experience at a restaurant or bar last Valentine's Day and want to let others know about this local gem.
Either way, shouting out these businesses on your Instagram feed or stories is an amazing way to nurture a sense of community. You can use the 'small business shoutout' sticker to share the love, or even put together a Valentine's Day gift guide using Instagram's new 'guides' feature to showcase your favourite brands.
PLANN TIP: Pssst….. The hashtag #valentinesday seems to be banned on Instagram right now, which means it will sink your engagement if you use it. Why not accompany your posts with one of these hashtags instead? #valentines #valentine #valentinesgift #valentinesdate #spreadlove #smallbusinesslove #lovequotes #valentineday #valentinedecor #myfunnyvalentine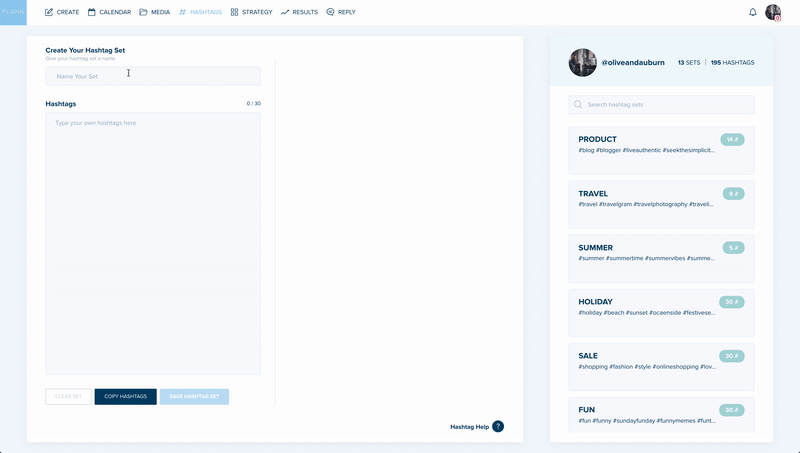 You can save these as a set in Plann's hashtag and pick and choose them with your usual hashtags!
Valentine's Day Content Idea #4: Post on Galentine's Day instead
Really not into the whole Valentine's Day thing? Feeling about as single as the last Pringle in the pack? Celebrate Galentine's Day instead! Despite being invented by the iconic fictional character Leslie Knope (played by Amy Poehler) from Parks and Recreation, this is now a full-blown, real-life event! 
Falling on February 13th (the day before Valentine's Day), it's a day of celebrating the amazing ladies in your life — whether that's your friends, sisters, mom or collaborators. 
Basically, if they're a gal that inspires you or makes your life a little bit brighter, Galentine's Day is the day to celebrate it. You can post about it on your socials by making a cute collage of some of the gals in your life or even a short Reels or TikTok of some of your favorite memories. Or, you could even invite some fabulous females to pop up on your Instagram or Facebook to do a joint live with you!
Valentine's Day Content Idea #5: Share your Valentine's Day playlist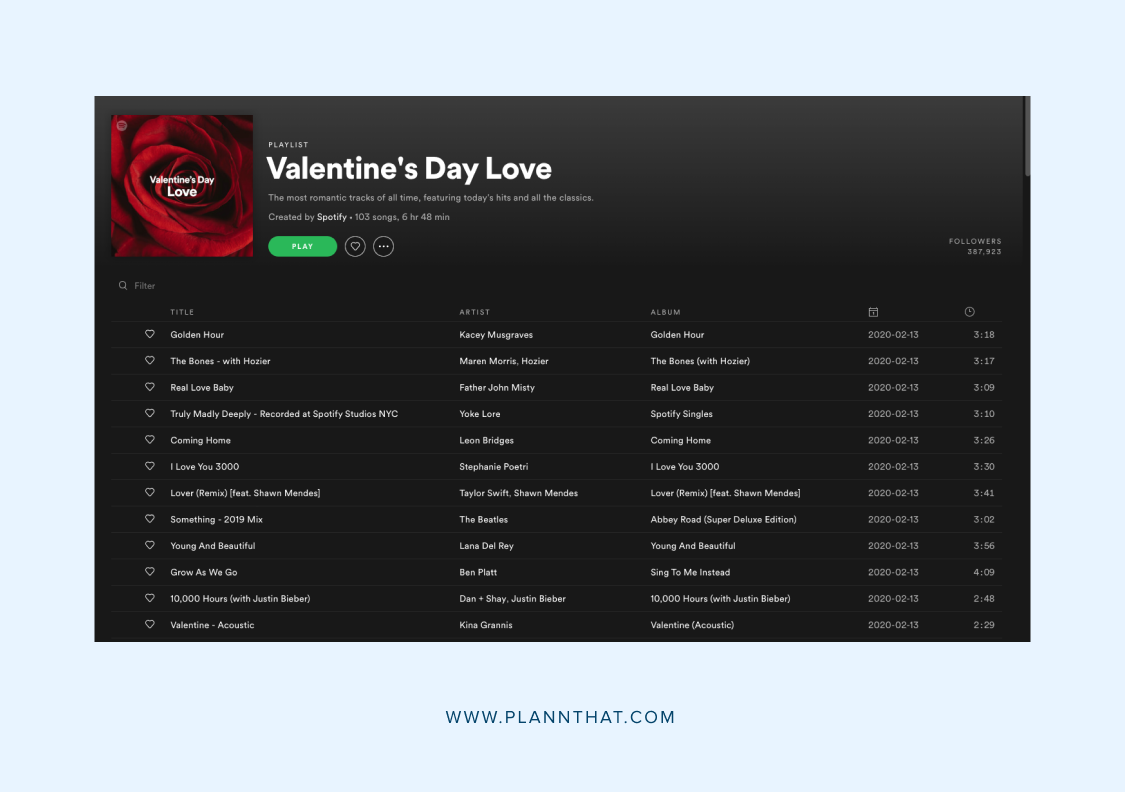 Did you know that around 60% of the world's songs are about love? Yep, it seems that we all just love to love (love!) So, whether you're into romantic, R&B slow jams, country crooning or power pop ballads, we're willing to bet you've got some absolute bangers to share with your followers this Valentine's Day.
Sharing your playlist on your socials is a great way to give your audience a glimpse into who you are behind the scenes. After all, our music taste says a lot about who we are as a person!
 You can do this by compiling a playlist in Spotify. Then, in the sharing settings, select to share it to Instagram and it will post to your stories. Depending on what type of Instagram account you have and where you are, you may also be able to share your playlist via a sticker.
Valentine's Day Content Idea #6: Make a funny Valentine's Day Reels
One Reely great way to boost your engagement this Valentine's Day without feeling like a massive cheeseball is to make a funny video! You can use this as an opportunity to poke fun at some of the traditions or stereotypes around Valentine's Day. For example, you could make a tongue-in-cheek 'expectations vs. reality' style video about what you thought your partner was going to get you as a gift, and what you actually got. Or, you could recreate some of the worst or funniest Valentine's Day dates you've had!
With Reels still receiving massive levels of engagement vs feed and stories, it's the perfect way to get your content seen on a day that's flooded with content. Plus, you can easily repurpose it by also posting it on TikTok. Working smarter not harder? Now that's something we can fall in love with!
Ace your Valentine's Day content with our done-for-you prompts
Still not what to post on your socials this Valentine's Day? Or maybe you want to build an entire campaign around the occasion. No matter your goal, our tailored Valentine's Day content prompts will help you show your socials some love!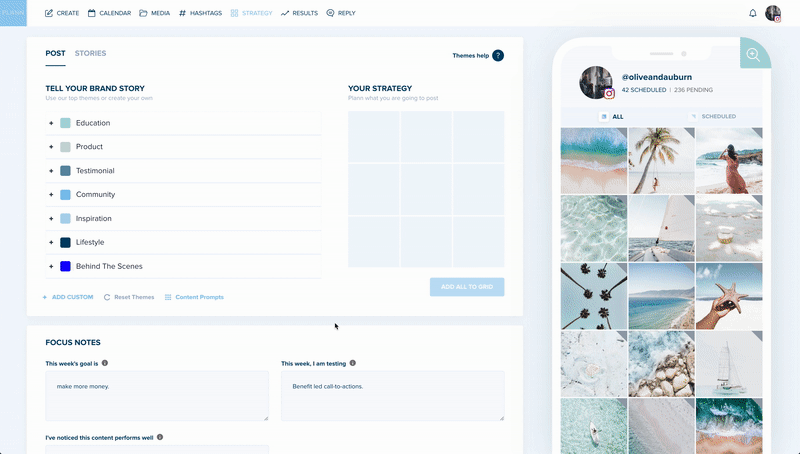 All you need to do is head to our strategy section, and head to content prompts. Select the Valentine's Day prompts and add it to your grid and stories (don't forget to do both, for a well-rounded content strategy!)
PS. you can get thousands of beautiful, free Valentine's Day images in our stock image library!) Schedule your posts and you're ready to share your sweet, sweet content!