Food, in general, is life!
As online content creators we're obsessed with snapping our meals and sharing them on Instagram.
Before the days of #ootd, #travelgoals, #squadgoals and #throwbackthursdays, there was #foodgram, #instafood, and #foodporn.
Why is food so freaking popular?
And for a great reason – Food is popular among all cultures, people and a great way to grow a community.
Think organic, vegan right through to pizza, cheese or decadent desserts, they're all great niches that strengthen a community vibe for your audience (and lifts a relatability factor!)
Some people take food presentation and photography to the next level. Seriously, sometimes we think we can actually smell the food through our screens.
Are you a certified foodie?
Are you ready for your mouth to water?
Forgot about this as a great content idea and want inspo?
Get inspired, we're going to drop our best food Instagrams in 2017.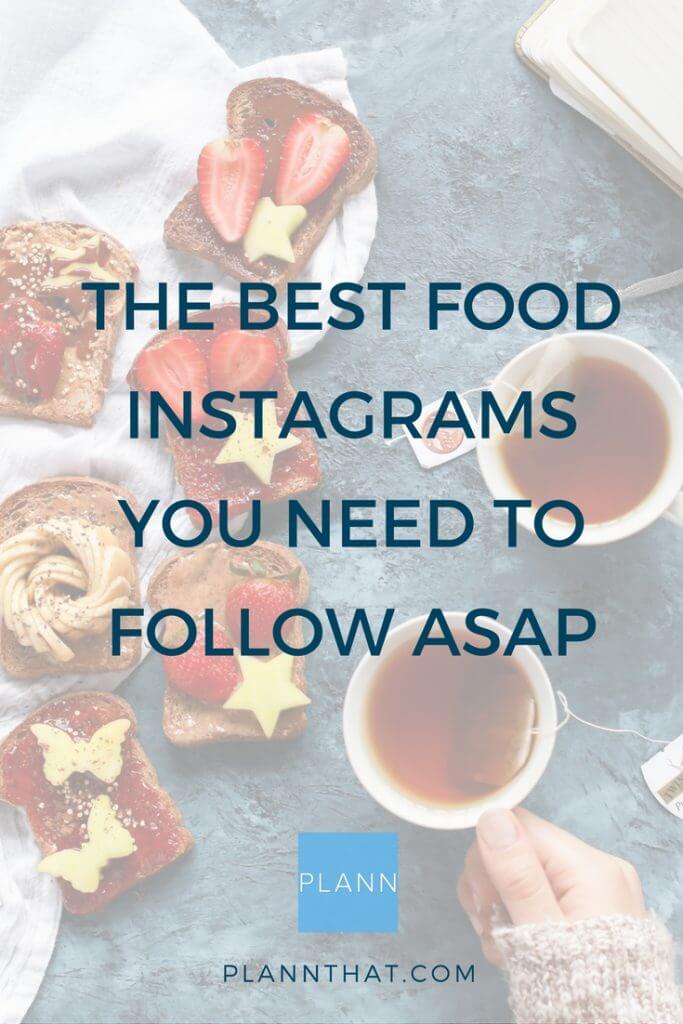 The Best Food Instagrams To Follow ASAP. Warning: Drooling My Occur If You Continue Scrolling
Founded by Tieghan Gerard, @halfbakedhavest is all about cooking with real ingredients and whole foods. Aside from photos of mouthwatering food Tieghan prepares herself, she also posts videos about the cooking process.
Do you have a sweet tooth? If you so, @sugarandsaltcookies is the place to be! Browsing its super colourful, sweet feed made me wish I could download food. *Sigh*.
For the fans of fruits, vegetables and noodles COMBINED, your wish has been granted. Alissandra Maffucci, the founder of @inspiralized, posts photos, recipes, and instructions on how to make spiralize everything you touch.
NOT SURE WHETHER TO POST ON INSTAGRAM AT BREAKFAST, LUNCH OR DINNER? FIND OUT YOUR BEST TIME TO POST NOW.
This mecca of recipes and inspiration never fails to help us through that "Oh god it's Tuesday what on earth am I making for dinner" moment.
This one goes out to the vegan folks. Nisha, fills her Instagram feed with vegan comfort food and treats, and is a total godsend to anyone living and celebrating the plant-based way of life.
https://www.instagram.com/p/BWZ3sd2gCL4/?taken-by=rainbowplantlife&hl=en
When you need your food Instagram with a side of memes and lols, this is for you. Co-run by meme legend @fuckjerry, it's the right amount of cheesy, if you catch my drift.
WANT TO TAKE YOUR FOOD INSTAGRAM TO THE NEXT LEVEL? FIND OUT WHY YOU NEED TO USE INSTAGRAM STORIES AS PART OF YOUR SOIAL MEDIA STRATEGY
Original recipes, perfectly styled. It really is that simple. Everything from the most decadent desserts to simple (and delicious looking) snacks and everything in between is right here waiting. Hungry yet?
Almost too pretty to eat? Yes. We love this concept-led breakfast Instagram so freaking much. Aesthetics and inspo all in one – can someone please make our breakfasts like this every day too please?
Rachael DeVaux is a registered dietitian who promotes healthy and good eats on her Instagram feed. She keeps her followers wanting for more with her creative and colourful food presentation, which we love.
Best food Instagrams…we're still going!
There is something about the way Linda plays with shadows and dark colors that make her cakes look even more delicious and fascinating.
GOT TO TAKE SOME FOOD FLATLAYS? FIND OUT HOW TO TAKE FLATLAY PHOTOS THAT TELL A STORY
These are probably the cutest food Instagram you have seen Yes, food can be cute, especially if it is made in the likeness of your favorite cartoon characters like Hello Kitty and Pikachu.
If you are dieting, like reallly dieting, this food Instagram account would be a great source of comfort for you. Chef Jacques believes in less is more, and his portion control is the most beautiful thing we've ever seen (we know that sounds weird…)
If you love the pun, wait until you see the feed. It is full of daily eats from NYC life like bagels, matcha ice cream, chicken in cones, and cilantro fries (yes, it's a thing, apparently).
@chocolatecoveredkatie's Instagram feed is what every vegetable and chocolate lover needs. Her healthy vegan creations look so delish, it almost hurts.
https://www.instagram.com/p/BTjz7bAFQ22/?taken-by=chocolatecoveredkatie
For lovers of muted tones and perfectly styled plates, Berlin-based Laura and Nora are your girls.
OMG I AM SO HUNGRY AFTER WRITING THIS!
Which was your favourite of the best food Instagrams?
Inspired to take a snap of your own?
Easy!
Create it, style it, add it to Plann and drag and drop it into a grid that works for you.
Simply filter, caption and post it directly to Instagram!
Download Plann now from the iOS and Android stores now, for everything you need to plan, edit, design, schedule and analyse your Instagram. Your Instagram feed will be looking tasty tasty before you know it!