Made up of authors, bookstores and bloggers, nobody does storytelling quite like Instagram's bookstagram community.
Known for their clever literary commentary, stunning shelfies and great book recommendations, you can always count on them to spin a good yarn. And, that means using more than just words.
The best book Instagram accounts  make use of all the app's features: posts, carousels, Reels, stories, guides, and more.
Whether you're looking for your next great pageturner or want inspiration to grow your own bookstagram, there's plenty to learn from these bookish types. Many of the best book bloggers and authors even use Plann to grow their accounts!
Here are 10 of the best book Instagram accounts to 'bookmark' for your feed.
1. @lulumoonowlbooks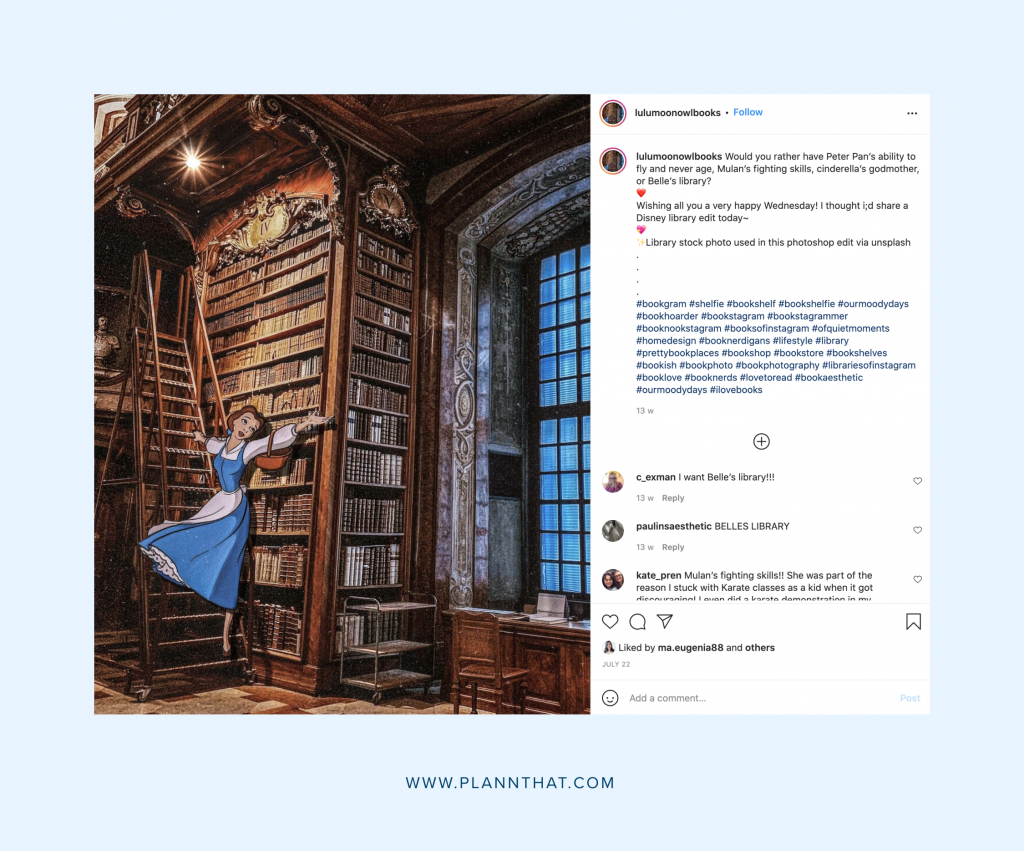 If you're dreaming of a magical library or literary wonderland, look no further than this book account!
Luna features some of the world's greatest bookish locations, using her photoshop skills to combine libraries with gardens and bookshops with Disney settings. You'll also spot cosy reading nooks and whimsical castles!
With over 400k followers, Luna has earned a spot as one of Instagram's most influential book bloggers. Check out her account to admire the most magical scenes in all the lands. 
Follow @lulumoonowlbooks
2. @shannonsnextchapter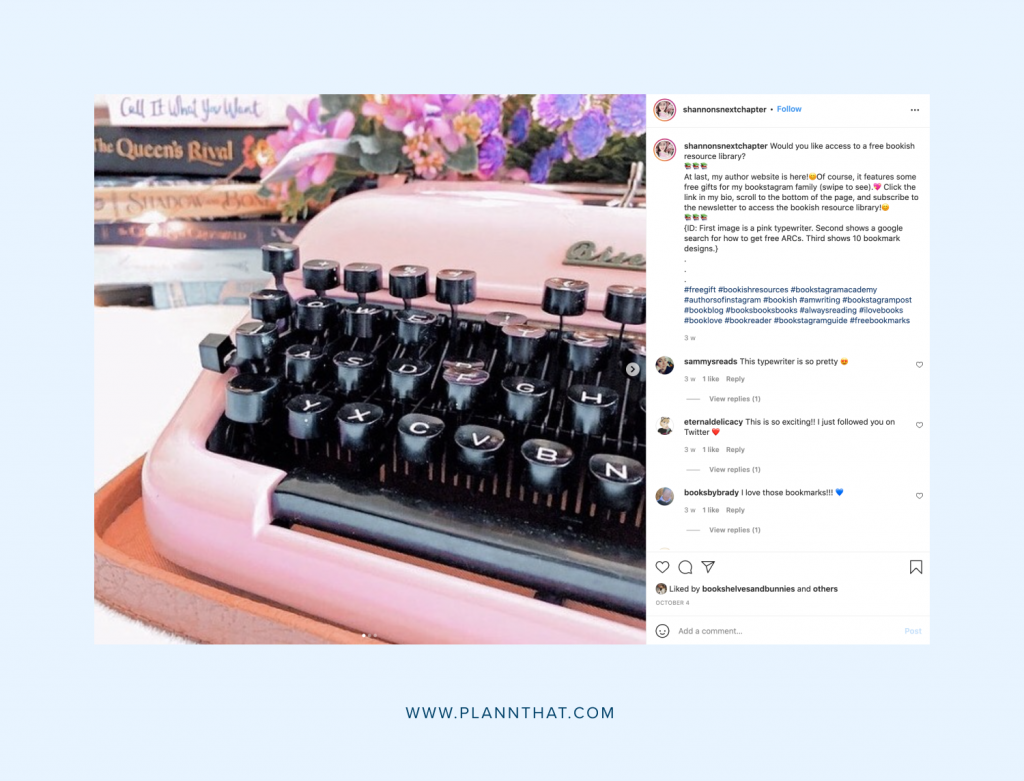 Following the life of a writer, editor, and reader, Shannon's Instagram account is a home for all her literary ramblings, including bookish photos, reviews, recommendations, and more.
With just over 3k followers, Shannon shares her favourite YA and middle-grade reads. She's well known for her trademark pink aesthetic and for her regular book-themed Instagram Reels.
This Plann'r also talks about her current writing projects, her latest published works, and her thoughts on the next trends in the book market.
Follow Shannon, and find new books to read, along with examples of how you can use Reels to grow your Instagram account.
Follow @shannonsnextchapter
3. @thenatureofpages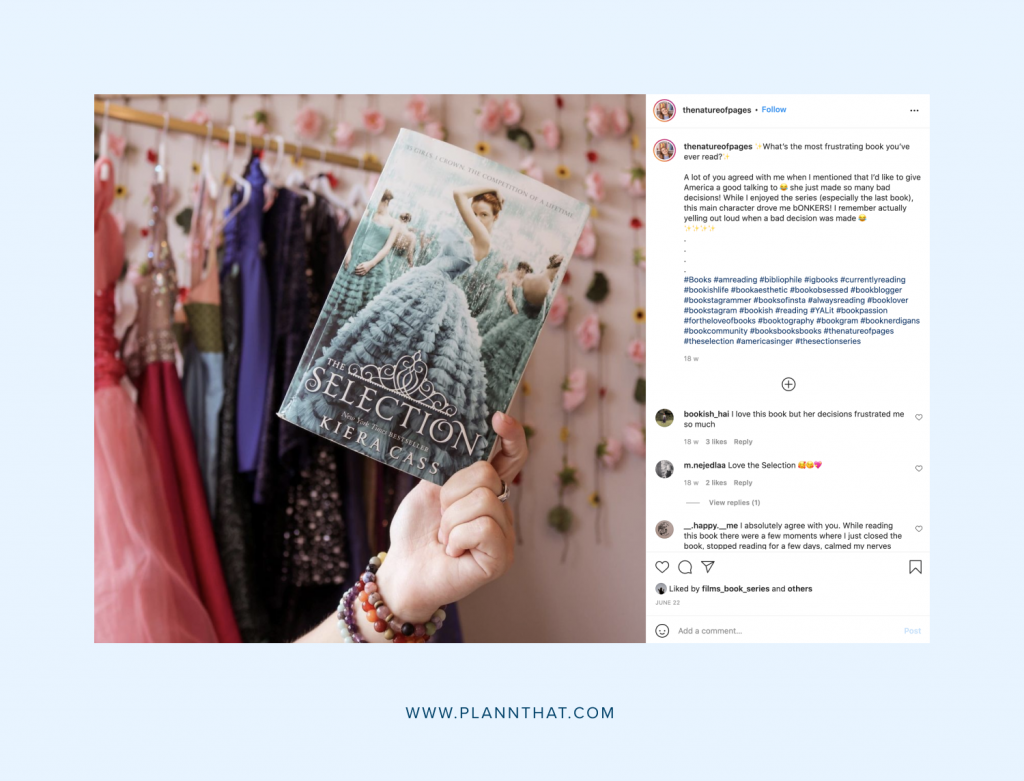 Having earned over 24k followers on Instagram alone, Ally's account is nothing short of magical!
Ally is best known for her royal aesthetic, featuring princess gowns and glittery tiaras alongside her favourite contemporary and fantasy books.
Followers turn to Ally's book Instagram account for her funny Reels and well-styled book photos, including plenty of location shots.
Visit Ally's account for ideas on bring a little more creativity to your book photos.
Follow @thenatureofpages
4. @bandysbooks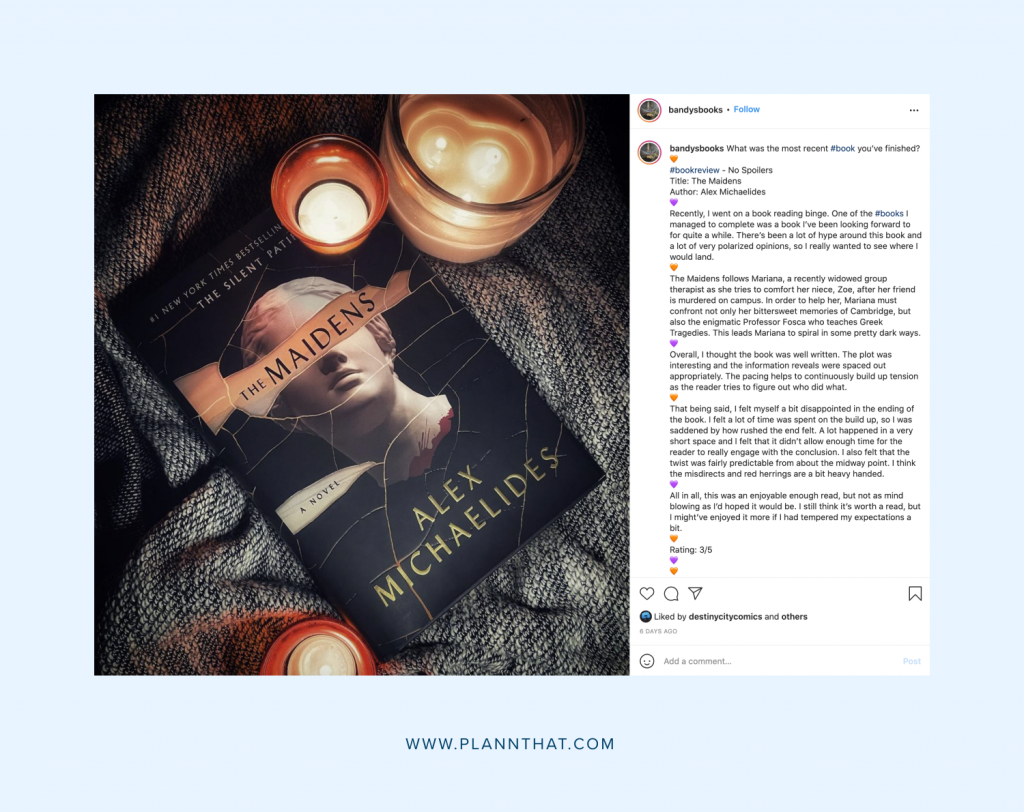 A newer member of the Instagram book community, Kaitlin shares detailed reviews and recommendations with her bookstagram followers. 
Using consistent colour schemes across all posts, Kaitlin's account is evidence of how effective branding can help when building a presence online. 
Kaitlin's clever captions are fast earning her an engaged social media following, with Instagram users eager to hear her thoughts on her latest read. 
Follow Kaitlin to find the next book for your to-be-read pile, and learn the value of strong caption-writing skills. 
Follow @bandysbooks
5. @thekaleidoscopebookshelf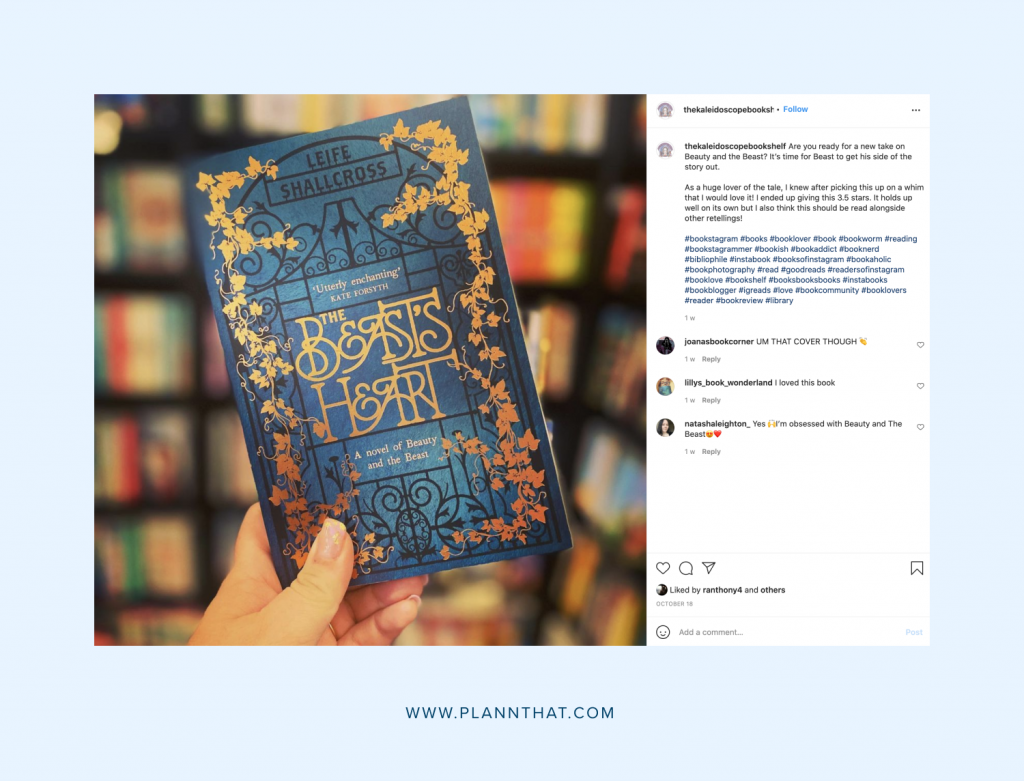 Best known for and thoughtful reviews, Kate's book Instagram accounts is an ode to all things literature. 
Sharing her favourite book covers, quotes, and challenges, Kate's engagement with the Instagram book community has earned her an audience of over 3,000 followers, all of whom are keen to hear her thoughts on her latest read. 
As a bookseller and PhD candidate, Kate offers a unique perspective on the publishing industry. Her account is a great place to find lesser-known books with potential for bookstagram stardom.
Visit Kate's Instagram account to discover the power of an effective hashtag strategy and online authenticity. 
Follow @thekaleidoscopebookshelf
6. @author.courtney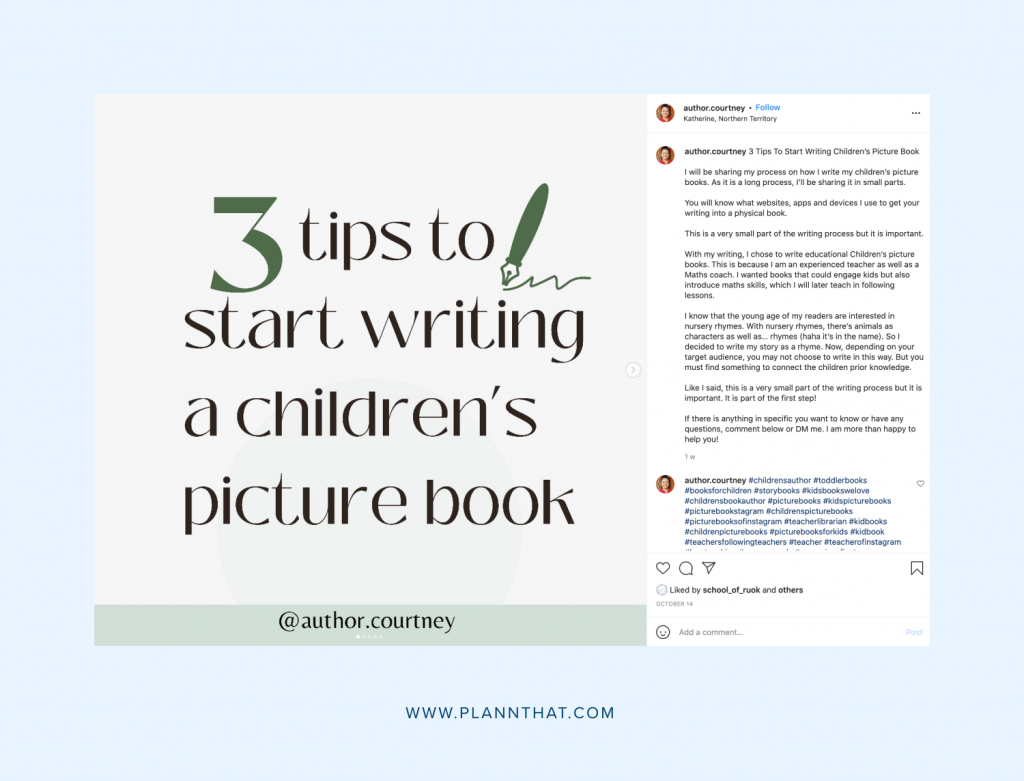 Sharing regular educational posts with her Instagram followers, Courtney uses her Instagram account to grow her audience and author career. 
And a children's book writer, Courtney regularly posts images, carousels, and Reels offering insight into her writing process. 
Courtney's Instagram is focused on helping her followers achieve their writing goals, as well as advertising her own books. 
Follow Courtney's account to learn more about writing for children, and along the way, discover great examples of educational social media content. 
Follow @author.courtney
7. @flyleafbooks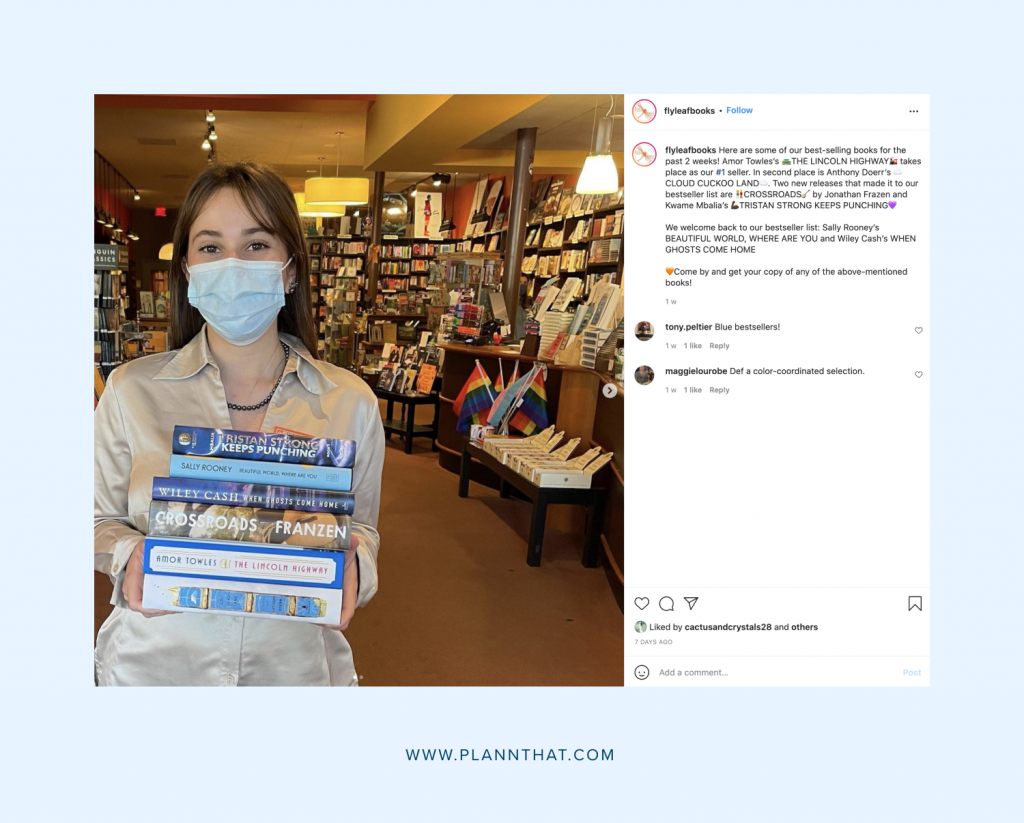 Sharing everything from book recommendations to author events, Flyleaf Books is a great example of a bookstore killing it on Instagram. 
Located in North Carolina, Flyleaf Books is all about the next big thing in literature, using social media as a platform to reach readers and book-buyers from all around the world.
On Instagram, Flyleaf posts glimpses behind the scenes of their bricks-and-mortar store, as well as advertising plenty of in-person and online book events. 
Follow this account to take a virtual stroll amongst the shelves, all while picking up valuable Instagram marketing tips. 
Follow @flyleafbooks
8. @thekneadtoread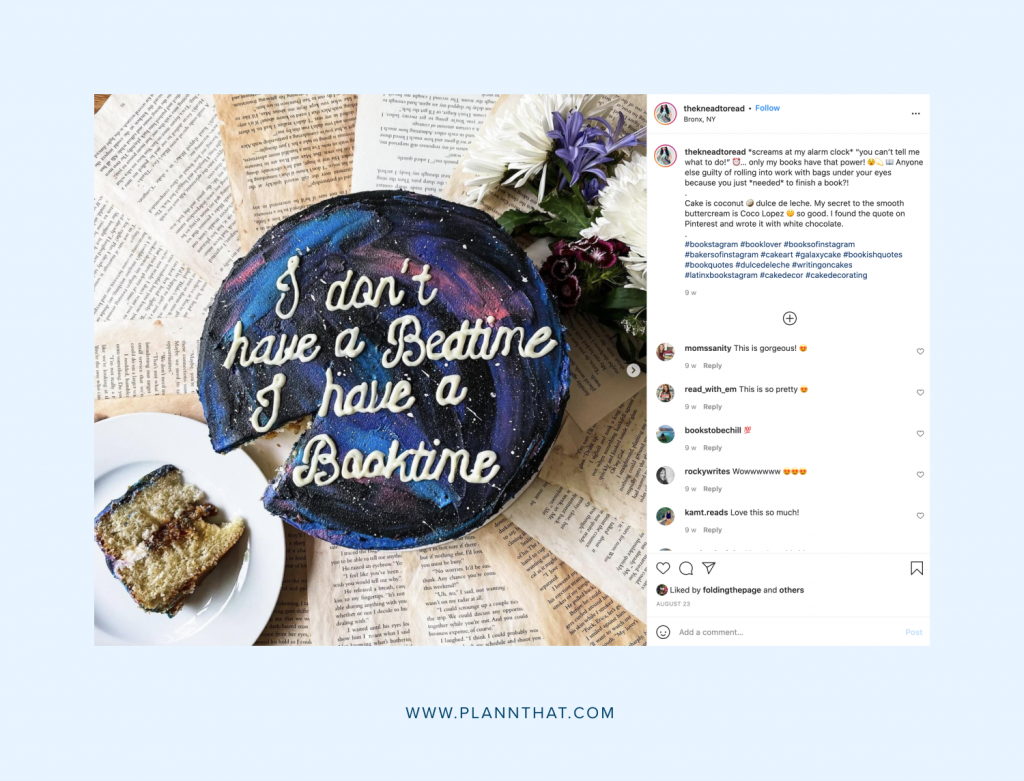 Books and baking collide in this food-filled book Instagram account!
Mariah is a teacher from New York who loves to create book-inspired desserts, ranging from cakes to cookies, macarons, pies, and more.
Combining two hobbies in one Instagram account, Mariah puts her own baking-fuelled spin on popular stories, sharing pictures of her recent reads and the sweet treats they inspire, all beautifully styled in flatlay posts.
Visit Mariah's account for more book-themed baking and an example of a truly creative account theme.
Follow @thekneadtoread
9. @booklooksbyb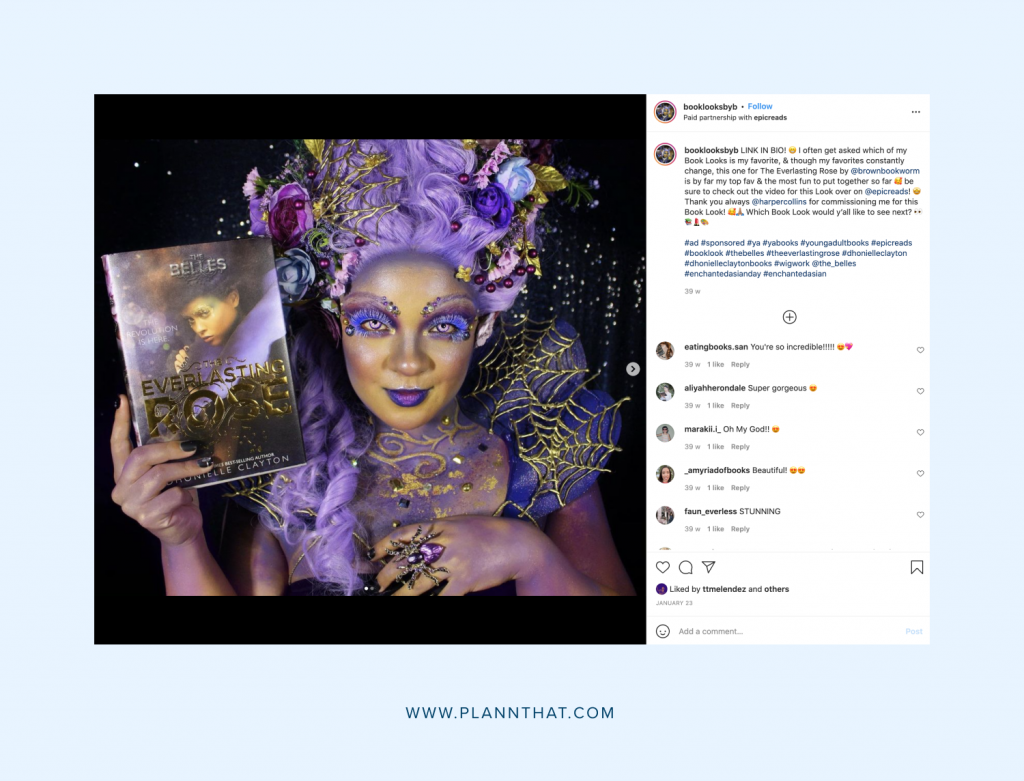 Queen of serving literary lewks, Brittina is a talented makeup artist, using her favourite books as inspiration for her creations.
Brittina has worked with many authors and publishers to bring something new to social media book marketing. She even takes paid commissions, offering a glimpse into the potential of influencer careers.
With her intricate makeup looks designed to replicate beautiful book covers, Brittina has earned over 6k Instagram followers and has collaborated with many other bookstagram creatives, including book-themed nail technicians and painters.
Follow Brittina for makeup inspiration and guidance on how you can innovate to create a unique and memorable social media presence.
Follow @booklooksbyb
10. @dana_killion_author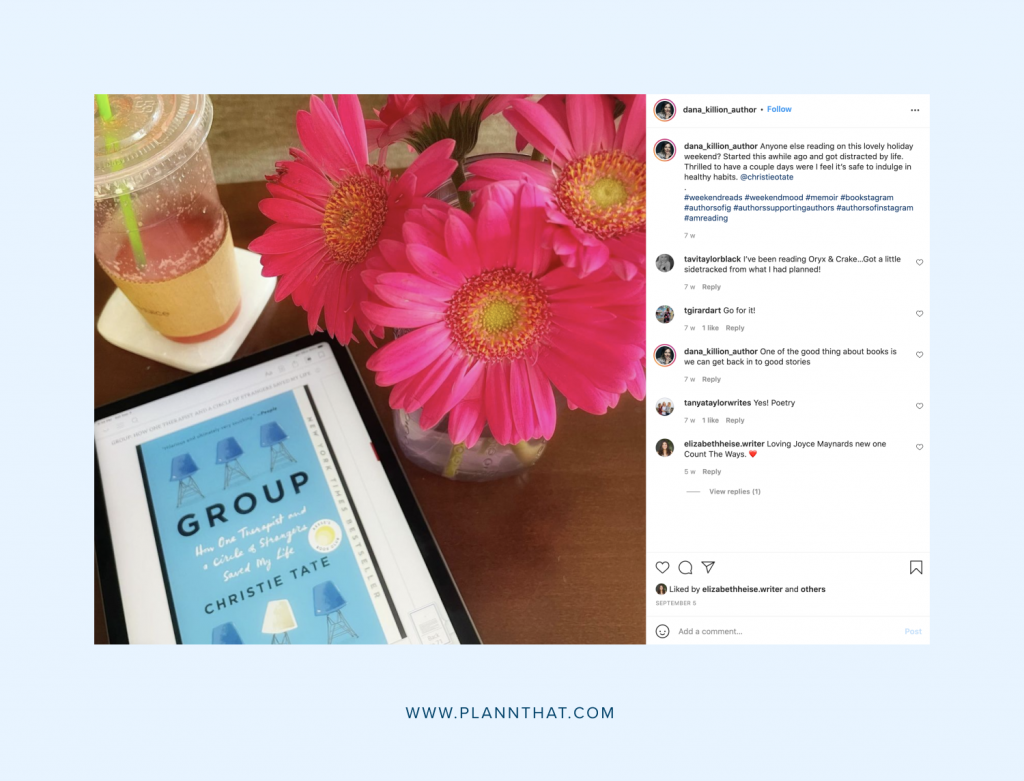 Dana's account shows how keeping things authentic can be powerful when it comes to social media marketing. 
On her Instagram account, Dana shares the life and times of a real-life author, documenting her reading and her day-to-day adventures. 
Dana uses a combination of post types to engage directly with her audience and build her reputation as an author.
Visit Dana's Instagram to learn more about how simple marketing is often the most effective on social media, and find reading and writing tips along the way. 
Follow @dana_killion_author
Use Plann to grow your book Instagram account
Whether you're a blogger, writer or bookworm, Plann has all the content creation, strategy and analytics tools you need to get your words and ideas out into the world.
Are you ready to get started with Plann? Start your free trial today!