Raise your hand if finding out your Instagram account had been banned would be your worst nightmare. Yep, us too. In fact, we may have even had nightmares about this exact scenario. There are a couple of reasons why Instagram might ban your account, and while some are pretty obvious (*cough* spam alert), did you know your account could be banned for using a tool that offers automatic Instagram scheduling? 
For sure, sometimes life can get cray-cray and all we wish for is some magical technology to do everything for us and make the pain go away. While automation is one genius part of technology, it does take some of the humanity out of our lives and interactions –  for example, dropping engagement rates instantly.
It's no surprise that Instagram says no-no to automatic posting, but some people just don't know that they're risking their accounts every day.
So what can we do to make our Instagram lives easier while sticking to the rules? 
Let's take a look at exactly what's wrong with automatic Instagram scheduling and what you can do instead to keep your work safe.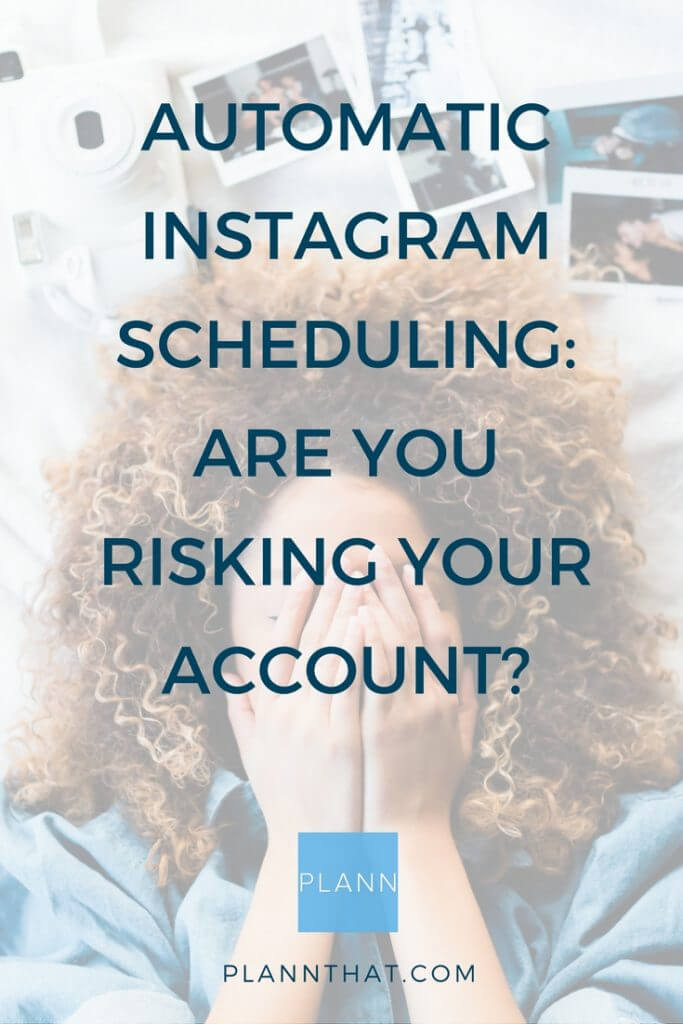 Here's why you should never risk it with automatic Instagram scheduling 
Why Can't I Post Automatically to Instagram?
Instagram does not allow 3rd party tools to post automatically to a profile through third-party apps, websites or tools. Period.
No matter what those Automated tools are saying – they are directly breaking Instagrams Terms Of Service (TOS).
To preserve the community they've built and grown an authentic user base, Instagram is firm with their decision to keep it a hands-on approach and frown upon bots and automation techniques.
It still means you can schedule your posts, but the actual 'POSTING' part must be done by yourself, on your own device.
Psst: That's how we can help. With Plann you can get your strategy right, filter all of your images, draft your captions and then at the best time to post it's an easy 2 button process to get your work published. 
We have a habit of not reading Terms and Conditions (we're sure we're not alone on this one) but we've looked pretty closely into these ones considering what we do every day.

Instagram API, a-what-now?
As we've created our own app that integrates with Instagrams API service (and spent weeks going through approval hoops!) so we're well versed in the legal work involved.
Instagram doesn't want us to be able to recreate their entire app and sneak into their code, so they provide what's called an API – (an 'Automatic Program Interface') – that we can plug into our own tools as long as we sign on the dotted line that we accept their rules, which we have.
For example, we can display your most recently posted Instagram images so you can get started planning by accessing their API.
One of their very strict rules is: "Don't reverse engineer the Instagram APIs or any of Instagram's apps."
In short, and in developer-speak, this means: Do not change how Instagram works by altering our API. 
How can some tools do it though?
You guessed it, some opportunists jumped at the thought that people would be willing to pay to Instagram Automation.
For a few thousand bucks they reverse engineered the API, made a website and convinced users it was safe.
Do we know how to do it?
Of course, we do, but we have specifically chosen not to do it because we couldn't sleep at night knowing your work was at risk.

What's a quick sign to tell it's not safe?
A sure-fire way to spot if it's opportunistic is the sign-up screen.
Another rule to access their API is that 3rd party tools must not store any users sign up details, specifically passwords. (They also want to keep you safe!) so we won't ask you for them.
If you log into an app that won't risk your account, you'll spot the authentic Instagram Login Screen to sign in.
Exhibit A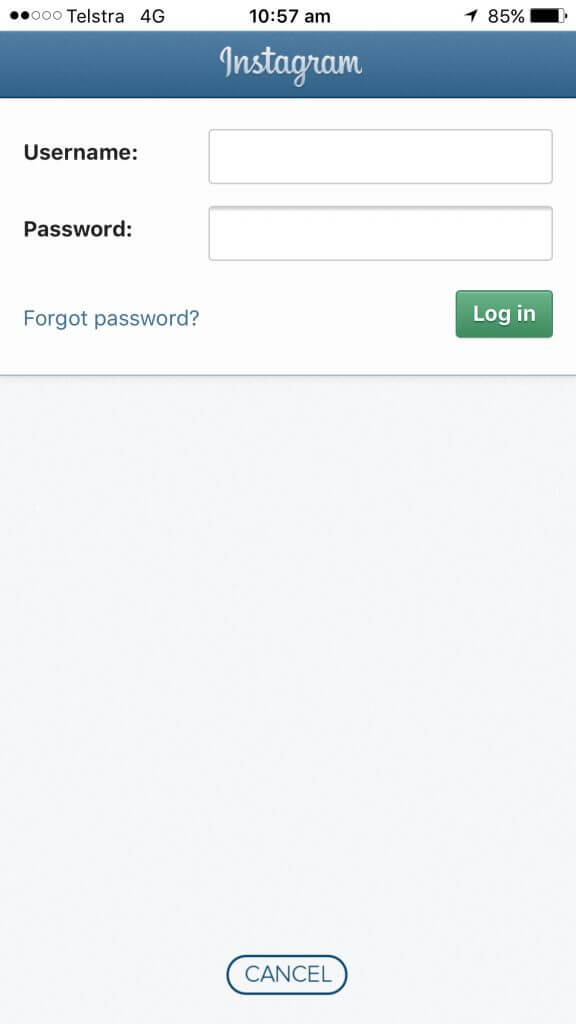 If you've come across a program that uses their own style of the login screen, or a fake version of this, we hope this post educates you that you're putting yourself at risk.
Have there been any consequences so far?
Yes, there have been consequences for both users, and the owners of Automation companies offering automatic Instagram scheduling.
MassPlanner and Instagress were the two biggest 'Automated Bot' companies, both forced to close their doors earlier this year.
Why?
One flooded the platform with thousands of bot comments which started to kill the community, and the other allowed people to run 40 Instagram accounts at once, repurposing users content without permission and again smashing users with "KEEP IT UP!" spammy comments and emojis.
Why would someone even do that?
On every social media platform, there are going to be 'black hat' growth techniques that can be morally questionable, and this was one of them. (The thought behind it was that if you had 40 accounts growing and all pointing to one business it would deliver more sales.)

What about for the users?
1. Your account could be banned or disabled, eep.
It literally is the worst thing we could think of that could happen to your Instagram account.
Do you have the internal stamina to re-create your Instagram following from scratch?
The thought alone leaves us wanting to lay on the floor scoffing a family bag of Maltesers.
Those new to Social Media offer to take on running other businesses accounts too, and it's something that worries us that some people just don't know of the risks when they hand over their business reins. (is it worth risking your career?)
We've found in most cases, many people simply don't know they're at risk.
2. Your work gets deleted.
Here's feedback from someone who used an automatic Instagram scheduling tool.
"I decided to stop using the service. Once Instagram started deleting some of the photos that ************** posted, that was enough to tell me to stop using it." View Source

3. You get locked out of your accounts because of 'A Security Breach'. 
We are contacted daily by people asking how to get in touch with Instagram because they've been locked out of their account and unfortunately there's nothing we can do.
The sad part is that most people can still see their accounts running away on the platform still, but they can't log in anymore and no longer have ownership!
Instagram's customer service is notoriously non-existent, and if you're breaking the rules, it's highly unlikely they're going to place a priority on getting back to you…you might want to buy that bag of Maltesers.
4. Less Interaction, Lower Engagement Rate, Low Reach
Another secondary point to consider is that if you're using anything that does automatic Instagram scheduling on your behalf, you'll never spend any time in the app itself. If you are using your Instagram for business, auto-posting is bad for the customer-client relationships you're no doubt trying to build.
Sure you can reply to the DMs and mentions later, but when it comes to business, time is money. The longer you take to respond to customers' enquiries, the higher are the chances that they may take their business somewhere else.
Engagement is so crucial to growth on Instagram that is on the app when you post is important to keep your content at the top of your followers' feeds.
ACCOUNTS AREN'T THE ONLY THINGS BEING BANNED – FIND OUT WHICH HASHTAGS NO LONGER WORK ON INSTAGRAM
I've stopped using Automation, but how do I make sure there are no future issues?
You've likely given these apps 'Authority' to your Instagram account, and with so many great tools and services we recommend checking in once and a while to see which ones are still linked to your account.
Simply jump onto Instagram on your desktop and click the Gear Icon and "Authorized Applications" to see the list of apps associated to your account. To remove any, it's as easy as hitting that big blue "Revoke Access" button.

What have we linked here?
It's Linktree – a great way you can set up multiple external URL's from your Instagram Bio. Learn more here.
BEHIND THE 8-BALL WHEN IT COMES TO THE SHADOWBAN? READ OUR LATEST UPDATE HERE
So what can I do instead? 
Pick an Instagram scheduling tool that abides by the rules that works for you.
We're obviously a little biased, but with our own App Plann, you can plan your posts, draft captions and store hashtags in advance, and then set a reminder for when you want to post. (That's just the tip of the iceberg of all our features!)
When the time comes, we'll send you a notification saying it's time to post. Then you can jump into the app, copy your caption and click to go straight to Instagram to post.
Your image will be there, you can paste your caption and voila! Organic Posts!
Easy posting with no risks, plus an added incentive to engage with your community while you're already there on Instagram.
NOT SURE WHETHER YOU NEED AN INSTAGRAM PLANNING APP?
HERE'S HOW USING ONE WILL HELP YOU GROW YOUR INSTAGRAM
Are you looking for an Instagram scheduling app that can help you prepare everything ahead of time while still making sure you post safely? 
Download Plann now from the iOS and Android stores to start planning without the risks of unauthorised automatic Instagram scheduling. 
Think the risks are worth it?
What do you think?