Share Resources. Listen. Explain. Support.
We are committed to amplifying the voices of our BIPOC creators and wanted to share some actions that might help as we design an equal, global community together.
Add a Call to Action to Your Bio
Your bio is top Instagram real estate. You get 50 words to basically state who you are and what it is you advocate for. This is the perfect place to include a call-to-action to request your followers help support the BLM movement, including making a donation to NAACP, signing a petition or asking your followers to get behind a specific campaign like demanding justice for Breonna Taylor. 
Also, don't underestimate the power of emojis to quickly capture attention on your message  ✊🏿✊🏾✊🏽
Use a Linking Tool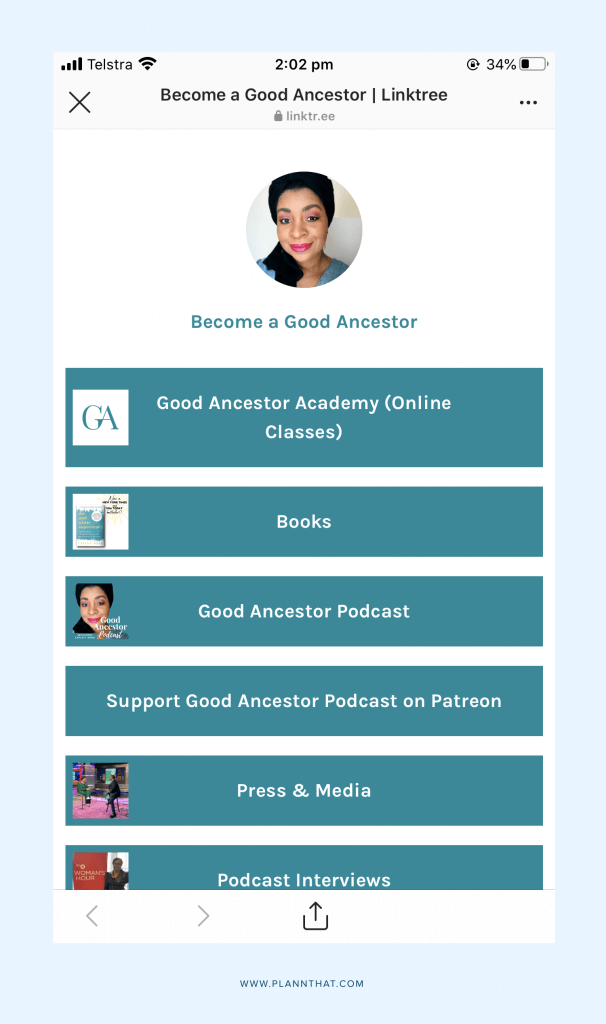 You get one link in your Instagram bio and with so many great resources to share right now, it can be difficult to prioritize exactly what to pop there. To help with this, consider using a tool that lets you serve multiple links to people who click your Instagram bio. 
Tools like Linktree offer a free version which includes your own custom link incorporating your account name – so your followers have peace of mind that they're not being taken to some random link. To support anti-racism, Linktree has also just released new functionality which allows you to enable a banner to support and amplify the movement.
Once you're set up, it's easy to add and edit your links as you want to highlight different resources and campaigns throughout the movement.
Organize Stories into Themed Highlights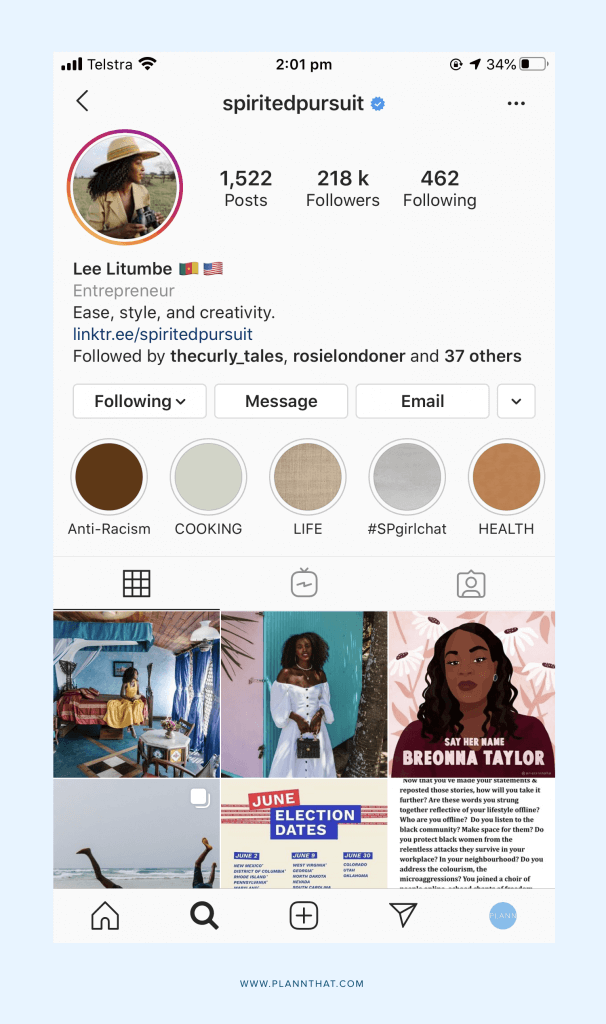 Highlights sit under your bio and before your feed, showing past Instagram stories you've saved. Not only does this mean people can watch your stories after they've disappeared, but highlights can be used to help your followers easily find your Anti-Racism and Black Lives Matter resources.
You can even carve up your stories into different themes and add highlight covers to organize your content. So, say you are highlighting Black creators. You can have one highlight for your fave accounts, another for podcasts & books you want to recommend and perhaps another one for the BTS of protests or rallies you've attended. Learn how to create a stand-out cover here
Showcase Greater Diversity in Your Content 
Stock image libraries provide a great opportunity to represent Indigenous, Black and People of Color in your content. 
You can access stock image and video libraries from inside Plann. To find images in Plann, click to 'Create a Post' and then in the 'Add Media From' modal, select 'Free Content'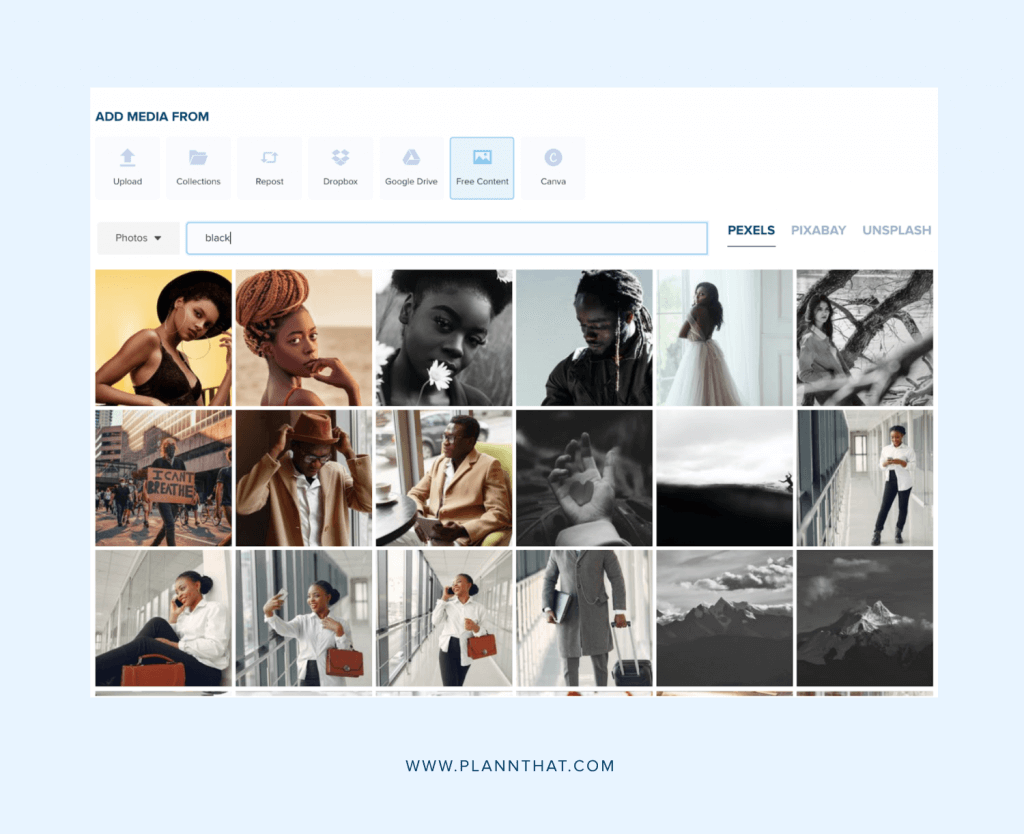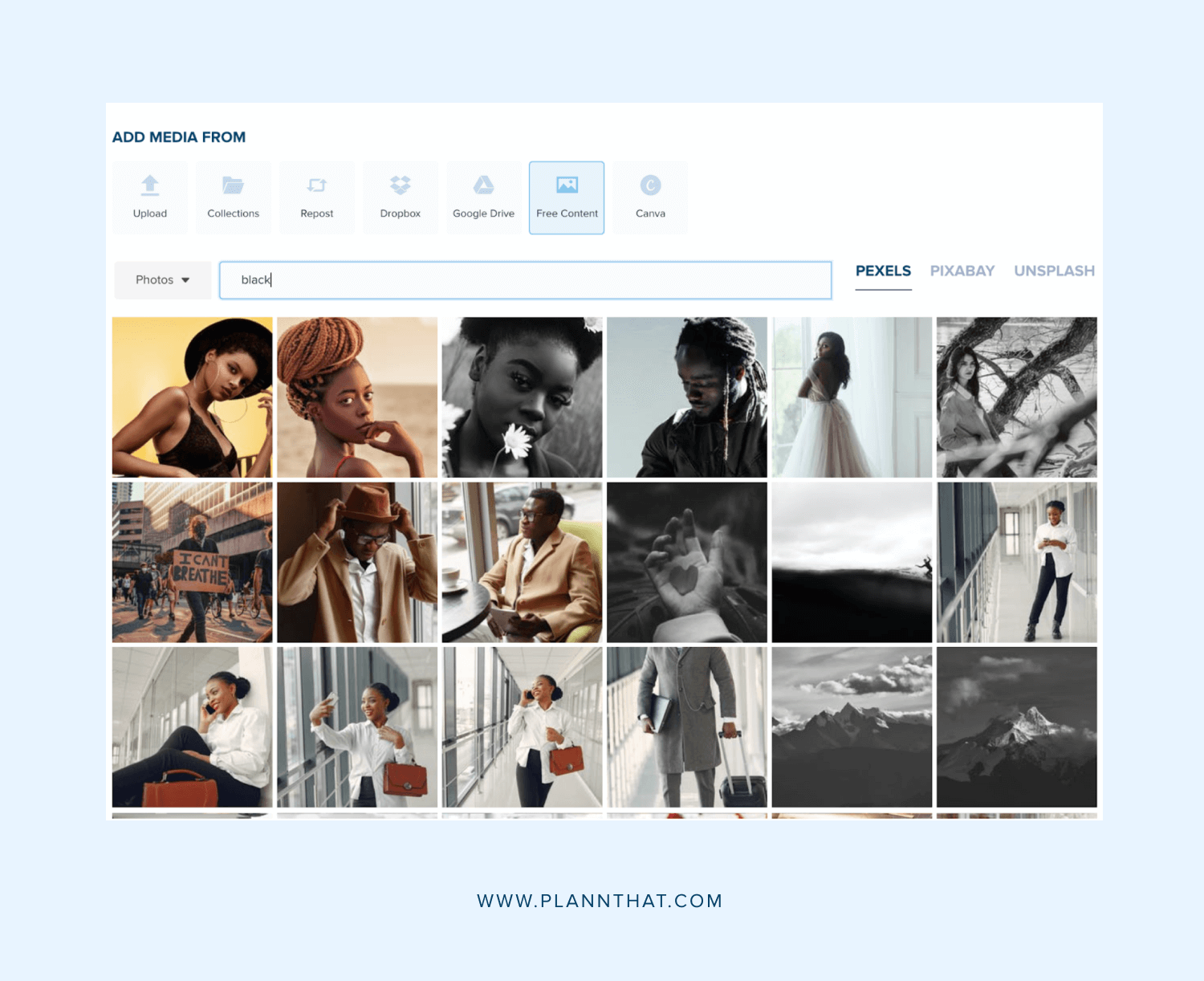 Try using the following keywords: 
#black
#blackpeople
#blackwomen
#blackwoman
#blackman
#blackfamily
#blackpeoplebusiness
#african
You can toggle between images from Pexels, Pixabay and Unsplash
Thanks to the BLM movement, the big stock image players have become aware of the lack of authentic representation in the world of stock images and are working to address this. 
You can also search for images at stock image websites specifically of black and brown people at Nappy and Create Her Stock. 
If you don't want to use stock images, consider supporting one of the many black creators or graphic designers supporting BLM by sharing their graphics and illustrations. If you are re-sharing, it's very important that unless they have explicitly stated somewhere that you can use their artwork, that you seek out consent.
Feature Black Businesses & Creators 
Instagram's new small business sticker is a great way to support black businesses in your Stories.
To share an account you love, take or import a photo or video showcasing their products or services in Stories and tap the stickers icon at the top of the screen and then tap the Support Small Business sticker. 
Type the Instagram username of the business you want to support. As you type, Instagram will show you accounts that match what you've typed so far. When you see the business you want to support, tap its picture. From there, you can rotate, resize and move the sticker around the screen to best fit your post before sharing it. 
Important! It's a good idea to check-in with the person or biz before sharing. Once you have consent, another option is to re-share content from a black creator directly to your stories.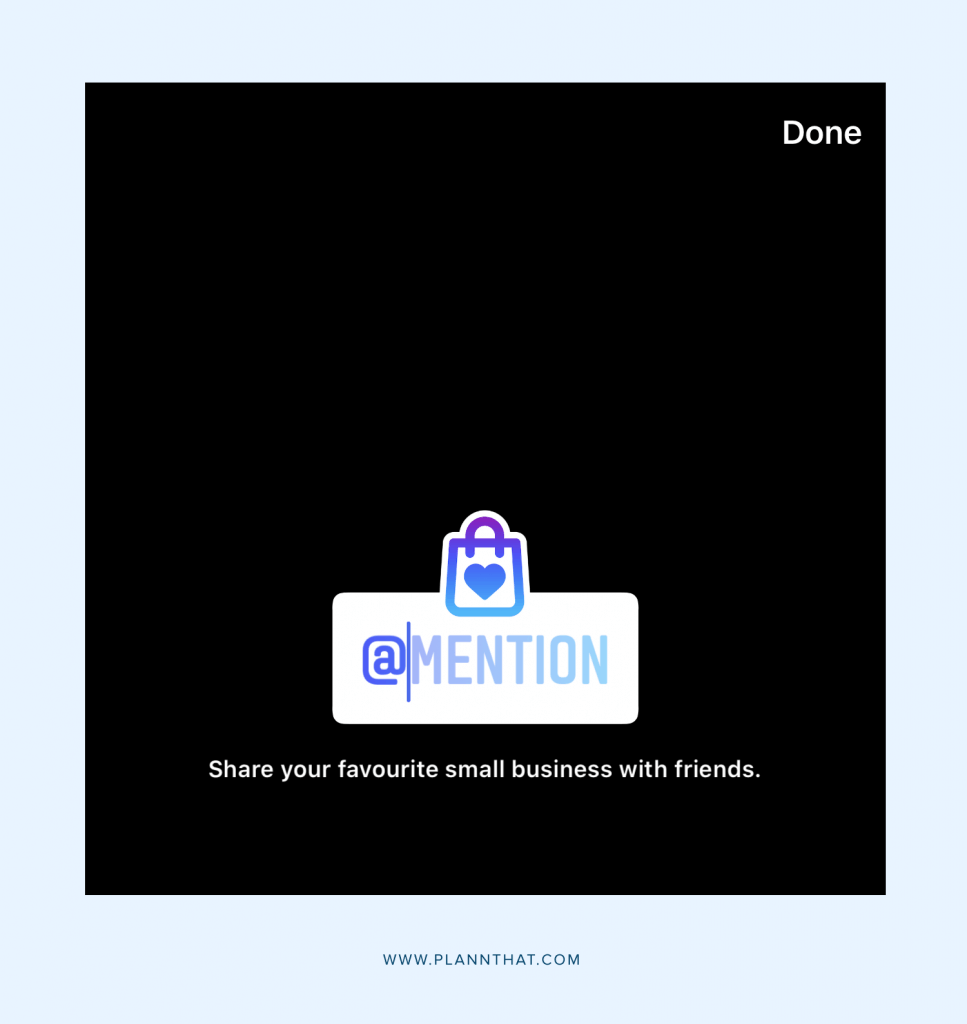 Consider using IGTV
Now that you're able to save IGTV to your feed, IGTV could be a good option for sharing information that's longer and demands more continuity than 15-second story bytes. 
This longer form content is perfect for Q&A sessions. You can always do a Live, upload it to IGTV once you're done and then post to your feed. 
You can upload a video from 15 seconds to 10 minutes if you have a regular Instagram account. Larger and verified accounts can upload a 60-minute IGTV video. You can record videos live, or you can upload pre-filmed content.
Find out more here, including some tricks for getting around video length limits. 
Instagram's #ShareBlackStories Hashtag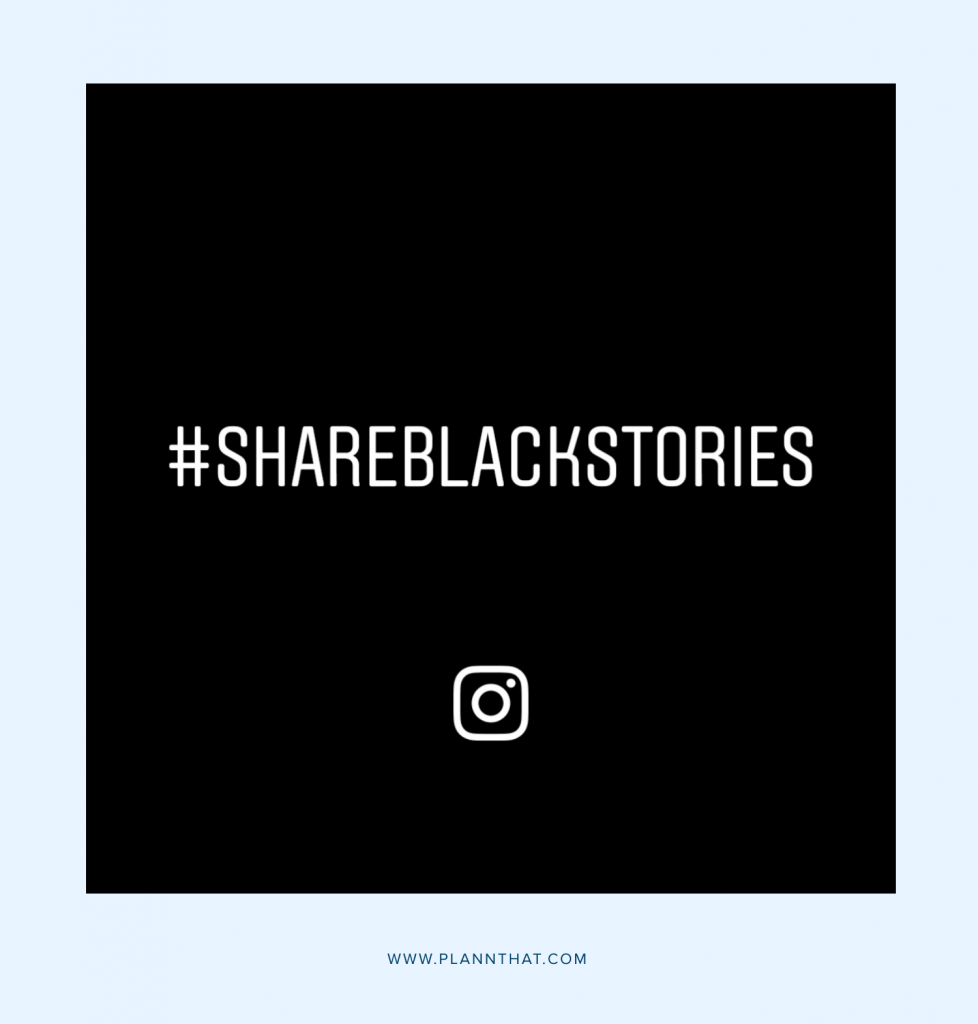 Hashtags are another way to amplify content. However, now more than ever it's important that you're doing research to ensure you're using the right hashtags for your content. 
Unfortunately Blackout Tuesday was an example of how the incorrect use of hashtags can be detrimental, with many posters using the #blacklivesmatter hashtag when posting a solid black square and drowning out vital information and amplification for the movement. 
Instagram has announced it will highlight Black creators using the #ShareBlackStories hashtag through weekly spotlights in their commitment to bring about meaningful change.
A note from Plann 
Black Lives Matter and we are determined to do better, and help our community do better – including better authentic representation on our platform.
These changes will take time, so we ask for your patience as we listen, learn and unlearn to ensure Plann becomes a powerful tool for helping support and elevate black voices and the BLM movement. Not just today, but tomorrow and until the end of racial injustice.
Plann Team x