The average TikTok user spends an hour and a half on the platform every day! That means you have plenty of opportunities to capture your ideal audience's attention.
By understanding how TikTok metrics work and how best to track them, you can improve your content strategy and drive more traffic to your account. Some TikTok metrics can even help you work with the algorithm to reach a larger audience and boost video performance.
Where should you begin when it comes to developing a proactive TikTok strategy? Here are the top five TikTok analytics you need to know and what they mean for your account's success.
1. Track your video views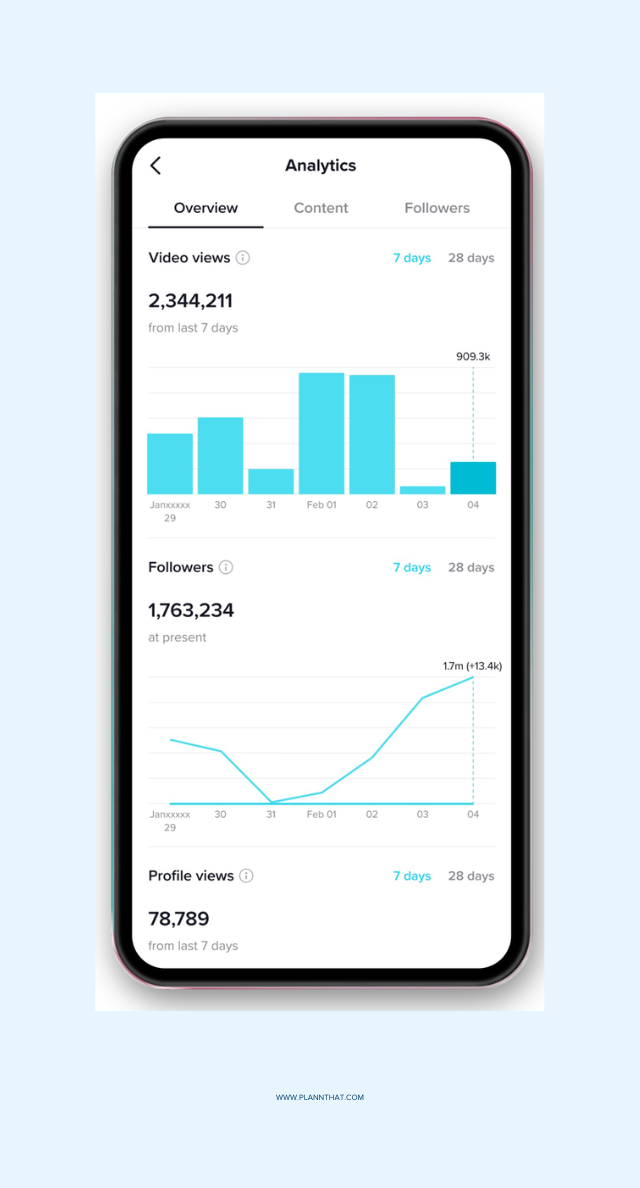 On TikTok, video views are critical! This TikTok metric is the key to determining how many users are watching your content and the number of times they've played it back.
You can access a total viewer count for every TikTok video you share. You can use this data to understand your content reach and the true scope of your audience.
TikTok's in-built analytics tools even allow you to go one step further. You can find the average watch time for your videos to determine the effectiveness of your hook and how many people stay tuned to see your entire video.
The more you know about how many people are viewing your content and who they are, the more effectively you can plan to create with your target audience in. mind. A strategic approach could help you on your way to producing some of the top videos on the app!
2. Check your engagement rate
On most social media platforms, your engagement rate matters. This figure relates to the number of people who like, comment, share, save, and otherwise engage with the videos you produce.
Engagement is a priority for the TikTok algorithm. There's no point in posting videos without receiving tangible results from your audience. By producing and publishing videos that inspire action, you can use TikTok to generate leads, drive sales and inspire conversions for your small business.
A large number of comments on your TikTok videos can indicate that you are creating content people want to talk about. This can allow you to start conversations and build your community in support of your business goals.
Knowing the average engagement rate of your content is also helpful in identifying your highest and lowest-performing content pillars. This can give you the information you need to dive deeper and produce content that gets people talking.
3. Review your hashtag performance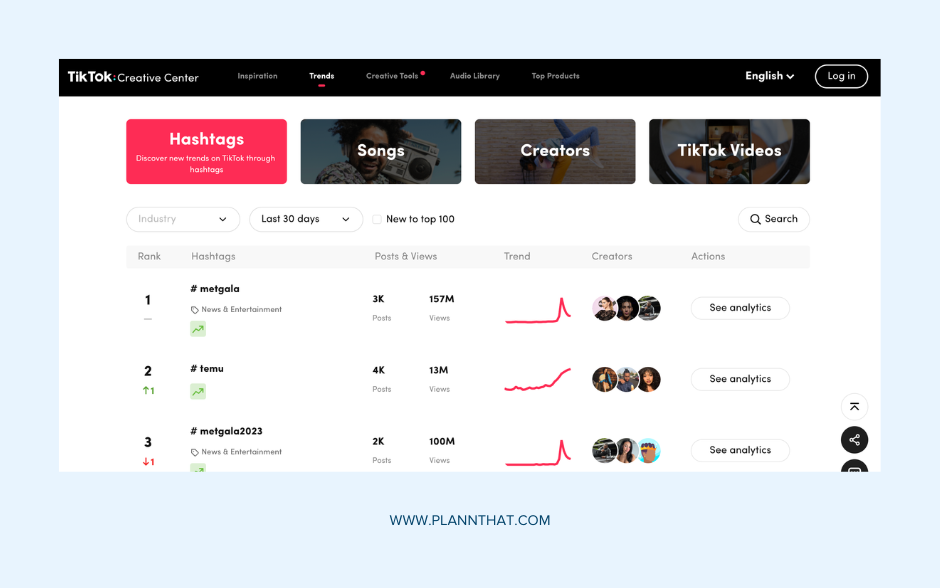 Hashtags can be a great tool for TikTok discoverability. By conducting hashtag research and pinpointing high-performing hashtags, you can make it easier for new users to discover your videos on the platform.
Hashtags allow your small business to reach your ideal audience. By curating a selection of location-specific and niche-specific hashtags, you can get your content in front of customers that are already searching for your products or services.
With the right hashtag strategy in place, you can make data-driven decisions about what content to create and how to reach your ideal audience on TikTok.
The key to getting hashtags right on TikTok is to pick a mix of high-volume and highly-specific hashtags. This will give you the opportunity to reach new users and ensure you're getting in front of highly relevant audiences, too.
4. Track your follower growth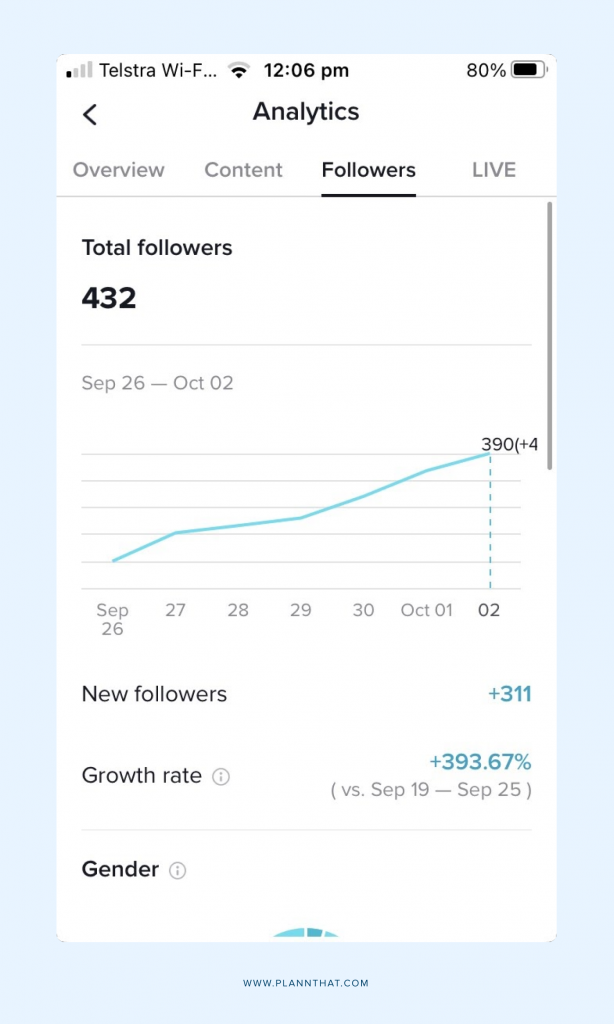 Follow growth is a strong indicator of your overall success on TikTok.
While your follower count on any social media platform can be seen as a 'vanity metric', a growing account tends to be a successful account. Alongside other more impactful metrics, your follower growth rate on TikTok can reveal how quickly you're winning the trust of new users.
You can look for trends in your growth rate to identify where your new followers are finding you and how others might do the same.
Ultimately, your follower count is about quality, not quantity. A huge audience of irrelevant users isn't going to deliver any tangible results for your business. Instead, prioritize growing your follower count in a sustainable way, ensuring you're attracting high-intent and high-value new followers along the way.
5. Keep tabs on conversions
As a small business, you want to ensure every marketing channel you use is pulling its weight. At the end of the day, boosting reach and brand awareness are helpful ways to grow your TikTok account and presence with TikTok users.
But in order to see an impact on your bottom line, you need to track these essential TikTok metrics: conversions.
Whether you're looking for website clicks or app downloads, tracking your conversions within the TikTok performance over tab is key to your long-term success. The more users that take meaningful action with your business (such as making a sale or submitting an enquiry form), the more value you're extracting from your social media marketing strategy.
Out of all the analytics and stats we've covered, this TikTok metric has to be the most important for businesses of all sizes.
Top tips to keep in mind
To get the most out of your TikTok metrics, you'll need to ensure that you are using a TikTok business account with full access to all TikTok analytics features.
It's a good idea to revisit your content and account performance metrics as often as you. This way, you'll be able to see and respond to any changes or new developments soon after they occur.
For the best results, we recommend logging into your business account metrics dashboard at least once a week. Dive into your performance overview tab, check your followers tab and compare your top viewer count over a range of time periods.
The more data you have up your sleeve, the better placed you'll be to produce TikTok content that moves the needle for your business.
Ready to show up on TikTok like a pro?
We're here to help you work smarter, not harder. Sign up for a 7-day free trial of Plann Pro and get ready to auto post your strategic TikTok videos and track your metrics with ease.