It's almost impossible to use any social media platform without spotting a hashtag. These clickable keywords are one of the most popular tools used by brands, creators and businesses on social media, and with good reason.
By picking the right hashtags for your post, you can boost the reach of your social media content and grab the attention of high-value users. It's all about serving your stunning, high-quality content to the right audience at the right time.
Fun fact: did you know that the word 'hashtag' has become so widely known that it was actually added to the dictionary in 2014? Keep this one up your sleeve for your next trivia night!
The festive season is filled with stacks of content opportunities for your business. So, it's your job to find the most useful, powerful hashtags to add to your posts this holiday season. Whether you're looking to drive sales, boost brand awareness or grow your social media following, adding the right hashtags to your posts needs to be at the top of your agenda.
Luckily, we've done the heavy lifting for you. Keep reading to discover 40 of the most popular, high-performing holiday hashtags to use on social media in 2021.
What's all the hype about hashtags?
Hashtags may have slipped into our everyday language and even onto our clothing, but this wasn't their original purpose.
In fact, the main aim of hashtags is this: to categorize your posts on social media platforms. Once you add a hashtag to your post, it will appear in the search results whenever someone is browsing for that key term.
There are stacks of benefits to adding hashtags to your social media posts, including:
• Boosting the discoverability of your social media content and getting your brand in front of hundreds (if not thousands) of new followers for free.

• Serving your carefully curated content to high-value audiences who are already interested in the topic of your post.

• Increasing the chances of organic reach, follower growth and conversion (all without making a dent in your marketing budget).
In our humble opinion, hashtags are one of the best ways to drive results from your social media marketing efforts.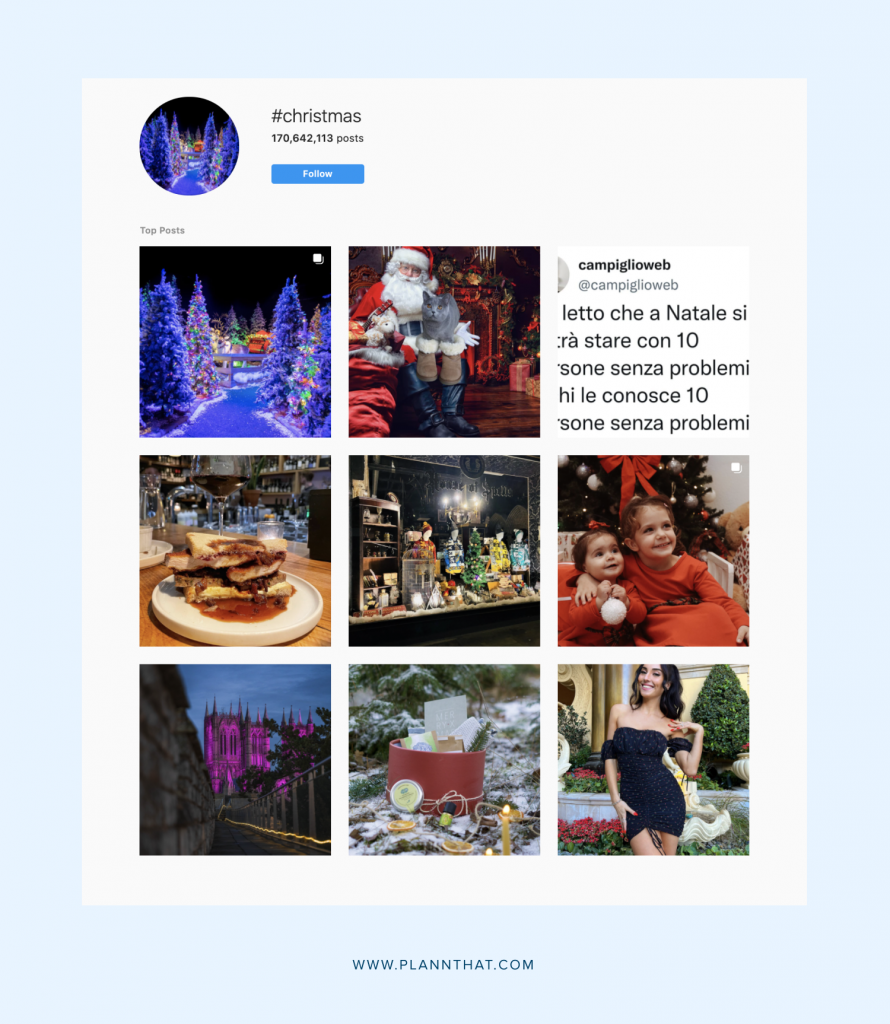 But how many hashtags should be used in a post?
The simple answer is: it depends.
Mostly, it depends on which social media platform you're using.
In a recent announcement from Instagram, we learnt that the best number of hashtags to add per post is three to five. Ideally, these should be using a mix of niche and popular hashtags and even a few branded hashtags so your followers can easily find your content.
No matter what platform you're using, make sure you're focusing on quality not quantity. Do your research and check the search volume of each hashtag before you add it to your posts to ensure you're picking a mix of popular and hyper-related hashtags, too.
Using hashtags on Instagram
There are a bunch of ways to use hashtags on Instagram.
You can add a few hashtags to your Instagram bio, but you're working with a limited amount of characters (250 characters, to be exact).
Our tip? Stick to one or two branded hashtags that encourage your followers to share user-generated content featuring your products or services.
Plus, make sure to inject a few relevant hashtags to every post your share on Instagram. Drop up to five hashtags in the first comment of your Feed posts and don't forget to leverage hashtags in Stories, too.
Using hashtags on Facebook
While they're a less common feature on Facebook, hashtags can be a useful tool to expand the reach of your content.
By adding branded hashtags or hashtags related to events and promotions to your captions, you'll increase the interactivity of your posts. Plus, you might even be able to increase the number of users finding your posts from Facebook's search results, too.
Generally, though, you will still want to stick to a minimal number of hashtags on this platform. Using one to three per post will keep your content from looking overly promotional.
Using hashtags on LinkedIn
Like Instagram, you can use hashtags in your profile or add them to comments and posts.
Hashtags on LinkedIn do serve an important purpose to help new connections discover your content.
They help organize, categorize and filter content. But you'll want to consider a similar technique to using hashtags on Facebook. LinkedIn currently recommends three hashtags per post and be sure to link these back to what your post is talking about.
What about the best holiday hashtags?
It's time to take advantage of all the opportunities that the holidays offer.
But you might be wondering how to know which hashtags are performing the best? Luckily, we've scouted out 40 of the top hashtags to pepper into your social media content this festive season.
Best hashtags for Thanksgiving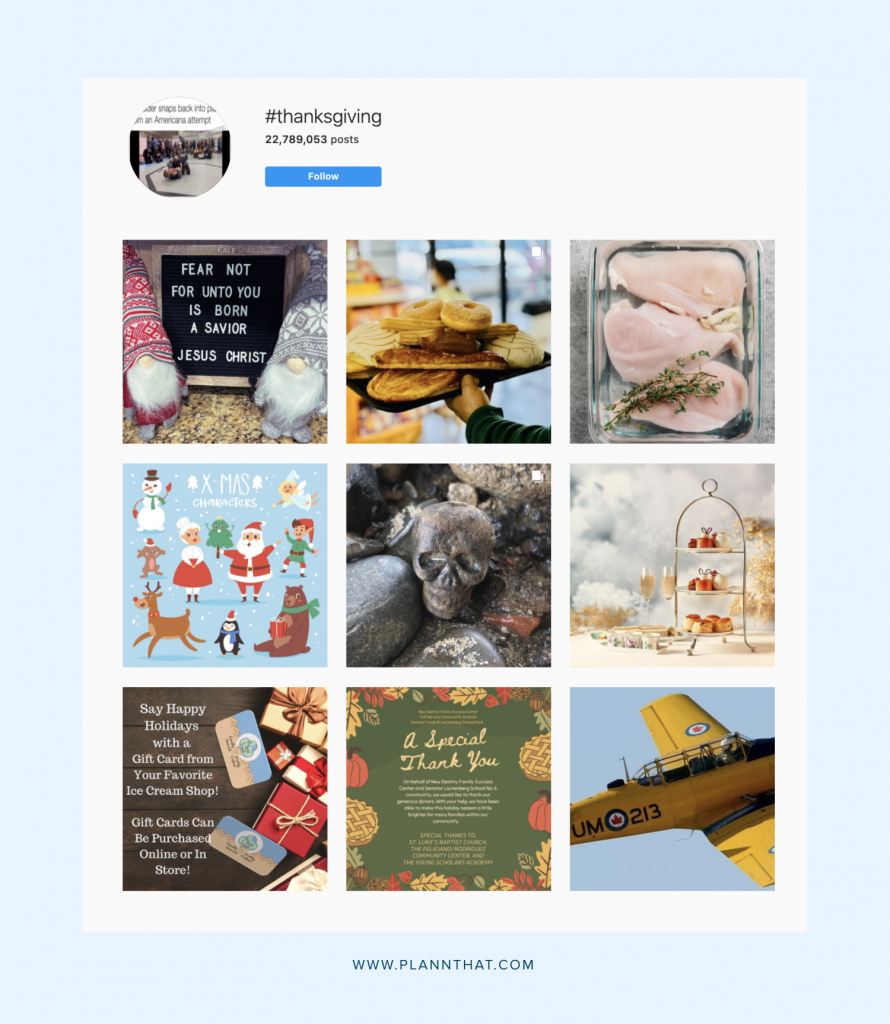 A lot of the highest performing hashtags for Thanksgiving are variations on the name of the holiday.
We have done the work for you in determining which variations are performing the best.
Here are 10 of the best Thanksgiving hashtags to use this year:
• #Thanksgiving
• #Friendsgiving
• #BeThankful
• #ThanksgivingDinner
• #FamilyTime
• #Thanksgiving2021
• #TravelTip
• #HappyThanksgiving
• #TurkeyDay
• #TurkeyDay2021
Best hashtags for Christmas
Selecting Christmas holiday hashtags is all about playing with the name and common traditions associated with this popular holiday.
So, we've put in the research to ensure each of these Christmas hashtags for Instagram and other platforms is performing the highest—keeping your content visible.
Check out 10 of the best Christmas hashtags for 2021:
• #ChristmasMood
• #ChristmasDay
• #ChristmasEve
• #ChristmasCheer
• #ChristmasTime
• #ChristmasTree
• #Christmas2021
• #AllIWantForChristmas
• #TisTheSeason
• #ChristmasCountdown
Best hashtags for New Year's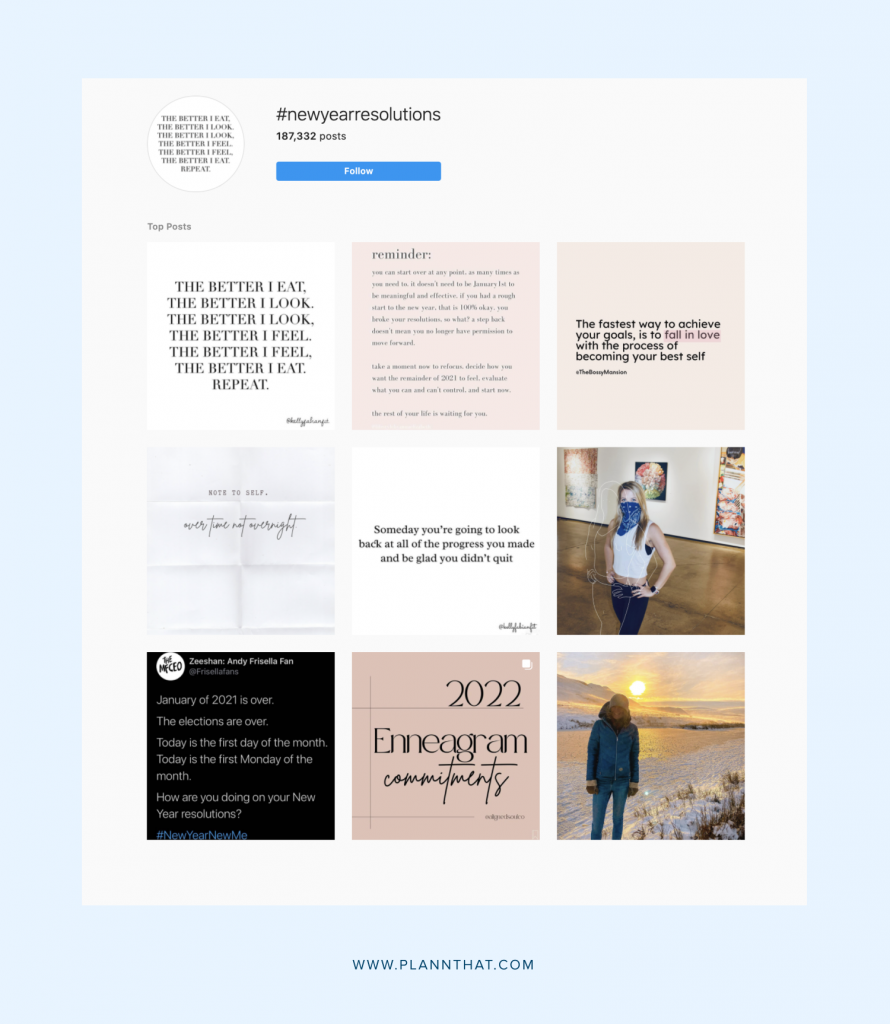 Maybe you're looking for hashtags to share a business win, look back on the year that was or look forward to the New Year ahead. Using New Year's hashtags is a great way to close out the calendar with a bang and kick-off 2022.
Play around with these 10 best hashtags for New Year's:
• #HappyNewYear
• #HappyNewYear2021
• #NewYear
• #NewYearsResolutions
• #NewYearsDecorations
• #nye
• #NewYearsCelebrations
• #NewYearNewMe
• #EndOfYearCelebration
• #NewYearNewStart
Best holiday hashtags with humor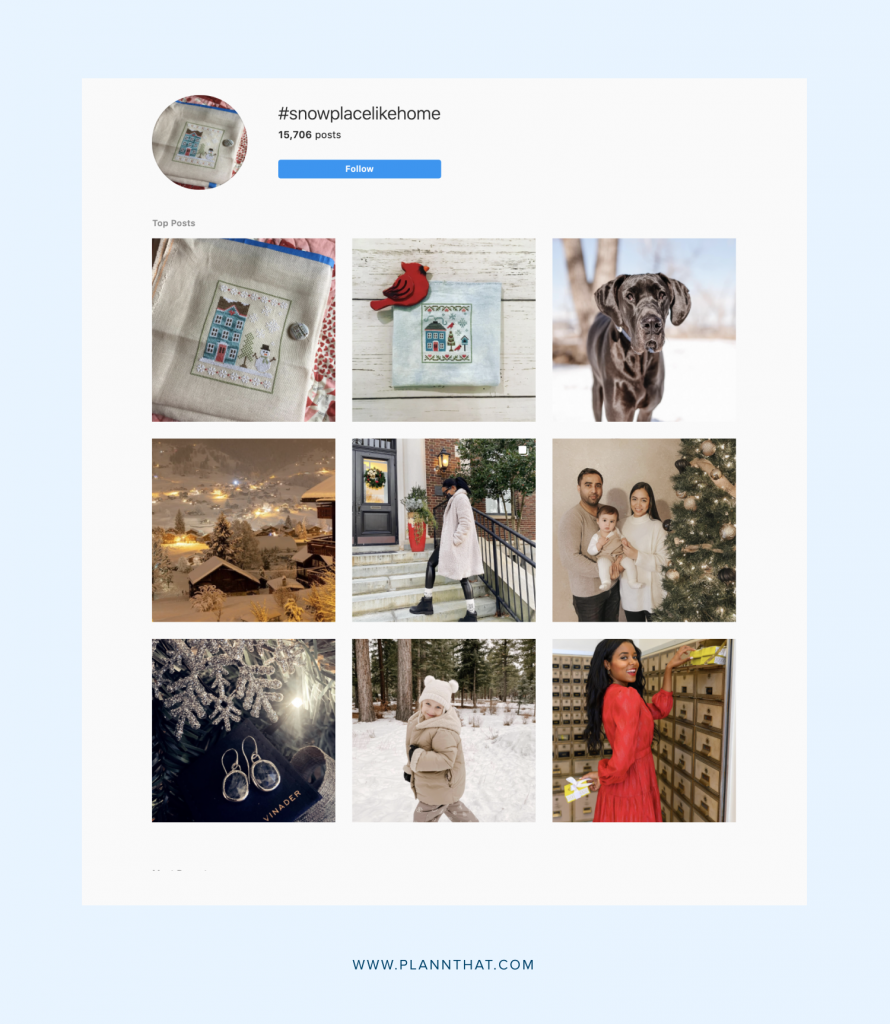 The holidays are all about taking a load off and having some fun. Your audience are people too, so make sure to spice up your social content with a few fun, lighthearted hashtags.
Here are 10 funny holiday hashtags that are performing best:
• #SleighAllDay
• #WeSleigh
• #ChristmasSweater
• #SnowPlaceLikeHome
• #RestingGrinchFace
• #DeerToDream
• #SantaPaws
• #HoHoHo
• #SnowMuch
• #MyBestElfie
Have fun celebrating the holidays and add a dash of cheer to your social content with these must-try festive hashtags. Find those hashtags that are performing the best for you or your brand.
Did you know you can easily save your hashtag sets using Plann's hashtags collection feature? Go on, sign up for a free 7-day trial of Plann today and boost the visibility of your holiday content with hashtags.