As a brand, business or creator, you have no shortage of social media platforms to choose from. And we're not just talking about the big tech players like Facebook, Instagram, Twitter and LinkedIn.
Now, a new breed of social media apps are hitting the market and shaking up the game for anyone looking to tap into the power of social media marketing.
From photo-sharing platforms to monetization apps for creators, there are stacks of new social media networks to add to your radar in 2023. Luckily, we've done the hard work for you to round up four must-see new apps entering the social media space. Let's dive in.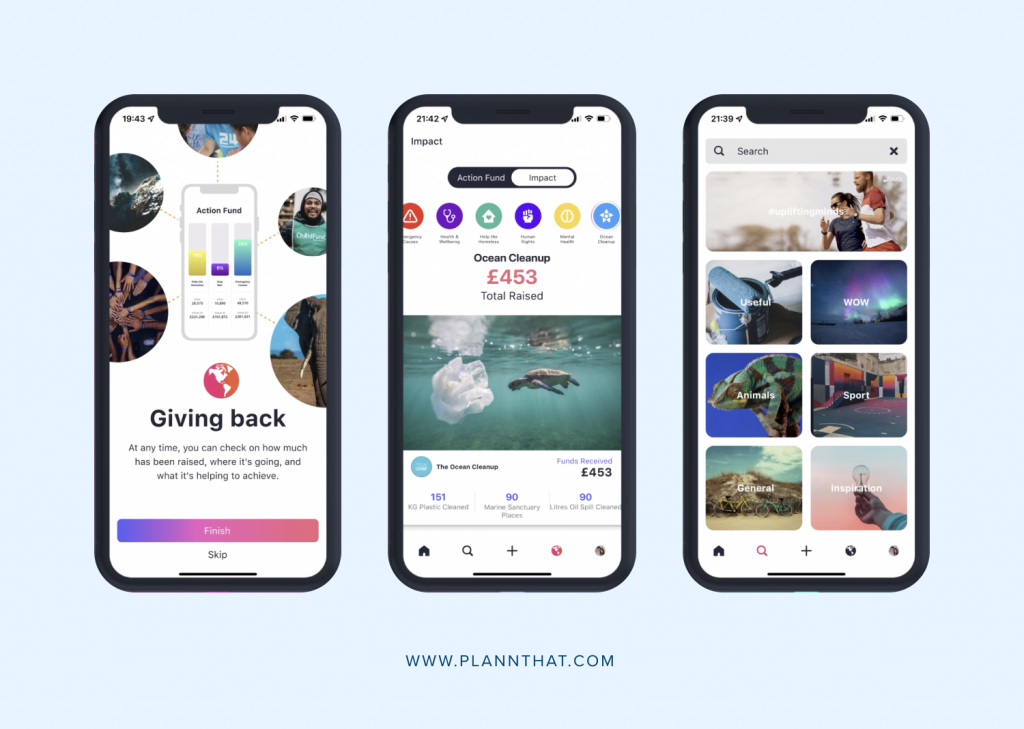 Launched in December 2021, Supernova is an exciting new social media that's labelled itself as a new ethical alternative to the big social apps like Facebook and Instagram.
Why? Well, 60% of Supernova's ad revenue goes to charities, with brands and creators able to choose which charities they support. It's all part of this platform's mission to become the social media app that gives back and makes a tangible difference in the world.
Advertisers can choose where their revenue goes by charity categories (from Climate Change to Animal Welfare to Human Rights). Plus, Supernova uses a team of human moderators to keep out haters and ensure everyone feels safe and included on the platform.
It's still in its infancy, but Supernova has the potential to change the social media landscape for the better.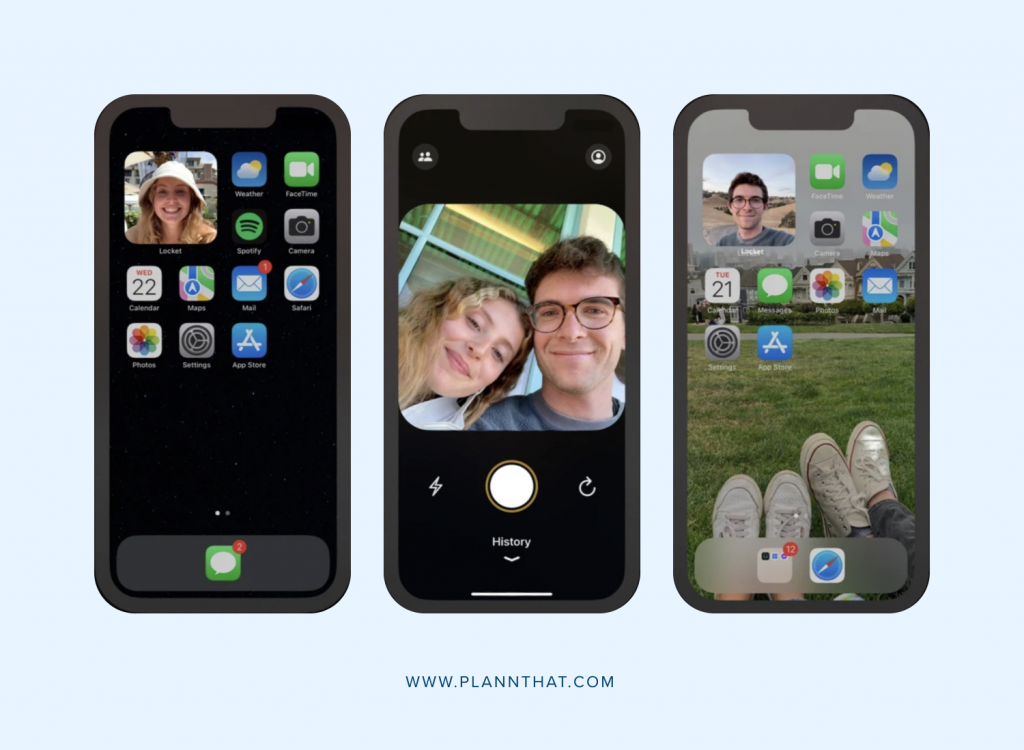 Social media has become a visual-first experience. That's why we're excited to see the launch of Locket, a new social app that turns Apple's widget system into your own private social media platform.
Here's how it works: the Locket widget shows you live pictures from your friends, right on your Home Screen. Once a friend sends you a picture, it instantly appears on your Locket widget. Then you take a photo and send it as your response through the app.
Plus, users can only have up to 5 friends on the app at a time, helping to keep the experience tailored and personalized. Think of it as a portal straight to the people you care about (no algorithm or promoted posts in sight).
Locket is already making waves after launching on New Year's Day in 2022. This social media app has already topped the US App Store charts and has received over 1 million global installs so far.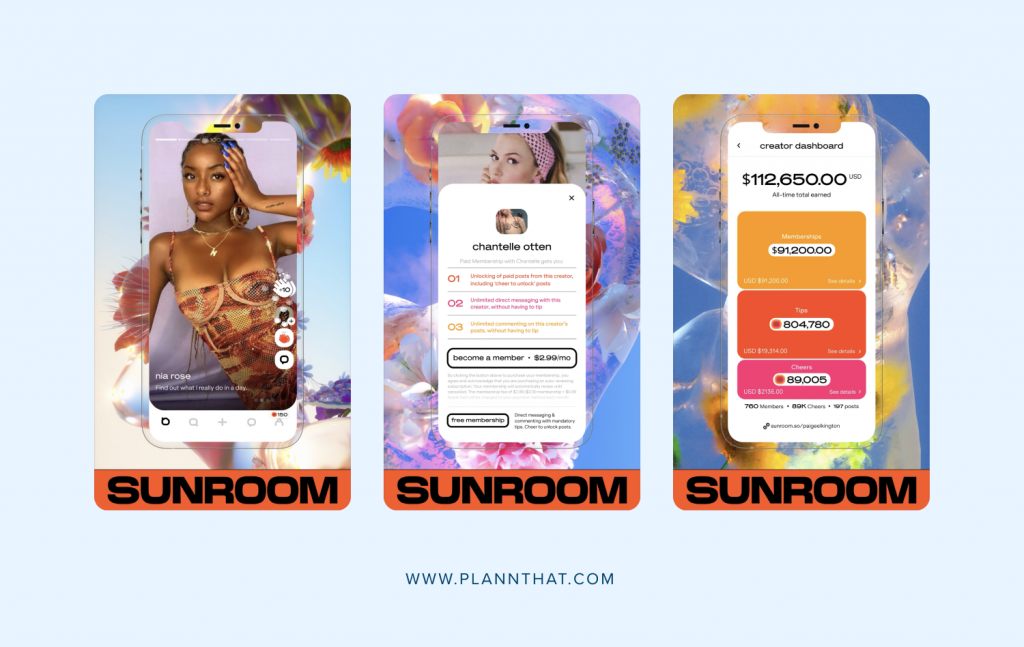 The creator economy is booming in 2023, and new social media apps like Sunroom are helping to change the game for influencers and creators across the globe.
Founded by Lucy Mort (ex-design director at Hinge) and Michelle Battersby (ex-marketing director at Bumble), Sunroom provides a new way for female and non-binary creators to monetize their content.
They know how much guts it takes for creators to put themselves out there, which is why they've built an inclusive new app and community that sees making money on your own terms as a form of liberation.
Sunroom gives its creator a stack of ways to monetize their content, from monthly subscriptions to tips and reactions. Plus, the Sunroom team have their sights set on building out a range of personal finance tools for creators (such as banking and investment features) to help creators maximize the money they generate in the app.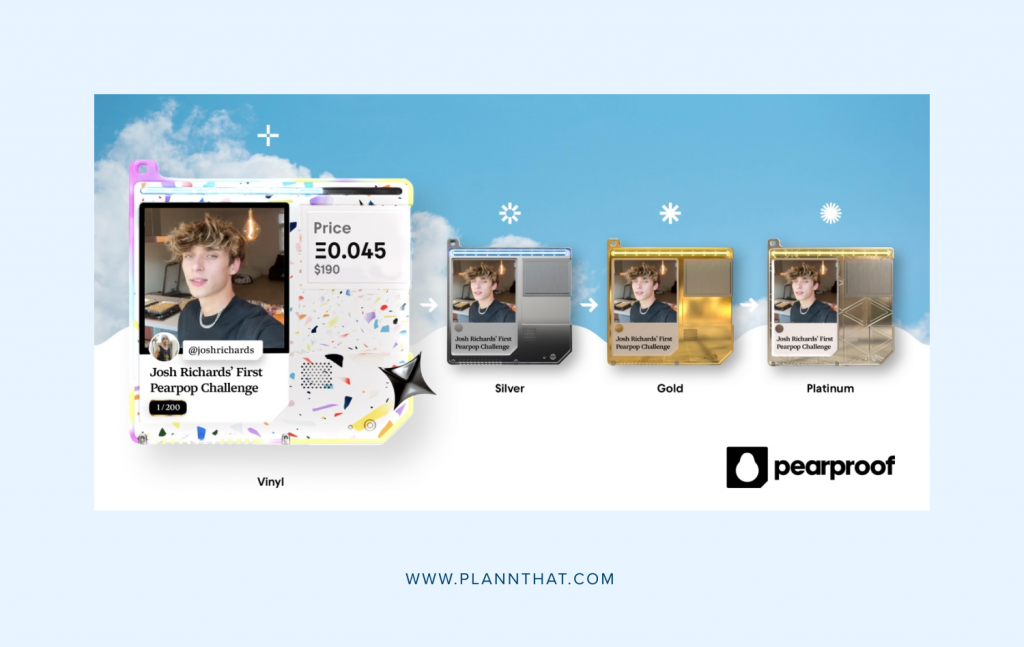 Have you heard of PearPop? It's a social media collaboration platform that allows fans to bid for shared screen time with their favorite TikTok creators. Currently, there are over 100,000 creators using the platform, from Madonna to The Chainsmokers.
While the PearPop app has been around since 2020, the app has just launched a new offering: Pearproof. It's a web app that allows creators to sell NFTs of their social media posts.
While other apps are offering a similar service, the Pearproof app actually allows these NFTs to gain value as a post generates more social engagement.
Pearproof uses a tiered system that allows these NFTs to grow in value (from silver to platinum levels and beyond). Plus, when an NFT sells, Pearproof will ensure 90% of the profits go directly to the creator.
Level-up your social media presence in 2023 with Plann
Have you heard? Plann supports the world's fastest-growing social media platform, TikTok (along with Instagram, Facebook, Pinterest, LinkedIn and more!). Build momentum with short-form video, diversify your marketing strategy with viral social video platform TikTok.
Ready to expand your reach on social media with Plann? Go on, redeem your 7-day free trial of Plann Plus. If you don't like it, keep using Plann for free!