The festive season is right around the corner. So, now is the perfect time to get ahead and plan out your 2023 holidays content idea.
With so much happening this time of year, you don't want to spend the holidays glued to your phone or manually posting social media content, right?
If you don't already have a social media content workflow that you can set and forget, we're here to help you get organized (with a little help from our favorite free app to schedule your Instagram posts).
Below, you'll find a breakdown of the best ways to nail your 2023 holidays social media content, including:
• The best free scheduling app to put your social content on auto-pilot
• How to create stunning social media templates
• Our favorite caption starters so you'll never be lost for words again
• How to build plug-and-play hashtag sets
• Crafting content themes for each day of the week
• The benefits of cross-promoting your social content + MORE!
Ready to spend more time enjoying that glass of wine and delicious Thanksgiving dinner and less time worrying about your social media posting schedule?
Let's dive in!
How to Put Your Social Media Content on Auto-Pilot This Holiday Season
1. Use a free scheduling app
Do you know what's stressful? Trying to come up with the perfect social post idea, sourcing a stunning image, crafting a compelling caption AND finding the right time to post it on the fly.
Especially during the busy holiday season, crafting social media content on the go makes it tricky to stay consistent and produce the best content possible.
The solution? Content batching.
By setting aside a block of time once a month to plan, create and schedule your social media posts, you can take all the stress out of trying to figure out what to post (trust us, this will save you stacks of time in the long run).
With a free scheduling app like Plann (of course, we're a tad biased!), you can batch create your holiday content across Instagram, Facebook, LinkedIn, and TikTok.
Simply upload your asset, write a caption and set your scheduling date and time. It's that easy!
Want to take your social media content creation to the next level? Upgrade to a paid Plann account, and you'll have access to one of our most popular features: auto-posting.
This means no more push notifications or furiously checking your phone during the holiday season. Instead, your posts will seamlessly publish to your channels without you needing to lift a finger. Pretty smart, huh?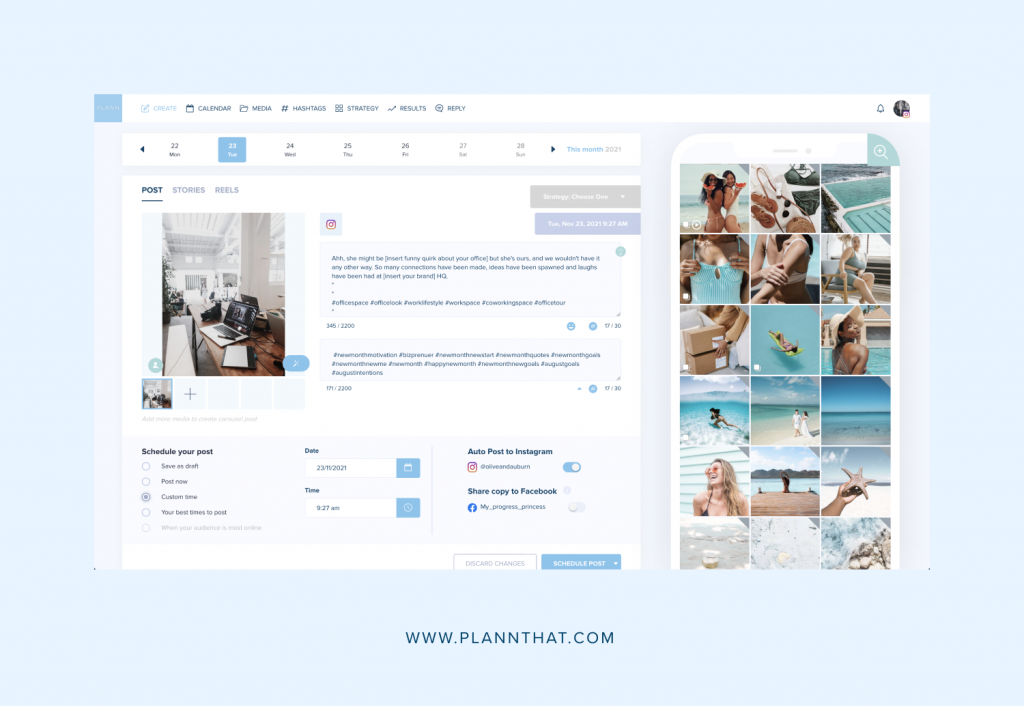 2. Create social media templates with Canva
Do you use a mix of quotes, testimonials or any kind of graphic templates in your social media content? What about cover photos for your Reels or branded Instagram Stories slides?
If you answered 'yes' to any of the above, then you need to create social media templates.
Not only do templates help you create a consistent, on-brand aesthetic, but it literally shaves hours off your content creation time.
We love Canva (a free graphic design tool) that lets you browse 100s of templates or build your own from scratch. Simply load in your brand colours and fonts, upload your logo and imagery and get creating.
Once you've created a bunch of templates you adore, simply hit save and come back to them when you need to whip up another social media post.
Templates are a lifesaver when it comes time to batching your 2023 holiday content as all you need to do is change the words, upload a new photo, and download your graphics.
The best part? Canva integrates seamlessly with Plann (because nobody's got time to be messing around between tabs!). You can design, create, and schedule without leaving your Plann dashboard for the ultimate time-saving workflow.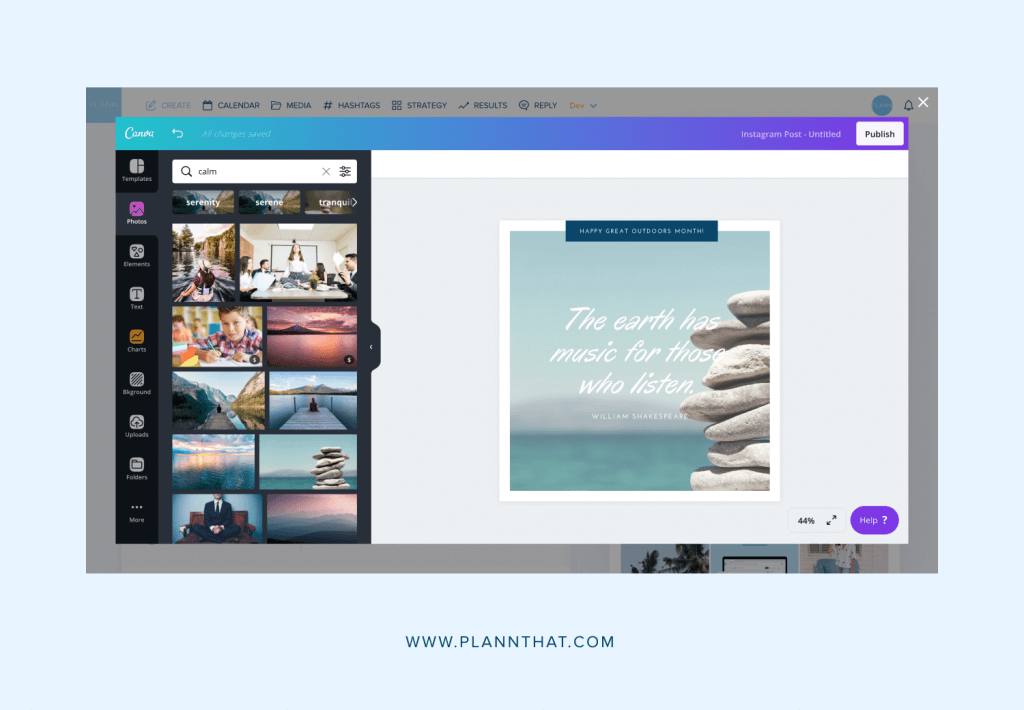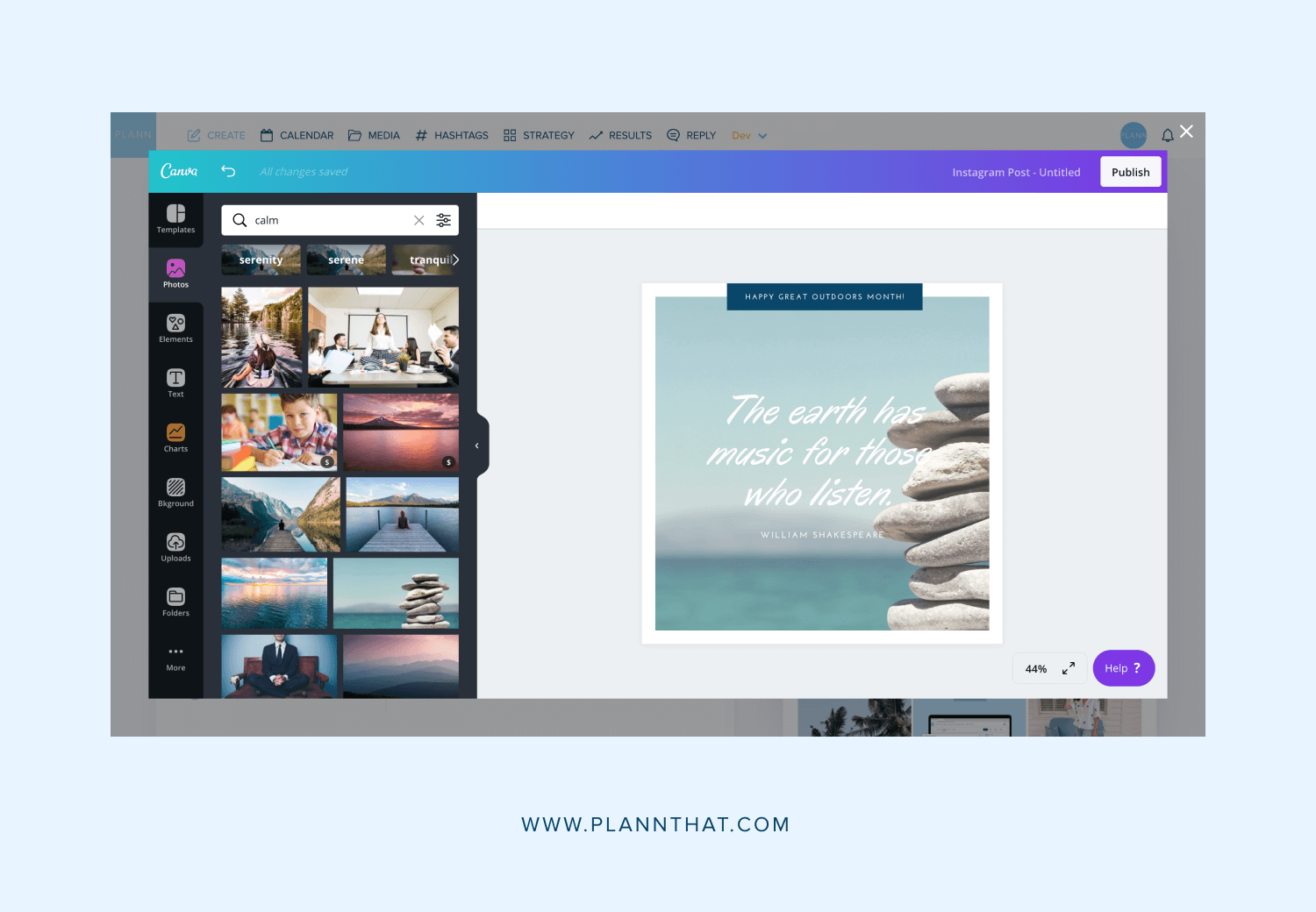 3. Harness caption starters
Don't consider yourself an incredible wordsmith? Even if copywriting isn't in your wheelhouse, there's no reason why you can't write memorable captions for your social media post.
The secret? Give Plann's caption starters tool a crack (you can thank us later).
With our caption starters tool, you can shuffle through 100s of done-for-you captions tailored to exactly what post you're trying to write.
Simply choose your "purpose" (there are nine to choose from, including posts to 'inspire', 'educate' and create a sense of 'community') and browse the results.
When you find one you like, fill in the blanks, tweak any of the language so it sounds on-brand for your business, and schedule your post. It's that easy!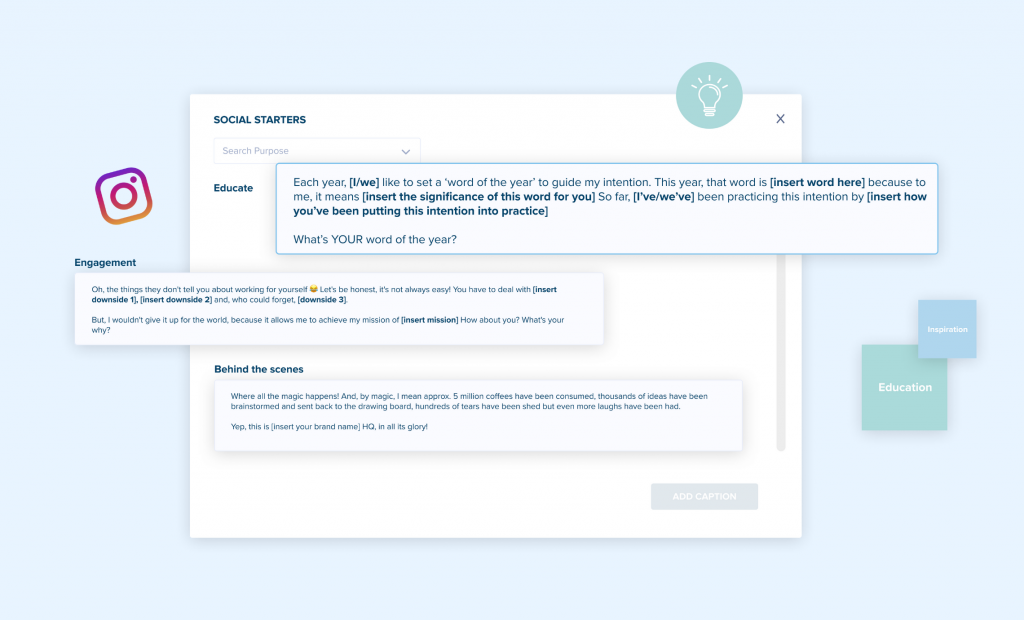 4. Create hashtag sets
There is an art to choosing the right hashtags for your social media posts. You want to have the perfect mix of popular, high traffic hashtags plus hyper-relevant hashtags that align with your post topic or niche.
But when you're in a time crunch (like when you're trying to come up with 2023 holiday content ideas!), it can feel impossible to come up with a winning hashtag list.
That's why with your free Plann account you can create hashtag sets for all of your content pillars. Pretty smart, if we do say so ourselves!
What's a content pillar? In case you need a refresher, these are the main topics you speak about on your social media platforms.
Let's run you through a few examples. If you're a travel blogger, your content pillars could be:
• Behind-the-scenes of RV life
• Curated travel itineraries
• Best spots to grab a bite in…
On the flip side, if you're a business coach your content pillars might be:
• Money mindset hacks
• Productivity tips
• Client success stories
By having hashtag groups built around your main content pillars, it's ridiculously easy to find the right set of hashtags when you're batch creating content. Talk about the easiest way to nail your content creation workflow!
You can even create hashtag groups for all of the holiday seasons (think: Halloween, Thanksgiving, Christmas – you name it, the options are endless!).
Psst… did you know that Plann also has a tool that auto posts your hashtags to the first comment? Talk about handy!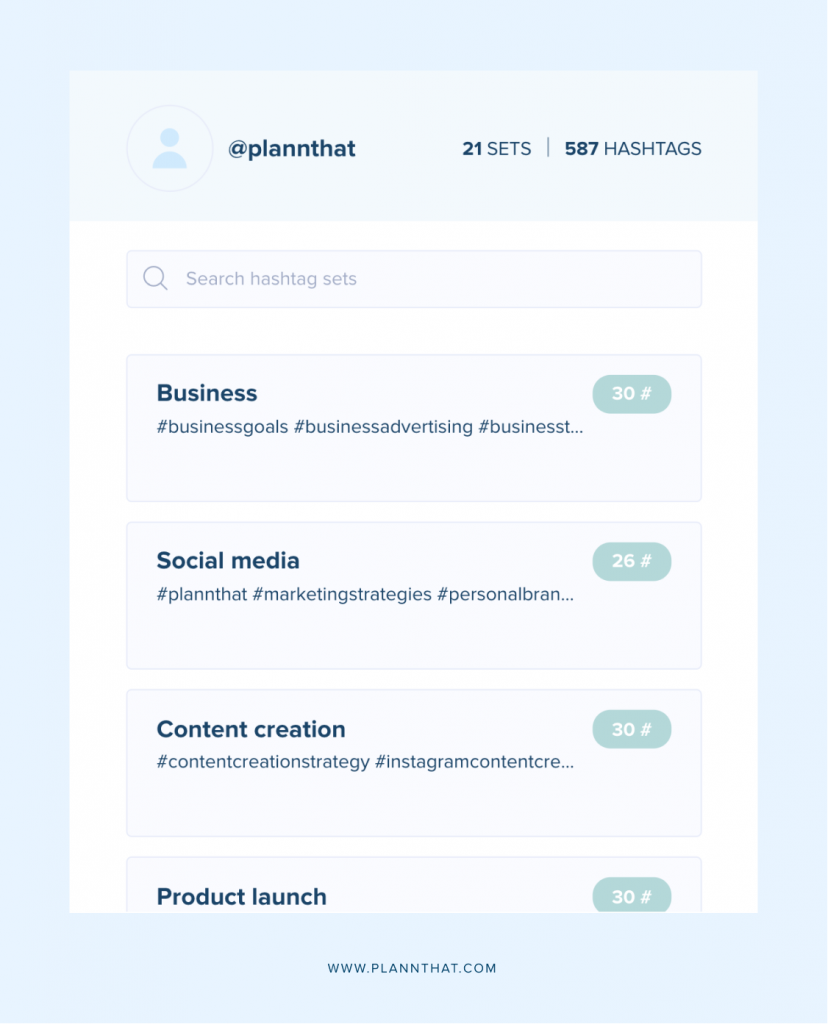 5. Set up content themes for each day of the week
One of the best workflow hacks for your social media creation is using content themes for each day of the week.
What are themed days? It's when you post the same thing on a specific day each week.
Let's run you through a few examples:
• Mondays: post a client success story.
• Tuesdays and Thursdays: share Reels to grow your brand exposure.
• Wednesdays: promote an offer or sale with a strong call to action.
• Fridays: content promo days for your new blog post or YouTube video.
By assigning a theme to each day, it removes decision fatigue and speeds up your content creation workflow.
To help streamline this process, Plann has content prompts and a customizable strategy section to help you get ahead this 2023 holiday season.
You can create your own custom strategy or choose from the dozens of pre-made content prompts broken down by industry.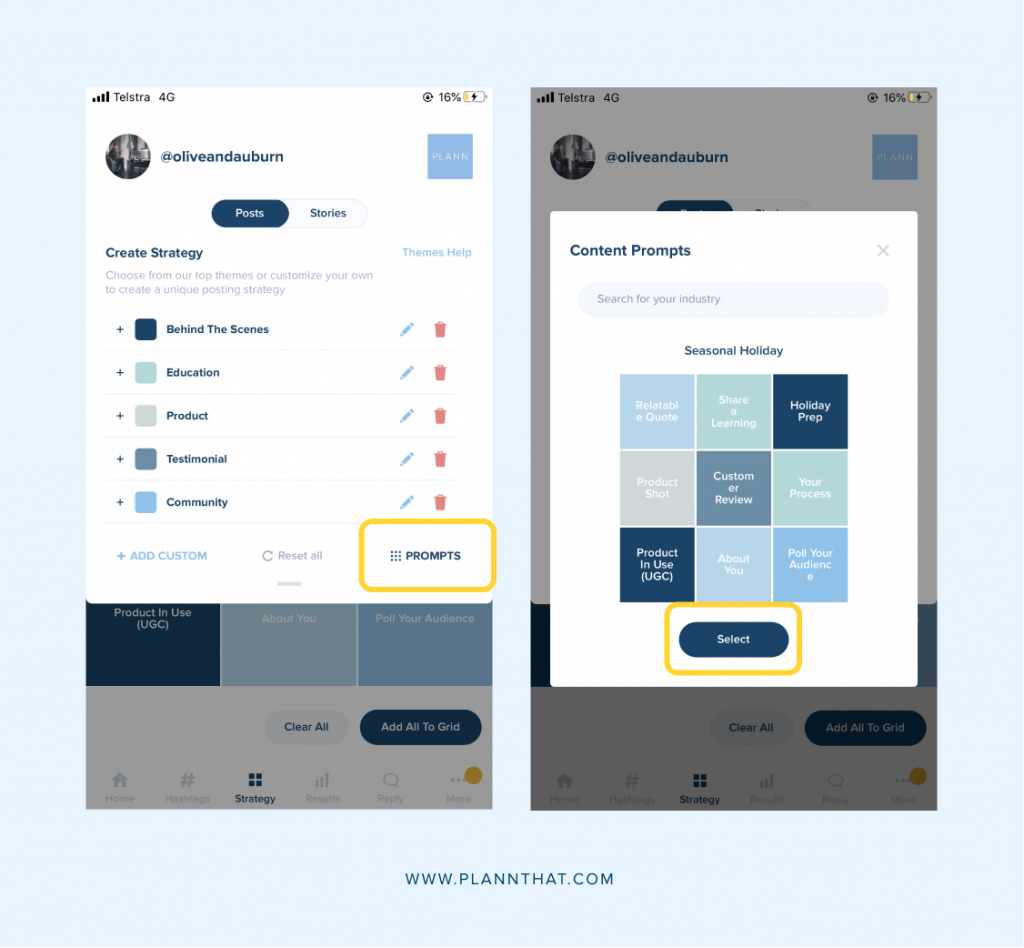 6. Cross-pollinate your social media content
The final step in your content workflow overhaul is to make sure you're sharing your social media posts across multiple platforms.
Chances are you're already juggling more than one social media platform.
Whether you're reposting your TikToks onto Instagram Reels (or vice versa) or building a personal brand on LinkedIn, you might be feeling overwhelmed by the amount of content you need to craft from scratch.
But, it doesn't have to be that way with the right app to schedule Instagram posts and everything else.
With Plann's integration with Canva, you can seamlessly change the dimensions of social media graphics from one platform to the next.
Plus, you can plan, craft and schedule all of your content (from Facebook to Instagram to LinkedIn) all within Plann, making it the ultimate social media content creation solution.
Plann also now makes it easier than ever to share a single post across multiple social media networks at the same time, all in one step with Cross Post – saving you time and taking the stress out of your holiday content workflow.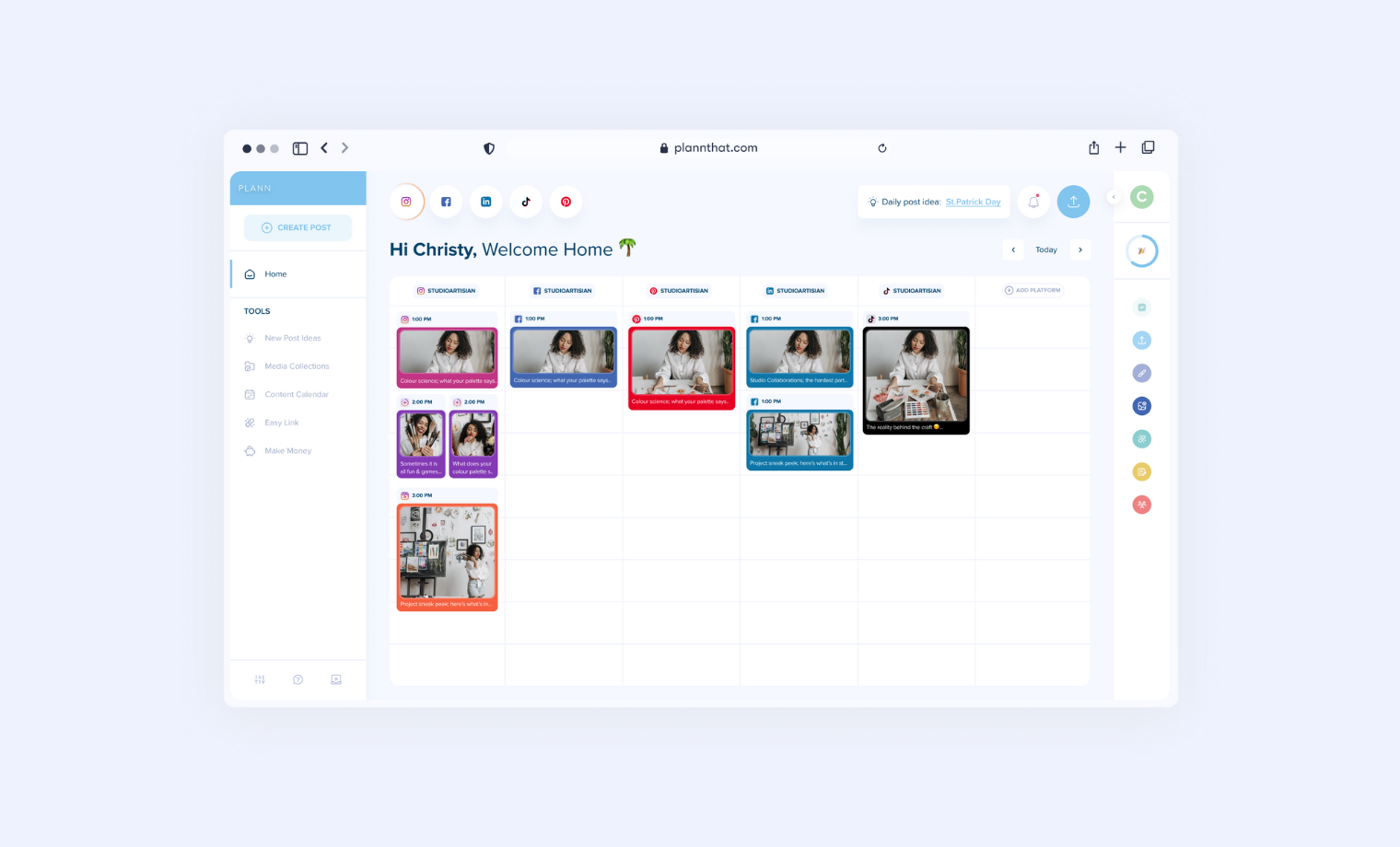 Start batching your 2023 Holidays content ideas with Plann
Ready to set and forget your social media content this holiday season? You need the best free scheduling app to strategize, plan, create and schedule all of your social media posts.
Sign up for a free 7-day trial of Plann today and master your social content workflow this holiday season.