TikTok had taken the marketing world by storm. In fact, the platform is skyrocketing in popularity and becoming a must-use tool for brands, businesses and content creators.
The truth is that TikTok has plenty of unique platform features, from trending audio tracks to crazy transitions and incredible filters.
Fortunately, there are plenty of ways you can master the art of posting epic content on this platform. Ready to take your TikTok content to the next level by harnessing its incredible platform features (including Live videos, Stitching and Link In Bio strategies).
Let's reveal everything you need to know.
How Does TikTok Work?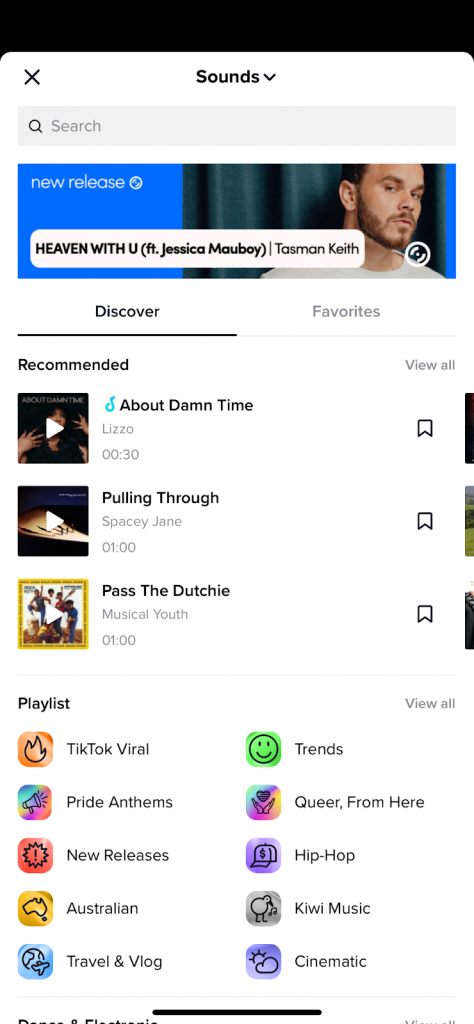 TikTok is a social media platform on the rise. Pioneers of vertical, bite-sized video content, TikTok is reshaping how brands and users consume content in 2022. In fact, Instagram has been fighting to keep up with TikTok's success, launching Instagram Reels as their answer to the viral TikTok video content format.
For business owners, TikTok offers a fun, playful and personality-filled way to showcase your expertise, promote your products and drive brand awareness.
With thousands of users scrolling through TikTok every single day, showing up on this platform is a no-brainer for businesses that want to succeed through social media marketing.
But how? We'll run you through some super helpful tips, tricks, and trends to jumpstart your TikTok growth and skyrocket your account's success.
Optimize Your Account
The first step to getting the most out of TikTok is to ensure your account is optimized to drive traffic and engagements.
From crafting a compelling bio to optimizing your account name and even leveraging your bio link, there are stacks of simple ways you can turn your TikTok followers into paying customers.
Ready to get started by optimizing your TikTok username? Here's what you need to know:
1. Tap on your 'Profile' in the bottom right.
2. Now hit 'Edit Profile'.
3. Under your username, add your new handle.
How To Add A Link To Your TikTok Bio
Once that's done, you can link your bio to your website or eCommerce store. Here's how to get this updated:
1. Return to your profile.
2. Tap the account 'hamburger' icon in the top right (the one that looks like three horizontal lines).
3. Tap on 'Settings and Privacy.'
4. Choose 'Manage Account.'
5. Select 'Switch to a Business Account' and follow the prompts.
6. Once you get to the end of the account wizard, you'll be prompted to 'Edit Profile' – do so. If this option doesn't come up automatically, you can use the Profile icon in the bottom right and click 'Edit Profile.'
7. Add your URL to the TikTok Box.
8. Hit the submit option.
With these simple changes in place, you can ensure your account is easily discoverable on TikTok and help your followers take meaningful action to drive your business forward.
Harness the TikTok For You Page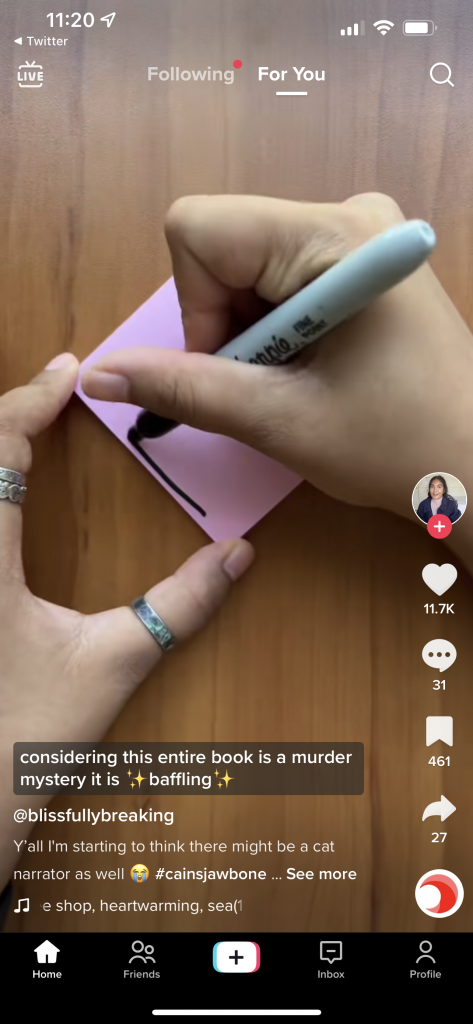 Never heard of the TikTok For You page? We're here to fill you in!
The TikTok For You Page (FYP) is a personalized feed that each user gains access to on TikTok. It's driven by an algorithm and shows you videos and content based on your previous video interactions.
By learning how the TikTok FYP works, you can organically grow your audience by getting your content in front of users who are already interested in the products and services you sell.
Producing engaging content relevant to your niche is the first step to gaining traction in the FYP. Next, you'll want to make sure you're adding searchable keywords into your TikTok video captions to help TikTok understand what your video is about.
Plus, another powerful strategy to boost your chances of appearing in the FYP is to harness the Live function on TikTok. Much like Facebook and Instagram, TikTok lets you go live.
How To Use TikTok Live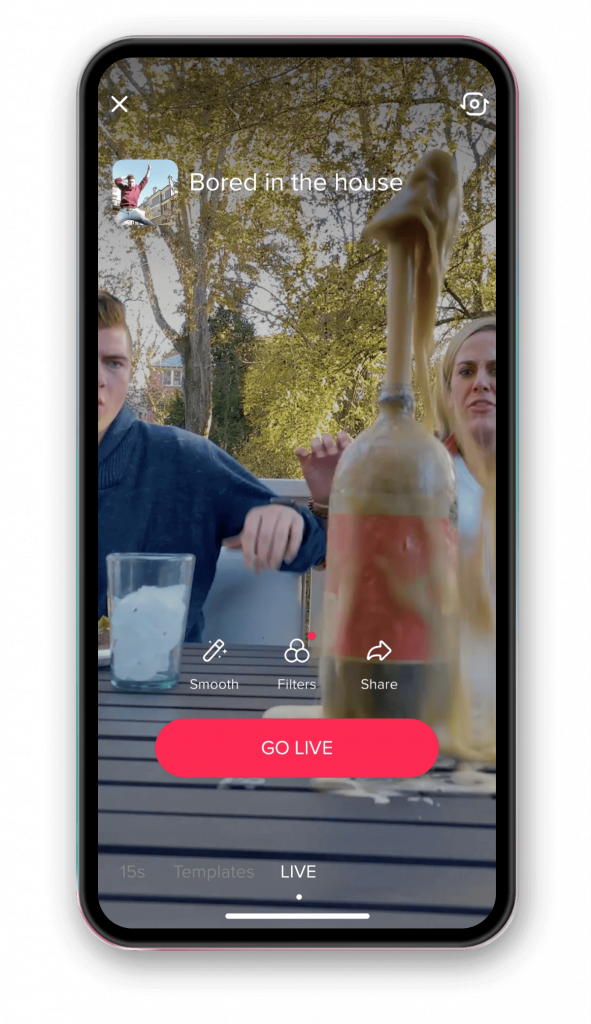 TikTok lives videos are accessed on the top left of the app and take you directly to a feed of people broadcasting live to TikTok. This allows you to interact with the video's host.
As a brand or business on TikTok, going Live gives you real-time access to your audience and helps to build trust and a stronger connection with your community.
How To Get Live Access On TikTok
If you're over 16 years old, you will be able to Go Live on TikTok once you have at least 1,000 followers. Unfortunately, you won't be able to access the live feature before that.
How To Go Live On TikTok
Once you've gained 1K+ followers, you'll be able to go live by following these simple steps:
1. Tap the plus sign in the centre of the bottom bar on your screen.
2. Tap the 'Live' button next to the regular record option.
3. Add a title for your Livestream, then select 'Go Live' to begin.
Join Forces With Other TikTokers
Capitalize on the existing audiences of other TikTokers in your niche by collaborating with them. There are two main ways to do this: stitching and duetting.
How To Stitch An Existing TikTok
You'll often hear people saying "Stitch this" at the start of their videos. Stitching a TikTok simply means using a portion of another creator's video and adding your content to it.
Stitching is easy:
1. Click the 'Share' icon on the video you want to use.
2. Select 'Stitch,' choose five seconds of the video you want to use by moving the sliders, then tap the 'Next' button at the top.
3. The typical recording screen will appear with the Stitched content already added.
4. Record as you usually would, then top on the 'Checkmark.'
5. Polish it with any filters or text you want, and click 'Next'.
6. Complete it with titles and tags, then post. You can also flag your videos to allow stitching.
How To Duet With Another TikToker
The duet is another tried and tested TikTok tradition. Unlike a stitch, duets show the entirety of the video you're recreating alongside your own version.
Choose the video you want to duet, click the 'Share' button followed by 'Duet,' then record your video exactly as you usually would and post. Like stitching, you can set your videos to allow duets.
One thing to note, both Stitch and Duet are features that aren't available to private accounts – you will need a public account to do either.
Consistency Is Key
Perhaps the biggest TikTok tip going is this: be consistent. All the tricks and tips in the world won't help you build an audience if you fail to regularly show up with fresh content. Likewise, if you're bouncing around between niches and nobody has any idea what to expect next, you'll struggle to build a following.
That's not to say you shouldn't jump on trends – you should! But honing in on a specific niche is what ensures you're recognized and followed. Experiment until you find the format that resonates with your audience, then do more of it.
Batching and scheduling your content ahead of time is the best way to ensure you always have fresh content going out at the optimal times. It also helps you avoid creator burnout. Plann lets you create a load of content and effortlessly incorporate it into an effective strategy using unique tools and features guaranteed to ensure consistency.
Sign up for a free 7-day trial of Plann Pro today and schedule all your TikTok content ahead of time.