Ever wished you could do more with your existing Instagram content? After all, you worked hard on it — it would be a shame to just post it once, then have IT fade into the abyss of your Instagram feed. If you want to get more bang for your buck with your content, Instagram guides will be your best friend!
'What are Instagram guides?' you say? Well, they're a relatively new feature that allows you to combine your previous Instagram posts or items from your shop into one convenient resource. You can also add text to give more context — for example, if it was a destination guide, you could add a blurb about each place. It's kind of like if a blog post and a carouse had a baby! 
From ranked lists to shopping catalogs, Instagram guides are an awesome way to deliver extra value to your audience and grow your brand. Here, we've put together a guide to everything you need to know about Instagram guides (so meta!)
What are Instagram guides?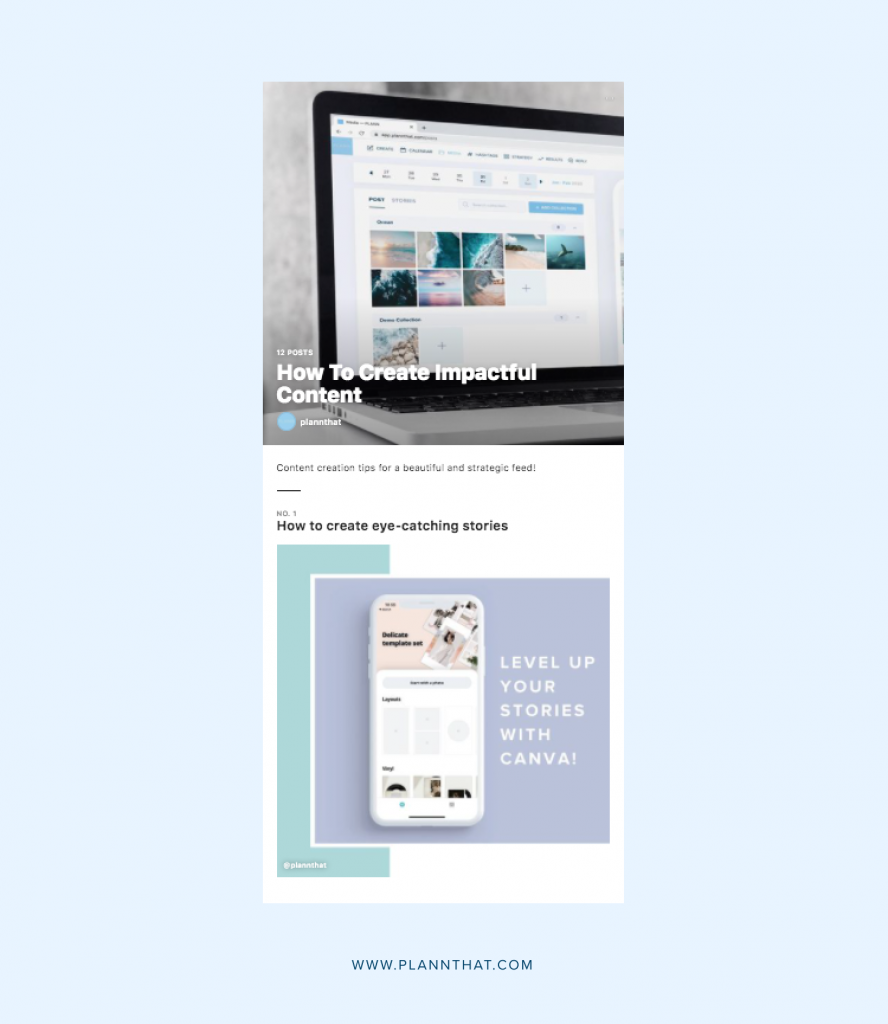 Guides are an Instagram format that combines a curated selection of pre-existing posts, shop items, or geotagged locations. They were originally introduced last year in the height of COVID-19, when a selection of health and wellness experts and influencers were selected to share helpful content.
A few months later, the feature was rolled out to all users.
Now, you can create a guide by clicking the 'plus' button on Instagram and selecting 'guides' from the bottom of the list. Then, you will be prompted to choose from a few different types of guides.
What are the different types of Instagram guides?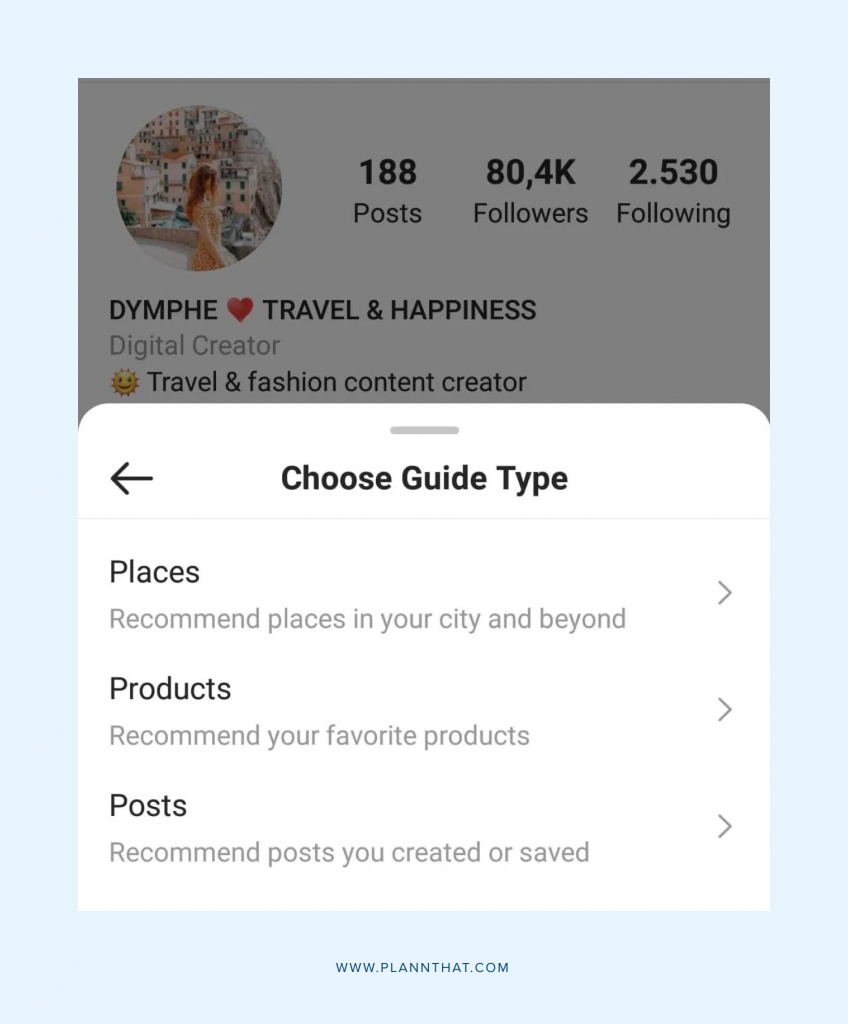 There are three content types of Instagram guides. These are:
Places: Recommend places in your city and beyond. If you select this type, you will be prompted to choose locations based on a geotagging search, saved places, and places tagged in your previous posts
Products: Recommend your favorite products. After you tap this one, you'll be taken to the shop feature where you can add your own and other's products, via search or your wishlist
Posts: Recommend posts you created or saved. With this one, you'll curate a selection of posts you've made on your grid or other people's posts you've saved
What can you use Instagram guides for?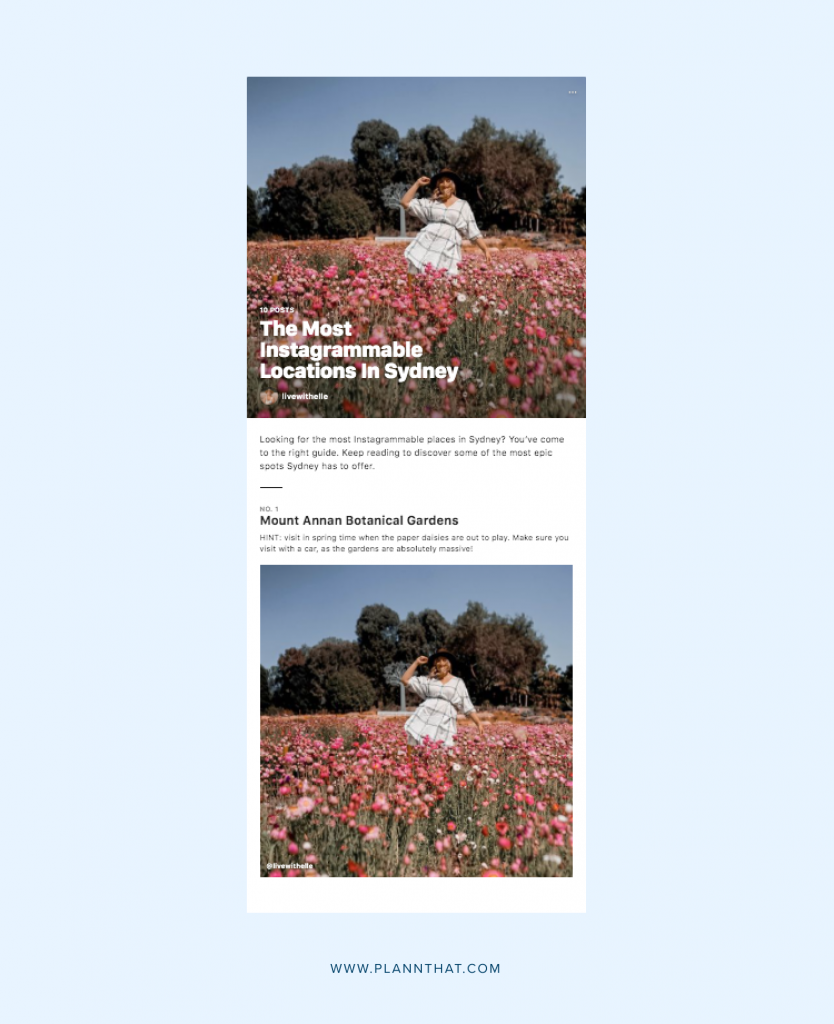 There are so many great ways you can entertain, educate, and enlighten your audience with guides. Each of the different types comes with its own unique opportunities. 
Here are some ideas of ways you can use Instagram guides for your brands:
Places guides: You could create a guide for your city including the best cafes, restaurants, shops, salons, or things to see. This is particularly helpful if you're a hospitality or retail business, as you can include your own business alongside others. Or, if you're a travel blogger or influencer, you could create themed guides including your favorite international locations ie. 'best places to travel with kids' or 'best places for female solo travel.'
Product guides: This guide content type is perfect for sharing gift guides for special occasions, such as Mother's Day, Father's Day, Christmas, or Black Friday sales. If you're a business, you could include your own product as well as other people's. If you're an influencer, this can also be a great way to collaborate with brands, as you can talk about what you love about their products. 
Post guides: This is the best type of guide for sharing informative or inspiring content. You'll often see people create themed guides on topics that teach their audience something new. For example, if you're in the finance industry you might make a guide including tips on how to prepare for tax time — compiling posts from your own Instagram, and other people's helpful posts. Or, if you're a blogger, you might make a guide about the most inspiring bloggers you should be following. This can also a great content type of beauty and fashion creators, as they can create 'lookbooks' around different themes, such as winter fashion or bright beauty looks.
What are the benefits of Instagram guides?
In the overall marketing puzzle, Instagram guides fit neatly into the category of 'content marketing.' That is, they are a great tool for indirectly showing your audience the benefits of your product/service, rather than telling them (ie. direct selling). As guides have a more blog post-like structure, there's plenty of room to give your audience value by teaching them something new. It's a less 'in your face' style of marketing, and one that can help build the like, trust, and know factor so that they're ready to buy from when you when the time comes.
Not only that, but guides are a relatively new content type on Instagram. And, if Reels has taught us anything, it's that Instagram rewards those who are early adopters of new content types. So, by getting on the Guides bandwagon somewhat early, the Instagram algorithm is likely to reward you by showing your content on people's feeds. Not only that, but because it's a less oversaturated content type, it's more likely to stand out against all the noise — which is great for your visibility and engagement.
Where can you share Instagram guides?
When you create a Guide, it sits within the 'Guides' tab on your profile. While it won't show up on your grid, a preview of your Guide will also show on the feeds of those who follow you. You can also share your guide to your stories by clicking the little arrow button on the right-hand side and selecting share to stories.
How to create an Instagram Guide
The steps for creating an Instagram Guide depend on what type of content you want to use. You can see a step-by-step guide for each of the guide types below.
How to create an Instagram Guide with posts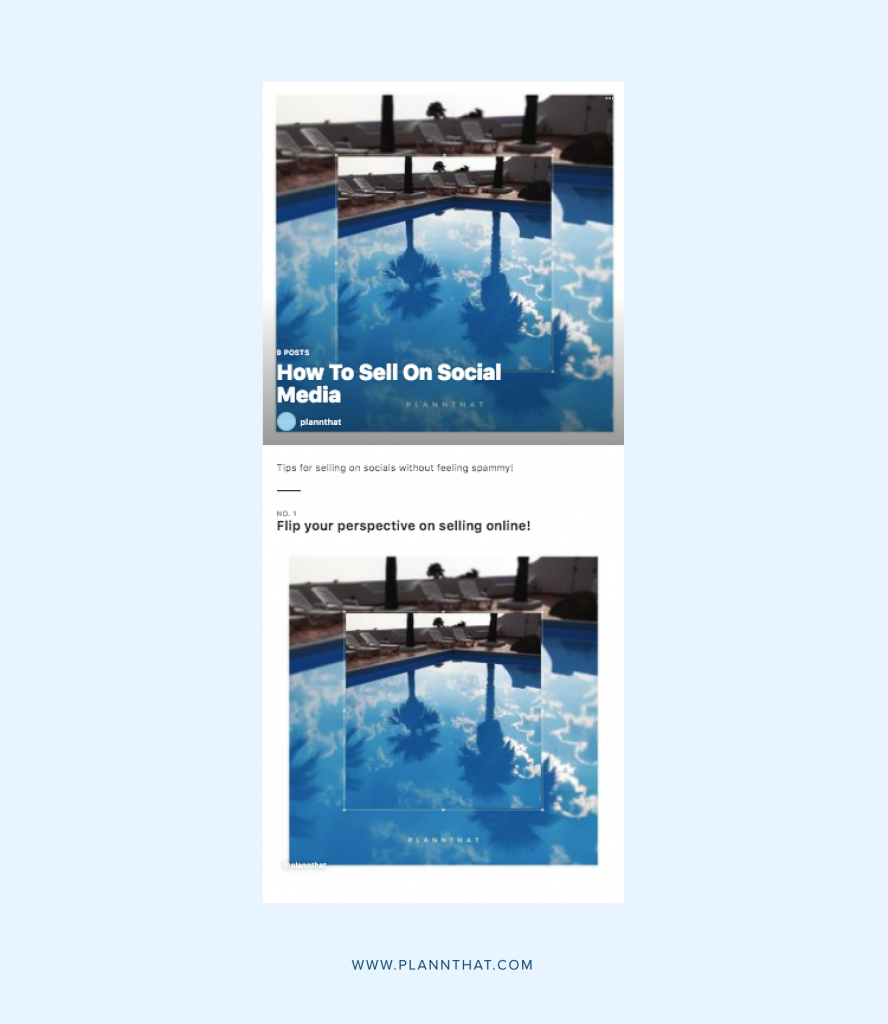 1. From your profile, click the plus symbol in the upper right corner
2. Click 'Guide' then 'Posts'
3. Choose posts from your grid or a saved post from other accounts
4. Once you've selected all your posts 'Tap Next'
5. Add the name of your guide and description, as you won't be able to post your guide without it. You will also need to add a description for each post. You can also change the cover photo from the prepopulated one by selecting 'Change Cover Photo'
6. Select Next' in the upper right corner
7. Tap 'Select' to post your guide
How to create an Instagram Guide with places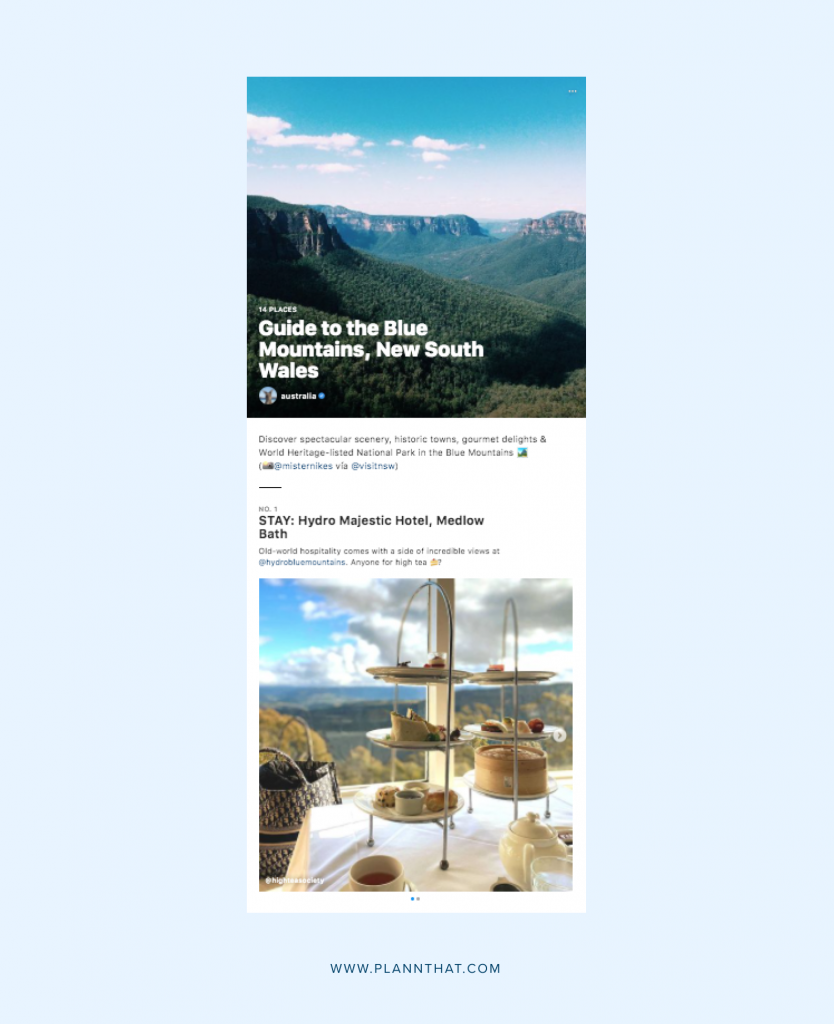 1. From your Instagram profile, click the plus symbol in the upper right corner
2. Select 'Guide', then 'Places'
3. Search for a place by the geotag and select the post you would like to include. You can also select geotagged posts from  your saved folder, or that you've published before
4. Once you've selected all your posts, click 'Next'
5. Add the name of your guide and description, as you won't be able to post your guide without it. You will also need to add a description for each place.. You can also change the cover photo from the prepopulated one by selecting 'Change Cover Photo'
6. Double check the prepopulated place name, and edit as needed. If you wish, add a description
7. Once you've added all your places, tap 'Next' in the upper right corner
8. Tap 'Share' and post your guide to your stories
How to create an Instagram Guide with products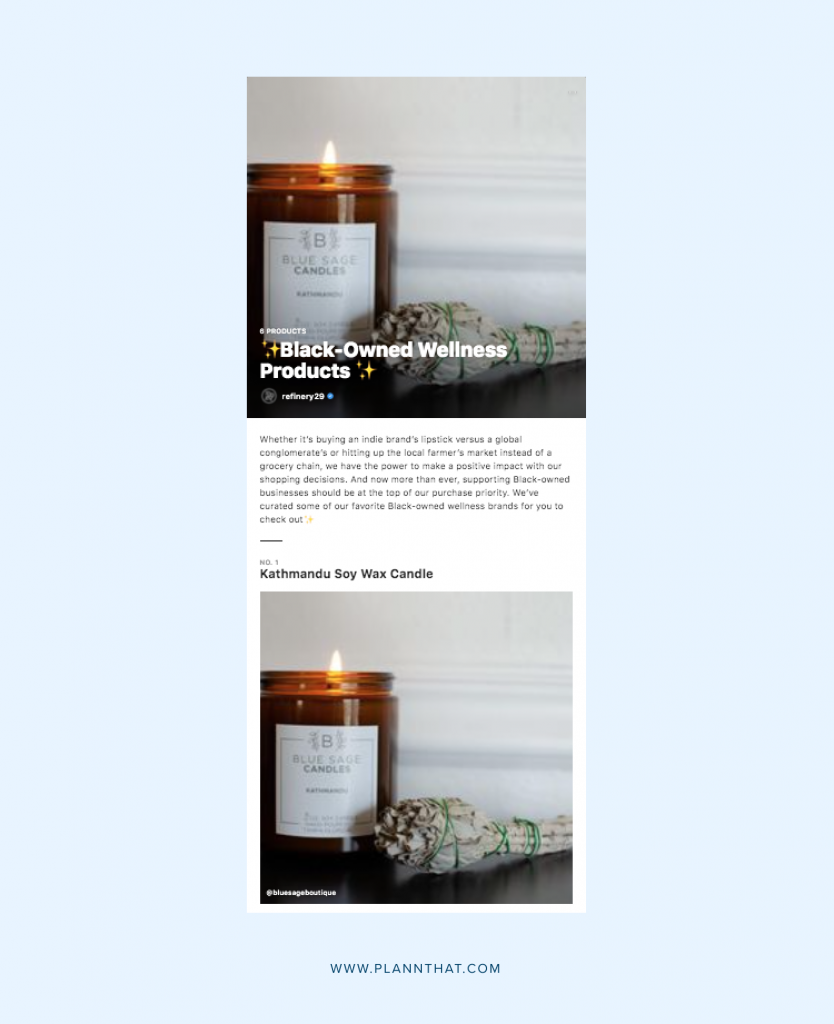 1. From your Instagram profile, select the plus symbol in the upper right corner
2. Select 'Guide', and then 'Products'
3. Search by account for the product you'd like to include.  You can also select products you've previously saved to your wishlist 
4. Select the products you want to add and select 'Next'. You can also choose to include multiple posts for a single product if available, and they will show up in a carousel-style post
5. Add the name of your guide and description, as you won't be able to post your guide without it. You will also need to add a description for each product. You can also change the cover photo from the prepopulated one by selecting 'Change Cover Photo.'
6. Once your guide is complete, select 'Next' in the upper right corner and share it to your profile. You may also choose to share it to your stories, too
Now you know how to create Instagram Guides that will beguile your audience. But, you're going to need some awesome grid posts to populate it. Sign up for a free Plann account today and start creating and scheduling your Instagram content