If you've been following along with our social media posts about the new Plann desktop version, you already know we've been wanting to release a desktop version for ages. In fact, we have wanted the new Plann desktop version of our multi-award-winning app ever since we launched Plann into the app stores over 18 months ago.
So, what is involved in building software?
And what has been going on behind-the-scenes?
If you're a wee bit curious and would love to know more about the long journey that we've been on, to build and launch the new Plann desktop version, you're going to absolutely love this blog post.
We're going to be completely open, raw and real with you.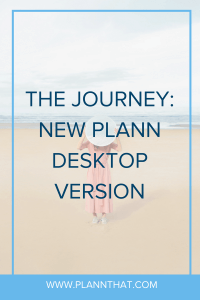 THE BEGINNING: NEW PLANN DESKTOP VERSION
As mentioned in our IGTV video with Plann Founder Christy, and COO Tim, we revealed that a desktop version of our Instagram Scheduling and Strategy app has been in the works for a long time.

When we asked our roller skating, salt-and-vinegar-chips-loving founder to spill the beans. Here is what she had to say:
"Ohhh gosh, I literally tried getting our desktop version up and moving so many times over the last two years. But it was never the right time. Or I never had enough money to fund the development, the servers and the operations (and customer support channels!).
As a customer-funded business, it's the generous support of our users who pay for Plann who have funded the entire web platform. Which makes it even more exciting to get it out and into their hands!"
But What About The Plann Team?
In the last year, the Plann team has grown quite rapidly. And with more hands on deck, it has meant that we've been able to get our new Plann desktop version up and running a lot faster.
Here is what a few of our flipp'n awesome team members had to say about the beginning of our journey to desktop…
"Ohhh, it has been SO awesome. I've witnessed stressed meetings in yoga pants to cheering with wine glasses, all depending on how we go. The desktop version isn't just "scheduling from a desktop" but so much more." – Asa (Marketing)
"Watching the Web app come together and shift from being a discussion with developers, to actually having a tangible, physical webpage to test and prep for release is mind-boggling, and super exciting to be a part of!" – Dani (Designer)
"As an early adopter of the Plann app (as a user) it was so exciting for me to join the team earlier this year and to be immediately let in on the secret that our desktop version was coming. You have no idea how hard it was to stop myself from screaming it from the rooftops!"  – Mackayla (Marketing)
THE LEARNINGS: BEING A TECH STARTUP
A lot of people (including us!) often forget that at the end of the day, Plann is a humble, self-funded tech startup hailing from the sunny shores of Sydney, Australia.
Our founder Christy has a background in TV advertising. So she needed to learn all the 'tech speak' required to bring Plann into existence!
Here is what Christy has had to say about being the founder of a tech startup, and what she's learnt since launching the first version of the Plann app:
"Development takes such a long time, I really had no idea!
For example, I could make a new feature. But squeezing it into existing sprints in-between design updates, features, sneaky bugs and then add Instagram changes on tops, means our lovely community might not see the ideas for a few months.
Also, I had absolutely no-freaking-idea at just how much it costs to build a tech product. Lots of people misinterpret us for a Social Media Agency because we have a product for Instagram. But in reality, we're a tech business."
But What About The Plann Team?
We like to think that we have the most incredible team on the planet. They're kind, collaborative, and they all put in the maximum effort because we believe in the Plann mission.
But what has it been like for our team to enter to world of tech startups? Well, here's what a few of them had to say…
"Tech startups run a pace that is not for the faint-hearted. Individuality, creative thinking and working flexibly is embraced. There's an unspoken rule of informality and an overwhelming sense of friendliness that makes it so easy for just about anyone to fit in. I love how everyone just gets stuff done." – Antoinette (Operations)
"What's really been brought to light for me is just how much work goes into running and maintaining and improving an app. It's crazy when you actually list out all the different skills needed and tasks to do in order to run a company such as Plann." – Dani (Designer)
THE FINAL PRODUCT: NEW PLANN DESKTOP VERSION
It has been a long journey to the new Plann desktop version. There's been a lot of brainstorming sessions, late nights and a whole lot of time spent on software testing.
Here's what our team have to say about the final product… Plann desktop.
"I've been asked for years by clients and friends whether my favourite Instagram scheduling tool (Plann) had a desktop version. It was so hard to say 'no' because I knew how much people wanted it. So it is really relieving for me to now be able to shout from the rooftops that Plann is available on a desktop too!" – Mackayla (Marketing)
"I find the process of writing captions on my phone tedious and hard work. My preference is using an actual keyboard. Something about hearing the keys clack away on the keyboard makes my thoughts flow more freely. No longer will I need to write my Insta captions on an email, send them to my phone and then copy + paste to my Insta caption. Hooray!" – Antoinette (Operations)
"It's gonna help a lot of people to design their perfect Instagram grid so they can grow their business, make sales, and have influence." Nicolas (Developer)
"The most exciting thing for me personally has been watching over 600,000 people in 120 countries download the app. Knowing that they all have a huge opportunity to build their dream careers with Instagram is incredible. Plann desktop has come from our users asking for it and being built out of necessity. It's freaking exciting for me as it shows our users' needs are growing along with their businesses." – Christy (Founder)
WANT TO WIN PLANN FOR FREE?
So, there you have it, you curious thing!
We hope you've really enjoyed having a peek behind the curtain and learning about the journey we've been on to bring the new Plann desktop version into the world.
There's still time to jump on the waitlist and be in the running to win Plann for free. So why not give it a go?
Click here to join the Plann desktop waitlist.