Marveling at the wonders of technology is a daily occurrence for us here at Plann. Not only because we're always finding innovative new ways to make your social media journey easier, but also because of the incredible tech trailblazers who use our app. It's one of our greatest honors to help these organizations use social media to spread the word about their life-changing technology.
Ovira is undoubtedly one of those companies. This Aussie, female-led health tech startup is changing the conversation around women's bodies. They've created a wearable device that achieves a result that is nothing short of revolutionary for women — it instantly relieves cramps during the menstrual cycle. 
Ovira are determined to end the unnecessary suffering of people with periods, everywhere. They do so not only through their gamechanging product, but also through creating a community that isn't afraid to talk about taboo topics like endometriosis, PCOS, and periods.
With such an incredible mission and brand it's not hard to see why Ovira has amassed over 156,000 followers on Instagram in a short time. Not to mention them also gaining over 185K followers and over 2.8M likes!! Here, we chat to their talented creative lead Georgia Finney about how they've used Instagram (and recently, Plann!) to build a groundbreaking brand around their product.
Tell us about Ovira's mission, and how social media has helped with achieving it?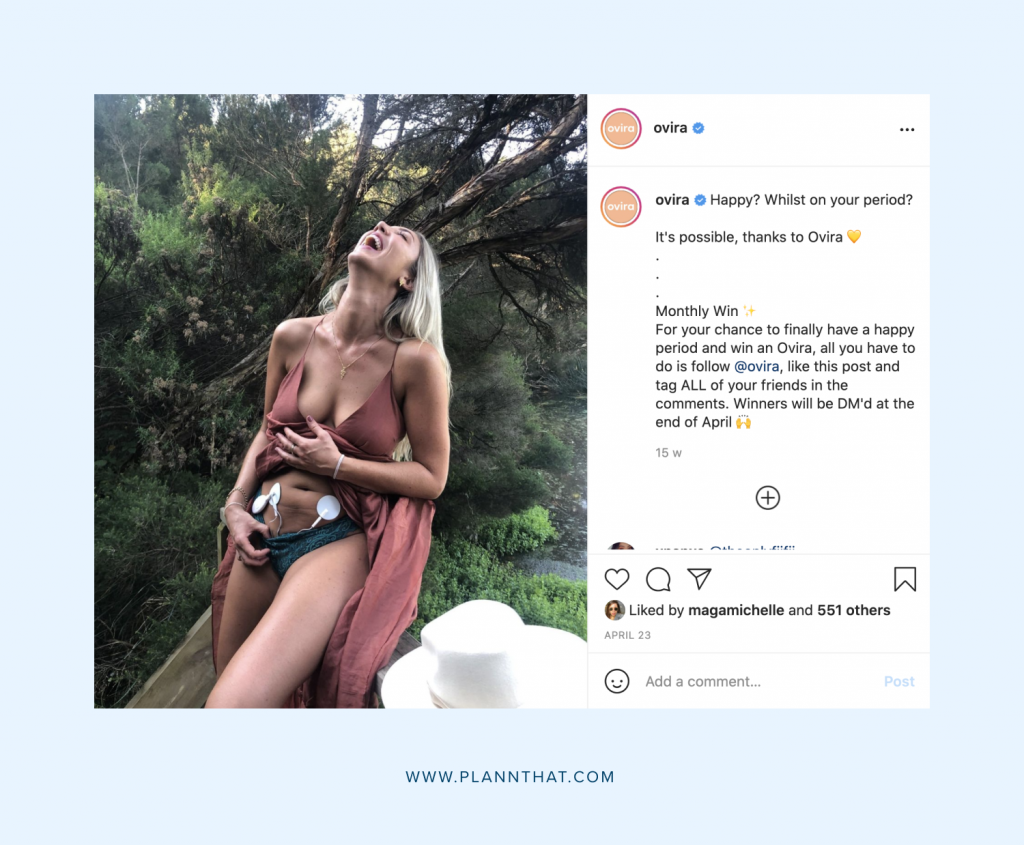 "Every single thing we do at Ovira is fuelled by the desire to radically change lives. We're working to unleash the potential of women, so they have the freedom to live their best lives and change the world for the better. We're not only offering innovative, menstrual health solutions, but we're actively creating a movement that changes the conversation around misunderstood and universal problems. 
Our content aims to show people they deserve to be heard, understood and proud of their bodies without carrying the weight of period taboo and shame that have been around for far too long. We've been able to lean into social media to publish content that educates and smash stigmas, so that we can encourage conversations, empower women and restore positive social norms. We've been lucky enough to impact the lives of tens of thousands by building a community of people that share the same common values and goals as us."

What goals did you have for Instagram when you started your business?
"I think in the early days, it was very much about just getting our presence out there on Instagram — with over 1 billion people on Instagram every month, it was a no brainer that this was a platform we had to be on if we wanted to change the lives of as many people as possible. 
The most important aspect was creating awareness around Ovira, but more so, learning about our customers and audience — who they were, the problems they were facing, what content resonated with them, and also engaging with our community. Living with pain doesn't start and end with your period; it impacts your work, social life, confidence, and mental health. For some people, our product is really a symbol of hope and can be emotionally charged, so we always make sure we engage and speak to our customers like we would a close friend, making sure they feel nurtured and understood through their experiences."

How has Instagram helped in growing a sense of community around your brand?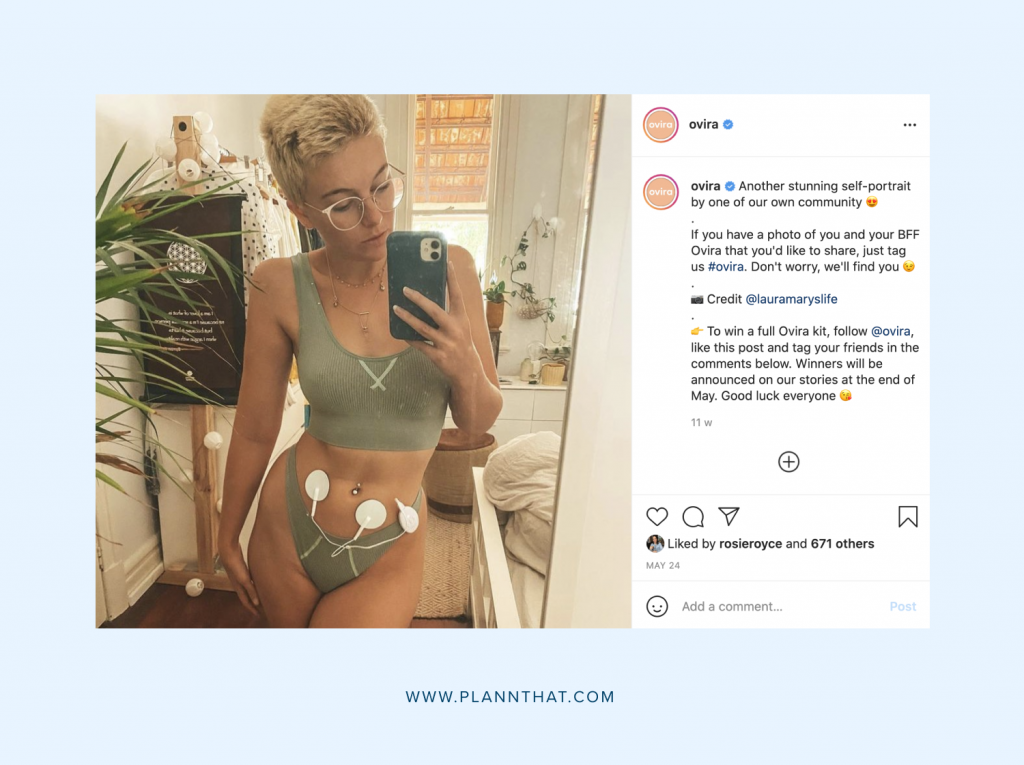 "Instagram has been integral in fostering a sense of community for Ovira — It's enabled us to create something that people feel a part of, feel comfortable to share their experiences, and develop meaningful connections.
Knowing exactly what Ovira stands for and being open about it with our audience has really strengthened our Instagram community. Having clear brand values is a great way to attract an audience of like-minded people who are more likely to connect with you and one another about the subjects they care about.
Sharing UGC of our customers and their customer journey, helps our followers to feel represented which has been quite powerful in us showing that we're here for our entire audience, regardless of shape, age, race, orientation and beyond. By representing diverse experiences, many discover that they are surprisingly common, and that there is comfort in knowing that you are not alone."
What did life on Instagram look like before using Plann?
"Honestly, it was a bit chaotic! We were just using a spreadsheet to organize and plan our content (hello double handling!). It also became difficult to visualize our feed as a whole and became quite time-consuming to do separately!"
What does life on Instagram look like after using Plann?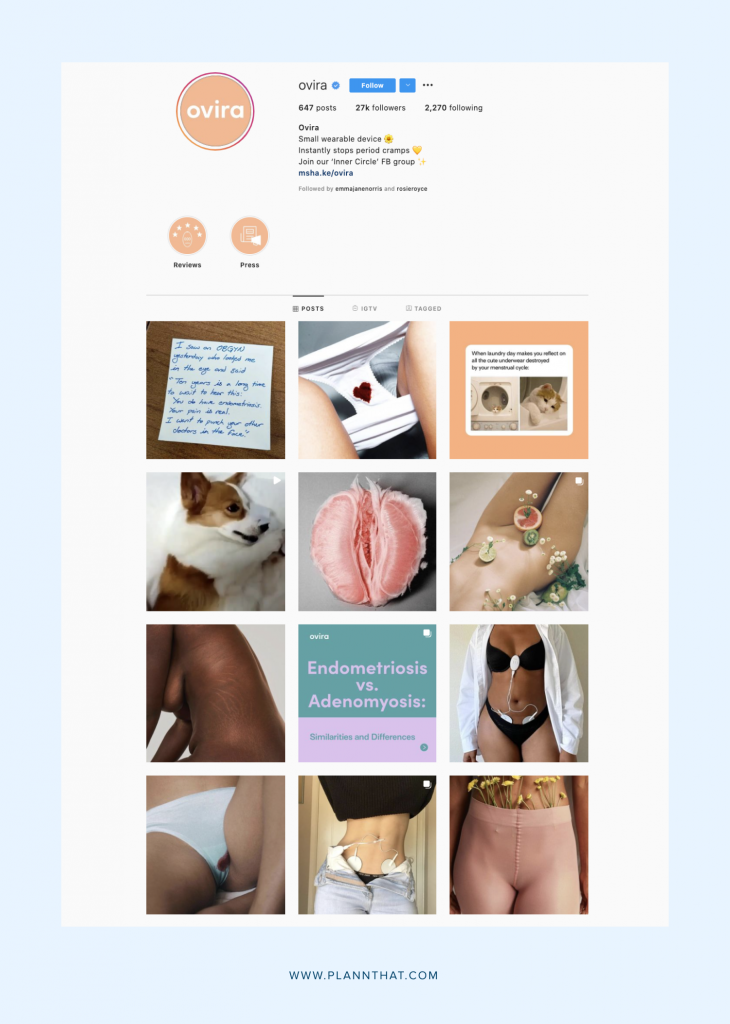 "Plann has really helped make ideating, developing, and executing strategies such a success. I love that the platform is visually focused, which just makes so much sense, especially with Instagram! Surprisingly, this feature is inherently missing in a lot of other social media management platforms that we previously tried.

Plann has also helped us do great editing — and to us, this is what makes content really incredible. We constantly ask ourselves, what is our community benefiting from with this post? Why would they want to read this? We are constantly making sure our audience and community gets value out of following our account. It's so easy to edit captions, drag and drop posts — it's such a breeze."
What was your first impression of Plann?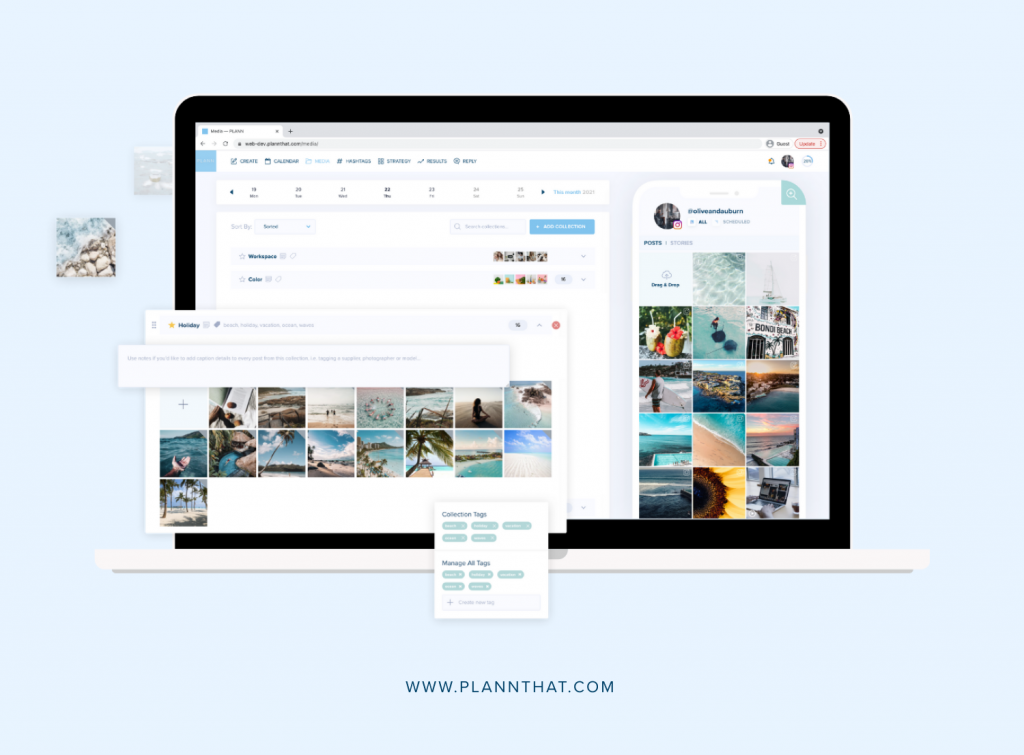 "The first thing I noticed was how clean and easy to use the platform was, every single function had been thought of and considered, from the integration of the built-in image library, to the strategy tools that help you to effectively plan your content in a way that matches your content pillars. It was a breath of fresh air."
What Plann features are your favorite so far?
"Great question! I'm a big fan of the simple drag and drop workspace, it's easy, efficient and super satisfying being able to schedule content in a flash. I also really love the Instagram feed preview functionality in Plann, so that you know exactly what kind of content is being posted when, if any edits need to be made, as well as making sure the feed looks visually cohesive and appealing."
What are your tips for brands on Instagram building out a beautiful aesthetic — especially for topics that are a bit taboo?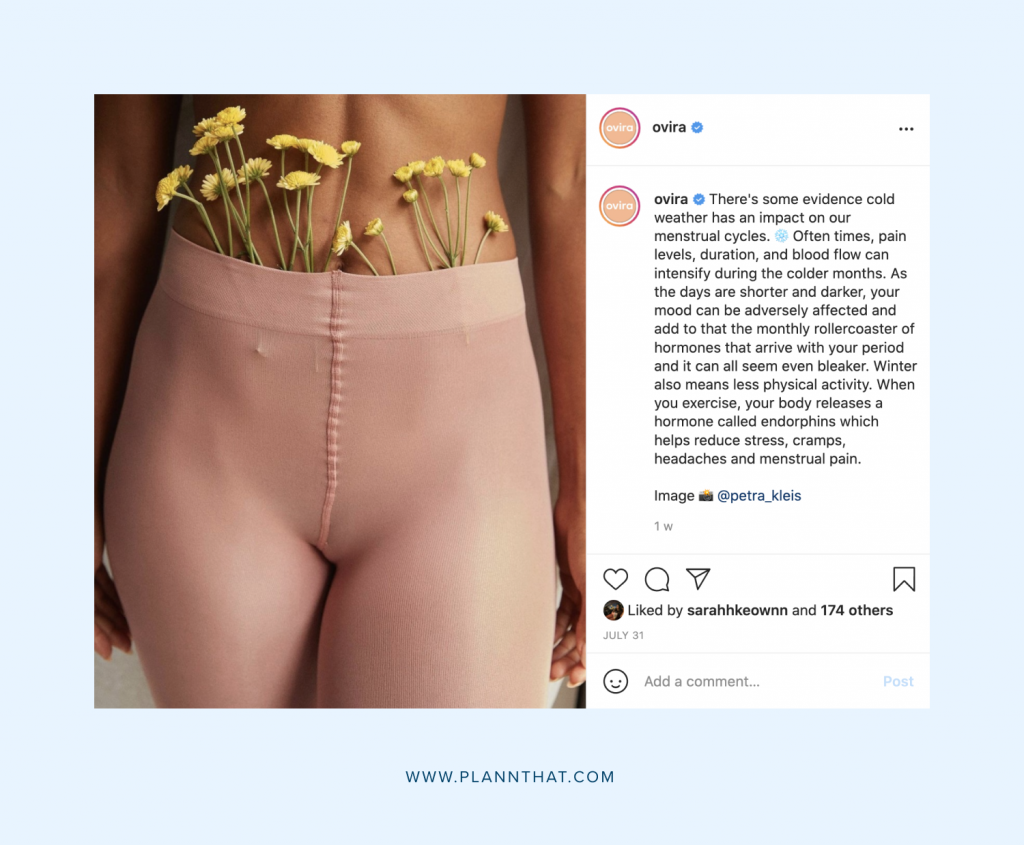 "1. Be crystal clear on your brand values and what you stand for, and who you think you can add the most value into their lives. 
2. Start thinking about who these people are, how you can support them, engage with them, what they value and how they want to be spoken to. 
3. Unfortunately, changing the narrative and smashing stigmas may upset some people, so having these clear values is what will attract the right kind of loyal followers and community members. These are the people that share the same goals as you and will be your biggest advocates. 
4. Interact, and engage with your audience. Each comment is an opportunity to build trust and leave a positive impression. Speak to them like you would a friend, not a business. 
5. Good Branding and Visual Consistency = A good chance of finding product = Unexpected exponential growth that might catch fire! Keep your feed unequivocally 'you' as a brand. Make sure it aligns with what you stand for and is visually cohesive and increases brand recognition."
Any other tips for startups for getting the word out on social media in the early days?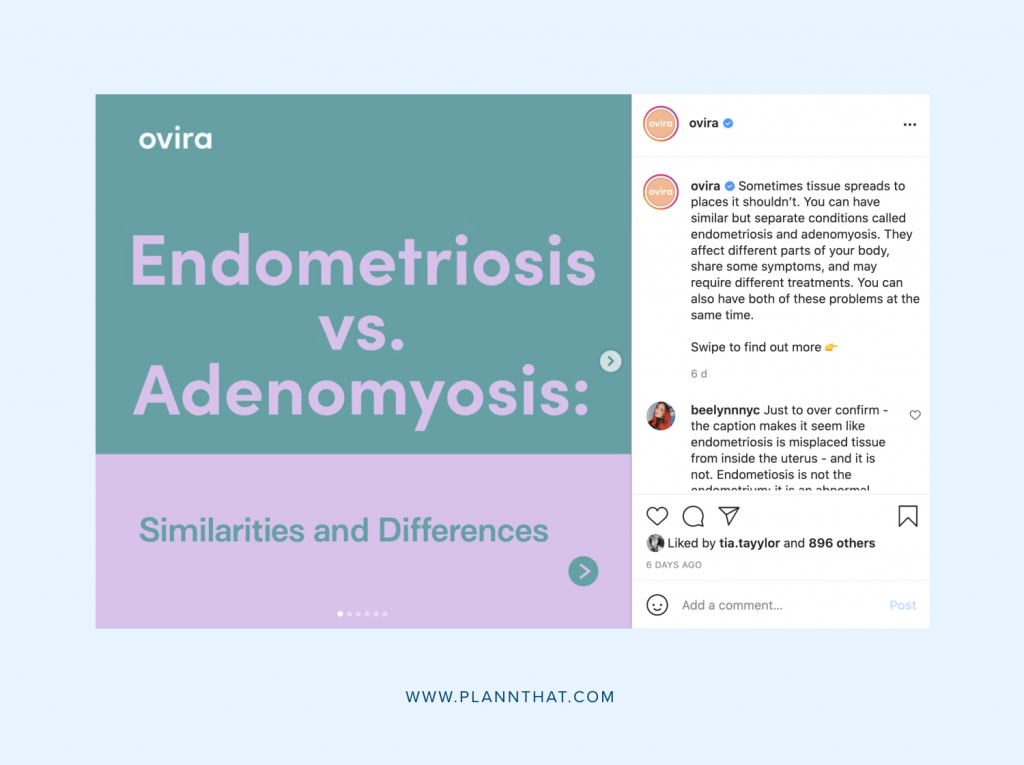 "Great brands have a purpose. They make promises and they keep them. Brands that float around with no real clear idea or purpose don't influence or attract anyone if they can't see any value. Have a strong idea of what that special thing is that you are innovating and that people would miss out on if you never existed? Have a strong idea of who you are, what you look like (visually), and what your mission is, and how you speak to your audience. These are your anchors, whenever you get confused, revisit these main things!"
What's next for Ovira?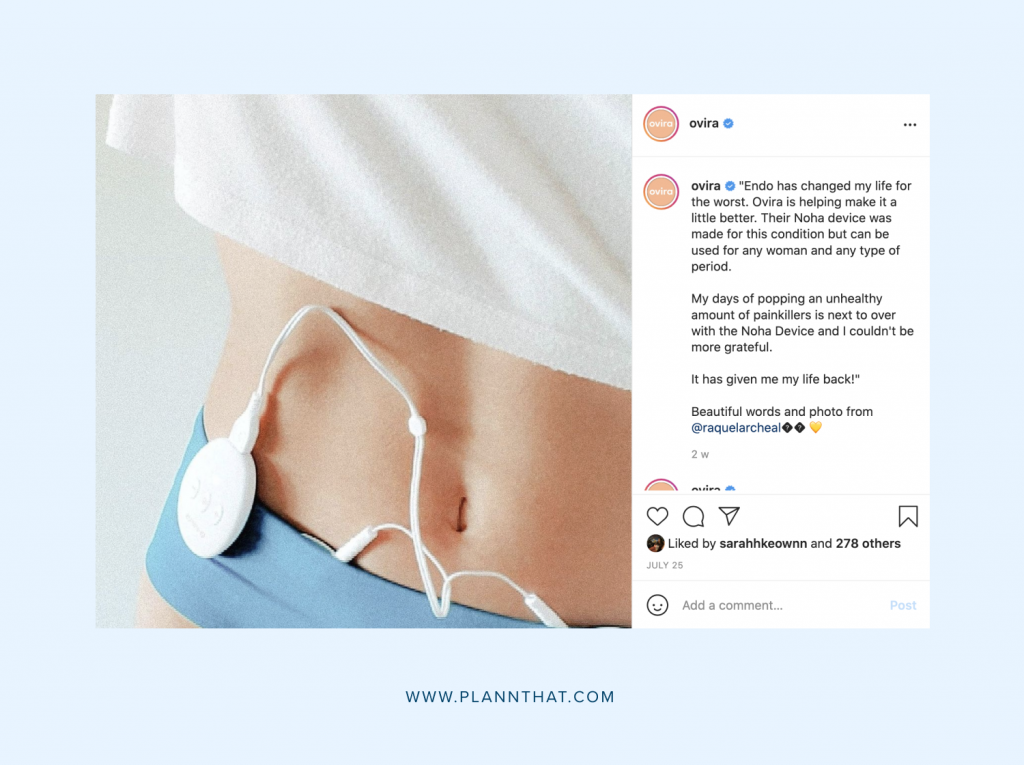 "Lots of exciting things! We recently expanded to the UK and we're building an incredible team of extraordinary human beings that are helping us achieve our goals of being a global leader and innovator in women's reproductive health. We also have some game-changing new products launching soon, so it's an incredibly exciting time for us!"
For more on Ovira: Visit ovira.com
Join The Inner Circle Facebook group
Follow @ovira on Instagram
Follow @ovira on TikTok
Ready to use social media to build your own beautiful and trailblazing brand? Plann's next-level creation, scheduling, and analytics tools are ready for you. Just login or start your free trial to experience the magic today.