LinkedIn Scheduling
LinkedIn auto-scheduling is now available for Plann Plus members!



With millions of people (and their businesses!) working from home, many are turning to LinkedIn to build new connections and grow their professional networks.

There are thousands of online events being scheduled, loud calls for partnership opportunities, brands looking for new gifting ideas, new brands launching, plus a huge surge in posting activity on the global networking platform.

Additionally, LinkedIn Stories are currently in BETA (we've seen them rolling out in Australia!) and with their impending launch around the world, we're excited to help you create for those too.
Get started! Schedule your first LinkedIn post now →

Why LinkedIn? LinkedIn Statistics:

We knew it would be the perfect next step for you.

With over 690+ million users in over 200 countries, and over 30 million companies, LinkedIn presents golden opportunities for new connections, clients, and business partnerships – and you can get started right now!


What type of LinkedIn profiles can I schedule posts to?
Managing your brand(s) across the web with Plann just got easier.
Both Personal and Business LinkedIn pages can be connected to Plann.

What type of posts can I create for LinkedIn?


You can use Plann to create graphics, draft captions, and schedule auto-posts to LinkedIn for:
LinkedIn Business Pages:
Text only posts

(up to 1300 characters)

Text with Image posts

(up to 9 images in one post, like a carousel)

Video Post

(please

keep the file size under 200MB)
LinkedIn Personal Pages:

Text only posts

(up to 1300 characters)

Text with Image posts

(up to 9 images in one post, like a carousel
** We've asked LinkedIn when video post scheduling will be available for personal pages and hope to have an update for you shortly.

When I schedule posts to LinkedIn, will they auto-post for me?

Yes!

You can either craft your post and publish to LinkedIn immediately, or schedule them to auto-post at a time in the future of your choice.

You can choose to edit these times right up until before the moment your work is published.

Schedule your first LinkedIn post now →
Who has access to Plann + LinkedIn auto-scheduling?
If you're already part of our Plann Plus (paid) community, you can connect your LinkedIn profile (via the settings, or your dropdown workspace menu) and get started straight away!

LinkedIn auto-scheduling is now part of your existing Plann subscription – at no extra cost!

If you're using our Free Forever plan and you'd like to leverage LinkedIn scheduling for your business or personal brand, simply upgrade to any of our paid options and you can get started straight away! See which plan is right for you →




Eep, I don't really know what to post on LinkedIn?
If you've never used the LinkedIn platform or not feeling too confident, we'd love to help you get started.

LinkedIn is a powerful way to get new customers and build awareness for your product, especially if you're working in the services or B2B space, or wanting to break into the lucrative corporate space.

Here's what we recommend posting to build your brand, learn more →


Can I create a LinkedIn strategy?
Absolutely! Use Plann's unique strategy feature to build out themes, ideas, placeholders and prompts for future posts on LinkedIn.

If you create a custom strategy, it will be always kept separate from the rest of your platforms to make sure your LinkedIn posting is always on point.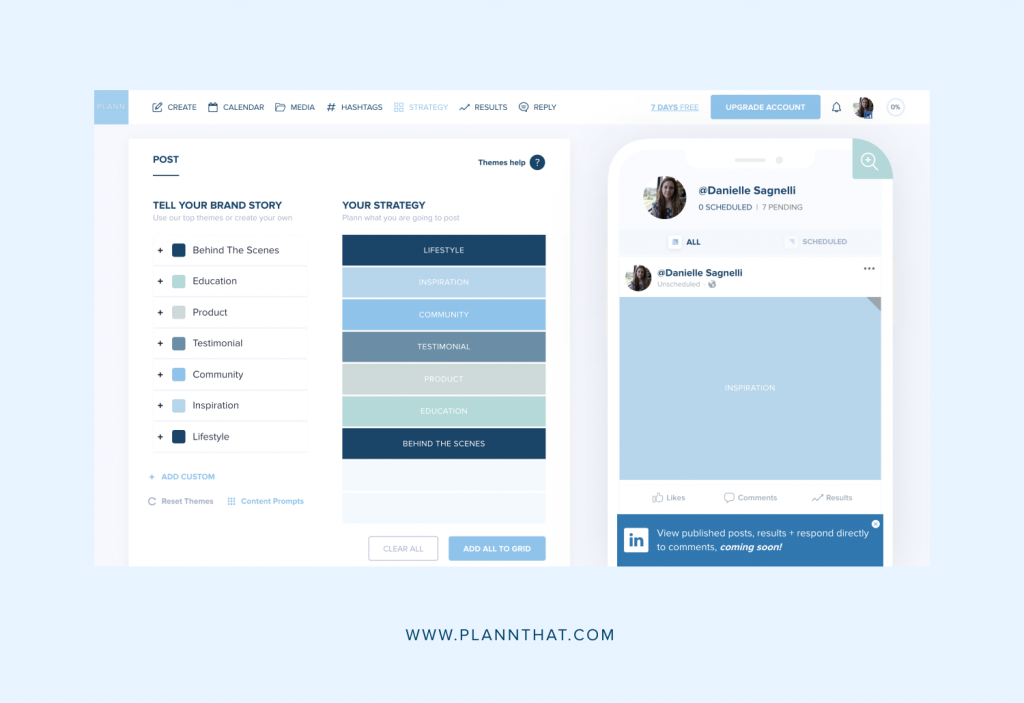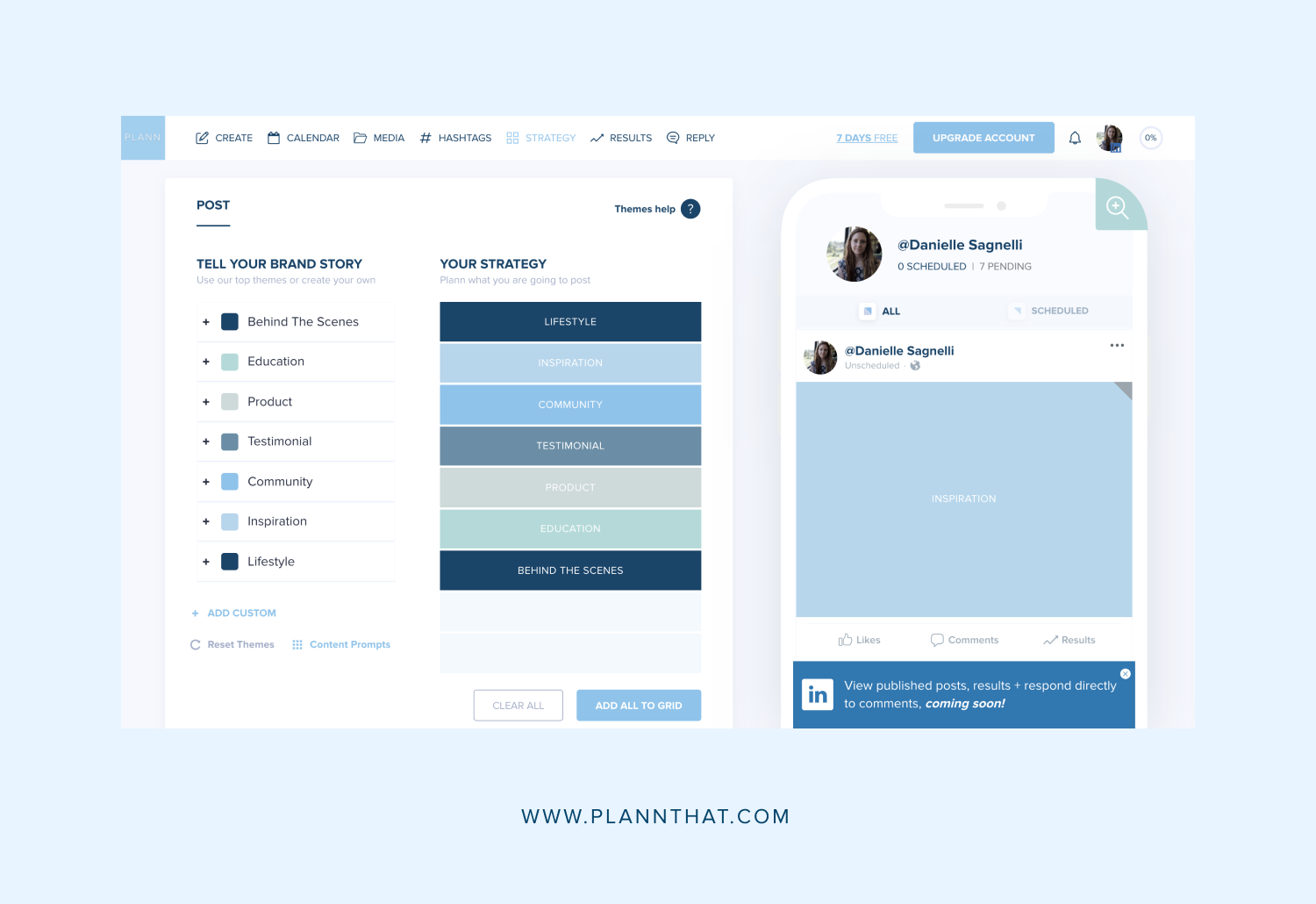 What about LinkedIn analytics? COMING SOON!
We'll be providing you with as much information and analytics about your posts as LinkedIn allows us to share with you through their API (integration) services.

You'll discover there will be more analytics available for Business pages.


Can I respond to my comments and mentions on LinkedIn? COMING SOON!
We'll be working on bringing this feature to life so you can manage everything from right here inside Plann.
We'll let you know as soon as it's ready.
Manage more than one LinkedIn page?

If you need to manage more than one brand across the web, (for example your personal brand (1), and a business brand (2)) simply upgrade your Plann subscription at any time for the exact amount of brands you need.
Connect your account and schedule your first LinkedIn post now →

We love waking up every single day working on things we know will help you grow your business, and we've got more Plann'd for you soon!
Love the Plann Team x