Is it just us, or is June that time of year when you really start thinking "Whoa, we're almost halfway through the year — time to get a move on! The good news is, even if your marketing New Year's Resolutions have been gathering dust since February there's still time to get back on track! This handy June content calendar will give you the momentum you need to show up on socials consistently and slay your business goals.
We're always looking for fun new ways to supersize the monthly content calendars you guys know and love. That's why we're excited to announce that you now get daily caption generators for every day of the month, alongside our daily Canva templates! They're designed to give you an idea of how you might bring your captions to life based on the prompts in our calendar. Pair them with our professionally designed graphic templates and targeted hashtags, and you've almost got your monthly content done for you! How to use it: Head to the final page in our content calendar PDF to find the caption generators, and match up the date with the one shown in the calendar. Fill in the blanks with your content, then head into Plann to pair it with an image or graphic and schedule it!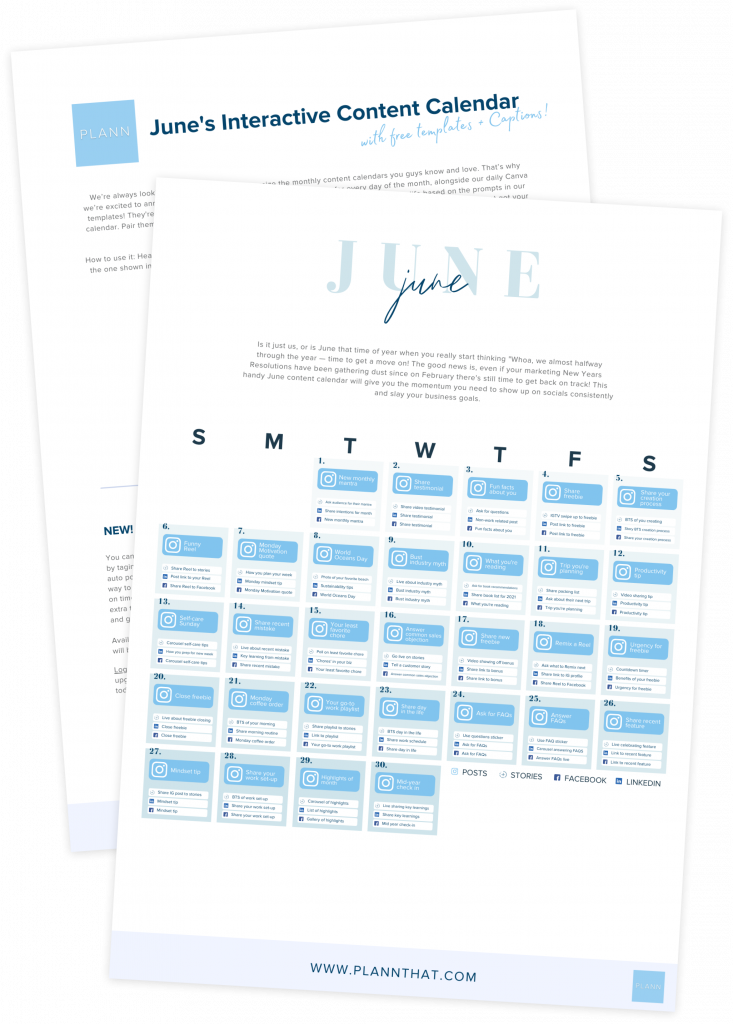 Want to make sure you get the most out of our content calendar? Check out this handy video that walks you through how to use our monthly content calendar, step by step!
How to use our content calendar
Want to nail your captions? Join us for our next Plan with Plann with Content Editor, Emma Norris!
In this session, Plann's Social Media & Community Manager, Greta Rose and Emma will be teaching you How to Create Content Effortlessly using Plann's upgraded Media Manager (have you checked it out yet? It's a game-changer!). They will share her speedy way of dreaming up creative captions that will encourage your followers to take action.