Scratching your head about what to buy your tech-savvy mum as a Mother's Day Gift?
When it comes to a Mother's Day gift, there's only so many candles and pairs of slippers you can give (and receive). Plus, if your mum is more about the gram life than the gran life, chances are she'd appreciate something something shiny, new and useful.
Enter: our Mother's Day gift guide for tech-savvy mums.

Our Guide to Mother's Day Gifts
Ringly
Wearable tech just got gorgeous. Ringly's range of smart bracelets and rings are activity trackers, accurately recording your steps taken, calories burned and distance travelled. You can also set activity goals in the Ringly app on your phone for that extra motivation, and track your progress.
Plus, these gems are your new secret to staying on top of everything without having your phone permanently attached to your hand. You can sync with your fave apps (choose from over 100, ranging from messaging to wellness) and receive customised phone alerts from your jewellery with subtle vibrations and light patterns. Ringly products will soon sync with Plann as well!
Take your pick from gold, silver, steel and rose gold bases, and then everything from moonstone to quartz to jade for the feature gem.
You can buy Ringly pieces right here.
olloclip 
If your Mum's pics could use a little love, why not gift her an olloclip this Mother's Day?
These nifty lenses clip right onto your iPhone and take your photo game from 0 to 100 faster than you can say #photooftheday.
Their Core Lens Set includes Fish Eye, Macro 15x and Super Wide lenses – ideal for those panoramic landscapes, retro-feel family photos and up-close nature shots. There are other sets more tailored to specific interests – e.g. Active Lens Set and Macro Pro Lens Set – or you can buy separate lenses as add-ons.
Shop olloclips over here.
Kate Spade x Everpurse
When pretty meets powerful, and fashion gets cosy with function, it looks a little like this. Everpurse, creators of the original phone charging purse, have teamed up with accessories queen Kate Spade to create a range of purses and bags that will keep your mum connected and charged up (not to mention chic). Simply slide your iPhone into the phone charging SmartPocket and it will top it up ASAP. Then at the end of the day, it's simply a matter of popping your bag on its mat to recharge the internal battery. And voila! One less thing for Mum to worry about.
We love the classic black looks, as well as the Parisian-style stripes and neautral tones – super versatile.
Take a look over here.
Seaquatix 
First, gift Mum flights to a tropical destination. Next, get her a Seaquatix waterproof case for her phone, so she can take all the beach pics with none of the worries. Perfect for travel, these cases are small enough to enable full use of your phone, while still having room for essentials like your passport or cash. Waterproof plus sand/snow/dust resistant, this is one Mum will never leave the hotel without.
Shop them here.
Moleskine Smart Writing Set
If your mum is all over the tech, but still an analog lover at heart, this could be the thing for her. Notebook legends Moleskine have created their Smart Writing Set, featuring the smart Pen+ that recognises where it is on the Paper Tablet, and records every word you write or doodle you… doodle. The app then transfers this seamlessly (and in real-time) to your screen, allowing you to digitise, edit, organise and share your notes. All the joy of putting pen to paper plus the convenience of digital life? Yes please!
Check it out over here.
Fairina Cheng Jewellery
Want to get Mum something shiny but edgy? Not your average jeweller, Sydney-based Fairina Cheng creates unique designs using a 3D printer. She says of her collection: "The Negative/Positive pieces are designed on a computer and printed layer by layer in resin on a 3D printer. A life-sized 3D model is created, which is then cast into solid silver or gold and individually hand finished. While seemingly precise, each design in the Negative/Positive range is the result of experimentation, guesswork and a sprinkling of luck!"
Available in oxidised silver and rose gold, look at the pieces over here.
Gift an app – 'Appy Mothers Day!
The gift that gives on giving?
A beautifully designed, perfectly functional app that Mum will use every day. Does she have her own creative hobbies she needs to share with the world?
Loves a curated Instagram feed as much as the next person, can we suggest Plann?
How to give an app as a mothers day gift
To gift an app from the iTunes store, simply search for the app you're looking for, then once you've clicked into it, hit the share icon on the top right hand side of the screen and select Gift.
From there, you can email your mum with a cute message ('Appy Mother's Day' anyone?) and she can download from there.
For Google Play, just hit Menu and select Send Gift, then pick your gift and follow the instructions to share the love.
Not sure what we mean?
Here's how you gift an app!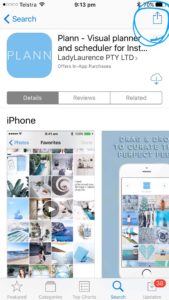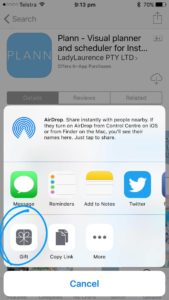 Want to give Mum the gift of inspiration? Why not share these with her: 
Some links in this post are affiliate, but we only recommend products we love and trust.