As 2019 and our latest decade comes to a close, we've been giggling in the Plann office about some of the images that got the most likes this year.

It's the end of an era, as the likes are slowly turned off, we'll never really know which images are the most liked next year, so let's take a look back at the last 12 months and see what got the world double-tapping.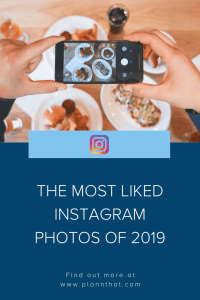 1. The Egg
That's right, the most-liked image on Instagram this year is an egg! The Instagram account @world_record_egg took over as the most liked photo of 2019 with its #LikeTheEgg and #EggGang that made a Guinness record. Needless to say, when you start a movement, Instagram followers are ready to make dreams come true!
2. First Look of Kylie Jenner's Daughter
We got a first intimate look into Kylie's world with precious Stormi taking over the most likes just behind the famous egg. The sweet moment caught on camera captivated everyone and held onto the top spot for much of 2019. 
View this post on Instagram
3. Plant A Tree
Do you love great causes? With over 15 million likes, @tentree made great strides to help the earth. With a growing number in likes and the ability to spread the world, people took to joining the evolution towards a better world that elevated it to one of the most loved photos. 
4. Friends Forever
The world flew into a flurry when Jennifer Aniston joined Instagram. After holding out for years claiming she just didn't get it, she now holds the record for being the fastest person to reach one million followers, ever, while also having one of the most liked photos of 2019.

Guinness World Records announced that Aniston had broken the record for the fastest time for an Instagram account to reach 1 million followers, reaching the milestone in just five hours and 16 minutes! 
View this post on Instagram
5. The Rock Got Married!
If you didn't see the news on a magazine at the grocery store first, The Rock won over 14 million Instagram hearts with his wedding news. 
6. Selena Gomez, #1
Like Kylie, Selena Gomez takes over Instagram just by living her life, she's also one of the highest followed people on the social media platform. While hanging out with friends, she snapped this shot that feels familiar and friendly to any regular day at the beach with friends. 
7. Selena Gomez, this time in Italy
Selena had a turbulent year with her health and relationships, which she openly shared with her audience (and made them love her fiercely). This dreamy look in Italy clocked up over 14.5 million likes (and counting). 
View this post on Instagram
8. Jenner Family Dressed Up For Endgame
Kylie holds many of the most liked photos across Instagram, and this superhero one is just one of the many with the family. They took on new roles as Iron Man, Captain Marvel, and little Thor in celebration of the Avengers: Endgame.
View this post on Instagram
9. Kylie's Birthday Post For Travis 
Kylie's birthday post for boyfriend Travis Scott warmed hearts all across Instagram in 2019. Although their relationship didn't make it to the end of 2019, they'll be remembered for these sweet nothings.
10. Spider-Man and Iron Man
Who doesn't love the Avengers hanging out after hours? Beloved Spider-Man and Iron Man take the 10th spot in the most liked photos of 2019 by simply being themselves.
You might be recovering still from Robert Downey Jr leaving the crew, so this gives back a little hope into our daily lives of their forever friendship!
View this post on Instagram
Looking to create your own stream of beloved photos? 
By creating a strategy that shares your own vulnerability, moments with friends, your favorite life moments and travel shots, you'll have more people double-tapping your posts.
Plann can help you build an entire strategy in less than a few minutes.