It's no secret that making money as a social media content creator is certainly possible in 2022. But with so many inspiring accounts and experienced creators out there, standing out and carving out your own niche can be a challenge.
Out of all the platforms you should be prioritizing as a content creator, TikTok needs to be at the top of your list. With a video-first platform and a fast-growing user base, TikTok is one of the best platforms to make money as a content creator. 
And it's not just content creators that are earning serious revenue from TikTok: brands and businesses are tapping into this booming social media platform to market their products and services with engaged users. 
Along with TikTok's monetization tools and programs for creators, there are stacks of ways to use the principles of content marketing to grow your audience, build trust and inspire them to make a sale.
Here's a rundown of several key ways you can make money on TikTok, as well as how much you can expect to earn, and an explanation of the TikTok Creator Fund.
How Much Does TikTok Pay?
First up, you're probably wondering whether TikTok is the right platform for you to monetize as a content creator. 
The specific amount you can earn from TikTok is, in theory, unlimited. There are TikTokers out there earning millions every year. Dance phenomenon Addison Rae, for example, reportedly earns $5 million a year making TikTok videos.
However, it's important to look at the hard facts and set realistic expectations (particularly when you're starting or growing your account). For creators who have been accepted into TikTok's Creator Fund (more on that in a second!), they'll earn income based on video views.
In broad terms, the creator fund will pay between 2 to 4 cents per 1,000 video views. So, if your video gained 1 million views, you could make $20 to $40.
But the creator fund is just one way to earn an income through TikTok! For creators that secure brand partnerships, you can unlock a much more lucrative stream of income through sponsored content. Usually, brands will want to see your audience size and engagement rate when deciding how much they'll pay you for producing sponsored content.
Unfortunately, it's difficult to put a dollar figure on your potential earnings from brand partnerships on TikTok. Some research suggests that the top TikTok content creators can earn as much as $50k to $150k for brand partnerships.
How To Make Money On TikTok
Now, let's actually give you the tools to start monetizing your content on TikTok! We've mentioned the Creator Fund, so let's start there.
1. TikTok Creator Fund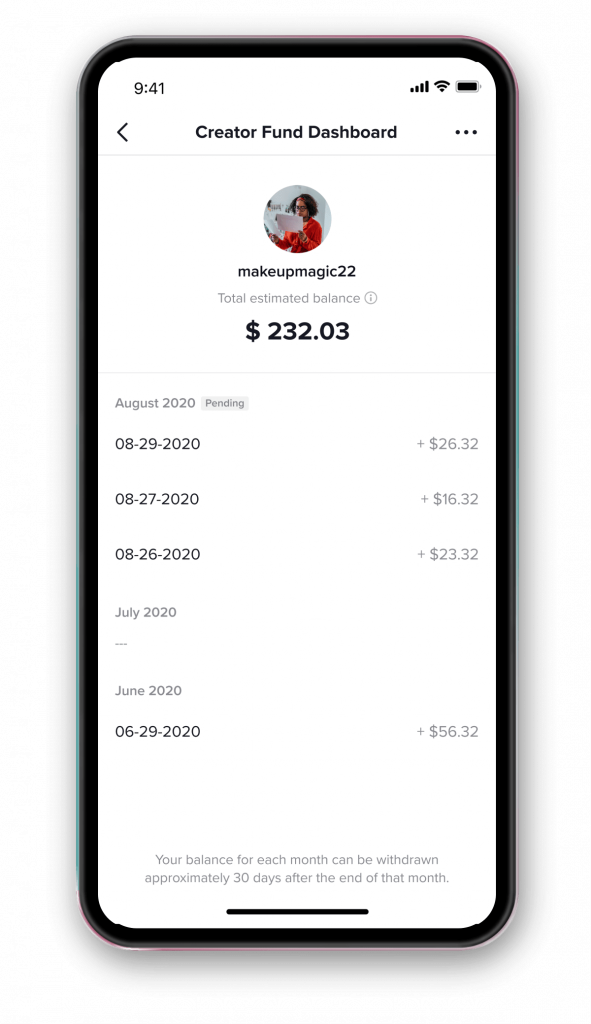 The TikTok Creator Fund is an initiative run by TikTok that helps creators uplevel their content. Why? Because TikTok is a business, it runs on the content of its users. Having quality content is essential to their business model, so they're happy to support creators who have proven themselves capable of creating content that will generate TikTok's income. 
Through the Creator Fund, you gain access to:
• TikTok Creator Marketplace – a creator's platform that connects individuals with agencies and brands so they can make sweet content together.
• Live Gifts – followers can send their favorite creators' gifts during live broadcasts. This allows creators to convert those gifts into cash. 
• Video Gifts – another way to exchange gifts for money, but these are gifts coming from regular videos (not just live TikTok broadcasts).
• Tips – your biggest fans can tip you for the content they enjoy, like tipping a barista for quality latte art. 
How Does The Creator Fund Work?
The TikTok Creator Fund is open to anyone who:
• Is located in the US, UK, Germany, France, Italy, or Spain
• Is at least 18 years old
• Has a minimum of 10,000 TikTok followers
• Has at least one video with over 100,000 views within the last 30 days
• Has an account that follows all TikTok Community Guidelines and terms of service
• Has a TikTok Pro account
As a creator, you'll be paid based on the engagement and views of your videos. The more views and engagement you generate, the more you'll earn. Beyond the Creator Fund, there are other ways to make a crust on TikTok.
2. Brand Partnerships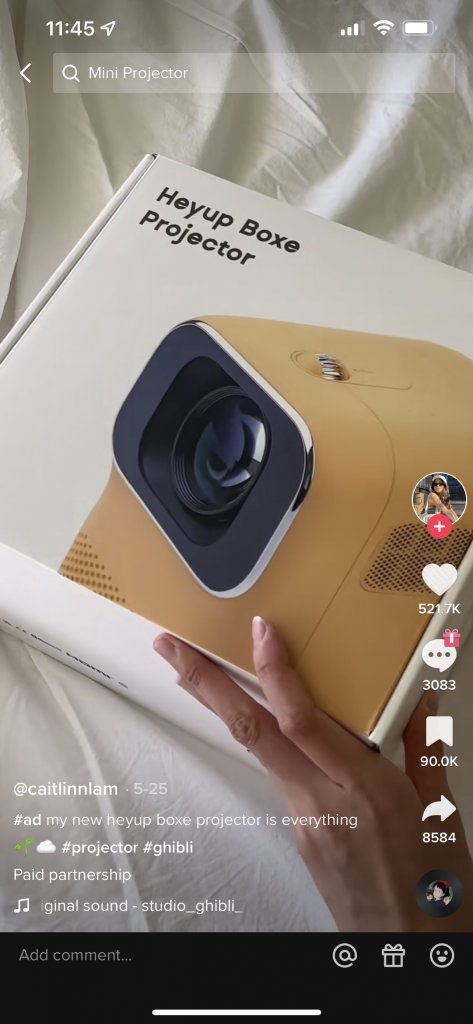 When you create content featuring a brand's product, and they're paying you for it, you're creating sponsored content. How you're reimbursed depends on the deal you make. Some brands pay cash while others offer free products and services or send you gifts. 
Brands are increasingly keen to get popular creators on board to help them promote their brand. If you have a huge following and great engagement, you're likely to be able to leverage that into a substantial amount of money in exchange for creating a post. 
Having an audience of followers who know you and trust your opinion is highly valuable. But equally, you could have very few followers and just be starting, but snag the attention of a brand by tagging them in a truly spectacular piece of content they want to use to advertise their product.
Be selective about the brands you partner with – trust goes both ways. Anyone you promote needs to align with your values and objectives as a content creator. You need to genuinely believe in the quality and value of what you're promoting, otherwise, you'll risk losing valuable audience trust.
3. Influencer Partnerships
If you're running a business, you can partner your brand with an existing influencer to gain endorsement and access to their audience.
Even micro-influencers are incredibly good at convincing their followers to buy into whatever they recommend.
Some studies report that every dollar that goes on influencer marketing yields a $6.50 return on average, while the top 13% of businesses surveyed enjoyed a $20 return. It's definitely worth the investment.
The #1 Tip For Earning On TikTok
There are a lot of tips that will help you earn money on TikTok. Ensure you're authentic, creating quality content over quantity, and jumping on the latest trends to succeed on the platform. But there's one thing you can do that's far more important than anything else: show up consistently.
One of the best ways to build an engaged audience is to post thumb-stopping content multiple times per week. 
But don't go it alone! Take the guesswork out of mastering and monetizing TikTok with your all-in-one social media scheduler, Plann. Plan, create and schedule all of your videos ahead of time to help you skyrocket to TikTok stardom. 
Sign up for a 7-day free trial of Plann Pro – and if you don't like it, you can keep using Plann for free!