If you're actively searching for work at the moment, you know just how competitive the job market is. That's what led content creator and marketing graduate Kaylee Kirkby to use social media to build an innovative, interactive online portfolio to showcase her skills.
But very quickly, her 'portfolio' turned into a way for potential clients to reach out and engage Kaylee for her marketing services. Before long, K&K Social Studios was born, a social media marketing agency.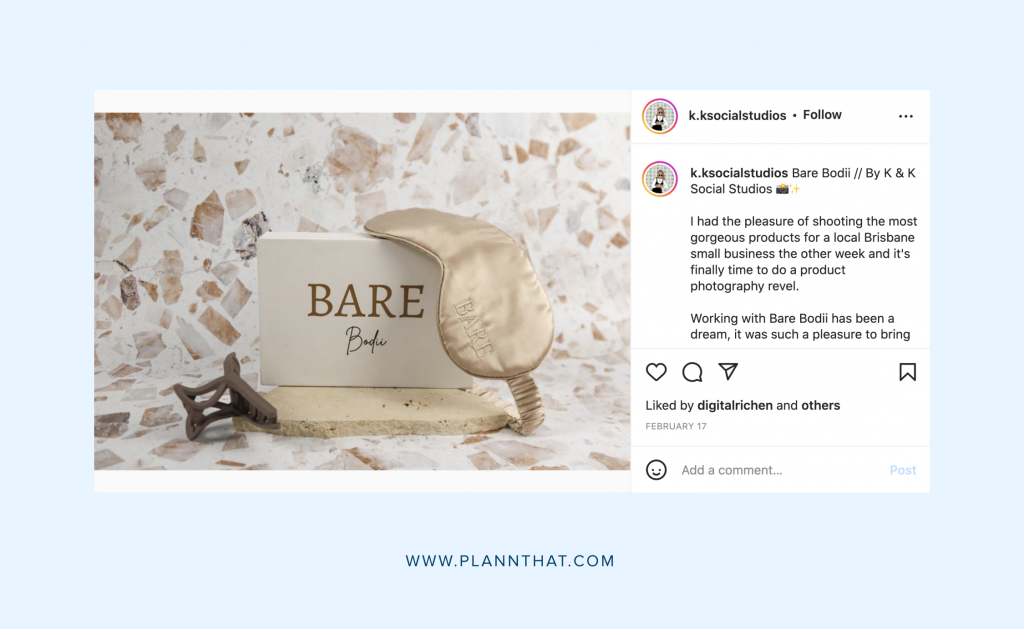 In just one year, Kaylee has grown her social media following to over 4,000 and has been the only marketing tool she's used to build her business.
We sat down with Kaylee to chat about the power of planning ahead, how she built her social media marketing business from the ground up and her top tips for brands looking to cut through on social in 2022 (and beyond).
From marketing student to business owner
"Building a social media company for me actually started with Instagram. I started using Instagram to share the knowledge I was learning in my uni degree and other courses in an easy to digest form that would help others understand the inner workings of marketing and social media marketing a little better.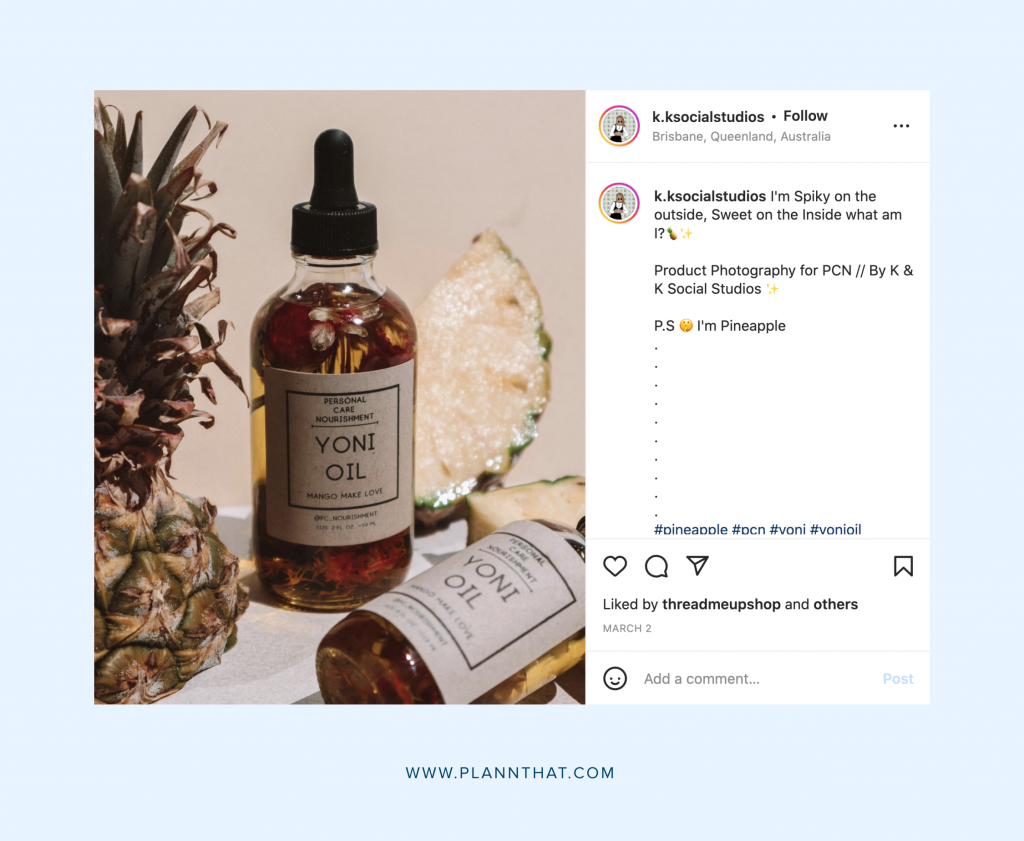 K & K Social Studios started as essentially an online portfolio I could show to companies when I applied for marketing roles to help give me a unique competitive advantage. Around the 300 follower mark, I started getting questions about my services and decided it was time to turn K & K Social Studios into a social media business (where I am now working as the CEO and Lead Creative).
I currently use social media as my only source of marketing and it has grown my agency to over 4,000 followers within one year of launching.
I love the psychology of social media and bringing together what I post for myself and my clients with how the human brain works. It's all really interesting and I'm just 100% fascinated about all of it!"
Life before and after Plann
"I actually did an online course after my university degree to round my skills a little more and learn a little bit more about design so that I was able to produce compelling and aesthetically pleasing content.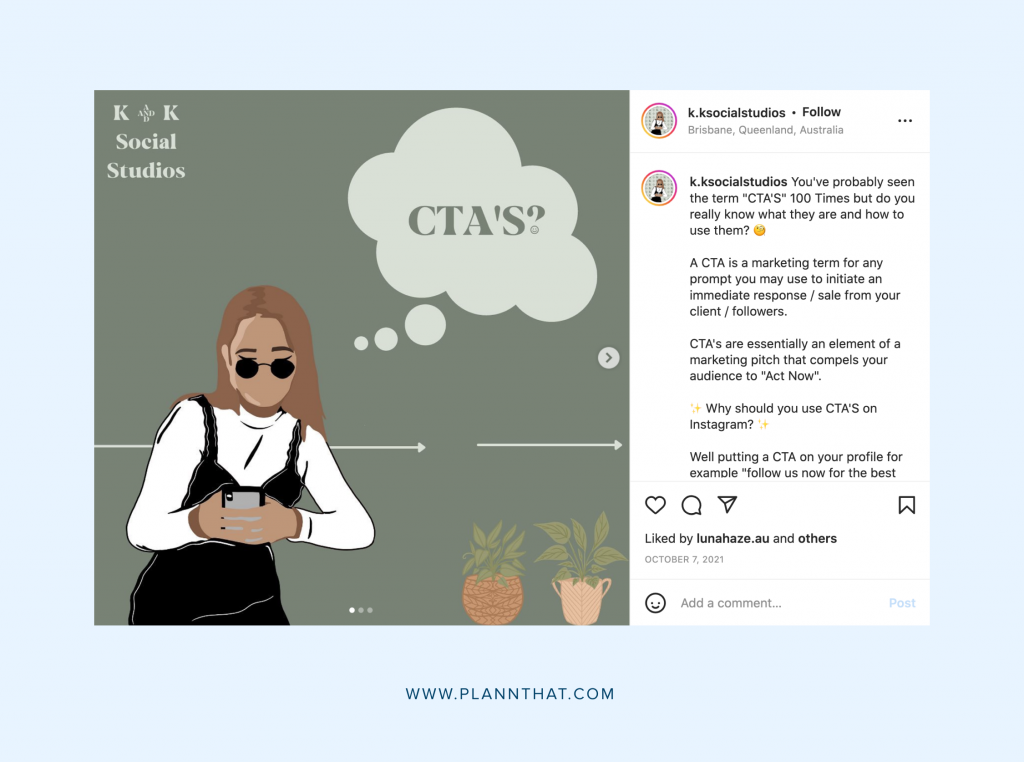 In this course we learnt about a few pre-scheduling tools and I always kind of thought, 'oh well I only use one account how does this help me?'
Not long after that, I took a few months off socials as I had 'no time' or 'nothing to post about'. Since using Plann's scheduling tool I have been active and consistent ever since my return.
Using Plann has allowed me to see all my planned content right in front of me. It has also helped me post more everyday content and never miss any big holidays. My feed and content have drastically changed since using a scheduling tool and I love it.
It's also a really easy way to hand over content for clients so they can see exactly how it will all look on their accounts and to keep track of which clients will be posting and when."
Tapping into the power of social media marketing
"Social media has been the only tool I have used to grow my community and business. It has allowed me to not only build great connections with other people in my field, but it has landed me 100% of my clients and followers.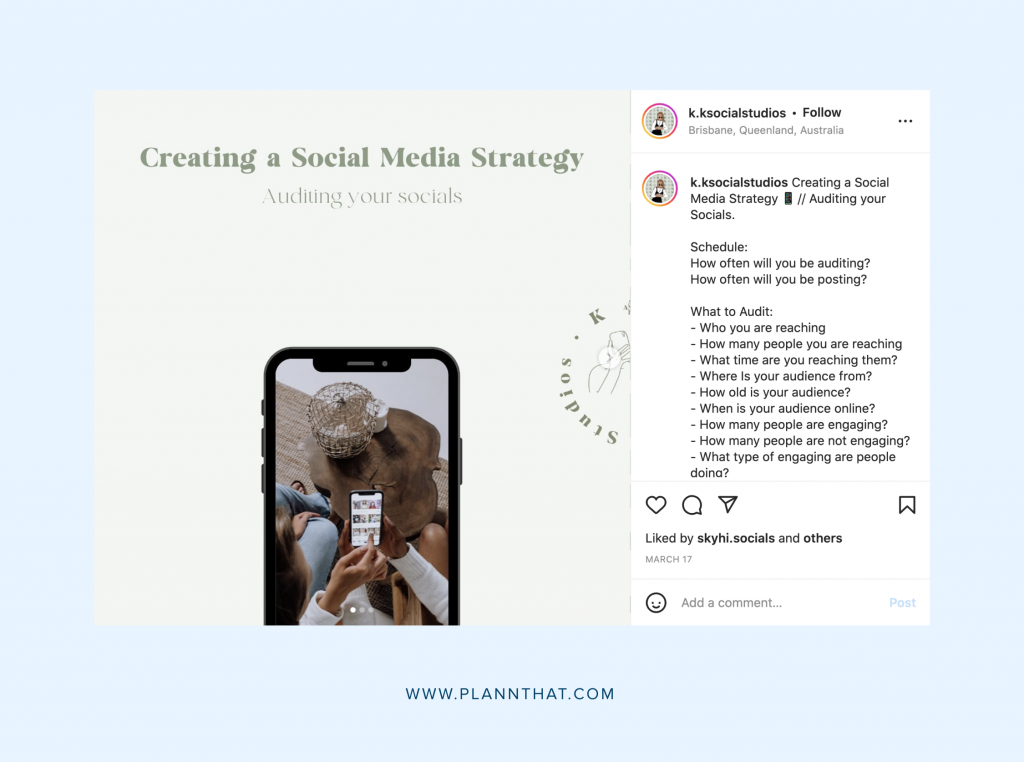 I love how accessible and affordable it is for small businesses starting out. Social media really is the front door to your business's online success."
Kaylee's favorite Plann feature?
"I have used another scheduling tool in the past and my favourite thing about Plann (apart from the price) is the calendar view option. Being able to see what content you have planned on what days really helps to create a streamlined and effective posting schedule.
Plann has helped me help my clients in so many ways. It has created a user-friendly and easy space for me to pop content up for my clients to review. Plus, my clients can see exactly what I have in store for their socials and how it's all going to look and work.
Plann's Pinterest feature has been a lifesaver. I have always struggled to find time for Pinterest but Plann has made scheduling across all my social media channels so effortless."
Top tips for brands looking to succeed on social media in 2022
"My tip? Don't delete your Reels!
My most viral Reel has over 300,000 plays, over 7,000 likes and almost 10,000 saves. And guess what? That Reel had about 94 views for the first three weeks it was up.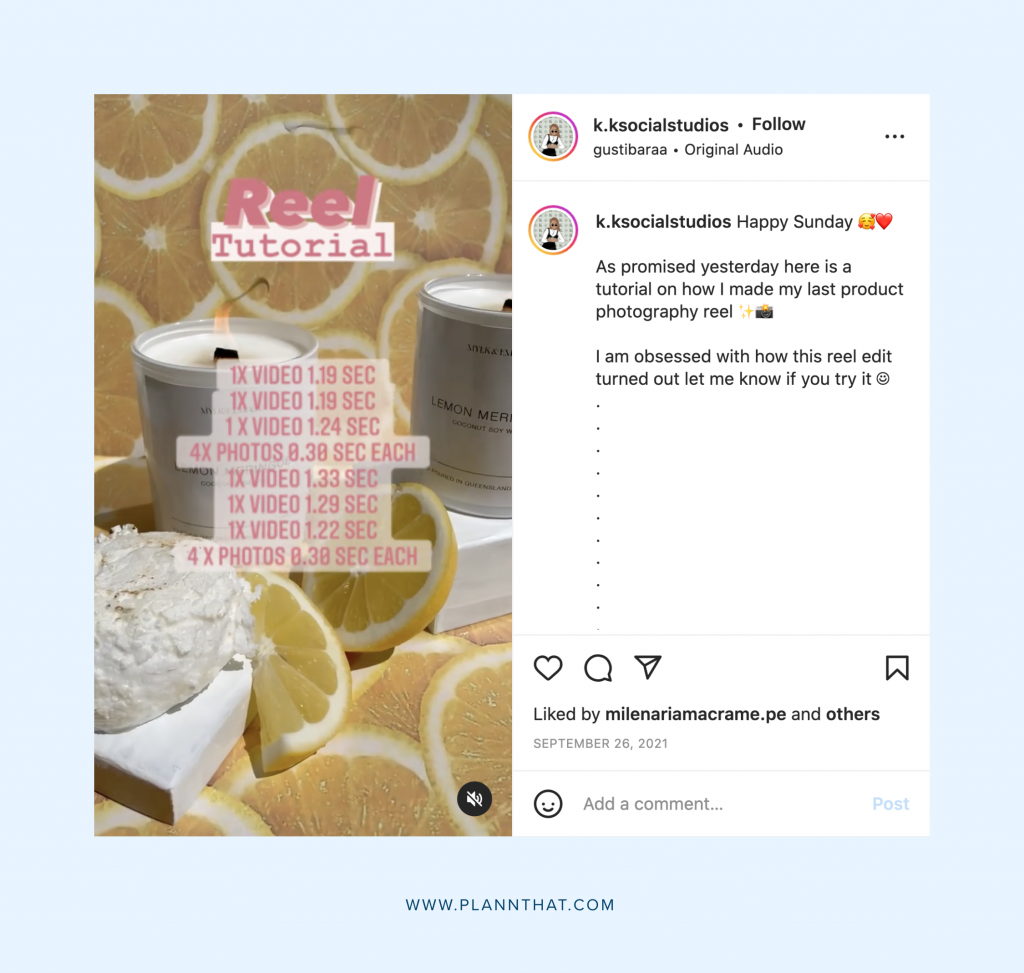 It's been a while since the Reel went viral but I would say about 1,000 of my followers came from this Reel alone. I also know that four of my product photography clients DM'd me because they saw it. This Reel has probably made K & K Social Studios around $2,000 in customer purchases and it was one I heavily thought about deleting straight after posting because its engagement was low.
Plus, don't forget about crafting a beautiful aesthetic and branding. I always suggest clients speak to a designer and establish consistent branding and brand strategies to import into their socials.
However, Just coming up with a branding plan and vision yourself is a great step. Creating your own mood board and selecting some key colours and fonts so you can keep your social media consistent is a great way to establish a beautiful and recognizable brand."
What's next for K&K Social Studios?
"I originally created K & K Social Studios as a cool online portfolio to show future employers my work and knowledge and give myself a unique competitive advantage.
I do love working in a corporate environment and I am currently working full-time in marketing. I do not plan on giving up my career outside of K & K Social Studios anytime soon, but I would love to create some other forms of passive income such as pre-made Canva sets, Lightroom presets and more.
That would help me hire an intern and bring K & K Social Studios full time whilst still creating a career for myself outside of the business."
Ready to supercharge your success on social media?
Looking for an all-in-one content creation suite that allows you to effortlessly manage your social media channels? From mapping out your strategy and designing your graphics to saving plug-and-play hashtag sets, you'll find everything you need inside Plann.
Go on, redeem your 7-day free trial of Plann Plus. If you don't like it, keep using Plann for free!
""